Home

Cakes by Cathy Inc
About this Vendor
Cakes by Cathy, Inc
Details
Contact Info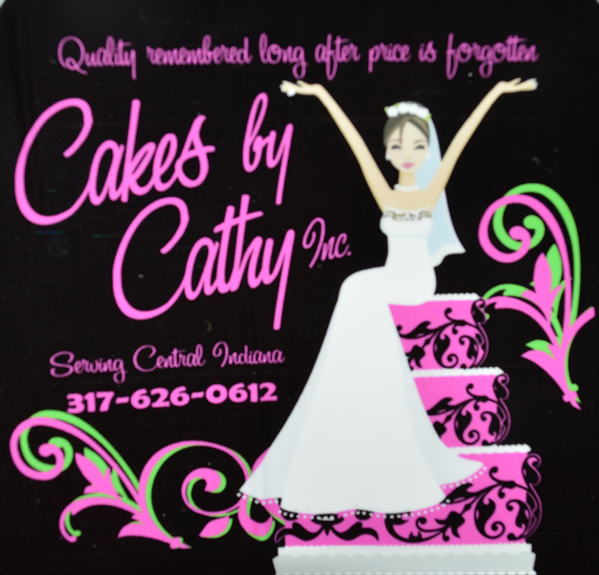 7351 E 700 N, Needham, IN
awesome flavor & beautiful
Reviewed on

11/25/2014
katharine w
I was the lucky winner of a cake by cathy from the shabby chic bridal expo... she is amazing and also we paid for an additional 200 cupcakes to match... wonderful job! loved working with her!
---
Outstanding Service and Amazing Cake!
Reviewed on

10/21/2014
Anna B
Cakes by Cathy came highly rated to me and my groom by our caterer, Jim Dawson from On Site Catering. From our first emails to our last meeting, Cathy was amazing to work with. She was very flexible and gave us great options and opinions. Her designs were absolutely stunning looking through her book of cakes she had designed. Coming into our wedding I had a general idea of what the cake table set up would look like, but it blew me away when I saw it! I received so many compliments on how beautiful the cake table looked and how tasty the cupcakes were! Guests even appreciated the little things like the edible sparkles on the cupcakes. My groom, myself, and my family are so grateful to have worked with Cathy and I highly recommend her to any bride! Thank you again, Cathy!
---
Just Awesome!
Reviewed on

10/19/2014
Whitney S
Cathy did an amazing job on our wedding cake and cupcakes! It was just what we wanted and then some! She was very flexible and willing to help any way she could. We had so many compliments on how beautiful and how delicious the cake was. I would recommend her to anyone. We're looking forward to eating the cake again on our anniversary! Thanks Cakes by Cathy! :)
---
Best. Cake. Ever.
Reviewed on

10/12/2014
Shannon
Cakes by Cathy will not disappoint. Cathy is crazy talented and is without a doubt the best in the area--and we sampled several places! We had a beautiful white three tier with orange, chocolate, and strawberry-filled vanilla complete with pearl detail. She was very patient with us as we worked out all the small things and was happy to do a floral arrangement on site to make it that much more perfect. Everyone loved it and it photographed beautifully. Thank you again, Cathy!
---
I will forever use Cathy!
Reviewed on

9/28/2014
Dena D
For our wedding, we used cupcakes and 1 cut cake. They were AMAZING! Cathy runs the business out of her personal home but you would never notice! Her customer service is outstanding and she is there to help the bride, even when it comes to saving money! We left for our honeymoon with 2 dozen cupcakes left over on our counter top and our left over top cake, after a week, they were still so moist and amazing! You would have noticed it was a week old! Please use Cathy for all your needs: Weddings, birthdays, anniversarys. She is reliable and delicious :)
---
Cathy is Awesome!
Reviewed on

9/26/2014
Mariel L
I absolutely loved working with Cathy. She provided a small two tier wedding cake for the head table and 350 cupcakes for my guests. She was easy to contact and get ahold of if I had questions or design changes. I was very satisfied with my order. My reception was decorated slightly incorrect, which through Cathy for a loop with the cupcakes, but she was able to find a quick solution (so sorry about that and my stressful family!). The cake and cupcakes were so delicious too! Thank you Cathy!
---
Fantastic
Reviewed on

9/08/2014
Megan H
Cathy is hands down, without a doubt l, the best cake caterer in Indianapolis. Not only are cakes beautiful and delicious..they are also very reasonably priced! Cathy was very professional and easy to work with. I do not live in state and Cathy was very accommodating to my schedule. We had cupcakes at our wedding and we were able to choose multiple flavors at no additional charge. I would definitely use Cathy again and I recommend you do too!
---
Cakes by Cathy is AMAZING!
Reviewed on

8/29/2014
Shauniece A
After hunting for a cake decorator for almost a year, I saw Cathy's work at a cake competition (which she won by the way) and I was absolutely blown away. She made everything so easy and was so accommodating. She is extremely professional (which that wasn't the case for all of my vendors) and her work is BEAUTIFUL and delicious. All my guest were on the prowl for a second slice! It was so hard to find someone who's cake tasted as amazing as the cake looked, and Cathy's cake exceeded a of our expectations. I HIGHLY recommend her. Once you see and taste her work, you're search will be over.
---
Wonderful
Reviewed on

8/14/2014
Cakes by Cathy was absolutely wonderful! We planned our reception for a week after getting married out of state. We only had about a mth of planning and she was so great and helpful, squeezing us in even though she had several other bigger weddings to do that weekend! Not only did our cake look better than we had hoped, but it tasted AMAZING!!! I would recommend her to anyone, she really is a lovely lady!!!
---
Simply The Best!
Reviewed on

8/11/2014
Jamie T
Cathy was wonderful throughout the entire process! She was easy to work with, understanding, and extremely helpful! The cake was beautiful and delicious! My entire entourage (6 people) showed up to our cake tasting and Cathy was more than happy to accommodate! She set up the entire cake table for the wedding reception and had plenty of pointers for the best places for everything from silk flowers to cake toppers!
---
Bride
Reviewed on

8/01/2014
Glenda D
Beautiful cake and absolutely delicious. Cathy is very flexible with scheduling appointments and she is very personable!
---
highly recommended!
Reviewed on

8/01/2014
Kathryn V
I highly recommend Cakes by Cathy! I was planning my wedding from over 600 miles away and my wedding planner recommended Cathy for my wedding cupcakes. I found that the prices were very reasonable and that she was very willing to accommodate my request to have several flavors at no additional cost. Although I could not personally do a taste test on the cake flavors before the wedding, I put my faith in all the positive reviews and recommendations I had read about Cakes by Cathy....and I wasn't disappointed! Our wedding cupcakes were beautifully decorated and tasted great. The cake was moist and the frosting had just the right level of sweetness. Even several days later, the leftover cupcakes we took home after the wedding still tasted great! Thank you Cathy, it was a pleasure working with you and I'm so glad I booked you to prepare my wedding cupcakes!
---
Beautiful
Reviewed on

7/24/2014
C'Aira H
Cathy was such a pleasure to work with. From the moment of my cake tasting I knew I had found the perfect place. The cake was absolutely gorgeous and too top it off it was one of the best tasting cakes I had ever tasted.Our wedding was absolutely perfect. The cake was a highlight of the day. All of my guest were talking about the taste. I even had guest calling me the next day to find out where I had ordered it from. Thank you Cathy for creating another one of your beautiful masterpieces!!!!
---
Cathy is AMAZING!
Reviewed on

7/23/2014
We actually had Cathy make two cakes for us: one for the "night-before party" at The Historic Artcraft Theatre in Franklin IN and one for our wedding. Both were amazing -- and delivered as promised, with absolutely no problems or fuss. We asked Cathy to make the Artcraft cake in the form of a theatre ticket. All we did was provide a copy of a ticket and she did the rest -- and it was gorgeous. Perhaps more important -- the red velvet cake was TO DIE FOR. So moist, so good, and such a hit with all of our guests. The wedding cake was a square, multi-layer spice cake with fresh flowers. Cathy coordinated with our florist and we literally didn't have to do a thing -- just say "Yes, that's gorgeous!" and then admire our cake when it arrived. We had the added complication of needing to move the cake before the cutting ceremony, and Cathy worked with us to make sure everything went seamlessly. Our wedding was outside, in July, and the cake looked as perfect as if it were in a fridge the entire time. Bottom line: Cathy was professional, delightful to work with, and made the whole process SO easy. I could not recommend her more highly!
---
Wedding Cake and Cupcakes
Reviewed on

7/14/2014
Victoria C
Beautiful work and display by Cakes by Cathy! So glad that we found her. She does excellent work. Her cakes are delicious and moist, not dried out and crumbly. Her fondant is also good for fondant. She is an excellent cake artist and baker. Our cupcakes tasted great too. People really seemed to enjoy them and we got an anniversary cake also. If you are thinking about going with her ask her also about different display options.
---
book her!
Reviewed on

6/10/2014
Monica B
Trust me, you'll be so glad you did. I was so sure, after reading her reviews and looking at her work, that I booked her from out of the country. When we finally got to meet, I wasn't disappointed. She is easy to work with, willing to let the creativity fly, and you can tell she loves what she does and puts her all into it. The cupcakes and cake FLEW off the table! A blink of an eye and it was all eaten up, so I think it's safe to say our guests enjoyed her cake too!
---
Better than I could have imagined!!!!
Reviewed on

6/09/2014
Ashley M
I gave Cathy a not so great picture of a cake I found online and printed and she was able to take that small picture and turn it into the most amazing Wedding cake! I got the most compliments not only about the design of the cake but also the flavors! We had a 4 tier cake with 4 different flavors and everyone loved every flavor! If you or anyone you know is looking for a cake for any special event, not just weddings, Cathy is the person to call. Her cakes taste and look amazing and are priced incredibly well!
---
Great Tasting Cake and Awesome Cake Baker
Reviewed on

5/29/2014
Paige J
Cathy is absolutely wonderful to work with! She has many years of experience working with some very prestigious individuals. The cakes that she bakes are BEAUTIFUL, and they taste great too. Her cakes are definitely affordable and more than reasonably priced. Cathy has many great ideas for cakes and is able to do just about anything that you have in mind. I would HIGHLY recommend her to anyone! My wedding cake was absolutely beautiful and perfect in every way. I couldn't have asked her to do a better job than she did!
---
Fabulous!!!
Reviewed on

12/05/2013
Markee A
Cathy came highly recommended to me from many different people. After using her for my wedding I can understand why. She is easy to work with, friendly, talented, and creative. And of course she makes fabulous, delicious cakes. We got so many compliments on our wedding cake. I (the bride) have some food allergies, and Cathy worked with me so I could have a cake on my wedding day. She is a very special lady.
---
Delicious and beautiful cake
Reviewed on

11/03/2013
Molissa O
Cathy did an amazing job with our wedding cake. It was exactly what we wanted and it was delicious to top it off. She also stayed right in the budget that we had planned for cake.
---
wedding cake of our dreams
Reviewed on

10/13/2013
Marnie F
Cathy was an absolute joy and breath of fresh air to work with when designing our wedding cake. She is incredibly professional and personable. You can tell she takes great pride in the product she puts out (and she has every reason to be – her cake is delicious!) At our initial meeting, she took her time with us while we looked through all of the pictures of amazing cakes she had created and while we tasted all of the yummy cake and icing flavors. With Cathy's creativity and talent, the possibilities are endless. We had a tough time deciding what we wanted only because all of the options were so beautiful and unique. Cathy is truly an artist. We never felt rushed or pressured to make a decision. Cathy is a vendor who made us feel so relaxed and comfortable. Her prices are very reasonable as well, considering the outstanding overall quality of her product and services. Cathy is extremely organized and quick to return phone calls and emails. Her communication with us was excellent. Cathy has a very calming presence (which is invaluable when working with brides-to-be!) and we never had to think about whether something was amiss with our cake or felt uneasy or that something could go wrong. Also a testament to her professionalism and excellent communication, she worked seamlessly with our other vendors, including staff at our reception venue as well as the florist. She delivered our cake on time and when we first saw our cake at the reception it surpassed all our expectations. It was exactly what we had talked about with her, only better. Our wedding cake was delicious and we keep getting compliments about how good it was even a month and half afterwards. My only regret is that I didn't eat more cake at our reception. :) Cathy also thinks of all the little details so you won't have to. For example, she boxed up a top layer of our cake in advance so we would not have to think about doing this after our reception, when there seem to be a million other little things going on. Though I know she has a busy schedule, Cathy will make you feel like your cake is the only one that matters. I will be going back to Cathy for all of my future cake needs. :) Thank you Cathy!
---
Amazing!!
Reviewed on

10/06/2013
Jill M
Cathy was such a pleasure to work with. She had no problem helping my husband and I plan the cake that we wanted. I came in with pictures of exactly what I wanted and she made our cake absolutely beautiful! I am so glad we chose to work with Cathy and would and have recommended her to other couples. We got so many compliments on our cake and we can not thank her enough for being part of our big day! :)
---
Amazing cakes
Reviewed on

10/01/2013
Caitlin L
Cathy did an amazing job on our wedding and groom's cake. She was such a pleasure to work with and was so helpful with ideas and as we were trying to decide on options to go with. Our cake was absolutely beautiful and got many compliments on its look as well as great taste! I gave Cathy a very general idea for a groom's cake and she created the most amazing baseball hat cake we have ever seen! Everyone was totally blown away. Cathy is so professional and does everything she can to make sure you are happy. The value of her cakes are outstanding! I will recommend her to everyone I know!
---
Beautiful cake and yummy!
Reviewed on

9/17/2013
Amanda M
Cathy was so easy to work with. Are cake was beautiful. It turned out so much better than what I was picturing in my head. I was so sad we had to cut it. I wanted to stare at it a little longer, but it tasted really yummy. She gives you a seperate anniversary cake too so that's awesome!
---
Delicious Cakes!
Reviewed on

9/11/2013
Kylie B
We wanted a local baker and our florist highly recommended Cathy. Our cake had two flavors (chocolate and white) and our cupcakes were chocolate, white, red velvet, and strawberry. Everyone at our reception commented on how good the cake/cupcakes were. They were moist, beautiful, and extremely delicious. Cathy did a wonderful job setting up our cake table. It was absolutely beautiful!
---
Send Message