Home

Cakes by Linda
About this Vendor
For a cake that is moist as well as beautiful
Cakes by Linda, based in Falls Church, VA., has been one of the D.C. metro and northern Virginia area's master wedding cake designers for over 30 years. She is truly a sugar artist! Her unique custom cakes can be enhanced by her handmade sugar flowers. You will remember her cake long after the event.
Details
Dairy Free, Gluten Free, Nut Free
Cake Delivery + Setup, Cake Tastings, Groom's Cakes, Cakes + Desserts
Beautiful, creative and delicious!
Reviewed on

8/05/2013
Randi K
Linda's cake was amazing! We found Linda at a Bridal Expo at the DC Convention Center. We selected her US Capitol cake as my husband and I got engaged at the Capitol Dome. What could be more appropriate! We selected a three tiered cake with two chocolate tiers, one yellow... Read More cake tier and a chocolate mousse filling. The cake was incredibly beautiful and delicious to eat. We received many compliments that the cake was a perfect addition to our wedding! Linda was responsive to my questions throughout the process and delivered the cake on time. I highly recommend her for any cake needs - it was fantastic!!!
---
Beautiful and tasty cakes!
Reviewed on

7/30/2013
Kelly B
Linda customized my cake to match the lace on my wedding dress! It was stunning and really yummy, too!
---
There is not a better cake for any wedding
Reviewed on

6/03/2013
Christine S
This cake was amazing as it was beautiful! Price was affordable and she dealt with a bride who could not make up her mind! My guests thought the flowers were real because they were so beautiful. We liked the cake so much we ordered another for a birthday. I would recommend Cakes... Read More by Linda for not only weddings but for any occasion, she is truly an artist and the cake is to die for!
---
Reviewed on

1/07/2018
Kayla M
Our two cakes (grooms' cake and our wedding cake) were SO DELICIOUS. Linda is so talented, and made us two very beautiful pieces! She was very professional, and we really enjoyed our tasting/meeting with her! We knew we wanted her cake after sampling her Orange Champagne cake... Read More at an open house, so when we went to our tasting with her, it was really all a bonus to try her other flavors even though we knew what we wanted already. She made the grooms cake to look like a classic nintendo controller, as a butterscotch cake with dulce de leche cream middle. There was NOTHING left of that cake by the end of the night! She was absolutely wonderful to work with, and we will definitely be going back for any future milestone cakes! Thank you Linda!
---
Reviewed on

9/17/2017
Susan C
Linda created the cake for our daughter's wedding, and it was incredible! Not only was it beautiful, but it was fresh, moist, and tasted devine. Guests raved over it! Linda provided an elegant cake stand, making an impressive presentation. Our experience in working with Linda... Read More was easy and fun, and ended on a very tasty note!
---
Reviewed on

6/21/2017
Amy F
We did a few tastings at bakeries before finding Linda. I absolutely hate store bought cake so I was very picky in choosing a vendor. Everything from Linda's kitchen tastes homemade. She was so lovely to meet with to discuss what we wanted and after the tasting I was hooked.... Read More We had white with almond and champagne orange with apricot filling. YUM. We also had english fruit cake as our top tier, which we didn't save but instead devoured at a tea party the day after the wedding with my english in-laws. This is not like any fruitcake you ever tasted. It was delicious. As for the appearance of the cake, wow. Linda captured our vision exactly. It was elegant and beautiful and the flowers looked so real. I would definitely buy from Linda again.
---
Reviewed on

6/21/2017
Alison H
My cake was FANTASTIC for my wedding! Everyone commented on how pretty is was AND how delicious it tasted! I had 2 cake flavors, chocolate and lemon, with a strawberry filling and it was just incredible! I fell in love with those flavor combinations at the tasting and Linda was... Read More just great to work with! We didn't really have an idea for what we wanted our wedding cake to look like and Linda was very helpful! She had us flip through her huge binders of cakes and then we selected a bunch that we liked, then slowly narrowed it down! I would definitely recommend her if you want a delicious and beautiful wedding cake!
---
Reviewed on

12/13/2016
Matthew B
The cake was beautiful and very tasty! We couldn't wait a year to eat the top because we wanted more. Looks like we will be ordering another one next year!
---
Reviewed on

11/06/2016
Anna & Mo S
We initially had a different cake vendor in mind for our reception. However, my husband and I were starting to feel a little uncomfortable how the vendor came off and our gut told us to look elsewhere. We've started our search for a cake vendor by going to different wedding... Read More expo/showcases. My husband and I stumbled upon Linda's table at this first expo we went to and sampled many of the flavor cakes she had. My husband could not stop talking about the Mango Passion Fruit flavor. I didn't want to admit it but I secretly liked it too. I kept telling myself we should keep on looking for more vendors. On our last wedding expo/showcase, it was at Dream Shaadi. I think that's when I realized I wanted to book Linda to do our wedding cake. We made our first appointment with Linda and talked over the simple design that incorporated our culture on the cake. She made sugar flower (plumeria) and we chose one of the cakes she made in past because we didn't want anything too extravagant. When it came down to the flavors, we ended up getting two layers of Mango Passion Fruit and Orange Champagne. Our guests LOVED our cake. We recently just finished the last remaining slice from our reception and we were so satisfied with our choice of vendor.
---
Reviewed on

7/20/2016
Matt M
Hi
---
Reviewed on

1/09/2016
Lauren C
Linda did a FANTASTIC job with our wedding cake. It looked beautiful and tasted even better. She was lovely to work with and we would highly recommend to anyone!
---
Reviewed on

10/28/2015
Crystal Minwegen
Linda is a very sweet lady. Very easy to talk to. Linda loves what she does. She was very understanding and made the cake exactly as to what i wanted! She made it stress free as possible and was very easy to work with. Her cakes are wonderful!
---
Reviewed on

10/28/2015
Jackie R
Cakes By Linda made my gorgeous cake for my wedding on October 18th and it was stunning! Not only did she deliver on the presentation but also on the delicious flavors we chose! Cakes By Linda comes highly recommended and for good reason!
---
Reviewed on

10/28/2015
Vanessa R
What a work of art! It was almost a shame to cut it. Absolutely beautiful down to the last detail - roses that were lifelike (one guest was convinced they had to be real and wanted to touch the roses to prove it) and an intricate design that matched the beaded design on the... Read More wedding dress. In addition, the cake tasted fabulous! The cake had two flavors, lemon vanilla (the bride's favorite) and chocolate (the groom's favorite) with a creamy, not so sweet, icing, and perfectly moist. Although the layers were separate and each absolutely delicious, together the taste was heavenly. The cake was an absolute delight and was consumed with gusto by the guests!
---
Reviewed on

10/27/2015
Marilee S
My husband and I used Cakes by Linda for our wedding this past May, and we were wowed by our experience! Linda keeps the cake tasting process very simple, and has a picture album of her cakes to help you make a decision. Her buttercream is the best we've ever tasted, and the... Read More vanilla almond and chocolate cake are phenomenal. In fact, her cake is so good, that my husband and I made sure to tell our caterer to have some wrapped up for us in our getaway car so we could ensure we were able to enjoy some on our wedding day (aside from the quick bite during cake cutting). We ordered both our wedding cake and a grooms cake from Linda, and both were wonderful! I 100% recommend using Cakes by Linda for any occasion!
---
Reviewed on

10/27/2015
Dianna H
Amazing! The cake came out perfect and even better then i could imagine. Our flavors were outstanding and the cake was very moist! Great price too! Thank you so much for doing such a fantastic job!
---
Reviewed on

10/27/2015
Sarah L
Our cake was so gorgeous!! Of course, the wedding was a whirlwind, and I don't actually remember if I got a chance to eat some that night, but Linda included a free 3rd tier. I think that probably we were supposed to freeze it, BUT we decided it would be better if we ate it... Read More fresh :) We ate a slice every night for a week, and oh my goodness it was so good! We ordered butterscotch and almond cake with dulce de leche filling, and I definitely recommend this combination. Linda was so nice, and very easy to work with. I would 100% recommend Cakes By Linda, and have already mentioned the name to a couple of friends who just got engaged and are just starting to plan their weddings.
---
Reviewed on

10/11/2015
Alison C
Linda is amazing. She was able to take my vision - after some changes - and turn it into a reality. When I first saw the cake I was blown away - and then again when I first tasted it! All of my friends were saying that if someone had turned me into a cake - it would be my... Read More wedding cake :) She captured our personalities and ideas for the cake perfectly - and did I mention it was delicious!!!! Thank you for everything Linda - it was fantastic.
---
Bad Customer Sevice
Reviewed on

2/03/2015
Yolnie T
The knot Should remove cake by Linda on this list. It has been a year since contacted her to do my cake, she said to wait for 6 month before the wedding to book me. exactly 6 month before the wedding we schedule appointment for testing we book with send her a check 2 month... Read More before the wedding I called to confirm with her she tall me she had too many cake to do she cannot do my cake I was so stress out look around for another baker. I will not recommending to anyone she is terrible.
---
Delicious
Reviewed on

9/16/2014
Stephanie B
SO SO SO good!! Her cake was so moist and delicious! She offers so many choices and designs!! Worth every penny! Love her, such a nice woman to work with and made last minute adjustments! Love the experience!!
---
Delicious Cake and Very Professional!
Reviewed on

7/07/2014
Jeanne G
It was so great working with Linda. She was very attentive, responded to e-mails in a timely manner, and her cake was delicious!! The cake was exactly what I asked for- I could not be happier with the look and taste of it. Everyone loved the cake!
---
Beautiful Job
Reviewed on

6/12/2013
Yelena R
It was very easy to work with Linda. The cake she created was beautiful and almost as we planned, but seemed to be missing the crystal string around the cake, but it was fine in the end...the cake still looked wonderful. Linda has an assortment of flavors that can be mixed... Read More together. Overall I am happy!
---
fall wedding
Reviewed on

11/12/2012
Glenda L
Linda really has some really good cakes. Her cakes are very moist and the price is reasonable.
---
Delicious and beautiful
Reviewed on

12/18/2011
Gillian M
What a great cake at a great price! We received many compliments both during and after the wedding.
---
Horrible Experience
Reviewed on

11/02/2011
Casey H
I met with Linda (Groom and MO in tow)because she made my sisters cake and it was very good. However, she was short, abrupt and not interested in different or unique cakes. She did not acknowledge that she had done my sister's cake and just ignored it. When we were finished... Read More talking about what we wanted she said what we wanted was not possible in butter cream and would have to use fondant (NOT what I wanted) and if I did not want that I could pick one from her book. It was not special and I felt like she thought she was doing me a favor by making my cake. UG!
---
Meet The Owner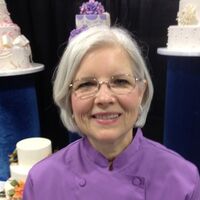 Linda Rothgeb
Cakes by Linda, based in Falls Church VA., has been one of the D.C. Metro and Northern Virginia area's master wedding cake designer since 1979. She is truly an artist! Her deliciously moist creations are only equaled by her ability to create unique and elegant custom designs. Linda can also enhance your design with her gorgeous handmade sugar flowers. She is committed to making your cake something special that you and your guests will be talking about for a long time after your event.