Home

Calligraphy By Cristine
About this Vendor
First impressions are everything...
Let us provide calligraphy that reflects the type of wedding you've planned. Your guests will immediately know they are invited to something special as soon as they open their mailbox. From simple to extravagant, contemporary to traditional, we also offer custom designed Wedding Invitation Suites.
Details
Contact Info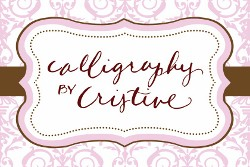 My favorite wedding vendor, unbelievable calligrapher!
Reviewed on

5/13/2013
Stephanie S
Second to my dress, my invitations were my top wedding priority. I carefully picked out our invitation and knew I needed a calligrapher that would take them to the next level. I contacted Christine to see if she would be able to replicate a cursive script on our invitations into the calligraphy on the inner and outer envelopes, within days she had turned around a beautiful sample that looked identical to the invitations. It was simply stunning! As Christine worked on our inner and outer envelopes she was always in constant communication and handled everything with extreme professionalism. Our invitations went out last weekend and I wish I had a dollar for each guest who has complimented on the calligraphy. We've even had some people call and ask if that was done by hand or a machine - it looks THAT good! She is without a doubt one of my favorite vendors who we've worked with throughout the wedding planning process. If you have have the opportunity to work with Christine, make sure you do - you won't regret it!
---
Beautiful calligraphy!
Reviewed on

11/03/2012
Taylor L
We are so happy we chose Cristine to calligrapher our envelopes for our invitations for our wedding 10/5/12! She did a beautiful job in a charcoal gray in the Grandeur style to match our invitations. She sent us several samples initially which was helpful to see in person. We had considered simply getting the addresses printed on the envelopes at a local print shop until my mom found Cristine's website. Her prices are very reasonable and she gives you the exact dates she needs them by and will have them done to make sure they are sent out to your guests on time. There were a few where she forgot to finish the y's and g's but she fixed it very quickly for us. I think it really makes a statement to see a beautiful hand calligraphed envelope when you receive the wedding invitation. My recommendation to all (we made sure to do this) is to get them "hand stamped" at the post office when you send them out so as not to have that machine black ink running across the invitation and ruining the gorgeous work by Cristine! Highly highly recommend.
---
Something Important In The Mailbox
Reviewed on

10/05/2012
Nasira H
The one 'extra' that I had to have was wedding invitation envelopes that were written out by a calligrapher...and boy am I glad that I did and that I picked Cristine to do them! Cristine is extremely professional in the way she deals with brides, but she also has a friendly personality that makes it fun and easy to communicate with her through email :) Cristine came to my house for our initial meeting to pick up the envelopes and place cards and thereafter she mailed me the finished products (very carefully boxed and wrapped with pretty tissue paper). It was easy to get the information to Cristine, nothing complicated, just a simple excel sheet with the names (she provides the template to work off of). Cristine is great with delivering within the timeframe she says she will and is great with staying in touch, something which is super important when you're a bride trying to stay organized! The calligraphy was beyond beautiful, it was exceptional! When guests opened their mailboxes and saw the calligraphy I wanted them to immediately know that they were about to open something special. And that is exactly what happened. We got a lot of compliments on the calligraphy and how it really made our wedding that much more elegant. I would definitely recommend letting Cristine do your calligraphy, she has such a steady hand and a gorgeous style of writing, you won't be disappointed!
---
Great pricing, nationwide shipping
Reviewed on

2/11/2014
Kelly
I used Christine for my October wedding, both envelopes and escort cards. She is consistent in timing, communication, service, pricing and produced a beautiful product. Turnaround and shipping time were quick and she was great about staying in touch with me throughout the process. Great vendor!
---
great job
Reviewed on

9/24/2013
Kathryn w
did a great job In a timely manner, thank you.
---
True Professional with Personal Touch!
Reviewed on

10/25/2012
Colleen J
I utilized Cristine's services for my 10/28/12 wedding. Cristine was extremely prompted and sent me samples of her work right away! I loved her work from the get go! She is a complete professional in that any request given, she would achieve with no hesitation. She performed my invitation inner and outer envelopes with great quality and looked extremely elegant! I highly recommend to anyone getting married, to definitely use calligraphy envelopes. Cristine also took the challenge of using a paint pen on painted wooden leaves for our table number/escort cards. I whole a great deal to Cristine's fine work on the impression she set forth for my wedding. EXCELLENT!!
---
Great quality!
Reviewed on

10/19/2012
Elizabeth C
Cristine was great with addressing our invitations. She was able to squeeze my order in around her vacation and did an amazing job matching the font and ink color on our invitations. She was also extremely quick and responsive on email, which made working with her a breeze.
---
Custom Calligraphy
Reviewed on

10/13/2012
Alexis T
I asked Christine to do a custom order to match the font used in my invitation. She was more than happy to take on the challenge and did a wonderful job. She had to redo a couple of names, but that comes with any type of print/hand work. Many of my guests thought she wrote out our names in the invitations, that's how good it looked! If you want to spend the money for a calligrapher and get a nice formal look to your invitations and such, I would recommend Christine to you.
---
Very happy!
Reviewed on

10/10/2012
Anne H
When I was planning my wedding, I had actually opted to skip having our invitations professionally addressed by a calligrapher because it felt like a detail that most would not notice. My mom talked me into having this done however and I found Calligraphy by Christine online. Christine is very talented and extremely helpful and flexible. We were a little later in the planning when the decision about invitations and calligraphy was made but Christine turned everything around quickly (within about 2 days end to end). We also decided to use cities my husband and I had visited as our table "numbers" and use antique frames for them so we added that to our contract with Christine as well. They looked so awesome with the antique frames and folks liked both the idea and how they looked. Overall I would definitely recommend Christine. I just wish you good luck choosing between all the styles/fonts she has available. That was actually one of the few areas my husband and I disagreed so we had to choose "neutral ground"!!
---
A True Artist!
Reviewed on

10/06/2012
Abigail W
Words cannot begin to express what an amazingly gifted Artist Cristine is! She is in a class all her own! Not only does she create absolutely drop dead gorgeous calligraphy~ she is truly a delight to work with! Cristine did the calligraphy for both my son's wedding (9-15-12) and daughter's wedding (5-28-10)~ and unquestionably her work is the most stunning calligraphy I have ever seen! The amount of compliments we received about the Invitations, Menus and Place Cards~ for both weddings~ were amazing! In addition, even the people at the post office were talking about how perfectly flawless Cristine's calligraphy was! Just stunning! Cristine is very reasonably priced and incredibly attentive to ensure not a single detail is missed. Lastly~ I cannot say enough about how wonderful Cristine is to work with! Her excellent communication skills~ coupled with how extremely talented, helpful, accommodating, reliable, meticulous and committed to excellence~ confirms to me you will not find anyone better! Cristine is a true professional and I will forever and always be a fan of hers! Calligraphy by Cristine has my highest recommendation!!!
---
My favorite vendor by far
Reviewed on

10/06/2012
Beth L
Cristine is absolutely fantastic to work with. From day one, she was accommodating (offered to meet me closer to where I live to go through options), professional, and so kind and friendly. Her work is exceptional in quality and creativity (she offered so many types of calligraphy it made choosing hard!), and her papers are also beautiful (we use them for everything as well). I got more compliments from guests on the classic beauty and detailed touches of her work than on anything else related to the wedding. The cost was also very reasonable which is always nice. Two thumbs way up!
---
Perfection!
Reviewed on

10/05/2012
Cameron D
Cristine is amazing to work with. We requested handwritten invitations and place cards and they were absolutely FLAWLESS. I've never seen better calligraphy work. She listens to what you want and provides helpful suggestions and insights. After hearing so many horror stories about my friend's calligraphers for their weddings, I must say that Cristine was one of the most professional, sweet, and easy to work with vendors we used. We give Calligraphy By Cristine our highest recommendation. Thank you Cris!
---
Beautiful work!
Reviewed on

10/05/2012
Stephanie C
We hired Cristine to create the design for our wedding invitations, as well as to address the inner and outer envelopes. I cannot even begin to express how happy we are with the finished products. After creating the invitation suite by hand, Cristine converted it all into the appropriate digital format for the printers we used. Our invitations were then done as letterpress using this digital document and it turned out great. The work Cristine did on the envelopes was also beautiful--and not a single mistake! She was very easy to work with and kindly understood when we gave her a few last-minute address changes for the envelopes. Everything was done well within the timeframe we had requested. I would highly recommend Calligraphy by Cristine to anyone looking for high quality, artistic calligraphy for their invitations and/or envelopes.
---
Couldn't have been happier!
Reviewed on

10/05/2012
Shannon B
As the title indicates, I could not have been happier with the services I received from Calligraphy by Christine. She was very professional, timely, and produced beautiful work. She provided samples from which to choose so that I was able to have the font that worked best for me. We receive many compliments on the elegance of our wedding calligraphy, thanks to Christine!
---
Calligraphy
Reviewed on

10/04/2012
Marie S
Cristine made the name cards for all table settings, designed the ceremony programs and made a beautiful guest list that included table numbers. Cristine gracefully obliged when I asked her to do more than I had initially requested and was able to be creative when I needed someone else's ideas. She was extremely prompt and professional. She kept me up to date and gave me a timeline well in advance Everything was perfect and beautiful!
---
Excellent!
Reviewed on

10/04/2012
Lauren S
Cristine was easy to work with, reliable, and her work is amazing. She did the outer envelopes for our invitations and they turned out beautifully. We could not have been happier with the way they turned out. I would definitely recommend Calligraphy by Cristine!
---
Excellent work!
Reviewed on

6/08/2012
Mary-Margaret M
My experience with Cristine could not have been better. When I contacted her to enquire about her services, she promptly sent me samples of her work in the mail. I decided to move forward with having her address my invitations. She accepts payments on paypal, which is very convenient, and she arranged to pick up and drop off my envelopes at my office in downtown Chicago. She got the final product back to me in a week (including about 80 inner and outer envelopes) and it looks beautiful!
---
Loved my custom style calligraphy!
Reviewed on

8/17/2011
Katie J
As a wedding and event planner, details and professionalism are of the utmost importance to me. Cristine was very responsive and worked with me to create a custom style calligraphy to have something special and unique for my big day. My guests raved about the calligraphy on their invites! We were so thrilled with the how the envelopes turned out, we had Cristine do our escort cards, too! It was a beautiful element to our wedding and Cristine was great to work with. I would definitely recommend her for anyone looking for great calligraphy at a great price.
---
Beautiful Calligraphy for a great price
Reviewed on

8/02/2011
Judy P
I had samples sent to my home from a variety of calligraphers, and Cristine was by FAR the most beautiful. She is talented and charges less than many of the less skilled calligraphers in the area. She did all of my invitations, placecards and table numbers for a very reasonable price. I would highly recommend her for any calligraphy needs.
---
My favorite wedding vendor!
Reviewed on

12/28/2010
Kira M
Cristine was unquestionably my absolute favorite wedding vendor and I cannot say enough about what a delight it was to work with her, the quality and beauty of her work, and how many compliments we received on her calligraphy. Although I live in New York, I found Cristine's website and was immediately impressed by the professionalism, quality of work and reasonable prices. As we began corresponding and throughout the entire process, Cristine was incredibly responsive to my e-mails and kept in touch on a very regular basis. She provided advice and suggestions whenever I asked, and seemed to instinctively understand what I wanted. Even though we had to mail everything back and forth (NY-Chicago), she was still incredibly prompt and got everything done with plenty of time and packed safely and neatly in the box. When we received the box with the wedding invitation envelopes, my mother and I were stunned. They were incredibly beautiful and added so much to the overall effect of the invitations. Each one was unique and exquisite. As soon as our guests started getting their invitations, I literally got phone calls from friends and family asking us who our calligrapher was and telling us how fantastic it looked. When it came time for escort cards, there really was no other option than to ask Cristine to do them! She did a lovely white/silver colored ink on an eggplant card. All in all, I would recommend Cristine to every bride out there who is considering hand calligraphy. And if you're not planning on doing hand calligraphy, you should reconsider!
---
BEST Calligrapher
Reviewed on

11/01/2010
Bomie K
I LOVED every single one of Cristine's lettering styles. I wish I could dictate and she could handwrite everything for me. If you live in Chicago, do not worry that she is located in McHenry, IL. Not only is she extremely wonderful to work with, easy on the pocketbook, and the BEST calligrapher in the Chicago area (out of 20-30 calligraphers that I found), her husband picks up and drops off your invitations at your office/home since he works a couple days a week in Chicago. I highly recommend Cristine and have already told my stationer to pass her name around.
---
Exceeded Expectations
Reviewed on

10/19/2010
Kristin N
Christine is incredibly talented and easy to work with... I would recommend her to anyone getting married in the Chicagoland area. She's amazing.
---
Send Message