Home

Candlelight Farms Inn
Amenities + Details
Amenities
Handicap Accessible

On-Site Accommodations
For more details about amenities, please message the Venue.
Farm + Ranch, Barn, Waterfront, Historic Venue, Tented
Food + Catering, Planning, Service Staff
Contact Info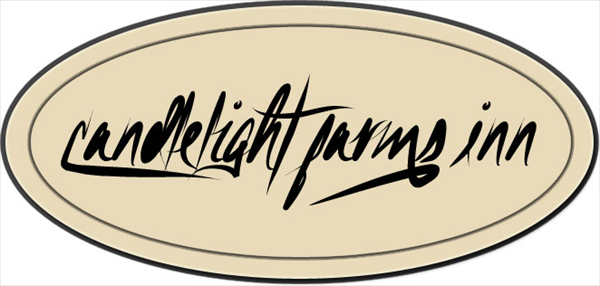 Reviewed on

7/04/2017
Alexa P
I had a Sunday afternoon brunch themed wedding in June at Candlelight Farms and it was absolutely perfect. The property is stunningly beautiful, and Nancy will treat you like a friend from your first interaction with her. She is always on top of communication and is a wealth of... Read More information in the midst of the craziness of wedding planning. My experience with her and the venue was everything that I wanted for my wedding, and our guests still won't stop talking about what an amazing day it was.
---
Reviewed on

6/11/2017
Rachel C
I can't say enough good things about Nancy at Candlelight Farms Inn. The Inn was beautiful and Nancy was prepared for every and any situation. She was very responsive during planning and her and her staff helped the entire weekend with planning, food, and other general tasks.... Read More The grounds are expertly maintained and provide for a picturesque Connecticut wedding. I am so happy with my decision to spend our special day at Candlelight Farms Inn. I also opted for the weekend package and my guests and I really loved having the weekend to ourselves at the venue! Made it easier for my wedding party that was traveling and we had so much fun throughout the weekend.
---
Reviewed on

11/03/2016
Lauren P
It is impossible to overstate just how amazing my experience with Candlelight Farms was. From the moment my husband and I arrived to view the property we felt welcome, and awed by the beauty! The day was absolutely perfect, and Nancy was a huge help from the day we booked the... Read More space. She is extremely responsive to email, and was able to answer all of my questions and meet every request. While the wedding was this past weekend, we are still getting texts and emails from friends and family members letting us know what a wonderful day it was. If you want to have the wedding of your dreams, Candlelight Farms Inn is the place for you!
---
Reviewed on

10/03/2016
Jennifer W
My husband Jason and I researched venues in both New York and Connecticut after getting engaged however we only visited one. We made the decision to get married at Candlelight Farms on September 4th as soon as we met Nancy. We had been to a wedding there before so we only... Read More needed another visit to realize that's where our dream wedding would be. Nancy met with us several times in the year leading up to the wedding not only to help with questions about The Farm but also to help with questions about other vendors and things we would need. She always responded to our numerous emails promptly and answered all of our questions to make us feel as confident as possible that everything would go well. She was there when we arrived at The Farm the day of the wedding and coordinated our entrances and everything. We could not be happier with her and The Farm - we truly had the most magical wedding day and we couldn't have done it without Nancy!!
---
Reviewed on

9/30/2016
LeighAnne P
After getting engaged, we obviously started looking for venues. The first place that we looked at was Candlelight Farms Inn. We went up to look at the venue in March the year prior while everything was brown and snow still on the ground, yet the presence and the views alone sold... Read More us. Working with Nancy was just amazing, she was very attentive and responsive in emails anytime we contacted her. She made the planning of the entire wedding seamless. We also opted to have our rehearsal dinner at the Inn the night before so that we all knew exactly where we needed to be and when. The morning of the wedding I was able to get ready at the Inn with my bridal party, she was there to check in at every point and she directed all the other vendors to where they needed to be and helped with anything, and I mean anything needed! The morning after the wedding she had breakfast and coffee all ready for the guests at the Inn which was just the icing on the cake for us. If you're looking for a place with a vintage, yet rustic elegant feel, this the place to hold your wedding. Its breathtaking views made for some remarkable pictures. We couldn't have been happier.
---
Reviewed on

9/27/2016
Linda K
My husband Jason and I just had our wedding at Candlelight Farms Inn on September 25, 2016. This day was everything I had envisioned it to be. The setting of the farm at this time of the year is breathtaking! Summer flowers still in bloom and fall leaves taking over the... Read More trees. It was the most spectacular setting for our special day. The weather was better than perfect ! The barn was decorated exactly the way I saw it in my mind. Pumpkins everywhere, bright colorful flowers, farmhouse tables and chairs, lights strung from the beams. It all took my breath away. I had said to Jason when we first got engaged, I want our wedding at Candlelight. I knew there was no where else I would want to exchange our vows and be joined by all our family and friends. Nancy and her staff did an amazing job and were there every time we needed them for something. I swear I feel like I got married on my own property as that is how they make you feel. If anyone is looking for that perfect country setting to have their wedding, this is the place for you. Your pictures will be filled with gorgeous scenery and barns, stables, cottages, you name it. Luckily we live so close that we can go up and visit from time to time just to relive that day in our minds all over again. My many thanks to Nancy, Carl and Chris for their hospitality, generosity, patience and friendship. This is my home away from home :) Love!!!!!
---
Reviewed on

7/13/2016
stacie f
This venue made our wedding. Nancy and her staff made everything go seamless. They were an extension of our family. The grounds are beautiful, the majority of our guests were from out of town and everyone kept commenting on how how beautiful the place was. And it truly was.... Read More Everywhere you look you will have a different spectacular view. You won't be disappointed.
---
Reviewed on

11/10/2015
Melody M
Candlelight Farms Inn was what I had always dreamed of when i thought of our wedding. It is massive amount of natural stunning space that can be customized to make your own. We had a rustic style wedding with tons of crafty DIY touches which were easily accommodated. Nancy was... Read More so easy going and amazing to work with, she truly cares about the couples she hosts and it is obvious in all that she does. We got married on 10/3/15 and it was an exceptionally cold day at 45 degrees during our ceremony... we still had it outside and i am SO glad we did because the scenery is breathtaking and worth all the shivering. In fact we were so in love with the farm that we had our rehearsal dinner in a small elegant barn on site and Nancy assisted to organize the actual rehearsal. We felt like we were "home" all weekend of our weekend, and I wouldn't have it any other way. I can't wait to go back for future celebrations. A true dream come true!
---
Most Beautiful in the Fall
Reviewed on

10/26/2015
Olivia M
This place is amazing, they don't have any in house vendors but they have a lot of recommendations, which are excellent. Our wedding was October 24th and the fall colors!!! Just blew us away. The owner Nancy is very helpful as well, she helps to set up the rehearsal and is... Read More always available for questions, overall a wonderful venue!
---
MOST BEAUTIFUL WEDDING VENUE ON EARTH!
Reviewed on

7/23/2015
Christie A
My husband and I had our wedding at Candelight Farms in July of this year (2015). While on our honeymoon, we constantly reflected on our wedding weekend as the best weekend of our lives! Candlelight Farms is, in our opinion, the most beautiful wedding venue on earth! The grounds... Read More are absolutely breathtaking- so beautiful, in fact, that decorations are hardly needed. The gardens, lake, and beautiful barns make for the perfect rustic, farm-feel wedding. I love to craft and DIY- another reason the farm was perfect! I had plenty of space to add little personal touches to make the venue feel like "us." On the day of our wedding, our guests commented that the venue was the most stunning they had ever seen. Aside from the beauty of the farm, Nancy, the owner is WONDERFUL. Within 10 minutes of meeting her, I knew that I wanted to work with her. Her warm personality, timely communication, advice, experience, and love for what she does are just a few of the things that I came to love about her! Prior to our wedding, Nancy and I would e-mail on a consistent basis- I always felt like my questions were answered promptly and in detail. As the wedding drew closer, we decided to have our rehearsal dinner in one of the barn at the farm (why would we have it anywhere else?!). Nancy helped to organize and decorate for the dinner! She also helped to run the rehearsal which was so comforting. On the day of the wedding, Nancy helped wherever she was needed! She has a way of knowing what needs to be done without even having to ask. In closing, my husband and I have the warmest memories of Candlelight Farms and we look forward to having anniversary parties and other events there in the years to come!!!
---
Most Breathtaking Venue in Connecticut
Reviewed on

9/30/2014
Chelsea L
My husband and I were married at Candlelight Farms on September 6th 2014. From the first moment we set foot on the property we knew that we had found the perfect location for our wedding. The views are absolutely breathtaking! From the stunning landscaping to the charming Inn,... Read More it felt like something out of a dream. Nancy made herself available to us throughout the entire planning process and was a tremendous help in making our vision a reality. She was also a great comfort on the day of, making sure we had everything we needed, and even smoothing my dress and veil before I walked down the aisle. We had so many guests compliment us on our beautiful and unique venue, and tell us that it was a wedding they will always remember. It truly was the perfect day!
---
Most Amazing Day!
Reviewed on

8/10/2014
Jessica S
My husband and I were married July 19th 2014 and it was one of the most amazing days of our lives. We fell in love with Candlelight Farms Inn the moment we saw the property. The day we viewed the property it was raining and even in the rain the property was gorgeous! The... Read More property had the perfect backdrop for the vision we wanted for our special day. Rolling hills, beautiful sunsets, and a rustic charm that completed everything. Nancy was amazing throughout the wedding process. She helped with all the details and was very accommodating to our needs and vision. I would recommend this property to anyone looking for a beautiful, classic, rustic New England wedding. When my husband and I saw how the property looked the day of the wedding we were without words. Everything looked and felt perfect, as if it was out of a Martha Stewart Magazine. We could not have had a better venue for our wedding. We would recommend this property to anyone for their special day!
---
Spectacular Wedding Venue
Reviewed on

6/28/2014
michalan r
I was married at Candlelight Farms on June 7, 2014 and it was absolutely the best day of my life!! Nancy and Carl played such a big role in making my wedding day the best day ever and I can't thank them enough. To start, the property is expansive and gorgeous. And the inn is... Read More beautifully rustic with modern amenities, My photographer had never been to the farm and he was like a kid in a candy shop wanting to take pictures in all different locations. Nancy was by my side throughout the day, making sure all the details were taken care of, right down to helping me take a deep breath before the walk down the aisle. And previous to my big day, she was always available to meet with me and discuss anything I had questions about. She has so many wonderful suggestions after having seen so many weddings, and has accumulated a lot of wedding craft supplies to help you save some time/cash. From day one she was a great source of support! Everyone at the wedding couldn't get over the beauty of the farm and I hope to return for another party some day!
---
The most beautiful setting in New England
Reviewed on

8/03/2012
Stacy V
If you are looking for an outdoor, tented wedding, with the most beautiful landscape and the kindest people, look no further! Candlelight Farms Inn is off the beaten path, but so worth the drive. This breathtaking property overlooks rolling CT hills, a pond, birch trees, horses,... Read More farm animals etc...Nancy and Carl are the owners of the property and two of the kindest people I have ever met. They are extremely accomodating and enthusiastic. The Inn is gorgeous, with old world equestrian charm. It was a dream come true and I can't wait to visit there again and again.
---
Best Wedding Ever!
Reviewed on

8/22/2011
Alexandra D
Candlelight Farms Inn is not only a beautiful site for a reception, but the staff there, especially Nancy, make you feel like a member of the family. It was truly an amazing experience to get married there, and all of our guest had an amazing time.
---