Home

Catering With A Twist
About this Vendor
Old Fashioned Heart, Honesty and Fresh Food!
Much more than just a catering company, we thoroughly embrace the creative aspect of everything we do! We are based on 1950's old fashioned heart and honesty; putting customer's and their big day expectations first and foremost. The desire to think outside the box is apparent in our work.
Details
American, Eastern European, French, Indian, Italian, Latin American, Middle Eastern, Fusion
Family Style, Seated Meal, Servers, Food + Catering
Contact Info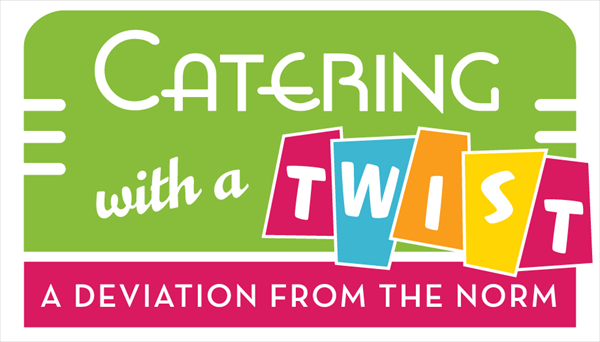 602 McNeil Road Ste #106, Greater Austin Area, TX
Must use CWAT!
Reviewed on

4/13/2015
Brittany R
Kassie was great to work with. Every detail from the menu tasting to the event was awesome. The tasting is super intimate you get to meet the chef and you are practically in the kitchen :) We really enjoyed it. The tasting made us super excited for our event. The day of the event was smooth, they arrived prepared. There was staff to meet the wedding party right after the ceremony with plates of passed appetizers so that the bride, groom, and wedding party didn't miss out. We had our dinner served family style and it was seamless, quick, and they were fast at refilling dishes (our table asked for a LOT of mac and cheese!). Our friends and family STILL talk about how great our food was. We found that we got the best food for the best value with Catering With a Twist and would highly recommend them and use them again!
---
WOWed by Catering with a Twist
Reviewed on

3/10/2015
Brittany F
I cannot say enough about Catering with a Twist. I worked with Kassie and her team for my wedding and could not have been happier with the food, the displays and the service they provided. CWAT was great to work with, accommodating, super creative and highly professional. They delivered a delicious, family-style, Italian feast complete with an antipasto display for cocktail hour that truly wowed my big, Italian family. Our wedding would to have been the same had we not booked CWAT and I highly recommend the catering services of Kassie and her dedicated team!
---
Phenomenal!
Reviewed on

2/24/2015
Catering with a Twist went above and beyond we could've ever imagined for our wedding. Not only was the food delicious and cooked to perfection, it was presented in a fun, happy way that our guests loved. Working with Kassie in the months leading up to the event was almost effortless, and she made us feel at ease every step of the way. She and her team are creative, responsive, and put their entire selves into their work.
---
Reviewed on

6/17/2015
Jessica B
Amazing food and amazing to work with! Kassie and her gang were so helpful and listened to what we wanted for our tropical themed wedding. We just did hor d'oeurves and had rave reviews from everyone about the but the stars of the evening were the Jamaican Jerk Chicken Nachos and the Brie and Bacon Cheesecake bites. I highly recommend them and must advise to not pay to cheap food! They are well worth the money and they over deliver as far as service and quality. Leave your guests with a lasting impression and have amazing food; get these guys! Thanks again to you all, it wouldn't have been possible without you.
---
Unique, Delicious & Professional
Reviewed on

10/27/2014
Alyssa H
Cassie, the owner, was great to work with. I had hundreds of questions and she was always quick to answer them - which is always great when you're in "planning mode" and just want to know! The thing that drew me to CWAT was it's unique food display options and the variety of packages - which can really help pull the theme of your wedding together. Ours was rustic and Cassie made sure to take a look at our Pinterest board and asked a ton of questions about the decorations and theme we were going for to ensure all food displays fit into the wedding. The food was really good too. We had a variety of cuisines via stations so there were a lot of different elements to prepare. My only complaint was that the food was slightly warm rather than hot but again, that's something to consider when catering an event and a difficult feat to achieve for any cater. During out tasting we missed out on tasting the falafel (to us, an important element of one of the stations) so Cassie made sure to have the falafel specially prepared for us prior to the wedding so we could taste it. This out of the normal gesture really showed CWAT's customer service! And as for the falafel, it was a hit and one of the items our guests marked as their favorite of the night. Cassie's staff was also wonderful to have at the event. Everyone was friendly, smiling and attentive. You can tell Cassie takes special care in picking her employees and values them as family. We also had CWAT bartend our wedding and the special little touches at the bar such as the mixed nuts really shows that CWAT pays attention to detail!
---
AMAZING!!!
Reviewed on

9/20/2014
Olympia P
Kassie and her team were incredible. I was an out of state bride and they made it easy for me to plan from far away. They were great to work with, very accomodating and fun! It's obvious they love what they do. Their menu selection was awesome and varied. Their unique display packages really fit our vintage/rustic vision. The food was to die for and all our guests are still talking about it. The staff was friendly and attentive. We could not of asked for more. You will not be disappointed!!
---
Great food and great people!
Reviewed on

5/20/2014
Lindsay K
The food was fabulous! We did the gone with the wind option and the food tasted just as good in bulk as it did in the individual tastings we had in round rock. At the wedding the made sure to feed us and gave a little taste of everything including the appetizers. The only thing that we did have issues with was the efficiency of getting emailed back, but once we did get ahold of them, they were very accommodating and did whatever we needed or asked. Would definitely recommend to other brides.
---
Love, Love, LOVE
Reviewed on

3/25/2014
Taylor F
Kassie at Catering with a Twist was nothing but helpful during the entire wedding planning process, and our guests raved about the food and service. The staff was fun on the wedding day, and they were very accommodating to our rainy situation, budget, and special food requests. We would recommend them to anyone!
---
Amazing food and amazing team!
Reviewed on

2/19/2014
Grace R
Catering was a big one! Both my husband and I are foodies and we both really wanted our meal choice to heighten the experience of our wedding rather than just fulfilling a requirement. I kid you not, I communicated with about 15 caterers in the Austin area for about six months prior to booking CWAT. We are PICKY! We were planning an Austin wedding from Houston which was a challange but Beth and Kassie "Boss Lady" made it incredibly easy. They replied to the million and one questions we had promptly and with a kind enthusiasm that showed how passionate they are about their work. I loved that their website, menu choices, and team were spunky and veered away from being a "traditional" wedding vendor. Yes, I even critique a vendor's website, blame the art degree! At our tasting I wasn't feeling well and they packed my meal to go. Even re-heated the food was to die for! We went for a hearty meal since the wedding was in December and we figured our guests would wan't something to warm up their bellies. The appetizers were a hit! Our safety choice of spinach and artichoke dip is still something our guests talk about, it was delicious! You guys, if the dip makes that much of an impact can you imagine the rest of the meal? Everything was fresh, hearty, and served hot. The best part of it all was the team working the event. So polite, friendly, and genuinely happy for us! We also hired them for the bar service and Lisa, our bartender, not only braved the cold but she raved about our beer and liquor choices. Most of our guests are craft beer enthusiasts or enjoy finer spirits, which made for a unique open bar. Lisa had a blast talking to some home brewers in attendance and I always saw her with a smile. She even stayed a bit past her contracted time to continue serving our guests. These guys go above and beyond the call of duty! Even after our event, Kassie emailed us to make sure that everything had gone as planned. They have an amazing team at CWAT!
---
Made everyones belly's SO happy!
Reviewed on

1/30/2014
Alanna R
We found them online and thought that they looked really amazing, easy-going, and that they made delicious food! When we booked with them, we had the opportunity to create the entire menu, and if we wanted something that wasn't on the menu. They would make it for us! When we went to the tasting, we could not have been more pleased. We couldn't find one thing to complain about (and I am one of the pickiest eaters out there). Kassie, the owner, is such an amazing person to work with and she made everything such a breeze!!! Everyone who attended has remarked on how amazing everything they ate was. Will definitely be following the progression of their success, because they are going to go FAR!
---
Great catering
Reviewed on

1/26/2014
Kelley F
I want to begin by saying that we were very happy with Catering with a Twist who not only did our food, but was also responsible for coordinating and set up. Kassie Purpura is totally awesome. She worked with us through multiple menu changes and lots of questions. We thought the food turned out amazing! We especially received compliments about the late night popcorn. The total guest count was around 185, so needless to say, they handled a lot for us. But, like any big wedding, not everything turned out perfectly. About a week before the wedding, I was told that the day of coordinator who sat through our two hour wedding meeting was unable to do the wedding. These things happen, but the new coordinator had to work off someone else's notes. That made for a lot of last minute questions and uncertainties. For the dinner, we had "family style" and the food was brought out one dish at a time (mashed potatoes alone, vegetables alone, entrees alone). That was probably my biggest complaint. And was mentioned by many of our guests. Overall we were more than happy with our choice. If we had to sum it up in one sentence: The food was fantastic, but our experience with CWAT was far from perfect.
---
Hanks-Meacham Wedding
Reviewed on

11/13/2013
Susanna H
This rating is really probably in between a 3.5 and a 4. Our initial experience was great! We were told they wouldn't be able to accomodate us and then they were. Between when we signed our contract and our event they were in the process of expanding and some of our stuff got lost in the shuffle. The food and presentation at the wedding was awesome! But the bartenders forgot to put out the red wine and didn't refill our koozie tin - we came home with more than half of what we took! Overall I was very pleased but there was definitely room for improvement.
---
Delicious Food and Very Professional
Reviewed on

11/13/2013
Jessica R
My husband and I are both mega-foodies so catering was probably the most important part of our wedding. Luckily, Catering with a Twist did not disappoint. They offer tons of different options along a wide variety of price ranges. We decided to go with the buffet serving option with two entrees, two sides, salad and three appetizers. All of the food was amazing! Also, they bring enough of the entrees so that everyone can have some of both - removing the need for guests to enter their menu options on the RSVP card. Their service was spectacular, and their set-ups are super cute. My only complaint was that our event manager left the company halfway through our wedding planning, and we didn't quite have the same rapport with the new manager.
---
Great Service and Great Food
Reviewed on

10/26/2013
Andrea D
The CWAT team were a pleasure to work with. They made a point to find out what type of vibe we wanted, our colors and overall theme. They then incorporated that into the food displays. We received many compliments on the quality of the food from our guests.
---
USE THIS CATERER
Reviewed on

8/27/2013
Lindsay S
My guests could not stop talking about how wonderful the food was! We were able to customize our menu and therefor have so many fun options for our guests. The flavors and quality of food were amazing. Not to mention the vintage dishes and serveware that went a long so well with my aesthetic.
---
The Most Fun Caterers Around
Reviewed on

7/17/2013
Carin P
We cannot say enough about how wonderful Catering with a Twist is. About two months before our wedding, our first venue canceled on us, forcing us to choose a new venue and a new caterer. We contacted Catering with a Twist and they totally worked with us even on our short timetable. They consistently went above and beyond to provide us with custom menus, decor, and service. Every single thing they provided went perfectly. Guests were swooning over the delicious avocado eggrolls, and the watermelon-lime pops were the perfect refresher after our hot outdoor ceremony. Lacy served as our planner and had everything under control so we could just enjoy the evening. The decor turned out perfectly, and the CwaT team even made special themed tables for our food that matched our (quirky) board game theme for the wedding. They are unique, high-energy, and passionate about what they do. You definitely won't find any boring old wedding food here. If I could give them 6 stars on this scale, I would!
---
Jacqueline
Reviewed on

6/28/2013
Stephanie G
Fantastic food, preparation, display, and work staff. Kassie was pro at listening to what I wanted and delivering it at a reasonable price. Wedding reception was picture perfect and I received many compliments not only on how wonderful the food was but how friendly the wait staff was to my guests. I highly recommend considering Catering with a Twist for your wedding reception, you won't go anywhere else.
---
Awesomeness
Reviewed on

6/12/2013
Elaine N
Catering with a Twist provided awesome service and delicious food for our wedding! Everything turned out perfectly and they were all so easy and fantastic to work with. I would totally use them again!
---
GREAT DAY OF WEDDING COORDINATOR!
Reviewed on

6/11/2013
Beth G
I worked with Lacy as my day-of coordinator. She was by far my favorite vendor-- she knew exactly how make the day go smoothly-- despite the craziness. I would recommend her to anyone!
---
Just what we wanted!
Reviewed on

4/08/2013
Meghan D
We used CWAT for our wedding this past March and I cannot say enough good things about the company and everyone we worked with! They were so easy to work with, very accommodating with our menu choices, so professional, and the food was amazing. The owner, Kassie, is so sweet and always returned my calls and emails almost immediately. My husband and I were blown away with the food during the trial and it was just as good on our wedding day. They made sure to serve us dinner at our table and sent us home with all of the leftovers. We also ordered desserts and had them provide a bar tender. We were so pleased with everything from start to finish and would highly recommend them!
---
Amazing Food!
Reviewed on

3/27/2013
Danielle P
If you are looking for something other than "wedding food" these are the guys to go to. Kassie was amazing to work with and her team makes amazing food. We had mexican food and mini tarts served at our wedding and our guests could not stop talking about it all.
---
A Twist Never Felt SO GOOD!
Reviewed on

1/08/2013
Heather
5 Billion Stars to Catering With A Twist!!! I LOVE, LOVE, LOVE the them! Absolute perfection!!! I researched and met with quite a few catering companies for my wedding. I love food, so in my opinion catering can make or break a event... I knew I was in good hands from the moment I walked into the office... Not only is the food AMAZING, they know their stuff and go above and beyond your normal catering company. Out of all the vendors I researched for my wedding, they were hands down the best! Beth was always quick to respond to any of my questions and they were genuinely excited about my event. They were easy to work with and happy to add some of my own personal touches (at no charge). They are truely top notch and I have recommended and will keep recommending them to anyone and everyone... I appreciate your creativity and professionalism throughout the planning and execution of our wedding! Thank you so much for adding a "TWIST" to our special day!!!
---
Amazing! Yum, yum!
Reviewed on

1/05/2013
Lindsey R
We hired Catering With a Twist for our wedding reception and they were WONDERFUL! Kassie was so great to work with and everyone raved about the food. We lived out of state, so we were unable to do a food tasting prior to the wedding - we told CWAT sort of what we wanted and then put our blind faith in them that everything would turn out okay. Best gamble we made: they FAR exceeded our every expectation! The food was amazing, the catering staff was very professional and friendly, and they made sure my husband and I had MORE than enough to eat during the night. We could tell they truly take pride in their work and take care to make every little detail perfect for their client. We highly recommend them to anyone!
---
Great food, great service and awesome displays!
Reviewed on

12/27/2012
Megan S
I highly recommend Catering with a Twist. The food was very yummy, very fairly priced, and the service was flawless. We received LOTS of compliments from our guests. I used CWAT for dessert too, and they did an amazing job. Their cream cheese icing is to die for!!
---
Delicious
Reviewed on

12/04/2012
Kelly T
The food was so delicious, the staff was great and the planning was so easy. I love this catering company and I will definitely use them again and recommend them to everyone!
---
Send Message