Home

Ceremony Alchemy
Details
Civil Union, Commitment Ceremony
Christian, Interfaith, Jewish
Contact Info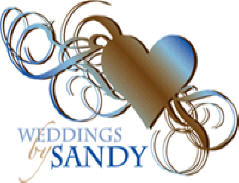 Highly Recommended
Reviewed on

11/18/2014
Susan H
My fiancé and I had a great experience working with Weddings by Sandy. We were married by Sandy Queen and she was the best officiant we could ask for. She helped us create the ceremony we wanted and was very helpful in providing recommendations and answering questions. We were... Read More so happy with the way it turned out and received many complements from our guests. We highly recommend using Weddings by Sandy for your wedding ceremony.
---
Sandy was great!
Reviewed on

10/03/2014
Nina W
My now husband and I wanted a nondenominational wedding with some Jewish traditions- Sandy helped us put it all together! The booklet she gives you has some great ideas for readings, etc. I really appreciate her guidance in creating the ceremony and writing our own vows. I felt... Read More that our ceremony was unique, sincere, and reflected who we are as a couple. I can't thank Sandy enough for the memorable experience!
---
Rev. Sandy Bearden
Reviewed on

9/28/2014
Jamie G
Sandy (Bearden) was great! We had no idea what to do about an officiant. It is one of those things in your wedding that is pretty personal, and asking a stranger to perform your ceremony is a little unsettling. Once we met Sandy those doubts decreased. She was always willing to... Read More set up a time to meet to go over details and get to know us. Most of the time we just sat and chatted, which was good so we were able to get to know her too. She is very busy but we always felt like a priority. The booklet she gave us to go through really helped in putting together a personal ceremony. Though we picked out most of the passages, Sandy was able to put it together and make it all sound smooth. She ran our rehearsal the day before as well and helped everyone feel comfortable, especially my husband and I, for the day of the wedding. She really knows what she is doing and that was very comforting because wedding days have a tendency to get hectic! Many of our guests commented on how much they liked our ceremony and Sandy as well.
---
The Essential Ingredient
Reviewed on

7/16/2014
kristen f
Sandy Queen from Weddings by Sandy was the officiant for our wedding in December 2013. We can't speak highly enough of her. She met with us beforehand and worked hard to tailor the ceremony to fit all of the potentially conflicting religious details- my father is a Presbyterian... Read More minister, my husband's family is Catholic, but neither I nor my spouse practice religion-Whew! Sandy was incredible at making every single person at our wedding feel included and special, as well as allowing them to feel that their beliefs were represented and respected. Our wedding was awesome from start to finish, but I can honestly say that the ceremony was my very favorite part. Everything else was icing on the cake to how special those moments were. Also, Sandy arrived early to our rehearsal to help talk us through the pre-wedding jitters and has been a great resource as we navigate being newlyweds. I am so grateful that Sandy was the officiant at our wedding, she became an essential part or our marriage, not just a vendor at our wedding. Thank you so very much Sandy for how much you pour yourself into your work.
---
Bruce was great to work with
Reviewed on

12/10/2013
Tara M
We used Bruce with Weddings by Sandy as our officiant and we were so happy that we did! Bruce really cared about us and made the extra effort to make sure we were completely happy with the service and his efforts were very much appreciated. Since the ceremony was really the... Read More one area that we needed lots of feedback on, it was great to have a resource that we could trust and count on if we needed it. He was professional and we were impressed with the way the ceremony unfolded. Thank you Bruce!
---
Great ceremony!
Reviewed on

11/24/2013
Kayleigh A
I loved so much working with Sandy. We got her largest package so we got everything we could possibly need to plan out our perfect ceremony. She was extremely helpful and accommodating. We were able to piece together and customize our ideal ceremony with her help. She made the... Read More rehearsal extremely fun too :). Her personality really calmed me a lot.
---
Loved Sandy Queen!
Reviewed on

8/07/2013
Ashley
Sandy Queen was my officiant for my wedding and I absolutely love her! She is so friendly and supportive and my ceremony went beautifully! She was there for me from start to finish helping me plan my ceremony. The rehearsal went smoothly and on my wedding day she came out to the... Read More venue early to make sure everything was set up the way we wanted it. I could not have asked for a better person to officate our wedding and I would highly recommend her! My friends and family told me how much they loved her and wanted to book her for their weddings!
---
Professional and Personal Service
Reviewed on

7/17/2013
Michelle N
Sandy Bearden was our partner from the start. She provided us with a handbook packed full of resources and samples. Sandy gave guidance on the flow of our ceremony, including how best to acknowledge my deceased mother. She also provided feedback and guidance as we wrote our own... Read More vows. Sandy was invaluable in helping us plan the enchanting ceremony we wanted. During the rehearsal, Sandy was about business but allowed our wedding party to have some fun as we ran through the process several times to ensure we had it right. Since our wedding, we've had several of our married guests say they wished Sandy had performed there wedding ceremony.
---
She held the perfect ceremony
Reviewed on

4/06/2013
Teresa R
We are highly satisfied with using Sandy as our wedding officiant. She has a lot of really creative ideas for the ceremony and is good at listening to the couple. She did exactly what she said she would and showed up early to the ceremony. Afterwards she gave us a book to keep... Read More of our vows. She spoke very well too and had our audience captured which we had hoped for as the laughed and cried and participated following her lead. We were very happy with her services.
---
Very sweet and very good at what she does
Reviewed on

3/24/2013
Hilary G
Sandy did a great job at our wedding - hands down. She wasnt corny or boring - she is delightful to work with.
---
Personalize your ceremony!
Reviewed on

11/27/2012
Colleen G
Rev. Sandy Bearden did a wonderful job with our wedding! She has a very helpful and very thorough ceremony booklet that lets you completely personalize your wedding if you so choose. My husband and I did and I have heard from so many guests that our wedding was the most... Read More intimate and personal ceremony they had ever attended. There wasn't a dry eye in the house! She will answer any questions and help you out every step of the way. You cannot go wrong by choosing Weddings by Sandy!
---
Perfect :)
Reviewed on

10/22/2012
stephanie w
Absolutely perfect. Not only was Rev Sandy extremely accommodating for a couple planning their wedding from out of town, but she crafted a beautiful ceremony for us and made sure it went over smoothly. She was completely in control of all details and ensured that everything went... Read More exactly how we had envisioned. Having someone who REALLY knows what she is doing that you can REALLY trust is huge for a bride. Also, both my husband and I really loved the fact that she is truly a wealth of information when it comes to weddings and ceremonies. She has an enormous amount of information on every type of ceremony you can think of - so you can basically read through with your sig other and choose rituals or passages that you both like. I am typically picky and never give 5 out of 5's...but in this case, I would give a 10 if I could. Thank you, Rev Sandy!!
---
Would definitely recommend!
Reviewed on

7/16/2012
Karyn K
Sandy Queen was our officiant and she was wonderful! Right from our first meeting with her we knew she was the perfect fit for our non-denominational ceremony. Sandy was so helpful in providing us with everything we needed to write the ceremony and she was incredibly... Read More responsive in the months leading up to the big day. The ceremony was beautiful and we heard nothing but positive comments from our guests. Thank you Sandy for making our wedding wonderful!
---
An absolute angel!
Reviewed on

9/27/2011
Tara W
There are not enough words to express my gratitude to Sandy in the months leading up to our wedding, but even moreso in the days leading up to the wedding day and on the day of. Sandy was a sounding board, an ear to vent to, a friend, and on the wedding day, and lackey! Sandy... Read More genuinely cares about her brides and their fiance's. I planned our wedding from out of state and met Sandy in passing a month before the wedding and didn't meet her again until the rehearsal. But to be honest with you, I felt like I'd known her my entire life. She was so incredibly accomodating to my husband and I. One night she called me, and I was in tear's because my dog had just had surgery, and she sat and talked to me until I was calm.. Nowhere in the contract we signed did it say that she needed to do that! I also had Sandy print my programs for me and they were perfect! When I thought that portions of the ceremony might need to be changed at the last minute, she was completely willing to do whatever needed to be done. When I told her I had no one to pick up my flowers the day of the wedding, she graciously agreed to do so, and then return the pillars the next day. When I called her two days before the wedding freaking out because our groomsmen were driving me nuts, my mother-in-law suddenly wasn't coming, and people were backing out at the last minute, she let me vent, and then told me, "You can call me anytime between now and the ceremony to vent or cry or scream. But whatever you do, don't take it out on Mike! (my fiance)". That was so comforting. Sandy was there the day of the wedding before I was. She made sure that everything was perfect, since I was sequestered in the dressing room away from my groom. She held onto the wedding rings so that the ring bearer didn't lose them. She made sure everyone had their flowers. She made sure the flowers were at the alter. She helped my junior bridesmaid hot glue her sandals more than once. And more than anything, she kept me calm. I had so many compliments about how amazing Sandy was that day. Even for my very traditional Catholic family who was orginally skeptical about being married by a non-denominational female officiant, outside, on a golf course, they were won over by Sandy and her professionalism and compassion. I would recommend her to anyone!!!!
---
lovely ceremony
Reviewed on

4/17/2011
Melyssa K
Sandy did a wonderful job with our ceremony. If you use her company, be sure you request her. The woman that was sent, in her place, for our rehearsal, was awful! No sense of humor, no allowance for fun. Sandy however was delightful. Her book of ceremony ideas is huge and if... Read More she does not have something she will go and find it for you!
---
I don't recommend this one!
Reviewed on

11/16/2010
Christine M
I met her during a bridal expo. Including the expo, i only met with her one time prior to the wedding rehearsal. She provided us materials to plan out the ceremony and then send to her. She couldn't make it to our rehearsal and sent someone else from her company to do it, yet... Read More she did come to the rehearsal dinner (bringing a date and was an hour late because she got lost). She said she wouldnt stay for the reception (only after the ceremony) yet we paid for her to attend because she initially RSVP'd. She did a good job at the ceremony but lets face it, our ceremony was under 20 minutes and we put the thing together ourselves. I will give her credit for the writing, because we sampled from her book. Don't use her.
---
Use our messaging tool to connect with vendors anytime, anywhere. Stay organized, all in one place.