Home

Chateau Cocomar
About this Vendor
A Masterpiece of Exquisite Grace
Amenities + Details
Amenities
Handicap Accessible

Liability Insurance

On-Site Accommodations

Indoor

Reception Area
For more details about amenities, please message the Venue.
Ballroom, Historic Venue, Hotel
Contact Info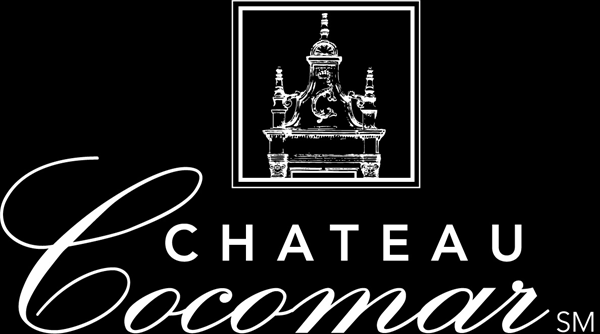 14525 Champions Dr., Houston, TX
Unforgettable Wedding
Reviewed on

4/07/2015
I recently got married at Chateau Cocomar and the staff is as beautiful as the venue. Throughout our wedding planning process the staff was accessible through email and text. We did meet with them a handful of times before the wedding. They are somewhat strict on going to the venue so when you do go be sure to be ready with questions/concerns. Jenika and Lorena were the most helpful ladies to work with. Full of information and helpful opinions. They made my wedding day stress free. Chateau Cocomar does have strict guidelines so if you are wanting a venue that doesn't ask questions this is not the place for you. The timeline they put together for you and ALL of our vendors is fantastic. They communicate to all vendors for the last month and take that stress off of the bride. The venue is absolutely stunning and I truly had my dream wedding at Chateau Cocomar. The only huge negative is the AC did go out during our wedding (terrible, i know). A total accident it did cause our guests to be very hot and uncomfortable. Chateau Cocomar handled this with complete class and were extremely apologetic. Things happen and this accident was completely out of their hands. The team at Cocomar is sweet, and so so helpful during your wedding planning and even after the wedding. If you are looking for a hidden gem in Houston- Chateau Cocomar is your spot! I wish I could relive our wedding all over again.
---
Just absolutely Perfect!
Reviewed on

3/08/2015
Sarahi C
I just got married 2 weeks ago and every time I think about my wedding day I wouldn't change a thing about it! Everything was perfect and looked amazing because of Chateau Cocomar! The mansion is just BEAUTIFUL! I can't find other words to describe it. If you are the kind of bride that wants every single picture in your wedding album to look glamorous and perfect, you need to have your wedding at Chateau. There are no awkward rooms or ugly things in the background that you have to worry about. The whole entire mansion is just so fancy and glamorous, you'll feel like a queen and you won't regret having your wedding there. It's a Beatiful place do get married and your pictures will looks awesome. Ok top of that, the staff is AMAZING! Lorena and Robert, both coordinators will make sure that you're stress-free and that everythingobes smoothly and that you enjoy the wedding without worrying about anything else. I highly recommend getting married here! The planning process was awesome for me because they are so organized and dedicated to make you feel special and to make sure that your day is perfect!
---
Our Fairytale Wedding!
Reviewed on

12/28/2014
We were blessed to have our wedding at the beautiful Chateau Cocomar. We researched many places in and out of Houston and nothing compared to this dreamy place. More importantly, Chateau Cocomar created a royal experience for us, from start to finish. The first communication we had with the venue was with Ms. Sherry Alvarez, who was very informative and answered countless emails in a timely manner. She welcomed us to our first tour of the castle, and gave us many options to help Chateau Cocomar become our dream venue. We were then introduced to our Logistical Coordinator, Ms. Lorena Macias, one of the sweetest and professional people we've ever met. She helped us organize and map our entire wedding and provided countless advice, helping us construct our wedding details in the most efficient way to make our guests feel the welcome and comfortable. She was with us the entire day of our wedding, helping with the schedule of our events and anything we needed. We contracted Chateau Cocomar's Day of Coordination service, and were so fortunate to be paired with Coordinating and Event Specialist, Ms. Jenika Gonzales, this lady is a true gem. Her attention to detail and organization was incredible from pre-planning to wedding day! Jenika was with us the entire night and minute by minute, she had our special day flow so smoothly and efficiently, making our wedding details were in place and most importantly that we, along with our wedding party, were happy and comfortable. The service staff at Chateau Cocomar was also great, working throughout the night to truly give each and every one of our guests the best attention. We couldn't have been happier than with the wonderful team, quality of service and beautiful venue that Chateau Cocomar provided us. It was truly a fairytale for not only us, but each and every one of our guests! Houston is fortunate to have such a magical and elegant venue providing utmost quality and service in the wedding industry.
---
Don't judge a book by its cover
Reviewed on

10/08/2014
Stephanie C
Don't judge a book by its cover. This place is gorgeous but as soon as you sign the contract and cough up all the money you become another customer. They are not flexible with you at all I had to fight with them to not have my rehearsal during the middle of a work day so my whole party could attend. The Saturday before my wedding I was being threatened that they would cancel my wedding. You are not able to schedule your rehearsal until two weeks before and that's if they don't already have something going on on the same day. It was absolutely pointless to have two coordinators (yes, you have to pay extra for the coordinator here) my matron of honor didn't even speak and I didn't even get to do the garter toss because schedule was not followed. We paid extra to have certain refreshments and about ten people only got drink out of a 200. When I questioned it after the wedding I was told that the guests had to requests drink and the waiters and waitresses don't go around asking the guests, which was not told to us so again we spent more money here on something that wasn't used fully due to their lack of communication. Even my photographer made a comment on the bad service. The list can go on and on. Overall we had a great time seeing family and have great pictures thanks to our photographer. If I could do it all over again I would absolutely choose a different venue. This gave me headaches and sleepless nights and instead of helping with the wedding they made it one of the worse experiences I've had. The person who we loved is no longer there.
---
Wedding venue
Reviewed on

5/11/2014
Momo A
The most beautiful wedding venue in Houston!! I had my dream wedding because the staff at Cocomar ensured it was perfect!!! You will not be disappointed!
---
Fairytale Wedding
Reviewed on

2/26/2014
Kim G
My daughter had her wedding 4 days ago at the Chateau Cocomar! I almost hate to give the venue all 5's for fear that readers won't think it is a real review, but I couldn't possibly give this venue anything less than perfect! It goes without saying that the Chateau Cocomar is the perfect enchanted castle that every little girl DREAMS of for her wedding day! But beauty alone, doesn't make the day go off without a hitch! The Cocomar staff and wedding coordinators were the reason that I can honestly say that I cannot think of a single way we could have made it better. From the very beginning, our coordinator, Dede, just "got" my daughter's vision for her wedding day! Whatever we needed or thought of, she just made it happen! On wedding day, we had last minute adjustments to table seating that would have made me crazy, but Dede just took control and handled it and all with a smile on her face.. and all while keeping everyone on schedule! I cannot thank her enough! The venue is just exquisite! Attention to every detail makes this place a one-of-a-kind venue to hold your most important event! As my daughter was running with her new husband to their Getaway Car, she stopped and said to her dad and me, "This has been the BEST DAY of my ENTIRE LIFE!" So, thank you to the Chateau Cocomar and the Cocomar Ladies for being a huge part of our daughter's BEST DAY!
---
Best Venue in Houston!
Reviewed on

2/24/2014
Anthony B
We celebrated our wedding at Chateau Cocomar on 9/28/13, and this was the perfect place for our wedding. The venue is spectacular and stunning it is the place to have your Dream wedding. I am very happy with my experience and will always remember how beautiful my wedding was. Karen, Sherry and Amanda were all amazing and very helpful throughout the process. I would definitely recommend this venue to anyone looking for a beautiful and unforgettable venue. Thank You!
---
My Fairytale Wedding
Reviewed on

2/10/2014
Jaclynn J
Everyone at Chateau Cocomar was incredible to work with and worked so hard to make every detail of my Wedding day absolutely stunning and flawless. The castle is absolutely perfect, and I truly felt like a Princess getting married to my Prince Charming at a dream fairytale castle. I would highly recommend Dede Raad and Amanda Hough to any Bride looking at Chateau Cocomar for their venue. I loved every minute of the process with them and could not be happier with how my dream day turned out! Dede was my day-of coordinator, but worked so hard the entire month before via meetings, phone calls, and emails to make sure everything went off without a hitch!
---
Wedding of My Dreams
Reviewed on

1/09/2014
Briana C
I saw the Chateau Cocomar booth at the Bridal Extravaganza in 2012 when we were planning my mom's wedding and I knew I had to get married here!!! So when it was my turn it was the only venue I looked at and toured and actually had our date available! From the beginning to the end, everything was fantastic! Lorena was an amazing coordinator and a tremendous help in the planning of our big day! Pictures don't do this place justice! All the details and decor made our pictures absolutely amazing! I can't say enough about the venue and I am so happy that I went with my gut!
---
Best Wedding Venue in Texas
Reviewed on

10/20/2013
Michelle M
I would have to disagree with the people who rated this venue under 5 stars. I booked my wedding at this venue when it was still under construction because even then it was still more beautiful than all the other vendors in Houston. At first it did take a few days to get a response but that is completely understandable considering there hadn't been a wedding there yet and it was brand new but I was never turned down or ignored at all. I was offered wedding coordination service which I prompted to go with and got Dede who we were extremely impressed with and loved and was extremely helpful and friendly. I only got the day of coordination package but she pretty much helped me the whole month prior to my wedding which helped me out tremendously. I had a perfect wedding and didn't have to worry about a thing because of the awesome service. I've had multiple people tell me it was the most gorgeous wedding they have ever been too. Most people don't get to have their fairy tale wedding in a castle but I did! I would highly recommend this venue to anyone planning their wedding and trust me you and your guests will not be disappointed!
---
Beautiful and unique venue!!!
Reviewed on

7/23/2013
Natalie H
I wish I could go back and do it all over again! Chateau Cocomar truly does provide a space for a fairytale wedding. The day turned out more beautiful than I could ever imagine. For weeks after, everyone raved about how beautiful the wedding was and couldn't believe a place like that existed in Houston. We booked the venue while it was still under construction so the responsiveness from them at the beginning was a bit frustrating. I assume they were still acquiring staff. However, as it got closer to the wedding date and I was offered a coordinator from Chateau Cocomar, I always received a prompt email or phone call. My coordinator, Dede, made the day go by so smoothly. Once I met with her, I did not have to worry about my vendors anymore. She took over and made sure everyone else did their jobs. Overall, my experience was a very positive one. I highly recommend Chateau Cocomar if you are looking for that grand, out-of-the-ordinary feel for your big day.
---
Beautiful and Romantic
Reviewed on

6/27/2013
Jeremiah F
We were so excited to have our wedding here!Chateau Cocomar is a beautiful, elegant venue and we loved the ambiance and the romantic atmosphere it added to our special day. We especially enjoyed working with Lorena, who was a big help in organizing things in the months before the wedding and Dede took the reins and helped make our wedding day a success. Be prepared to spend! With the cost of the venue and extras it could become pricey. But what's price compared to a priceless experience.
---
DO NOT BOOK AT THE COCOMAR
Reviewed on

6/24/2013
Husna A
My experiences with the Cocomar have been decent up until today. It was down to two venues in Houston. The Cocomar being my top rated choice. For my first visit, my mom and I took a tour of the venue. The second appointment was to discuss pricing. And the third, which was going to be today, was to finalize our decision about the venue by taking my father to see it. But, apparently the Cocomar wants you to make a decision the first time you visit it?! I've seen 23 wedding venues in Houston. From Katy all the way to Conroe and everything in between. Not a single venue has EVER said that they only allow the prospective bride/groom/ family members to visit the venue once! On no occasion in the first two times I came to the Cocomar did they ever mention anything about having an minimum number of visits before signing the contract. Only on one condition were we allowed to see the venue and that was with bringing a check with the deposited amount with us?!! You've got to be kidding me! I can't even begin to tell you how much the coordinator, Sherry, complicated things today. Would it have really killed you to allow us to pop in for 5 min to see the venue? To help us make our decision? The only thing I requested is that we come by today to show my dad the space since he was not able to attend the initial meeting. I specifically told them that we did not have any questions and that we do not need anyone to show us around. Something that would really take us 5-10 min maximum to do was apparently too much for Sherry to handle today. In my opinion, Sherry had decided that A) We really weren't going to book the Cocomar anyway and it was a waste of her time to even give me a call back this morning and B) The Cocomar is getting soooo much business that they don't really give a care if a bride really wants to get married there or not. If it won't be this bride, there will be many more. NO BIG DEAL is the attitude that they have. Cocomar did make one decision very easy for me today. It was to NOT BOOK THEM for my wedding. I'll take my check for $32,000.00 and go somewhere else. Thanks!
---
HANDS DOWN THE BEST VENUE IN HOUSTON TEXAS!!!!!!!!
Reviewed on

6/24/2013
Gabriella M
Chateau Cocomar is the most incredible fairytale made into reality!! My wedding day was EVERYTHING I ever wished and hoped it could be plus 1,000,000 times more! It was all thanks to Karen, Sherry, Lorena, & the entire Chateau Cocomar team!!!! They have an incredible list of preferred vendors that offer the best quality services for the best price!! All of the guests at my wedding came up to us and said multiple times that my wedding was the best wedding they had ever been to! Everyone was in awe about how BEAUTIFUL & BREATH TAKING Chateau Cocomar is!!! It is literally worth EVERYTHING we spent and more!! I guarantee you won't be disappointed by choosing Chateau Cocomar as your venue for not only weddings but any event!!! The actual Chateau took my pictures from excellent to SPECTACULAR!!! Everything about Chateau Cocomar is PERFECT, from the customer service to the Chateau to everything that has to do with your wedding necessities!!!
---
Awesome Experience
Reviewed on

6/24/2013
Dion L
My experience with Cocomar was top notch! The entire staff was very professional, attentive, and truly interested in making sure my day was exactly the way I wanted it. It was a dream world and I thank Cocomar for playing a major role in it. Love y'all!!!! :-)
---
Amazing!!!
Reviewed on

6/23/2013
Kat W
Chateau Cocomar is a beautiful and elegant venue for a wedding or any event. We enjoyed working with both Karen and Lorena. In fact, all of the Chateau Cocomar Team was great to work with and very friendly. Thank you ladies for all your hard work. So happy we chose this venue for our wedding!
---
Dream Come True
Reviewed on

6/05/2013
Tarah F
This is the absolute best place to get married! The owner and staff are very professional and helpful. This was the second venue that we looked at and knew immediately that we wanted to have our wedding here. The Staff and Owner at Cocomar are very friendly and helpful. They made sure that our wedding was everything that we imagined. I also used Chateau Cocomars service for my Day of Coordinator. Let me just say that I didn't have to worry about anything! From arriving at the venue to start getting ready to the end of the reception, everything that day was PERFECT!
---
love this place
Reviewed on

5/22/2013
cutuia r
this place was everything i wanted, don't need to much decor because the place is so beautiful, it is worth every penny. the service is great i didn't have a problem with anything. they know what there doing. i would recommend to anyone.my wedding was two days before Christmas and i was graduation for college a week before so i didnt have much time for anything and they were still on point with everything i needed. They were very nice, you also have the whole place to yourself unlike other places.
---
Horrible !!!!!!!!!!!!!!!!!!
Reviewed on

1/07/2013
ELIZABETH G
ok brides yes this place is very beautiful but it will take u 6 months to finally get all the answers for your wedding. and thats alot of time to waste waiting on just emails. they do not do any face to face meetings everything is through email except when u have to make a payment!!!! dont even bother complainging to the owner she has the worst attitude. if this is what it takes to begin here, imagine the horror of actually planning a wedding with this place. enough to drive a bride insane!!!!!!
---
Avoid.
Reviewed on

12/10/2012
Kimberly H
I gave it a week and my best shot, ladies. I called at least twice a day and spoke to two very nice receptionists who took my information at least four times. I never heard from anyone. At all. I was promised a pricing email - nope. I was told to call at a certain time when Sherry would be in - she was never there. Neither was Karen. And Sherry does pricing *and* appointments! I remain unconvinced if she even exists. I milked as much info from the receptionist as I could and found out that my original date was taken. I opted for a different date, she wrote it down. Twice. Finally, after my final call (that kinda sounded like a breakup, actually) and my polite refusal to leave anymore messages... Lo and behold! An email from Sherry! She quoted me the incorrect date, didn't bother to capitalize my name, and said not a word about how long it's taken her to respond. It's beautiful, but far from being worth the effort it takes to get past the front desk (which degenrates further into very poor, unprofessional representation). Tragic. PS - Everyone who has ever been to an event there says it is way too loud to have a casual conversation with your neighbor. I blame all the marble.
---
Bad customer service
Reviewed on

9/11/2012
mary a
I am planning a December wedding and this place has a very terrible customer service and unorganized. I called to get more information and schedule a tour more then 3 times and all the times you will get someone telling you we will email you the information or the manager is giving out tours they will get back to you, but they don't even bother to do follow back. I would hate to make a long drive from Sugarland TX to there and ending up wasting my gas.
---
Send Message