Home

Cheesecake Wedding Cakes by Mrs. B.
About this Vendor
Award-Winning Cheesecake Wedding Cakes
Mrs. B has been in business for over 25 years and has developed an excellent reputation. She makes over 40 kinds of cheesecakes and traditional wedding cakes. Please make an appointment for a tasting and a consultation to design something special for your wedding.
Details
Groom's Cakes, Cakes + Desserts
Contact Info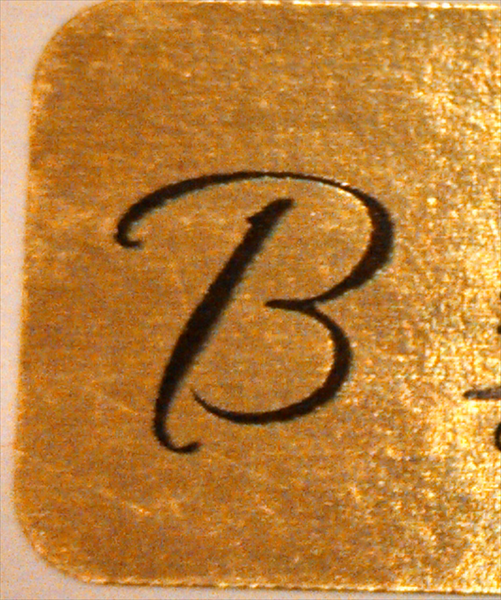 1133 Independence Blvd, Virginia Beach, VA
Mrs. "B's" Cheescake Wedding Cakes
Reviewed on

9/27/2013
Mrs. "B", they were AWESOME. There were so many different flavors and all were soo delicious. My favorite was the Pineapple and Keylime. They were decorated so beautifully and everyone raved about the flavors and were so pleased with the choices. You are such a special person Mrs. B and you are so accommodating. You allowed us to change and add so many times and you never got upset with us. You are so helpful and kind. Your cakes made the day for me and my family and friends. What a day to remember with the most wonderfully delicious Mrs. "B's" Cheesecakes. Thank you so much for all you did for us. I will tell all my friends the choice is Cheescake by Mrs. "B"! I am so happy with the decision made to go with your cakes. That was truly a smart decision in wedding cake choices. They were not only delicious but beautifully decorated. Thank you again Mrs. "B" for all your hard work and patience. Good Luck and continued success!!
---
Mother of the bride
Reviewed on

9/26/2013
DEB R
Wow! We spent a lot of time researching, looking for the "right" cake. We tried all the top rated vendors in the surrounding 2 states. Price, taste, or customer service weeded them all out. Then we found a jewel right in our backyard ! We were pleasantly surprised to walk into a shop where a sweet and saavy grandma was there with open arms and a hug. We like to work with people that are the "right" fit. It was an instant match. Then we tasted the cakes...another wow. We were able to mix and match cheesecake and traditional, as well as fillings. We gave Mrs. B a picture and vision. I am happy to say she exceeded our expectations. Our guests and other vendors were in awe. People are still talking about "that" cake. So how do I rate Mrs. B ? Customer service, creativity, price, product are ALL excellent and beyond. She is certainly a hidden gem! It was a wonderful experience and we will continue to use her services :)
---
Delicious!
Reviewed on

6/03/2013
Tracy P
Planning a wedding from a different state is a little scary. I found Mrs. B's cheesecake wedding cakes through an online search and decided to just go with it. My now husband and I both love cheesecake and her website had good reviews as well as a nice gallery of pictures of her work. I made some minor changes to my order several times, but it was no problem at all for her. I told her exactly what I wanted it to look like, and she nailed it. The cake was not only gorgeous, but delicious too! We got a three layered cake, the top two layers were just regular chocolate and vanilla, and the bottom was a raspberry swirl cheesecake (made with real fresh raspberry puree). All three flavors were great! If I were ever in her area again and needed a cake, I would most definitely give her repeat business.
---
Wonderful
Reviewed on

7/23/2015
Mrs. B was WONDERFUL!!! She met with us and helped offer suggestions. We felt like we were meeting with our mother or grandmother who was going to bake this wonderful cheesecake for us as opposed to some large over-priced company. We went with the Cheesecake wedding cake and so glad we did. Our guests raved about it, and at least 1 has since ordered a cake from Mrs. B for another party. Can't wait until our 1 year so we can slice into the topper!! My husband has a 50th birthday this year; we will definitely be ordering him a cake from Mrs. B for that big event. Thanks Mrs. B for being so easy to work with and your part in making our day great!
---
Best cheesecake Ever
Reviewed on

5/26/2015
I have enjoyed eating Mrs. B cheesecakes for over 25 years. It's truly the best cheesecake in town. This last cheesecake was truly amazing. All of our guests couldn't stop talking about the cake. I would highly recommend her to anyone who is looking for that special something. She's got it .
---
Everything was wonderful
Reviewed on

5/11/2015
Regina S
She was very knowledgeable about the whole process of figuring out what kind of cake to get to accommodate a small wedding and the best way to decorate the cake. It was a little bit of a hassle to have to go find my own flowers for the cake and bring them to the venue though. She had already left work by the time I finally found a florist in the next city that had the roses I wanted. Unfortunately, It was very hot the day of the wedding so they basically wilted some in the car. Everything else was great. Mrs. B is very grandmotherly and her cakes are amazing! I tried vanilla almond cakes. My top cake had a pineapple upside down filling that tasted like my mom used to make. The bottom half was strawberry filling that tasted like a strawberry shortcake. It really was the best part of the reception. If I need any other cakes, I'll go to her.
---
More then I could've ever dreamed of in a cake
Reviewed on

5/10/2015
Sonya A
My cake was amazing, dreamy, and simply beautiful. I had heard about this place but I got way more then I could have ever imagined. Mrs B is the sweetest person in the world and she doesn't treat her customers like a number, she treats them like family. Cake was delicious and I would refer her over any other baker. My cake was made up of 5 cakes, 3 cheesecakes and 2 regular cakes. They were to die for. Every single one of them. I have had cakes from many different bakers but Mrs B is number one. She takes pride and will make sure you have the best cake ever. Thanks soooo much I'm so thankful.
---
Wonderful Mrs. B!
Reviewed on

11/04/2014
Rebecca S
My fiance and I fell in love with Mrs. B. when we went for our tasting. Her cheesecakes are absolutely delicious and were a hit at our wedding! The service was on time and stress-free, and Mrs, B is lovely to work with. We plan on using Mrs, B for our anniversary cake, it was that good!
---
Best Cake Ever
Reviewed on

11/02/2014
Jasmine G
I have used Mrs. B for my wedding cake as well as cakes for family functions. Everyone always rants and raves about how moist and delicious her cakes are.
---
Fantastic Wedding Cake
Reviewed on

11/01/2014
Mary C
Mrs. B makes the most delicious wedding cakes I've ever tasted. We actually doubled our cake size because we knew it would be a hit with our guests. Everyone loved it and had seconds as predicted. Mrs. B is lovely and wonderful to work with as well.
---
Beauty x 3
Reviewed on

10/31/2014
First of all the customer service was excellent, I felt so comfortable from the moment I stepped in the door. Mrs.B made sure I got what I wanted and was very patient will I figured it out. She gave me a call to confirm and the cake was beautiful and taste great as well. If you are looking for a beautiful cake, with a beautiful taste and beautiful service, Mrs. B's is the place to go.
---
Not just great cheesecakes .. So much more!
Reviewed on

10/31/2014
Jocelyn b
From the moment I reached out to Mrs. B I knew she would be my cake vendor. She responded in a timely matter and we travelled from out of state just to meet her. She was on vacation and even accommodated a time to meet us while we were in town. Our tasting exceeded our expectations. We didn't want to leave , we wanted to try everything and retry everything again. Her pastries were so unique, very moist, incredibly tasty and she created a dessert bar that had such variety every taste preference was fulfilled. When we were ordering we feared we would be over budget since we were getting so many selections, we were wrong. Mrs. B has incredible pricing and the desserts taste homemade by a family member who cares. It was not a cookie cutter creation- we had cakes, tarts cookies, brownies, cheesecake bars and cupcakes. Our wedding cake she designed to our theme- which I gave her complete control of -- I never would have imagined such perfection. You name it and she can make it ! I highly recommend Mrs. B, we plan on visiting her for some of her desserts when we are in Virginia again. Thank you Mrs B for tying it all together for us - we are forever grateful !
---
Yum
Reviewed on

10/31/2014
Mrs. B has the most delicious cheesecakes and offers something original that you can't find anywhere else. Great service and a unique cake. Went back for our 15 year anniversary and Mrs. B was just as sweet as ever. I would highly recommend her to anyone planning a wedding!
---
Guests loved it
Reviewed on

10/31/2014
Ashley B
We ordered a gluten free cheesecake as a part of a cake buffet we had at our reception. Our guests absolutely loved it and said it was delicious!
---
Awesome!
Reviewed on

10/31/2014
Nivea V
Just writing this review is making me hungry for more of my wedding cake! From start to finish Mrs. B was the sweetest most down to earth person! I ended up putting down a deposit and canceling my 2 other cake tastings after my first meeting with her because it was just a perfect fit. Her cakes not only look great, but are so delicious and moist and flavorful! I cared about taste more than anything and she really hit the nail on the head. Do yourself a favor and get your cakes from Mrs. B! You won't be disappointed!
---
A wedding cake for us!!
Reviewed on

10/29/2014
Coretta O
My husband really doesn't eat cakes. But he loves cheesecake. I absolutely loved our pineapple three tiered wedding cheesecake. You couldn't tell the difference. I loved working with Mrs B. She is great to work with. Such a phenomenal person. Thank you for being my sounding block when my wedding world seemed to crumble. She is very understanding with wedding planning and always lend positive reinforcement and suggestions to overcome the wedding planning woes. We love you and VERY HIGHLY RECOMMEND CHEESECAKE WEDDING CAKES by MRS. B Ps..... Our wedding was Sept 27, 2014 we had cheesecake for our wedding cake. Three weeks later we ordered a birthday cheesecake to celebrate our birthdays Oct 22 (mine) and Oct 23 (husband)
---
Wonderful Cheesecake-Mrs. B wonderful too
Reviewed on

10/29/2014
Mrs. B is a delight to work with and very accommodating. I used Mrs. B for my son's groom's cake - Redskins themed. After speaking with her we came up with an idea and she did a beautiful job decorating. The cheesecake was delicious. Had a little mix up with the delivery time, but all worked out. Had lots of leftover - should have listened to Mrs. B on how much to order. The slices cut by the establishment where the event was held were way too big,and we still had lots left. If you want a special cheesecake made with TLC, Mrs. B is where to go!!!
---
Mrs. B cheesecakes
Reviewed on

10/29/2014
Samantha A
The cake itself and service were outstanding. I will be using her again. The only advice I have is to order more than you need. We cut our cake into slivers and still did not get as many pieces as we thought we would. Mrs. B was a delight to work with!
---
Fantastic Cake!
Reviewed on

10/06/2013
We had Mrs. B's cake for our son's wedding - key lime and raspberry cheesecake. It was absolutely delicious! I highly recommend Mrs. B to everyone.
---
Wedding Cakes to Die for!!!!
Reviewed on

10/06/2013
Mrs. B's cakes are sooooooooo delicious, we deliberately ordered more cake than we needed for the wedding just so we could have leftovers. Mrs. B is service oriented, bakes wonderful pastries and wedding cheese cakes to die for. I highly recommend her key lime and raspberry cheese cakes. Her cakes are decorated beautifully and oh so tasty.
---
Amazing
Reviewed on

9/30/2013
Megan D
I cannot say enough about the amazing experience we had with Mrs. B. The cake tasted fantastic and Mrs. B's customer service was far above outstanding. My bride is gluten intolerant and Mrs. B was more than willing and able to accommodate her needs all while maintaining a truly delicious product. Thank you Mrs. B!!!
---
Pleasing to both the eyes and palate
Reviewed on

9/18/2013
My fiancee (now wife) and I want the perfect wedding cake for our wedding. Our relatives highly recommended Cheesecake Wedding Cakes by Mrs. B. They were raving about how gorgeous and delicious their wedding cakes were. We knew based on their personal experiences that Cheesecake Wedding Cakes by Mrs. B was the obvious choice. We did not have the luxury of time in terms of preparing for our wedding but Mrs. B made it easy for us. She listened very well to what we like and gave valuable suggestions. Come our wedding day, we were all pleasantly surprised to see our beautiful wedding cake that matched the look and feel of our reception venue. It was indeed a visual treat. Our cheesecake wedding cake was not only pleasing to the most scrutinizing eyes, it was also pleasing to the most refined palate. The special icing was decadent and the cheesecake itself was velvety smooth. The key lime, raspberry and pineapple flavors of the three layers of cake were simply refreshing. Cheesecake Wedding Cakes by Mrs. B made our wedding all the more special.
---
Matthew and Jewelee's Wedding Cake
Reviewed on

9/16/2013
Our wedding day we used ms b for our wedding cake and it was the most beautiful cake i have ever seen and the best i have ever tasted. if you want beauty and great tasteing this is the place to be. Plus you can NOT bet the price. she is such a wonderful lady who makes it for a hobby. I did not want to get my cake from someone that wasnt going to put love into my cake and enjoy making it. I loved we found a family owned bussiness that i wasnt just a number and another cake. i was very pleased and would of not changed anything about my cake. It was so beautiful and wonderful tasting. PLEASE EVERYONE GET MS B'S to make your cakes for any event you will not be disapointed.
---
My daughters wedding cake
Reviewed on

9/16/2013
We ordered our daughters wedding cake with ms b it was the best choice we ever made. It was the best tasting and beautiful cake. If you want someone who will care about your cake and its not just a number call ms b. I will be using ms b for every event cake i need.
---
Mrs. Terry Clark
Reviewed on

9/15/2013
We are from Pennsylvania and we found Mrs. B online and decided to have her make our wedding cake. Being that we were getting married in Virginia on the beach and we were so far away, we just trusted based on reviews that she would do a wonderful job. We were not disappointed. She was very professional and friendly. The cheesecake was out of this world. Our wedding guests could not stop talking about it. We were very pleased.
---
Send Message