Home

Cherished in Hawaii Weddings
About this Vendor
Affordable Full-Service Weddings
Have the wedding of your dreams in the budget you can afford. We strongly believe that weddings should be fun and stress-free from the moment you begin planning. Enjoy both professional quality services as well as the personal touch that will make your day extra special.
Details
Day-Of Coordination, Full Service Wedding Planning, Planning
Contact Info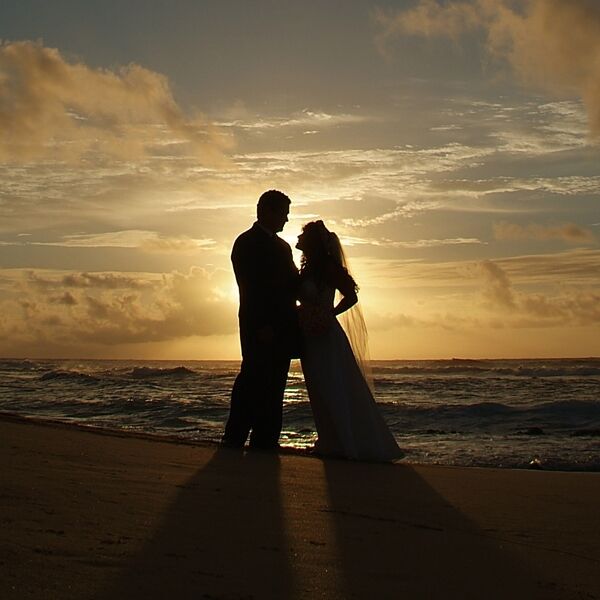 92-1025 A. Koio Dr., Honolulu, HI
Oahu & All Islands
10 stars!!
Reviewed on

8/08/2012
Justine L
I admit, I was a very picky bride.. so when it came to my wedding there was no exceptions! there is something about Carrie that is soo calming and genuine that puts all my senses at ease. She is hands down the real deal and possibly the best investment we made for our wedding. and take it from me, (also to save yourself from learning the hard way) if Carrie gives you advice, TAKE IT! We flew down to Hawaii for a little trip a year before our big day to make sure that this is where we wanted to have our wedding. Spending the day with Carrie and Mark, chatting about wedding ideas and visiting site after site for a possible venue locations sealed the deal for us. We described what type of wedding we wanted and Carrie knew exactly which venues would be the best fit. We fell in love with Lanikuhonua - the closeness of the beach, the privacy of the area, the breathtaking sunset... it was the ideal outdoor wedding we were hoping for. The day went without a hitch, everything was well organized and just as I imagined. Having all 90 guest fly to Hawaii was a big deal for us, and we wanted to make sure that we truly gave our family and friends a great experience and definitely a wedding to remember.. and based on our guest responses, we definitely delivered! Carrie, Mark and the Cherished in Hawaii family was soo amazing! We couldn't have asked for more. I don't normally write reviews for people or companies, but Carrie is definitely worth all the rave. Not only is she a great wedding planner, she is now a great friend. All the best to the aspiring aloha brides!
---
Wonderful Wonderful
Reviewed on

3/02/2013
Kelsey J
I found Carrie and Mark while looking for a wedding officiant on the Knot. We went to Oahu before the wedding and set up time to meet with them. We ended up spending the rest of the afternoon just talking with them like we had known them for years. They really made us feel like family. Our biggest obstacle when planning the wedding was the budget. We were on a tight one. Carrie gave us so many great options to keep us on track. She was dilligent in making sure we got the wedding we wanted for the price we could afford. In the few months leading up to the wedding we had a detrimental loss in the family. When our day came around emotions were kind of high but Carrie made sure that we were all taken care of and that our day was special no matter the circumstances.
---
Hilton Hawaiian Village Wedding...
Reviewed on

1/08/2013
April G
Carrie was amazing from day one. I was scared planning my wedding from California, and i tried to do it all myself but soon realized it was not easy, then i found Cherished!! Just a few hour long conversations over the phone and some emails to Carrie were all it took for her to create the wedding i had imagined and dreamed of. Our wedding was amazing and it went without a glitch. Everything turned out perfect.
---
Reviewed on

7/19/2015
The Team at Cherished in Hawaii Weddings was AMAZING!!!! I cannot say enough great things about their team! From start to finish the process was stress-free and turned out flawlessly. The entire process from planning through our big day exceeded my expectations!
---
Reviewed on

7/08/2015
The team at Cherished In Hawaii Weddings did a fantastic job! My fiancé and I were looking for something simple and small, and they definitely delivered! They were very detailed oriented and listened to everything we asked for! They really want to make sure it is the experience you want! I highly recommend them!
---
Reviewed on

6/27/2015
David G
The team at Cherished in Hawaii Weddings delivered absolutely everything we asked for and so much more that we didn't even know we would need. First of all, Carrie was so nice and so easy to talk to which made all of our interactions go very smoothly even in times of stress. We were about 50 days out when we contacted Cherished in Hawaii Weddings and had one vendor in line at the time, so we were freaking out. The team was not only willing to take us on at such a late time (even though they had another wedding in the evening of our wedding day) but they were gracious enough to work with our very limited budget to give us an incredible level of service. They helped us find all of our other vendors (who were all amazing) and worked through every single detail with us so that we knew everything was in place. They led us through a wedding rehearsal and even provided a backup person to do the ceremony when our officiant's status was up in the air. Without the team at Cherished in Hawaii Weddings, I honestly don't know what would have happened. Thankfully, we did have them and our wedding day went perfectly. The best part of their service was not the perfect execution of our wedding plan, or helping construct that plan, nor was it their friendly demeanor, or willingness to work with our limited budget, but it was the peace of mind they were able to give us throughout the entire process that allowed us to actually enjoy ourselves. We cannot thank them enough! They're the best.
---
Reviewed on

6/22/2015
Christine B
We decided we wanted to have our destination wedding ceremony on the island of Oahu, Hawaii. The only issue we had a worry about was finding a way to plan our wedding from almost half a world away. That is when we started our hunt for someone that could help make our wedding vision a reality. After much research, we finally came across Carrie Lance and her team at Cherished in Hawaii Weddings. We contacted Carrie in 2014 with the hopes of having our wedding in April of 2015. It was apparent from the beginning that she was different from any of the other wedding coordinators we had spoken to at that point. She seemed extremely laid back and almost carefree. She was very knowledgeable and every time we had a question, she always had an answer. Even before we ultimately decided to book with her, she was extremely helpful with advice. It was because of this, we decided to have Carrie plan and coordinate our big day. As we planned every aspect of our wedding, Carrie was there to help us every step of the way. She made sure to keep the entire process as stress free as possible. Even though we were thousands of miles away, we had every confidence that Carrie was going to put a beautiful wedding together for us. After many months and a ton of emails and calls to Carrie, we finally traveled to Oahu. We met in person with Carrie the day before our wedding and it was at that point that all of our worries went away. Carrie has a way of making the whole process feel so care free, that it really does make a difference. Instead of being stressed about everything getting done on time, Carrie took care of everything and all we needed to do was show up on our big day. We chose the Paradise Cove for our private location and we highly recommend it, it's beautiful!!! Pictures don't do it justice. Carrie took care of all the set up and even created a timeline for us to follow the day of. All we had to do was relax and show up. Seeing the ceremony venue all set up the day of our wedding made all the planning worth it! Carrie did a fantastic job making our vision into a reality. We could not have picked a more beautiful place to get married. And we could not have picked a better person to plan our ceremony. Every aspect of our ceremony was perfect. All of the vendors Carrie picked were very professional and they really did make us feel special. We will never forget everything that Carrie and Cherished in Hawaii Weddings did for us!!! Thank you so much for helping us in this new chapter of our lives!! Please, if you are reading this and thinking about getting married in Hawaii, give Carrie a call. She will NOT disappoint!!!! Thanks again Carrie!!
---
Reviewed on

5/06/2015
Brandi M
I don't know where to start...we have been married for four whole days now and are still glowing from the excitement of our wedding-and sad it's all over. The team at Cherished was exceptional to work with. They made this process so fun and stress-free! Every last detail was made perfect just for us and sticking to a budget was easier than I ever could've imagined with their help. These people will go above and beyond for your event and I can't thank them enough for everything they did. Do yourself a favor and choose Cherished for your wedding-you will not regret it! Thank you Carrie, Mark and the rest of your team for making our wedding day the best day of our lives!
---
Words Cannot Express...
Reviewed on

4/15/2015
Krista F
...how thankful we are that we hired Carrie for our wedding. Carrie is not only professional, detail-oriented, incredibly knowledgeable of and connected to vendors, but also a joy to talk to about your wedding. It's like planning your wedding with a close friend who is looking out for what is best for you and will give you honest opinions that you can trust. We were concerned as we were planning a small wedding with a limited budget, but Carrie's way of building a wedding, then shaving it down if needed was the best. This helped us determine what we really, truly wanted at our wedding and it all came out beautifully! We had concerns planning a wedding from afar and not being able to preview hair and makeup or taste the food and cake, but we needed not be concerned at all. The food and cake were amazing, the guests were still raving about them up until we left the island several days later. And our hair and makeup came out spectacularly. If Carrie mentions a makeup artist to you named May, go with it. She is so wonderful and will leave you looking like the best version of you ever! Carrie's husband Mark officiated our ceremony, which was wonderful as well. In the planning stages as well as the day of the ceremony, both Carrie and Mark impart a genuine feeling of Aloha to everything they do. Do NOT hesitate to hire Cherished in Hawaii Weddings for your wedding! They are just BRILLIANT!
---
Cherished Elopement - 02/17/15
Reviewed on

3/18/2015
One word. AMAZING! My then FI & I planned our elopement from Canada. Neither of us had ever been to Hawaii & initially this was a bit scary & VERY overwhelming. There's so much information on the web, so many places to book through....I was in an information overload. After so many Google searches & feeling more & more overwhelmed...we came across Carrie at Cherished in Hawaii Weddings. After reading a few reviews, Cherished in Hawaiis sounded perfect for us. We sent Carrie an email with what we were looking for & within 24hours had a response! From there, after emailing back & forth about what we had in mind, budget, times, etc we were set & booked with Carrie & her team. Carrie gave us her honest opinion & suggestions. Like I said, neither of us had ever been to Hawaii so we needed all the help we could get! Carrie was so understanding, patient & so, so helpful. Carrie took care of everything. She was always just an email away with a quick response. I never felt lost in the process! On our big day all we had to do was show up. That's it. Seriously. It was absolutely amazing to have zero stresses & know that everything was taken care of. Just how a wedding day should be! Our wedding was beautiful. Intimate, relaxed & so perfect. Mark, her husband was our photographer & Troy our officiant. We couldn't have asked for anything more. Our day was 100% us & 100% perfect. Thank you Carrie & Cherished in Hawaii! You made our day one that we will never forget
---
Felt Cherished in Hawaii
Reviewed on

2/13/2015
When I started looking for a wedding coordinator I basically started from zero – I had no vision, no real idea of what I wanted. The only thing I knew was that we wouldn't be able and also didn't want to spend so much money and that we wanted to have a beautiful memorable day. I'm so grateful for having found the team at CHERISHED IN HAWAII WEDDINGS. Carrie listened carefully to me and understood that I can be all over the place with my thoughts and ideas and she was great at helping me understand what is most important to us for our wedding day and she found a way to combine that with our budget. There were always so many things to decide and to consider but there was always support, quick replies, advice, great suggestions throughout the whole process. When I met our wedding coordinator for the first time a few days before the wedding she insisted on meeting the groom. She said that men have different questions and she wants both the bride and the groom to feel prepared and relaxed. I thought that was great advice combined with a lot of experience. We had a beautiful wedding with a breathtaking view, gorgeous dinner, great staff, and guests who had lots of fun. It's because the team at CHERISHED IN HAWAII helped us understand and reminded us that in the end all that matters is that the bride and groom have fun on their special day and to let others do the work. That's all it takes because then your guests can't help but have a great time too. It helped so much that the whole team is very positive, and that they all are grounded people who respect each other and work really well together. They all had a great way of making you understand that the bride and groom decide how they want things. We just had to express a concern or wish and every single person on the CHERISHED IN HAWAII team was quick at taking care of things. It felt good to have so many people you can trust and who stay calm for you and put in all their experience into your special day where things are usually emotional and crazy. Thank you, CHERISHED IN HAWAII, for an unforgettable beautiful day.
---
Thoughtful, caring, efficient and affordable - simply the BEST!
Reviewed on

12/06/2014
Jessica V
We were planning our Hawaii destination wedding (64 people including bride and groom) all the way from New York, and we can't imagine how we could have pulled it off without Carrie. Even during initial conversations when we were still picking our wedding planner, she was generous with the time spent and advice given for our wedding. From the reception venue to catering to every little detail we could think of (or would *never* think of), saying that Carrie was on top of things would be an understatement. She was efficient, very respectful and mindful of everyone's time and comfort level. She has this list of vendors, venues, menus, etc. that would seem to fit anyone's preferences and budget. While she was really great to work with remotely, she was even more wonderful in person and she pretty much mothered us and encouraged us to just enjoy the occasion and just trust her and our vendors. She was very good at helping us mentally and emotionally prepare for an occasion that may happen to us only once in our lifetime. She was constantly on guard and seemed very protective of us -- very sensitive to changes and possible unknowns and making sure that the event would go really well, and with the least amount of stress on us. One surprising personal touch is that she actually called us in the afternoon a few hours before the wedding to check on us and make sure we were OK -- that we had our lunch, that we weren't too stressed, etc. and she also gave us a few more reminders heading towards the ceremony. Sweet, reliable, flexible, attentive and meticulously detailed -- we cannot recommend Carrie highly enough! Our advice would be to just hire her and trust her with all her recommended venues, vendors as well as any advice she may have that are specific to you. (Hint: If she suggests the Polynesian show, go for it if it fits your budget!)
---
First Hire Carrie, Second Trust Her
Reviewed on

12/04/2014
Gina A
First, I would recommend you hire Carrie right now! Do not hesitate. It was the best decision I made!! I had originally hired a wedding coordinator for our Oahu wedding, but decided she might not be "the One" when she failed to respond to my emails after weeks!!! I started the search over and found Carrie and it was the best decision! Carrie made wedding planning easy and stress free. She always responded to my emails and questions timely and professionally. She is honest and will tell you what she has seen and what works best. And she has seen A LOT of weddings. So, my second recommendation is to trust Carrie! Originally I had planned a beach wedding, but she recommended that whille that seemed like a great idea, practically it would be a challenge with 25 people. And boy was she right! In hind sight, I am not sure what I was thinking. I love high heels and they don't work on the beach. It was as if she had met me before, because everything she recommended was exaclty perfect. Carrie also recommended that I let her hair and makeup person do my hair and makeup. Once again, she was 100% right. I was nervous about having someone I did not know do my hair and makeup, but I ended up LOVING it!! Mae was the best!!!!! I would highly recommend her too! And I met her because of Carrie. Carrie also arranged the minister and he was perfect. We did not meet him until 10 minutes before the ceremony, but it was like he knew us. The ceremony was very personal and sweet. He even got my non romantic husband to say something personal during the ceremony, which left me speechless! Then there was Mark, her husband and the photographer. He was so much fun! He made me feel like a 6 foot super model and I assure you, I am not. He was very creative with the photos and patient with my dorkiness! He also was patient with all my guest and the kids. I would also recommend him! And to make it all perfect, she handled everything so I could enjoy my vacation! She told me that I would not be working on the wedding and would have time to enjoy my vacation, but I didn't believe her. Once again, she was 100% correct. I met with her for 20 minutes the day before the wedding and she handled everything from there. Several of my guests, including my dad, were skeptical about the destination wedding, but they all ended up telling us how wonderful it was. Even my grumpy old Italian father!! So, if you want an amazing day, hire Carrie and then trust her!! She is the utmost professional and knows her job!!! Our wedding was truly the BEST DAY EVER!!!
---
Stress Free Day!
Reviewed on

11/30/2014
Christina F
Carrie and her crew were amazing from day one! I chose her because she was very prompt in responding to my first email. Since I was having a destination wedding, I had to put my full trust in her. She guided me through the whole process and gave excellent advice about everything from where to have the ceremony and reception, to how to structure my time so that I could minimize the stress and enjoy every minute. Carrie also took care of all those tiny details that I didn't even known I had to worry about! She has a calming presence and made the day absolutely perfect. I am so thankful for her and Mark for making us feel comfortable and taking care of everything on the day of. My only regret is that I wasn't able meet them sooner in the process.
---
Great Wedding Coordinator
Reviewed on

11/15/2014
Marilyn A
Planning a destination wedding was quite stressful for me; working with emails and pictures of things you like on the internet, you have no way of knowing how things are really going to turn out on the big day. After trying to organize everything by ourselves and about a year before the wedding, I contacted Carrie sitting in the airport waiting for our flight to Hawaii and she responded to my email within minutes and accepted to meet us right away. Right then, she arranged for us to visit a few venues and was making phones calls for us (we didn't even hire her yet); that demonstrates how open and generous she is. Right away we knew we had found our coordinator. Carrie is really great to work with; she responded to our tons of emails quickly and always making sure to turn things in a positive way. We faced many challenges during our planning process and every time, she came up with solutions that made things work for us. In the end, our wedding day was perfect; the venue, the food, the vendors she recommended, it was all great. My wedding bouquet was in my opinion the most beautiful wedding bouquet ever! It truly looked even better than the pictures of the ones I choose to send her as an example of what I was looking for. Don't hesitate a minute to hire Cherished in Hawaii weddings; it is the best investment you can make to make sure your wedding goes smoothly. The vendors Carrie will recommend you are trusted ones and working with her, you will be able to just sit back and relax on your big day as she will be there, taking care of everything for you. I often say that hiring Carrie was the best decision we made in our whole wedding planning process! Mahalo Carrie for a wonderful wedding!
---
MY HERO!!!!!
Reviewed on

10/22/2014
cris d
I have a lot of things to say how OUTSTANDING Carrie is as a person and wedding coordinator. If you are a very diligent bride-to-be and you wanna know how AWESOME this company is, please take time to read my review on the link below. I purposely created a page just for Carrie. Trust me! They are worth the money more than anything! www.weddingwire.com/bryantandcris under "Raves for Our Vendors".
---
SIMPLY THE BEST!
Reviewed on

10/22/2014
Vivien V
When my husband and I decided destination wedding I sent 4 inquiries and Cherished in Hawaii Weddings is one of the one who responded right away! I narrowed it down to 2, but after speaking with Carrie I knew she's the one. I love her from the beginning; yes I was a little hesitant because some people tend to disappoint you. They commit or promise everything and anything, but at the end of the day you're left disappointed. Not with Carrie!!! She's excellent, very easy to deal with which makes the whole experience wonderful, and the BEST thing about her she's honest. Her attitude speaks about the people she works with. From her to all the vendors were very easy to work with and they are phenomenal. I'm pleased with the overall experience. I'm a very HAPPY & SATISFIED bride; happy bride makes a happy groom which makes the whole party happy. I highly recommend Carrie and her team. She will make it the best experience, trust me when she said "you don't have to do anything, but show up and let things unfold" she meant it!! They all have enough experience that they know nothing but the BEST! May did a great job with my hair and makeup, Mark showed me few great shoots, the Minister was responsible for my husband's rare sentimental moment (which BTW brought teary eyes to everyone), the musician rendered a beautiful song during our first dance. From planning until the end was just perfect, if I have to do it again I wouldn't change anything I would let Carrie take me for the ride and let her magic take care of it. Thank you for making it all worth it for my husband and I. I hope to work with all of you again (perhaps family or friends event "smiles")
---
perfect wedding
Reviewed on

10/06/2014
Magi D
Do not get married unless you have Carrie as your wedding planner !! She is so amazing and wonderful :) The first time I spoke with her on the phone, I knew that she was the one. She is very personable, detail oriented and she has this special way of making her bride at ease and worry-free. My wedding went perfectly and that is because of Carrie. She goes above and beyond for her brides. Not only she will help you save tons of money, she will also make sure that on your day, you have nothing to think about. She will do all the work for you. All you have to do is show up and smile :) You are the best Carrie and thank you soooo much!!
---
Friendly, reassuring and professional
Reviewed on

9/05/2014
We were recommended Carrie by a friend of a friend who used to organise weddings on Maui, so we knew we would be in safe hands. It was my husbands life-long dream to go to Hawaii and when we started discussing the wedding we always knew this would be our first choice. However, Living in Scotland, it seemed like a rather daunting prospect. Carrie took all the worries away. She was helpful with finding locations, flowers, reception, decor, photographer, officiant, hair and makeup and anything else we could possibly think of! She was (is!) great at replying to emails promptly (even if I wasn't!) and is massively reassuring that everything is under control. Given the fact we were on the other side of the world, we did everything online and over email and it couldn't have gone smoother. We didn't get to meet with Carrie until a day or 2 before the wedding and had no worries at all. She set our expectations and was honest and helpful at every turn. Her and Mark went out of their way to make sure we had everything we needed and were just a delight to deal with. On they day itself, everything was calm and Carrie took control of every aspect of the day. All we had to do was get ready and turn up! Hurrah! We had the most relaxed and special wedding, it really was everything we had dreamed of. Not. One. Complaint. Thanks Carrie and Mark and Kimo for making our day the best ever! Love you!
---
Carrie Made Our Day
Reviewed on

8/11/2014
It took me a while to bring myself to sit down and write the review because it means that our time with Carrie has come to the end and I have to accept it. When my fiancé said that he wanted to do a wedding in Hawaii, I wasn't even sure where to start. I have never been to Hawaii and I knew I needed help. I contacted Cherished in Hawaii Weddings and Carrie responded right away. She was understanding and sweet and knew exactly what I wanted. We had our wedding at the hotel at Waikiki beach and Carrie helped me to talk to the staff at the hotel and convey what I wanted, which was exactly what I needed. She recommended amazing vendors (video, photography, make-up&hair, flowers, DJ&MC, harpist), we ended up hiring all of the vendors that she recommended and were very pleased. Carrie was on the phone with me when it was needed, sent me pictures of the ideas and responded to my emails quickly no matter how busy she was. I am a very picky person, super organized and I like having control. Letting go of control was the hardest, but I knew I could trust Carrie. After all, look at all the amazing reviews. She led me through the process of wedding planning in the best way possible. Every time I got anxious or worried I just had to talk to her and suddenly I was excited and thrilled about our Big Day. Carrie's well organized style helped us to always be on the same page and have recorded trail of ideas. Carrie is the most professional and hard working person I have ever worked with. She has really good relationships with her vendors and they respect her and therefore respected my requests. Mark did our ceremony and it was what we wanted. Mark was easy to talk to and he was very accommodating. Again, he was Carrie's recommendation. If I had to do it again, I would do it only by hiring Carrie again. Maybe we can plan some other party one-day on beautiful Oahu with our Carrie.
---
Carrie from Cherished Weddings is the best wedding planner!!!
Reviewed on

8/03/2014
Kelly K
Carrie made sure our wedding was perfect. That is the single most important sentence out of this review. Not a hiccup was made during my wedding day. I had the most stress free, happy, fun, beautiful wedding day a bride could ask for, and I owe it all to Carrie and her team. She coordinated everything for me. The site, officiant, photographer, videographer, make-up and hair stylist, everything! She made sure we stayed within my budget and time frame and that I was always a happy and satisfied bride. She was on top of everything. We planned our entire wedding via phone and email from Michigan to Hawaii and I felt safe, and protected by Carrie. I was able to trust her with the most important decisions of our wedding day and I'm so glad I did. Because of our sweet, and wonderful wedding planner, my wedding was a dream come true. Thank you for everything Carrie! Chris & Kelly P.
---
Best Coordinator a couple could ever ask for!
Reviewed on

7/17/2014
Arlen d
From the day we met Carrie and Mark at JW Marriott lobby in Ko Olina, they have been absolutely awesome. Carrie told us to just enjoy every day leading up to our special day, and have fun. Then just show up and get married, and she would take care of the rest. We trusted her implicitly every step of the way. After all, this is what she does! She made he whole process very simple and straightforward, and was never pushy. She was just an absolute delight to work with. Choosing her to coordinate everything was such a great decision. She reassured us the whole way that everything would be perfect, and it was. Anytime we had any doubts, she told us not to worry about it, things will be perfect. And it was. She's so good at what she does. When she praises one of her vendors, she is NOT kidding. When someone says that someone else is the best they have ever seen, you usually take it with a grain of salt. But for once, the grain of salt was nowhere to be seen. From the party rental team to the flowers, hair and make-up, to catering, cake, music, emcee, bartender, video, transportation... she really has found the best vendors and put them together to create her wedding dream team. They work together so seamlessly that it's hard to believe they're not all the same company. Our wedding went off without a hitch, and everything was absolutely perfect. We could not have asked for anything to have been done any differently. Thank you so much Carrie, for making our wedding the most memorable one ever. Our friends and family are still ranting and raving about it. Keep doing what you do. Aloha and mahalo from the bottom of our hearts for everything. There are not enough good things we can say, but i think there's a character limit on reviews so we'll have to leave it at that. Thank you thank you thank you for an unforgettable day. It was an absolute pleasure working with you every step of the way over the past year or so! We had a blast. Til we meet again!
---
Awesome Wedding Venue + Awesome Wedding Planner = Awesome Wedding!!!
Reviewed on

6/30/2014
Kavi Y
Thanks to the hard work, attention to detail, and expertise of the team at Cherished in Hawaii Weddings, my son and daughter-in-law's wedding day was absolutely perfect! I knew immediately as soon as I had my initial phone conversation with Carrie, that I had found the perfect coordinator. She won me over with her professional, friendly, and easy going personality. Talking to her on the phone was like talking to a close friend. I'd hang up feeling excited and worry free. Lanikuhonua is a beautiful wedding venue. Our guests were blown away with the ceremony and the reception, and complimented everything. To this day, they are all still raving about how beautiful and special the wedding was and that it was the best wedding they'd ever been to. It was truly a memorable day for us and all our guests. Everyone had a blast! Put all of your wedding worries and concerns to rest....choose Carrie and the team at Cherished in Hawaii Weddings. It'll be the best decision you'll ever make.
---
My Hawaiian Vow Renewal
Reviewed on

6/27/2014
My husband and I wanted to renew our vows for our ten year wedding anniversary. We wanted to do it in the majestic island of Hawaii, in the presence of our children and family. When researching wedding planners/vendors/coordinators, Hawaii was saturated with them. Many are affordable but their websites seemed outdated and I was not impressed w/their photos online. I was referred by a family friend to Cherished in Hawaii Weddings. I was immediately impressed with their website, it was modern, straight forward and had great reviews. I called and I spoke w/ Carrie on the phone. She won me over w/ her professional, friendly, easy going, "Aloha spirit" personality. She was accessible to me over emails and phone calls. Her package was affordable and out of 10, she is a 10 when it came to the actual event. She stayed in contact w/ me via email, and text messaging the day I arrived in Hawaii. She always got back to me in a timely manner and assisted not only with my vow renewal, but with hotel suggestions and a venue for our lunch reception. The day of my event, she made me feel so special, she and her husband Marc (the photographer) were spectacular!!! They were so kind, they included our children in our blessing, they are very professional, upbeat, organized, our ceremony and pictures went smoothly. They checked in periodically asking if there were any more pictures I wanted taken, they were very accommodating to my disabled aunt and just overall they made me and my family feel so comfortable. I highly recommend Cherished in Hawaii as your Hawaiian wedding/vow renewal vendor. You will be guaranteed a stress free, memorable event that you with CHERISH forever!
---
I love you Carrie!!
Reviewed on

6/03/2014
Lien N
My husband and I are from Texas and we had our destination wedding in Ko Olina, Hawaii. I had such a relaxing and stress free wedding all because of Carrie. I simply love her! She has a take charge attitude. You want something done, she does it. She will make sure that your day is how you want it. You will get the wedding you want if Carrie is running the show. She knows all the right vendors to work with. She is organized and professional without being arrogant. She has her act together which is great when you are a bride on the brink of insanity. She is always on the ball and I had a perfect wedding. Everything was done just as I wanted and if there were any glitches, I was not even aware of them. She took my dream, my vision, and made it happen. You exceeded my expectation. Thank you Carrie! You are a gem!
---
Send Message