Home

Cherry Creek Golf Club & Banquet Center
About this Vendor
Intimate, Classic Service...With an Unrivaled View
Cherry Creek Golf Club and Banquet Facility, built in 1995, has a reputation for its ambience and gourmet cuisine prepared all in house. The panoramic landscaped scenery, viewed from the clubhouse with seating for up to 500, is the ultimate site for your ceremony or reception.
Amenities + Details
Amenities
Handicap Accessible

Liability Insurance

Indoor

Reception Area
For more details about amenities, please message the Venue.
Ballroom, Waterfront, Country Club, Restaurant
Bar + Drinks, Cakes + Desserts, Food + Catering, Planning, Rentals + Equipment, Service Staff
Contact Info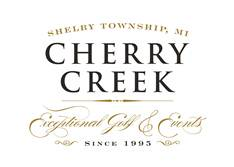 52000 Cherry Creek Drive, Shelby Twp, MI
An Amazing Venue
Reviewed on

7/07/2014
Jenna L
Cherry Creek was everything I could ask for in a wedding venue. Brittany and Janelle were incredible to work with. They had so much patience with all my questions during the 1.5 year planning process. The hall was absolutely beautiful on our wedding day and everything went perfectly. The staff was so friendly. The food and drinks were delicious. The outside cocktail hour overlooking the golf course was breathtaking and the perfect backdrop for gorgeous pictures. My husband and I have gotten numerous compliments on how amazing our wedding was. Thank you so much Cherry Creek for making our big day absolutely incredible.
---
Excellent Wedding Venue
Reviewed on

12/09/2013
Stephanie
Cherry Creek is a excellent wedding venue. The staff is wonderful and very accommodating. The food and drinks were fabulous. The service was impeccable. Beautiful location for pictures. Great to have the option to have the ceremony on site.
---
Reviewed on

7/29/2015
Stacy F
So, over the weekend I stood up in my best friends wedding here at Shelby Cherry Creek. I would like to start off by saying the set up was amazingly beautiful and that was something you couldn't deny. However the coordinator was doing two LARGE weddings at the same time. We had our ceremony which was nice but for the amount of money you are paying for it you would think they wouldn't have people golfing while you're saying your vows, but there was and it was extremely distracting. After the ceremony the bridal party waited for someone to take us around to take pictures...that never happened so we were on our own trying to figure out where we could go. Next to us was the other ceremony being prepared so we realized where the ONE coordinator was. I am getting married next August and if I were paying what my friend was paying there is NO reason there shouldn't be two coordinators for the large weddings. Guests were coming up to the bride while trying to take pictures when the staff should've been telling them to relax, enjoy cocktails, and let the bride take pictures. We expressed our concerns when the bride cried because she didn't get any of the pictures she wanted. The bridal party probably got 5 pictures together is that. The manager of owner was called over.. Me. Webster I think was his name...first off whoever put him in charge made a huge mistake. He obviously didn't care as he stood there acting like the bride and her mother were over reacting. He said we could go out after dinner and take more pictures where ever we wanted. Wasn't ideal but at that point we had no choice. So when she should've been socializing with guests she had to go back out and take pictures. Which by that time we all had to change our shoes(flip flops) The food was fantastic and there was a ton of it. Personally I got asked if I wanted more drinks plenty of times but some tables were being skipped (the grandmother and mother) when they paid the extra for the wine service. They told them they only had 3 people doing the wine service...for the 166 guests. There was a gentleman named Jeff who was awesome I have to say. He was on top of everything we needed to help make the brides night better especially getting into the bridal room on the fly! At the end of the day it was extremely unorganized. The coordinator wasn't the nicest but she was probably extremely overwhelmed having to do 2 big weddings. Also they left the cake/cupcakes in the middle of the room so when we went out to do pictures guest went up and got cupcakes before they even cut the cake. After the wedding her mother went to pick up the last of her stuff and everything was gone they gave it to someone else..she again went to express herself to this Mr. Webster guy and he was nothing but rude saying the bridal party was talking trash about her..being in the bridal party I can tell you that was a load of crap. Even if it were true how unprofessional to say. He also said that it was a golf club first and if that is the case people shouldn't be dishing out $20,000 just to have it there. Overall this place was not worth the money and to think I was thinking about having my wedding there is a joke! Just sad my best friend had to deal with it.
---
Beautiful!
Reviewed on

7/06/2015
Sherri S
Loved my wedding venue! Got married in the terrace/conservatory which is so pretty, lots of windows! The food is delicious, and so many desserts!! My photos taken behind cherry creek are very pretty with a pond & a wooded path! Overall very happy with Cherry Creek!
---
Amazing Service, Beautiful View!
Reviewed on

11/02/2014
Elizabeth D
I can't say enough about this vendor. Every single person that I came in contact with was beyond helpful. From the very beginning Janelle was a fabulous coordinator and kept me and all my details on tract. There was never a request that they couldn't coordinate and always met every demand that I had. Our big day was beyond perfect and the paid attention to every tiny detail. I couldn't have asked for a more beautiful place. Our guest gushed about how gorgeous it was there and how amazing the food and service was. My only compliant is that the day went by so fast!
---
WOW!
Reviewed on

2/13/2014
Megan
Cherry Creek was a great place to have my reception. Everything turned out perfectly and the staff was so accommodating.
---
November Wedding
Reviewed on

1/10/2014
Angela B
It is a beautiful Venue but a few things I was promised happened not be there the night of my wedding. This was dissappointing for me because you pay so much money. I was promised heaters outside for the smokers because I didn't want them in the front of the building where valet was. Well no heaters and I had a lot of smokers there. The food came out cold well the meat at least and no one did anything to fix this. We asked for another plate but was cold also. Those were the only two negative points. The hall was decorated in a Christmas theme and looked awesome with Xmas lights outside. It really is a beautiful place to have a reception and pictures on the golf course turned out amazing.
---
Absolutely wonderful
Reviewed on

11/05/2013
Kim O
We cannot say enough about Cherry Creek Golf Club and the staff! We worked with Emily who was wonderful and very accommodating to anything we needed! Everyone at Cherry Creek took very good care of us for our special day and made sure that everything was just perfect! The food especially was AMAZING... we had so many compliments about it! The chef (at the tasting) noticed that I was not eating a salad but picking at my fiancés croutons, so he marked that bride gets a bowl of croutons... and at the wedding, I got a heart shaped bowl of croutons! Again, everything at Cherry Creek was awesome! I am so glad we chose to have our wedding there! I could not imagine getting married anywhere else... it may have been cold (and rainy 2 hours before ceremony time!) but they knew we had our hearts set on an outdoor wedding and didn't try to talk us out of it! They were truly amazing!! We would highly recommend Cherry Creek to anyone for a wedding, baby shower, wedding shower, etc!!
---
Best Bloodmary's!
Reviewed on

10/30/2013
Elisabethe c
I had my wedding shower there and they had great service and the food was amazing. But the best part for me was the Bloodmary's!
---
Hall
Reviewed on

10/23/2013
Beth S
Cherry Creek was a beautiful place to have a wedding and take pictures. Cocktail hour was out on the patio and the hall is beautiful. Everyone is in close proximity which makes it more personal. The two girls in charge of wedding planning are friendly and helpful. Guests loved the food.
---
My dream wedding
Reviewed on

10/21/2013
Bianca U
I never pictured myself getting married in a church and the setting for the ceremony was important to me because I always wanted to get married outdoors near the water. Cherry Creek was one of the first vendors my husband and I interviewed for our wedding. In fact, they were the first venue we checked out. After Kelly took us on a tour and showed us which room we would have, I knew this was the one. We booked them right on the spot. Our event coordinator throughout the planning process was Brittany, and she was amazing! She was very patient with me & my 10,000 emails I sent her between December and our wedding day LOL. Fast forward to the big day, and I have to say that I was COMPLETELY blown away by everything. We could not have asked for better weather and our ceremony took place right in front of the lake, which provided a gorgeous backdrop. The reception room was set up beautifully and exceeded anything I may have expected. There was a bit of confusion as to color sash, but Kelly was right on top of it and had it changed before our guests arrived. I've been recommending them to everyone I know.
---
Wedding Shower!
Reviewed on

10/18/2013
Allessandra f
Had our wedding shower here in the circular room with all of the windows what an amazing room to hold any event. Everyone could not stop saying how nice it was. The staff was very helpful and catered to anyone who asked. I think in a few years we will be back for a baby shower to the same room ;)
---
Night to remember
Reviewed on

6/25/2013
Heather M
Everyone and everything went so well and as planned on our wedding day!! Everyone raved about the venue and how beautiful it was as well as how great and delicious the food was!! I could not of been happier with how everything went. I was so pleased and happy. It was truly the wedding of my dreams and I could not of been any happier with the staff and presentation of how smooth everything was. I had guests also commenting and tell me it was so "smooth". We had an amazing wedding at Cherry Creek!! Brittany was the best, could not of asked for a better planner to help plan!! Thank you Brittany!! :))
---
Wedding May 25, 2013
Reviewed on

6/04/2013
Christina W
Cherry Creek is a gorgeous place for your reception and they are very responsive via email throughout your wedding process. However, I was told incorrect information prior to the signing of the contract by the event coordinator at the time. I was told floor length linens were included, however, 4 months before the wedding the event coordinator did not recall telling us this information and I had to deal with the general manager. He was one of the rudest managers I have ever spoke to. He claimed that the event coordinator has never had a mix up during her many years working at Cherry Creek and said that he was not worried about giving me the floor length linens since it was only a couple hundred dollars. However, he was concerned that I was going to be a "nit pick" bride where I would complain about everything and say that I was told things were included when they weren't. After this conflict they let me have the floor length linens included. The event coordinator also told me that day that the minimum was the same for Saturday and Sunday which I found was not true the day of the signing. However, my biggest concern is the fact that Cherry Creek interrupted my photos on the golf course 5 times making my reception introductions 45 minutes late. I was told right when I arrived that we could take pictures anywhere on the golf course. We were given the options of taking golf carts or walking and chose walking to try and be quicker since we took pictures right near the venue. I was interrupted 5 times saying I could not take pictures at the location we were at and redirected to a different location. Then another employee/manager would come out and tell us we could not take pictures there. The last employee told me i could not take pictures on the golf course at all because it is Cherry Creek's rule which is NOT true. For the amount of money you spend at Cherry Creek, I would not recommend having your reception there. You do not want to have these issues on your wedding day.
---
March 16, 2013
Reviewed on

4/20/2013
Kristy L
We absolutely loved Cherry Creek!! The food was amazing and the staff was great as well. Brittany answered my numerous emails and helped me with any questions I had along the way. Every staff member was completely accommodating to every request we had. We couldn't be more happy!!! Everything was exactly as I pictured it!!!!
---
Perfect
Reviewed on

12/19/2012
Karen T
I held my wedding and reception at Cherry Creek back in October. I mainly worked with Kelly in the planning, and honestly, it was a pleasure. Every seemingly insignificant question or request I had was handled seriously and in a timely manner. Much of my stress was alleviated by Cherry Creek working out details for me (like calling the flower designer to confirm delivery time, setting up the afterglow from an outside vendor, etc.) Their absolutely fabulous service continued right up to my walk down the aisle. I had a large bridal party, and the way Kelly and Brittany tag teamed with their walky-talkies to get my attendants (and me!) where we needed to be was impressive. Location Originally, I chose Cherry Creek for the location. I picked a date in the fall because I wanted the ceremony to be outside and look autumnal. Mother Nature delivered with the multi-colored leaves, and the grounds were perfectly tailored and adorned with mums. Food As for the dinner, the food was delicious. After the initial tasting, I made a point to find precious time to eat at the reception.
---
Beautiful Cherry Creek
Reviewed on

12/13/2012
cindy c
My son and daughter in laws wedding at Cherry Creek was beautiful. Their event planner Kelly was fantastic and had every little detail under control. The food and drinks were out of this world. I would recommend Cherry Creek to all future brides for their receptions. You couldn't ask for anything more.
---
Dream Wedding
Reviewed on

12/10/2012
Alexa C
My wedding ceremony and reception were both beautiful and went very smoothly thanks to our coordinator at Cherry Creek. They were extremely accommodating and wonderful to work with. The food was delicious. The price is high but you definitely get what you paid for.
---
Fantastic Choice!!!
Reviewed on

11/01/2012
Elizabeth I
I am so happy we chose Cherry Creek for our wedding reception. One of the most important things is food, and we received TONS of compliments on the food (both dinner and the dessert table). The service was excellent too. They were really flexible with us and helped us do some special things that we weren't allowed to do other places. We had a summer wedding and were able to have our cocktail hour outside on the terrace, which guests really enjoyed. Another nice thing was that our dance floor was in their "Conservatory" which has high ceilings, so the music noise went into the ceiling and guests still seated at their tables weren't blown away by the noise. Kelly Zacharski was our contact there, and we really enjoyed working with her. She was super helpful, responsive and flexible. She also had really good recommendations for other vendors. I would highly recommend this venue!!!
---
Our venue
Reviewed on

10/27/2012
Juliana S
The Staff at Cherry Creek are very helpful, knowledgeable and willing and able to work with you and your budget to make sure your day and wedding are both a success and true to your vision. The Terrace and Conservatory were beautiful and the view of the fall folliage through all the windows left little decorating needed in the room. Our guests loved the food and are still raving about our wedding!
---
Amazing
Reviewed on

10/24/2012
Jessica B
We had our ceremony and reception at Cherry Creek. Everything was perfect and I didn't have to worry about a thing on our wedding day. Our coordinator took care of all of the setup and everything looked just as good as I imagined it. The venue was beautiful - from the gorgeous golf course to the conservatory room. We had SO many compliments on how good the food was - dinner and dessert. The service was also great, very professional. Nothing to complain about & I'd recommend this venue to anyone.
---
amazing place!
Reviewed on

10/18/2012
Melanie K
Cherry Creek went above and beyond to make sure that our wedding was perfect. And, yes, it was perfect. NOTHING went wrong. There was no stress!! It was so elegant, but fun! The atmosphere couldn't have been better.
---
My Dream Location!
Reviewed on

9/28/2012
Kirsten S
Ever since I attended another event at Cherry Creek, I knew I wanted to get married there. They accommodated us in every possible way...the room we wanted, complimentary valet service, customizing a special cocktail for us... And I cannot begin to say enough about the FOOD there. SO good, we had such a hard time deciding on a menu! The staff was so wonderful to us the day of our wedding, you would think they were all old friends. One snuck me a shot of tequila right before the ceremony, and our bartender was so loved by all of our guests, who kept commenting on how friendly and fantastic she was. Cherry Creek helped make my Dream Wedding come true.
---
Exceeded my Expectations
Reviewed on

9/28/2012
Tracey S
Cherry Creek exceeded my expectations on every level and Kelly was a joy to work with. She was extremely helpful and knowledgeable in every aspect of the planning process. The ceremony and reception were set up perfectly, food was excellent, staff was friendly and ensured that every portion of the day went of without a hitch.
---
Beautiful
Reviewed on

7/16/2012
Kelly G
This is where I spent most of the money for my wedding. I loved it though. One of the things that was important to me was windows and little decoration needed. Mission accomplished. They were friendly to work with, put up and took down my centerpieces. Lots of compliments on the food, bartenders and servers were great, and I didn't really have to worry about anything at the wedding. They also were great with one of our guests having a serious nut allergy. Only problem was that there were two weddings that night and the other one was closer to the door and so a lot of my guests signed their guestbook and one of the older guests at my wedding missed a course at my wedding trying to find their seat at the other wedding. Whoops!
---
Send Message