Home

Chicago Satin Chair Covers Rental
Details
Lighting, Chiavari Chairs, Chairs, Linens, Rentals + Equipment
Contact Info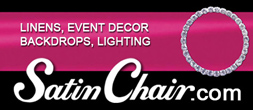 Reviewed on

10/31/2016
Carianne B
The chair covers and table cloths were gorgeous! Satin Chair is a great no-hassle option and were very accommodating!
---
Reviewed on

9/06/2016
Tiffany T
Northern Greenhouses was a notch above the rest. We shopped florist and finally settled on Maria and Northern Greenhouses. She took the time to get to know us and understand exactly what it was we wanted for our wedding look. Their flowers were gorgeous and their rental pieces... Read More were absolutely stunning. We got so many compliments on the decor and centerpieces. Every last detailed was attended to. My bridal bouquet was stunning and looked even better than I pictured. Additionally, they had us come out a few months before the wedding and set a room up to look just like it would the day of the wedding, with all versions of the centerpieces (we had 4 different styles, one more beautifully done than the next!) and the lighting, tables set up exactly like it would be that day. It really helped us get a vision for what the room would look like, which can be very hard! I would definitely recommend them for your wedding!
---
Reviewed on

7/11/2016
Great service! Lots of options for style and colors. Will definitely be renting again for my next event.
---
Satin Chair Covers made a skeptic a believer
Reviewed on

11/05/2015
Jackie C
When first looking for chair covers and table linen, I was trying to stick to a very tight budget and couldn't figure our how to get the look I wanted without breaking the bank. Natalia was very good about helping us find alternative options to make my dream a reality. She... Read More really worked with me to make adjustments and changes up to a few days before my event. We were blown away with how beautiful the backdrop at the church and the tables at our reception venue looked when we walked in the day of our wedding. Even the cheapskate within me is willing to admit that the rental was worth every penny! Delivery and pick up arrangements at both locations were a breeze and we received a refund on the overages we paid within 3-4 weeks after the wedding. Effortless, stress-free, and stunningly beautiful! Thank you Satin Chair Covers!!
---
Reviewed on

10/09/2015
Jaclyn M
Oksana was a doll! Wonderful customer service, and easy to work with. She really put my mind at ease. We rented gold Chivari chairs with white cushions. What a huge difference it made! It immediately transformed the room. If you can fit it into the budget, do it! My husband was... Read More a little irritated that I spent the money, but immediately had to eat his words when he walked in the door. He said, "Now I get it". LOL The delivery was on time and professional. Each chair was covered during transportation to venue. That kept the chairs from getting scratched. Wow does that work. They looked brand new. Great experience with this company.
---
A necessary expense
Reviewed on

8/05/2015
Abby K
The linens we used from Satin Chair Co were nice and looked fancy in our country club wedding reception. The service left something to be desired. After meeting with them twice and confirming things, I was emailed that they would not have enough garden chairs for our ceremony,... Read More despite that I was assured we had them reserved. Not a nice thing to tell a bride 1 month before her wedding. It was worked out luckily. We had another problem when we sent the check before our wedding. I was contacted that it was not received and that they needed it ASAP. I had emailed them earlier when the check was sent. I received a rushed call that I might not get my linens if there was no check. Turns out, one of the workers had taken it and put it somewhere else and the girl who called didn't know where it was. Very disorganized. They also took about 1.5 months after to get our deposit sent back...after a few phone calls were made about getting it sent.
---
Awesome Job!
Reviewed on

8/01/2014
My daughter was married last Saturday and Satin Chair provided lighting and chairs as well as some special things. My daughter had a Beatles themed wedding and we had a yellow submarine light on the dance floor as well as an All you need is love colorfully displayed behind... Read More them. Everything they did was perfect. They even recommended the florist that we went with and she was amazing! So much attention to detail. Travis and his team did a really great job.
---
Looked Amazing!
Reviewed on

7/30/2014
Christina C
We booked with Satin Chair for our wedding in July 2014. When they showed us the products, everything looked great but it was hard to picture how everything would look with the uplighting, covers, backdrop, and runners together. When we stepped into our reception area, we were... Read More amazed! It looked so perfect. The colors were exact, and everything came together so nicely. They did a great job setting up and making details and our last minute changes easy for us. All of our guests complimented us on how it looked like a Hollywood wedding space and how much they loved it. Pictures taken by guests looked great too. If you want your reception area to look perfect for a decent price, book with Satin Chair. They do not let you down.
---
Happy with my chair covers
Reviewed on

1/03/2014
Katie C
Satin Chair Covers Rental did the chair covers and cake table swag for my October wedding. Everything looked really great as I entered the room! I was very impressed with the overall look. One thing I didn't like is ten minutes before the evening was over the crew was pulling... Read More off the chair covers and guests were still sitting and enjoying the wedding. It just left a bad feeling. Also communicating with them was a bit challenging at times and I had to make sure I followed up with them.
---
Beautiful but not exactly what I asked for....
Reviewed on

10/12/2013
Kaitlin K
Our hall worked with Satin Chair Covers for all of their rentals. They gave us an amazing price for chaivari chairs and our table cloths. The staff was extremely nice. Right before the wedding though, they billed us $1 more per chair than they originally told us. We were... Read More able to get our original price, but the thought of an extra expense right before the wedding was very stressful. Also, the table cloths that were put on the tables were not the ones we picked out. They were light grey as opposed to dark grey. Even so, the color ended up working and made our venue look great!
---
highly recommended
Reviewed on

7/24/2013
desiree
Their linens made my reception beautiful. I used their crystal trees with lights as my centerpieces and it was 100x more classy than flowers.
---
Simple and Sophisticated
Reviewed on

6/28/2013
Christina K
I had the easiest time using this company. They offered the best price for chair covers, table runners, and hightable rosettes were super easy to work with and asked all of the right questions to find out what you want and also what you need without being pushy. The day of,... Read More everything in the reception site looked beautiful. I couldn't have asked for anything better. Just as great was their set-up/take-down crew. They were definitely a no fuss, no muss type of group, and it all looked wonderful.
---
Amazing Products and Service!!
Reviewed on

12/28/2012
Kristy R
I used Satin Chair Covers for my wedding and couldn't be happier. Natalia was so friendly and worked with us in such a friendly and accommodating matter, even when we kept changing our minds! The end result was a stunning, elegant, and wonderfully created reception, with high... Read More quality linens that made our venue sparkle and impress. I would highly recommend Satin Chair Covers if you are looking for a large variety of linens for any event. Thank you Natalia for all of your hard work and for making our wedding truly special!!
---
Satin Chair Covers – Natalia & Travis
Reviewed on

12/20/2012
Ashley K
One of my bridesmaids recommended Satin Chair Covers to me saying that they were her best wedding vendor. I reached out to Natalia and Travis and they were very helpful. I was impressed with their fast customer service and also with their wonderful pricing. I was able to secure... Read More a much more eloquent fabric back-drop for my wedding ceremony than with any other vendor for almost half the cost. In additional to that uplighting was included in the cost. This was a fantastic deal and my wedding ceremony was gorgeous. I would recommend Satin Chair Covers to anyone due to their professionalism and their ability to provide beautiful décor.
---
Great service & pricing!
Reviewed on

10/22/2012
Rachael Y
Travis and Natalia really put the finishing touches on our decor; the table runners, chair covers and head table decorations looked fantastic! The colors were vibrant, and they offer multiple options for how to tie the sashes. They're a small shop that offers personal service... Read More and they're very helpful. We highly recommend them!
---
Highly recommend, loved their work!!
Reviewed on

10/20/2012
Holly L
Travis and Natalia are great at what they do! They had done two of my sisters weddings and just did mine. It was fantastic and far above expectations. They had everything I wanted and had every detail planned. I could not have asked for better service!! I highly recommend them!
---
You can find better - VERY unprofessional!
Reviewed on

9/04/2012
Jenny L
We ended up renting table runners, napkins, draping for some tables, centerpieces and chair covers. We were never asked how we wanted our centerpieces. He told us to "put on hold" more than we needed just in case, telling us we would be refunded for what we didnt use. They ended... Read More up taking it upon themselves to design our centerpieces however they wanted without consulting me. They also ended up using the extra draping, charging me for it and not even asked as well. When I complained, the owner TEXTED me literally fighting with me about not putting up a bad review. WE THE BRIDES are paying the money, they should be respectful to us and want to do everything they can to make our day less stressful. HORRIBLE service, do not work with them!
---
Beautiful chair covers & lighting
Reviewed on

5/02/2012
Karen C
Travis & Natalia were great and everything looked absolutely beautiful!
---
Recommend
Reviewed on

4/15/2012
Jessica H
Highly recommend. They do a professional job and can cater to any color and style of event. The chair covers complete the room by adding class and elegance
---