Home

Chris Saraiva - DJ Entertainment & Lighting
About this Vendor
Dance, You Won't Stop - Stare, You Won't Turn Away
Why me? Good question, yet I can't answer that for you. Choosing the right person to host your wedding is not about price, it's not about gimmicks and it's not me telling you that I'm great and better than the rest. It's about your personality and my personality either clicking or not! It's simple!
Details
MC Services, Recorded Music, Sound Equipment
Contact Info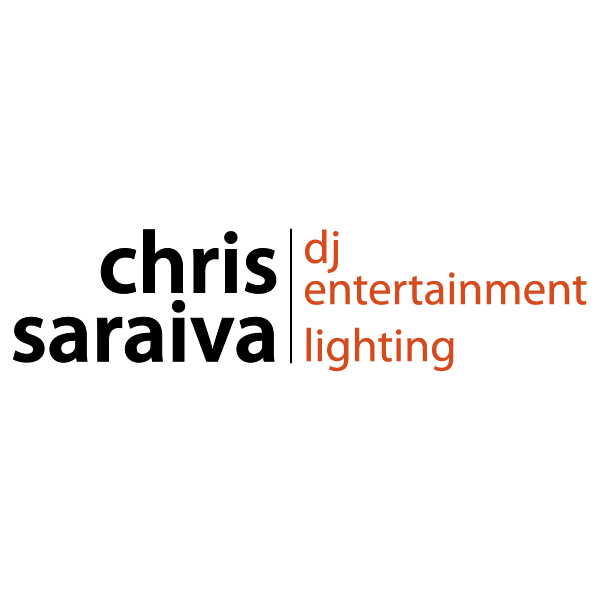 New Bedford, MA
RI & MA + Destinations
Dance Party!
Reviewed on

2/04/2015
Kayla S
When we started planning our wedding there were three things on our must-have list... beautiful venue, amazing food, and lots of dancing! Chris certainly helped us create the "party" that we were hoping for at our reception! Chris is down to earth, professional, and easy to work with! After many suggestions, he helped us decide some of the important dance songs at our wedding (first dance, mother/son, cake cutting). He also accommodated all our requests (high-energy, some Portuguese music), in particular. Our guests danced the night away and raved about how much fun they had. We owe a lot of that to Chris!! We also had Chris do the uplighting at the reception. We pretty much left it to his choice/discretion and he certainly did not disappoint! The lighting gave it the room the final touch and brought the whole look together. Totally worth every penny!! The overall experience at any wedding relies heavily on how good (or bad) the dj/band is. Chris will certainly combine his experience and your requests to make your wedding reception the best one ever!! I highly recommend him!
---
Declared by Guests the "Best Wedding Ever"
Reviewed on

10/12/2014
Mary C
There is a lot that goes into a great party. Having the right people, the right location and good food are all very important. But, in my experience, the DJ/Music is what truly drives or ends a great event. Truer words could not be written for our wedding. With all of our invited guests traveling in from out of town, our actual guest count was lower than what was expected. Being in a larger room made us all a little nervous. Would our guest count be too small for the event? We also had an awesome outdoor space, overlooking the Newport bridge. ..And because the weather was fantastic the bar was moved to the outside, fantastic for the guests but less than ideal to get folks on the dance floor. Well Chris pulled off the ultimate challenge, cat herding these folks to be engaged and dance their behinds off the entire night! It's been over a month since our wedding past and people are still coming up to us, saying this is the "Best Wedding Ever". These individuals memory of our event is a direct correlation of Chris' amazing skills and talent! Getting to the "Best Wedding Ever", Chris coached us in several session, regarding what it would take and what he needed from us, to make it the event we always wanted. Additionally he set up an outdoor system and managed the music for our actual wedding. Chris' down to earth vibe, made it easy and comfortable to work with him. He was the one DJ that we interviewed that didn't have a cheesy tone. Also Chris' price was simple and easy to understand. In fact his base package included exactly what we wanted. Other DJs may appear to be less expensive .. start to probe and you will quickly see additional costs into your estimate. In short, Chris makes the ultimate DJ! Wildly talented, reads the crowds, adapts as needed, is a wonderful coach and is all around a nice guy. I can't want to find another excuse to work with Chris again! - Mary
---
Simply.. the best!
Reviewed on

4/24/2014
Devin C
One of the best decisions that my husband and I made was to go with Chris Saraiva for our DJ! We had several vendors fail us on our wedding day - seemed like everything was going wrong - until we got to the reception. Chris and Nelly went above and beyond to make the rest of our wedding day go very smooth... Chris got everyone on the dance floor from the first song and the dance floor was full the entire night. With an encore at the end! Chris and Nelly are a fantastic duo for photography and music/entertainment. We put all our trust in Chris re. song choice and selections and it couldn't have been more perfect! What a PARTY!! Even my husband danced all night.. and he never dance. Would recommend Chris and Nelly to anyone and everyone! They are the best... simply stated!
---
Reviewed on

7/21/2015
Camille Z
Chris was the DJ at our wedding at OceanCliff and he did a phenomenal job! He was so easy to work with and we could tell he was a true professional from our very first meeting. Since we live in New Hampshire, we were able to accomplish some of our meetings over the phone, which helped to saved a lot of travel time for us. When our wedding day arrived, everything went off without a hitch. I was so confident in Chris's abilities that I never once looked at the clock or checked if things were on schedule - he was in total control of the situation and checked in with us when necessary. Chris did a great job mixing in some classics for the "older" family with a lot of fast paced music for the younger crowd; this kept everybody on the dance floor for the entire night. Thank you for making our wedding amazing, Chris!
---
Kept the dance floor packed all night!
Reviewed on

7/06/2015
Tara B
My Dad was a DJ when I was growing up, so not just any DJ would meet his approval. We met Chris and my Dad grilled him with a bunch of questions, and lets just say Chris nailed the job interview. He is such a professional! He has an easy to use online portal that helps the bride and groom select songs. When I was unsure of what I wanted for our ceremony, he gave me amazing suggestions. You get three planning meetings with Chris, in which he discusses every detail and gets to know who you are as a couple. The night of the wedding his exceeded our expectations. He played songs that we requested and also used his creativity to select songs that would appeal to everyone. By doing so, our dance floor was packed the whole entire night. We chose up-lighting in our package, and it transformed our venue in such a beautiful way. The up-lighting boxes he uses are white and small, and they blend right into the backdrop. Other DJs use big, black boxes that are an eye sore. Chris is experienced, classy, fun, and a true professional! Thank you Chris!!
---
Reviewed on

6/23/2015
Tiffanie S
Where do I begin? Since the moment I walked into Chris' studio I knew he was the D.J. I wanted for my wedding. (plus all the word of mouth referrals and great reviews were a big help). Chris was so welcoming. I really appreciated how he wanted to get to know us, get a feel for our relationship, all so he can make sure that he gave us the best entertainment for the night. Throughout the wedding planning process Chris was there to help with any decision making questions I brought up to him. Wedding day, I wasn't worried about a few things because I knew I made the right choices. Chris was definitely one of them. He was so open to our wacky ideas and made our grand entrance definitely a memorable one. The rest of the night was just as amazing as the beginning. The lighting was exactly how I pictured, and the music...WOW. He knows the chemistry of the dance floor that's for sure. He made sure everyone was out on the dance floor. Not only did Chris become our D.J. for our wedding night but we gained a friend in the process and to me, that means a lot. If your looking for an experienced, amazing, and fun DJ Chris Saraiva is the one. Worth every penny.
---
Reviewed on

5/12/2015
Kristina V
Music at your wedding is one of the most important things (in my opinion anyway). When we first met Chris it was an easy choice and there was no question that we wanted him to be our DJ for our wedding. He is knowledgeable and passionate about what he does. During the planning process Chris helped us with questions and suggestions and provided us with honest feedback about how thought certain things would play out. Chris also provided the ceremony music for our day since the venue was all the same and was able to help us fine tune songs for that piece. The DJ is also your MC for the night and Chris was excellent at saying the right things, names and checking in with us through out the night. The dance party was amazing. Chris read the crowd so well and have both young and old dancing. It was everything we wanted and more. People did not want to leave! Thank You Chris!
---
Best.Day.Ever
Reviewed on

11/12/2014
Shannon D
Thank you for making our wedding SO MUCH FUN!! People were on the dance floor all night long. You absolutely helped to create the vibe that Chris Mahoney and I were looking for. You tolerated all of my questions, helped us figure out music selections when we were stumped, and even changed up our cocktail hour vibe just days before the wedding after we changed our minds at the last minute. You're the best!! Thanks for making our wedding the Best.Day.Ever Shannon & Chris
---
Wedding Bliss
Reviewed on

10/17/2014
Kaley F
My now husband and I met Chris about a year before our wedding. From the very begging Chris is a true professional who is honest and knows his stuff. He helped us choose songs and find "the good parts" when we need to cut down the length of a particular song. His online website is easy to use and outlines your entire day, leaving you knowing what the day will look like. Chris calmed our nerves and made us remember it was about us and nobody else. Chris's personality separates him from the norm! He's amazing and will give you everything your looking for. We couldn't have been happier with his work!
---
PARTY STARTER!!
Reviewed on

10/12/2014
michelle a
We first met Chris when he was the DJ for my friends wedding and we knew right away we were having him for our day "one day". Then it was time to start planning and when we met Chris for our first meeting we knew he was defiantly the guy. He is so easy going, kind hearted and so knowledgeable with what he does you can just feel that he loves what he does. He got everyone on the dance floor immediately after our introduction and we knew it was going to be an amazing night. With all the planning that goes into your wedding me and my husband never came around to writing our song requests for the day but knew we were in good hands. He played everything we would want to hear on our special day. He is amazing and a must!!
---
Highly Recommend!!
Reviewed on

9/17/2014
Christina C
Chris did an AMAZING job at our wedding and we could not have been happier that we chose him for our special day. Since the wedding, we have gotten so many compliments on our DJ and how much fun people had dancing at our wedding. The dance floor was packed all night long with people of all ages. The music was tailored to our taste and was appealing to all of our guests. Chris meets with you several times before the wedding to get to know you and to customize the music to the specific wedding. He made us feel like our wedding was just as important to him as it was for us. Chris also supplied the uplighting for our wedding and it brought the room to a whole other level. He was able to control the mood with the music and the lighting all night long and made it a night to remember! The whole thing went off without a hitch. We would highly recommend Chris to anyone we knew who was planning a wedding. Thanks so much Chris!!!
---
Best DJ hands down!!!
Reviewed on

7/29/2014
Juliana M
Chris is incredibly professional and knowledgeable at what he does. He has a way of getting to know the crowd and making sure everyone is having a great time. Working with Chris throughout the wedding planning was a great pleasure for both me and my husband. Every couple is unique and has their own story on what makes them clique. Chris got a sense of us as a couple and what we liked. We will absolutelly be recommending Chris to all of our friends and family!
---
Best DJ Everrrrr!!!!
Reviewed on

7/23/2014
Ana S
Where to being?! First thing, Chris Saraiva is by far the best DJ! From the very first consultation, my husband and I knew he had to be part of our amazing day! Chris is extremely organized and professional. Let's face it, planning a wedding can be stressful but with Chris, you don't have to worry! His online website will help you organize your songs and he will go over everything, including giving you a printed time line of your big day (Yes, you even get your personal wedding planner!). Feel free to tell him anything you want because it's your day and he will MAKE it happen. He had guests of all ages up on the dance floor all night and played music that everyone loved. He is awesome, and we wouldn't hesitate to recommend him to anyone looking for a professional DJ for their wedding or any event! Thank you so much Chris for making our reception a rocking party for us and our guests!
---
Everything you want in your DJ/Entertainer!
Reviewed on

7/23/2014
Melinda N
My husband and I were lucky enough to book Chris as our DJ/Entertainer. He will hands down impress you. We had attended a couple weddings he had done before getting engaged so the second the ring hit my finger I knew I wanted Chris! He's fun, energetic, and knows his music! He always encourages you to make your event reflect you as a couple and we really liked that. If it's in your budget I would definitely get his up lighting package. You will LOVE the way your reception looks with this special touch! Thank you Chris - you were awesome!
---
BEST DJ in the area!!!
Reviewed on

7/14/2014
Amy S
I highly recommend Chris to any future bride and groom for his DJ and uplighting services. Chris is a talented professional who puts his clients needs and vision into reality; even when a client isn't too sure of his/her vision! He stays in contact with this clients throughout the planning process and is always available to talk and answer questions. All 286 guests at our wedding were up dancing for the majority of the night, some even before the dancing portion started. Our guests are still talking about how great the music was and how much fun they had!!! I had all confidence in Chris to run the show and he delivered above and beyond my expectations!
---
Awesome DJ
Reviewed on

5/30/2014
Marissa H
Choosing Chris as our DJ was one of the best decisions that my husband and I made in regards to our wedding! He had everyone dancing from the first song which was something that we had not seen and have rarely seen since our big day. The mix of music was amazing and kept people on the floor all night. We were married last August and people are still talking about the amazing atmosphere of our wedding. He was a constant professional throughout the whole planning experience and throughout the big day. We would highly recommend him! He is simply the best!!
---
Very Talented Wedding DJ
Reviewed on

5/14/2014
Glen G
Chris was a true professional from beginning to end. His meetings were very organized and he was always available when we had questions. We liked the fact that Chris took the time to get to know us and to learn what type of crowd he was going to be entertaining. Thanks to Chris we had an incredible event. The energy at the reception was high all night. Chris also did an outstanding job suggesting and providing beautiful music at our wedding ceremony and cocktail hour.
---
Best dj
Reviewed on

5/04/2014
Chris was the dj at my wedding this past July and he was amazing kept everyone on the dance floor all night played some Portuguese music for my Portuguese family and the lighting made the whole venue look amazing! I am so glad we choose him for our wedding and would recommend him to any one who is looking for a dj thanks again Chris!!
---
Best DJ EVER!
Reviewed on

5/02/2014
bethany m
Chris is truly an amazing DJ! He was very professional, detail oriented, and kept the dance floor bumping all night long! He made everything run so smoothly, which is really important on such a BIG and sometimes hectic day! Our wedding guests had such a fantastic time, as did we. Chris also provided the uplighting, which took the WOW factor to a whole new level! We were so pleased to have him part of of our big day, and highly recommend him!  
---
Great DJ
Reviewed on

5/02/2014
Sophia B
Chris did such an amazing job at our wedding and made everything run perfectly and smoothly! My husband and I could't be happier with the service he had provided for us. Chris was great and had great ideas and very helpful with details on our wedding day! Chris knows how to get everyone up and dancing until the last song! We absolutely loved working with Chris!! THANK YOU FOR MAKING OUR WEDDING DAY ABSOLUTELY AMAZING xoxo
---
Amazing!
Reviewed on

9/29/2013
Caitlyn B
Chris was absolutely fantastic and we could not have been happier with him! He kept people dancing from the first song to the last and our guests are still talking about him almost a year later. He takes the time to get to know you and gets a real feel of what kind of music is best for you and is a complete professional from beginning to end. We have recommended him to several of our friends and will continue to do so. Chris is the best decision you could make in your wedding planning process!
---
Great choice!!
Reviewed on

8/05/2013
Once we met Chris we knew that he would have to be the DJ for our wedding. Chris's professionalism, attitude and enthusiasm for his business is amazing. He has a great personality making him very easy to work with and get along with. Chris helped us every step of the way! He was very organized throughout the entire process. He kept everyone on the dance floor all night long! Chris is and will always be highly recommended by my wife and I
---
Chris' attention to detail was so comforting!
Reviewed on

8/01/2013
Stephanie R
Chris was such a great DJ for our wedding held on 9.24.11. His attention to detail was like no other. He has great taste in music himself so he was a great help when selecting music for our wedding. One thing we really appreciated about Chris was his honestly and how up front he was about everything. He was so easy to work with- it was like we were hiring a friend to DJ for our wedding. The day of our wedding he was so organized and helped out during every step of our reception. Our guests still talk about how our wedding was some of the most fun they have ever had at any wedding and it was one of the best days of their own lives too! He had everyone on the dance floor and having such a fun night.So if you are thinking about Chris for the job, you can definitely do so without any reservation at all!!
---
AWESOME!!
Reviewed on

7/31/2013
He did a fantastic job at my cousin's wedding, people did not get off the dance floor. Would definitely recommend him to anyone getting married..
---
BEST DJ!!!
Reviewed on

7/31/2013
CHRIS DID SUCH A GRAET JOB AT MY WEDDING. THE DANCE FLOOR WAS ALWAYS PACKED WITH PEOPLE AND A BUNCH OF MY GUESTS CAME UP TO ME THROUGHOUT THE NIGHT COMPLIMENTING HIS WORK. I WOULD RECOMMEND HIM TO ALL THE FUTURE BRIDES!
---
Send Message