Home

Classic Wedding Car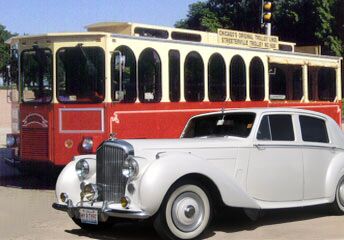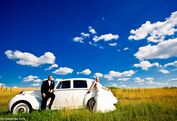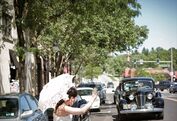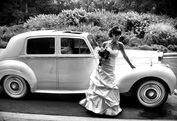 About this Vendor
Special Cars for Your Special Event
We specialize in classic Rolls Royce and Bentley motor cars, but also offer Packards, Cadillacs and limousines, as well as minibuses and trolleys. Our amenities differ according to vehicle, but include such elegant touches as drivers in tuxedos, champagne, flowers and decorations.
Details
Classic + Exotic Cars, Limousine + Sedan, Trolley, Transportation
Contact Info

256 Central Avenue, Roselle, IL
We Highly Recommend Classic Wedding Car!
Reviewed on

8/05/2013
d g
We reserved a 1955 Cadillac Limousine for our wedding and were very pleased! Not only did we turn heads at our wedding with this classic car, but we had a great experience with all the people involved at Classic Wedding Car. Sarah was always available to answer any questions... Read More we had from the minute we first called to inquire about wedding transportation. She made the task of securing wedding transportation very easy and stress-free. Our driver, Joe, was very personable and loves his job. He even has a car horn that plays "here comes the bride" that he beeped at the crowded intersections so that passersby would wave and cheer....what an experience! We highly recommend Classic Wedding Car!
---
Great ride! Classy Chassis!
Reviewed on

11/14/2011
Camden F
We hired the '54 Bentley R-Type as our car for our wedding and the 10 person limo for the family members. We didn't spend any time with the limo, but we were told it was quite nice. The Bentley was just amazing. It served well in numerous wedding photos and was a really... Read More awesome way to leave the church and arrive at the reception. The car was clean inside and spotless outside. The chauffeur was friendly and drove very well. It was just a classy ride all around! Start to finish, Sarah was very helpful and attentive, we even added an extra hour last minute without any problems. I would highly recommend classic-chassis.
---
FANTASTIC!!
Reviewed on

11/01/2011
Stacy Anne B
This company was so fantastic to work with before and during the wedding. We rented the white Bentley. It was pristine, early at the venue and our driver could not have been more professional and nicer. They have a lovely champagne service and he stayed to take photos after... Read More the ceremony with family and friends. All our guests loved looking at the car. I would use this company again and again and again! 5 stars out of 5!!!
---
Reviewed on

10/07/2015
Jeanine C
I found Classic Wedding Car through the Knot when searching for an antique limo for our wedding, and am so glad I did! Sarah, the owner, was absolutely wonderful with helping us pick our car and communicating with me (when you're planning a wedding, the most important thing is... Read More being able to communicate with your vendors stress free!!!!). Our driver, Ron, was also top notch. He helped ease my nerves before the wedding, and was so attentive and helpful while we were taking our photos before the reception! The car selection available at Classic Wedding Car is second only to the first class service we received, and I couldn't be happier with this company!
---
a classy, memorable ride
Reviewed on

10/28/2014
Kelly B
One of the few "must haves" my husband had going into the wedding was a special car for the two of us to take from the ceremony to the reception. He found Classic Wedding Car and they far exceeded our expectations. The car was beautiful and our driver was fantastic. He was... Read More extremely friendly and professional and even helped us with photo ideas with the car. It was so wonderful to have a few moments to ourselves in the car amongst the craziness of the day. It is definitely a memory we will always cherish.
---
Favorite part of the Bride and Groom's day
Reviewed on

9/25/2014
CJ L
I thought I would hire a Classic Car (1954 Bentley) to transport my daughter, husband and I to the Church, then use the vehicle after the ceremony for the Bride and Groom. I felt it would be nice for them to have a few minutes of "alone" time while in transit from church to the... Read More country club. Plus, my new son in law is a car buff, and I thought he would really enjoy the experience. The driver arrived about 10 minutes early, the car was immaculate. After the ceremony, the "red carpet" was rolled out for the couple, as well as champagne, and white glove service. The driver and the rental experience was top notch. The newlyweds said that the ride was the highlight of a wonderful day. Nice job!!
---
Nice Job
Reviewed on

11/19/2013
Rachel B
Classic Wedding Car provided us a limo for between the ceremony and reception. The car was clean, and the driver was polite and accommodating. Overall, it was a nice experience.
---
Beautiful car!!
Reviewed on

11/13/2012
Stephanie M
We couldn't have asked for a better experience. We rented the 1939 Packard Limousine for our old hollywood themed wedding. The car was beautiful and in perfect condition! Our driver Jack was great! He was at the church on time, very friendly and a great driver! We had such... Read More a great experience and would recommend Classic Wedding Car to anyone. The one thing that was a little frustrating, was that we were never informed that we could not have kids in the car with us if we were drinking champagne. Had we known this, we would have never told the kids they could come. Unfortunately we did not find out until we had the kids in the car. Other than that, we have no complaints. We would definitely rent from Classic Wedding Car again!
---
The Car Made the Day
Reviewed on

10/13/2012
Shannon F
We had a great experience with Classic Wedding Car on our wedding day. Sarah was wonderful to work with. She easily accommodated my last minute changes and made me feel confident that I was taken care of. Wayne was an excellent driver. He showed up early to bring me to the... Read More venue. Wayne was friendly and polite and made sure I had everything I wanted. My guests will never forget the red and black Rolls Royce dropping my father and I off to walk down the aisle. Wayne also made sure the 1948 Silver Wraith was immaculately clean so I could lean against it for pictures. Our favorite picture from the wedding was of my husband and I leaning up against the car and cracking up laughing as we celebrating being newly married. I would highly recommend Classic Wedding Car to any couple to make a statement on their wedding day.
---
Sept. 2012
Reviewed on

10/11/2012
Victoria A
I had loved the idea of having a white rolls royce take me to church. We had booked the 3 hour minimum. Everything was ok going to church but the car smells like gas when it's running and my mom was getting a headache from it. While I was taking pictures with my groom, the... Read More driver was complaining to leave (because he was dropping us off at the location where we would be taking pictures). The driver was rude to my father, photographer and anyone else that asked him to wait a few minutes so that we could finish our pictures. He was just fine after my we gave him an extra $175 to stay because he was threatening to leave. I was very turned off when we were done with pictures at church and we had a limo bus for our bridal party so we could have easily gone in there. The point was that my time was going to be up at 5:15pm and we wouldn't have reached the location by then which is why he wanted to be paid. He would've driven right past our location on the way to roselle where they keep the cars anyway. We had rented the limo bus as well from the same company and have no complaints about that driver. He was actually great! It felt like a party in the limo while we were on our way to the reception. Overall, this was the only wedding vendor that had disappointed us.
---
Perfect
Reviewed on

10/27/2011
Karlene L
Rob was our chauffeur, the car was a 1962 Rolls Royce and the color was white. That says it all. Elegant, traditional yet untraditional and welcoming. These were also words that helped to describe our wedding, and this is why the car was perfect for us. From all accounts, my... Read More entrance was "an entrance" because the car added to everything. I was looking for a convertible look, but really wanted an open feel and a lot of light and this was what I got. One thing is that since the car is a classic, there was no real air conditioning but rather just the regular fan, so the windows were rolled down during our ride, but rolled up with the fan on when we weren't in it. However, the fan was on only when the engine was on, which was just before we got in. So, just a caution to all the Summer brides. Our wedding was in July and it was hot, but not unbearable. Besides, it could have been snowing or raining (which is did the day before) and we would have still been happy, because it was our day. Rob also did a great job opening the door for me and helping me out each time (which was very much appreciated). The car was very well maintained and lightly decorated. We had a toast with sparkling cider, which we loved. It helped to make the day extra special.
---
On time, well dressed, professional, reasonable
Reviewed on

10/25/2011
Joy T
Sarah is always responsive when I talk to her about the transportation, unlike the other transportation company I talked to. They take little deposit and you pay the rest on the wedding day which is very reasonable! The driver was well dressed, professional, on time, and we had... Read More the champaign in the car. We took some pics/videos with the white bentley car after ceremony, which is causing over time. But they didn't charge me over time, the driver was very sweet. I'm overall very happy with the purchase.
---
Very classy!
Reviewed on

10/06/2011
Amber B
We rented the Bentley and it was amazing! The driver was very professional and had the champagne chilling for us when got out of the church, and he served it to us right there next to the car which made for great pictures! We are so glad we went with classic chassis- a little... Read More pricier than other classic car companies, but well worth it!
---
Awesome Classic Cars
Reviewed on

7/08/2011
Kristen Z
On time, dressed appropriately. My son-in-law had a 1948 Red Rolls Royce take he and his bride away after church. As they left the church, the driver had a small table waiting at the end of the sidewalk, just prior to getting into the car. A bottle of champagne and toasting... Read More flutes awaited them. The driver wore a top hat. We have pictures of my daughter and son in law just departing church, amongst a sea of blowing bubbles, toasting each other with the champagne that awaited them.....awesome! The bridal party followed the Rolls in two black limo's, and they all made stops along the way to the reception for several photo opportunities. No problems!
---
Review for Classic Chassis
Reviewed on

5/10/2010
Jamie K
A vintage 1940's Packard and Cadillac called 'The Godfather' escorted the bridal party to and from the wedding! My husband, a lover of old cars, couldn't have been more thrilled or surprised at this touching detail.;Book early to ensure availability for your date!
---
Review for Classic Chassis
Reviewed on

5/10/2010
Amy B
Very nice and accommodating
---
Rating for Classic Chassis
Reviewed on

5/10/2010
mo D
---
Review for Classic Chassis
Reviewed on

5/10/2010
LaTisha C
The owner Sarah was fantastic very friendly and warming. Thhe fleet that have are amazing. Very accmadating and professional. The car we used was absoultly great everyone was blown away by vintage car. The ride was great smooth cool. The driver was patient and easy going. The... Read More car was clean inside and out. Air conditioned and decorated to our specifics.
---
Review for Classic Chassis
Reviewed on

5/10/2010
Melissa G
Classic Chassis were just flat-out easy to work with - responsive friendly and efficient. We hired a 1955 Cadillac limo and the driver was so nice and the car was fun to ride in and looked amazing in photos.
---
Review for Classic Chassis
Reviewed on

5/10/2010
Tracey N
I loved the car we chose. It was a vintage red rolls royce and was in great shape and very clean. the owner of the company was our driver and took excellent care of us. He was great!
---
Review for Classic Chassis
Reviewed on

3/27/2009
Martha M
The driver was on time waiting for us with chilled champagne. The car was absolutely gorgeous.
---
Review for Classic Chassis
Reviewed on

2/14/2009
Lauren B
We loved the car. The owner/driver was so nice and dressed very well. There was limit on locations to visit. It looked great in pictures and was comfortable.;We loved working with them.
---
Review for Classic Chassis
Reviewed on

10/31/2008
Lesley K
They were on time and knew where we were going! The driver was very professional and helpful. The company also was good about staying in contact with us and reviewing information with us before the day of
---
Review for Classic Chassis
Reviewed on

9/02/2007
Hannah R
Just for B/G. Great classic car with champagne, etc. On time, nice driver!
---
Review for Classic Chassis
Reviewed on

8/25/2007
Alisa B
The car was beautiful! Such a smooth ride.;Be careful of the ice bucket if it isn't fastened down!
---