Home

Coco Paloma Desserts
About this Vendor
Cake Designs that Look Fabulous & Taste Delicious
Coco Paloma Desserts' mouth-watering, visually sublime cakes are the cure for wedding cake amnesia. Whether your tastes run traditional or ultra-modern, we can create a unique and memorable cake for your big day.
Details
Cake Tastings, Cakes + Desserts
Contact Info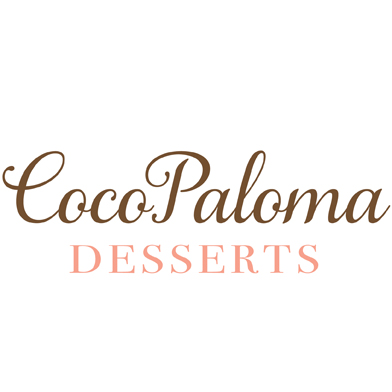 8711 Burnet Rd, Austin, TX
Delicious and Beautiful Cakes!!
Reviewed on

8/21/2013
Lora G
Coco Paloma made the wedding cake, grooms cake, and cookie favors for my recent wedding, and everything was phenomenal! Paloma was such a joy to work with and does beautiful work. We knew we were in good hands too when every cake we sampled was more delicious than the next. The sugar flowers that Paloma makes are true works of art and are almost prettier than the real thing. The wedding cake was so beautiful! Our grooms cake was a replica of my husband's car, and she got all of the details just right even down to the license plate. We just sent her a bunch of photos and she got it just right. The cookies were such a treat too (homemade "Oreos" and chocolate chip), they were beautifully displayed and just as delicious as the cakes! I would definitely recommend Coco Paloma!!
---
The best you will get
Reviewed on

6/28/2010
Hayley W
Paloma is the best! She was so professional and listened to everything I wanted and made the perfect cake! I promise you will not regret your choice!!!
---
The Centerpiece of the Reception!
Reviewed on

5/23/2010
carolyn c
I found Coco Paloma Desserts in The Knot magazine, & called her. We hit it off immediately, & set up a tasting day. I went with one of my bridesmaids, & we tasted 5 cakes. I was sold from the first bite, & had a hard time finally choosing. She made my cake exactly as I envisioned,& with my colors. For the groom's cake, she replicated the sign from Cooperstown, N.Y.,where the Baseball Hall of fame is from a picture we took her.There was virtually no cake left at the reception-in fact,that was little was left we ate in our suite. The neatest thing is the fact that she doesn't have to top layer to wrap & freeze for the one year anniversary-ugh. Instead,with a week or so notice, she'll make a small fresh cake to celebrate with. She's an outstanding pastry cook, & I would recommend her for any occasion that calls for a specialty cake.
---
Delicious and Stunning
Reviewed on

4/26/2015
Coco Paloma did our bride's cake and groom's cake. Both looked amazing. The groom's cake was a guitar amp, and they got all the details right. None of our guests could believe it was a cake! Plus, the salted caramel ganache cake inside was decadently scrumptious. The bride cake was a pastel dream topped with sweet-looking flowers that looked so realistic. The mini desserts they made were tasty too: cheesecake squares, cupcakes, candy bars. Everything was stylish and delicious! You will not be disappointed.
---
Elegant AND Delicious!
Reviewed on

2/03/2015
I highly recommend Coco Paloma Desserts! Paloma was so gracious and accommodating to all of our wedding cake needs. After reviewing her extensive photo gallery and pouring over her decadent flavor options, she helped us choose, with her masterful advice, a cake design and flavor choices that fit our desires perfectly. The resulting wedding cake was beautifully elegant and the taste was luscious and heavenly! Many of the guests commented on its exquisite flavor, as well. We will be having another reception in the upcoming months, and we will definitely be ordering another dessert from Coco Paloma Desserts. Paloma is the only pastry chef in the area in which I would entrust my business!
---
Delicious & Beautiful!
Reviewed on

12/29/2014
Monica S
Paloma did a fantastic job! She made our wedding cake, the Groom's cake, state shaped cookies (Texas & Florida) and a croquembouche for us! They were all magnificent!! The Groom's cake & croquembouche went so fast, it was like locusts descended & I know folks had more than one serving of those! It was all so delicious..I am still eating wedding cake! The artistry was incredible too! I realized loved her designs when I pinned several on Pinterest. I am glad she was available to do our event! She worked with us to incorporate everything we loved from our little Chihuahua who made an appearance on the Groom's cake, jeweled sugar rhinestones in the sugar flowers atop the Wedding Cake, to cookies & of course, the croquembouche. We absolutely LOVED it all and so did our guests!
---
Thank you, Paloma!
Reviewed on

11/19/2014
Scarlet L
Our wedding cake was made and delivered by Coco Paloma desserts, and it was amazing! The service was great, and the flavor was awesome. Paloma had us come to her bakery for a tasting, and it was so hard to pick a favorite! We ended up going with the classic white cake with a raspberry filling, but my favorite part was that she used real raspberries in the filling. I didn't really have an idea of what I wanted the cake to look like, but she had one on display at her bakery that caught my eye, we switched up the colors a little bit, and it turned out beautiful. One of the best things was that she delivered our cake to our wedding in Round Top, TX...a task that other bakeries were not willing to do. I definitely recommend Coco Paloma to all brides :) Thank you, Paloma!
---
Beautiful, Creative, and Delicious!
Reviewed on

10/08/2014
Lorrie G
I can't heap enough kudos and gratitude on Paloma for the fantastic job she recently did with our daughter's wedding cake! She could not have been more accommodating and easy to work with. After a very relaxed and yummy tasting at the Coco Paloma bakery, our bride chose the vanilla bean buttercream for the wedding cake. As the couple both live in London and the groom couldn't be with us that day, Paloma kindly arranged a special groom's cake "take home" tasting for our him when he arrived the week before the wedding. He chose the gingerbread beer cake with espresso buttercream. His cake was decorated with a Union Jack that had a small 3D armadillo running across it, a huge hit with all his English relatives from across The Pond! I am happy to report that Paloma's cakes are every bit as delicious as they are gorgeous! She listened carefully to our daughter's ideas for the cake taking in all the Pinterest photos she sent as well. Then, with her extreme artistry, made the dream come true. One of the challenges was to figure out a way to include a monogram on the side of the cake. It was challenging because the groom has a hyphenated last name. Paloma designed a really lovely blending of the two letters that we all loved so much we ultimately carried it over onto cocktail napkins and other wedding accessories. Paloma extended a final kindness after the wedding when I called to tell her that somehow slices of cake hadn't made it into the get-away car at the end of the evening. The only tastes the couple had gotten of their fabulous cakes were the little bites they fed each other at the cutting. She graciously packaged up some freshly frosted slices in each cake flavor for the happy couple to enjoy when they returned from their honeymoon. They were so touched and appreciative! So look no further. THIS is your wedding cake source! Thank you Paloma!
---
Excellent Quality, Artistry, Professionalism and Service
Reviewed on

10/08/2014
Sharoon S
It was a pleasure to work with Paloma on our wedding cake. I had a multi-ethnic wedding and Paloma listened to all my ideas and worked with me on coming up with a concept I was very happy with. Additionally, I had two cake flavors (chocolate with peanut butter and almond with strawberries), macarons and lemon bars. I had a small wedding and my mother-in-law had to hide some cake slices because the guests just about killed it and the extra deserts. I didn't get any macarons and lemon bars but I heard they were really good! A friend of mine was thrilled that I did not have fondant on the cake until I told her that I did -- yes folks, it's the best tasting fondant you'll get. Paloma also made me a Ghostbuster's cake (StayPuft next to a NYC building) for my husband's bday after our wedding and it was simply fun and awesome. Weddings can be stressful and this process was a nice relief. She gets it and really makes sure you're getting something special.
---
Amazing cake!
Reviewed on

10/08/2014
Alice J
Coco Paloma made the cake and desserts for my wedding in May 2014. Starting from tasting, designing the cake and dessert table, to seeing and tasting the actual work, the whole experience was very pleasant. Paloma designed my cake based on my wedding bouquet and the wedding colors (it was so pretty that it was featured in Brides magazine), and she customized the flavor with the rosewater jam that I brought back overseas from my hometown. She prepared a sample cake to incorporate the rosewater jam in the first round of tasting and made a second sample to make sure the balance was exactly what we like. The flavor turned out to be perfect, not overpowering, but instead with a light and elegant note of rose, that goes well with the venue, a wildflower center. The desserts (macarons, green tea mini cupcakes, chocalate dipped strawberries and orange peel) compliment the dessert table beautifully. Everything is really perfect and so beautiful. I highly recommend Coco Paloma!
---
It's all about the cake...Right?
Reviewed on

9/27/2014
Paloma is such a nice lady, and a consumate professional... ...but it's all about the cake...Right? Her cakes are moist and delicious, and if her huge flavor assortment isn't enough, she will make your request. We absolutely loved the aAmoretto-soaked almond cake with strawberries, and for a our groom's cake, Paloma made an amazing dark-chocolate orange granache cake, and even circled it with those little orange slice candies. :9 ...and with all that...Her prices are insanely reasonable. You won't believe what you hear for what you get. s- P.S. I almost forgot. Best of all, she doesn't even make you freeze your cake top for a year. For your 1st anniversary, Paloma actually makes you a 6-inch round of your cake fresh and free of charge. (I also had to buy another of the dark-chocolate orange ones too. Did I mention how good that was?!
---
Tiramisu, I love you.
Reviewed on

9/24/2014
chrissy k
I love Coco Paloma. While wedding cake shopping we tried three different vendors and Coco Paloma was the one. We wanted a certain kind of cake but after tasing about 20 different combinations the one flavor that stuck out to us was Coco Paloma's Tiramisu! it was wonderful and what I loved the most was that the frosting was made with marscapone and that cut some of the sweetness found in most frostings. Everybody liked it. Tiramisu has always been my favorite dessert so when my husband and I tried it, we knew! It was the one. Our experience was fun, delicious and artfull. Her shop was full of design inspiration. we wen with a french dot covered cake in simple white. Very elegant. We sat it on a wine barrel and to me, it glowed. So pretty. I would recommend Coco Paloma to any bride. it was a wonderful experience and a delicious cake. She even remembered us on our anniversary so that was special too.
---
Beautiful and Delicious Cakes!
Reviewed on

8/06/2014
Shannon V
I highly recommend using Coco Paloma for your wedding cakes. We were able to choose as many flavors as we liked at the initial consultation. It was such a hard decision to make because EVERYTHING tasted so good. She designed our groom's cake to match the wedding invitations, and we couldn't have been happier. I was a little unusual with my choice of the bride's cake because I wanted it to be a certain shade of purple to match the rest of the decor, and they color was perfect. All the wedding guests also loved the cakes. Paloma was very understanding and worked with me when I decided I wanted some sort of design on the top of the cake instead of using a cake topper (it was not a last minute decision). She was available to answer all our questions in a timely manner.
---
GROOMS CAKE!
Reviewed on

7/27/2014
Margot C
Coco Paloma desserts was a recommendation from a friend of mine and they proved to be everything my friend had said they would be! Absolutely perfect! From the initial consultation I knew that the grooms cake would be fabulous. They helped to create my vision while ensuring complete trust and asking my input/opinion throughout the process. They were honest, cost affordable, and professional through out the whole process. They delivered the cake on time and had it displayed perfectly at the rehearsal dinner. And to top it off- IT WAS DELICIOUS!!! I would definitely recommend anyone getting married in the Austin area to use them! Thanks again Coco Paloma!
---
Great Cakes (that's right, two of them)
Reviewed on

7/13/2014
Tracie C
Coco Paloma Desserts are the best cakes you can get for your wedding or any special event. You can taste the difference in the ingredients as they are all organic. No mixes here. I love the variety of flavors she offers. The tasting itself is fun and very generous in portions ;) Paloma is very creative in her designs. I wasn't sure exactly what I wanted but she really helped draw it out of me. The final product was delicious and beautiful. I couldn't decide on just one flavor and chose Lemon with Almond Buttercream and Green Tea with Vanilla Buttercream. We also had her create a Groom's Cake that was devoured at our Rehearsal Dinner. It too, was very tasty and adorably designed. The service was great. She was in touch with me often, even sending photos of small details as she created the design. Take it from me, she comes highly recommended.
---
Professional, tasty and painless
Reviewed on

7/03/2014
Lillian O
We had to find a new cake vendor last minute and Paloma was a perfect fit! She saw our vision right away, was very quick and efficient with responses and was very professional. Her cake tasted amazing! Really light and tasty and you also get a free anniversary cake which is pretty awesome!
---
Coco Paloma
Reviewed on

6/24/2014
I wanted to send you a quick note to thank you for baking and designing the cakes for Shannon and Matt's wedding. They were beautiful and tasted great. You gave her exactly what she wanted in the design and everyone was pleased and enjoyed every bite. A wedding is not a wedding without cake! Thanks again
---
Gorgeous and Amazing Wedding Cakes
Reviewed on

6/19/2014
Coco Paloma Desserts is by far the best of the best. My wedding cake was very important to me and I wanted a cake that looked absolutely amazing and tasted exquisite!!! Paloma did it!!! I was definitely a meticulous bride and wanted my cake design to represent my style and it exceeded my expectations!!! She was very flexible and was able to design a cake from scratch as an option. I also fell in love with one of her designs featured in a bridal magazine. She was easy to work with and helped me decide what was best for me when I asked her specific questions about the design. I received so many compliments on my cake as well as my husband's groom's cake. He chose his college logo and all his friends were obsessed with it and took pictures. Coco Paloma uses the freshest ingredients which was very important to me as well. There are so many amazing flavors to choose from that it is hard to decide. I chose 2 different fillings because I loved both of them. When you are choosing your vendors you want to choose the best of the best while remaining in budget and also you want someone who is exceptional to work with! There were several times during the wedding planning process where I spoke with Paloma and she put me right at ease with everything. I would select her again and again in a heartbeat and I would definitely recommend her to everyone I speak with! Coco Paloma has been placed as one of the top 63 pastry pros in the US in Martha Stewart Weddings! She has many other accolades and has been featured in Tribeza and Martha Stewart Real Weddings. Stop reading this and send her an email or call her!!
---
Wedding Cake and Cookies
Reviewed on

6/18/2014
Stephanie A
Paloma created a wedding cake, grooms cake, and cookies for our wedding. The wedding cake was even better than I pictured. She really listened to what I wanted. She also made an awesome zombie doctor/nurse grooms cake for us. It was amazing. Everyone kept commenting on how awesome it was. She made the cutest dog cookies for our favors. They were also the talk of the wedding. She was easy to work with and very professional.
---
Exquisite Cakes!
Reviewed on

5/27/2014
Rebekah M
So many wedding cakes look nice but taste blah, but Paloma's cakes are both beautiful AND delicious. You can really tell the care that goes into making them. The only hard part will be choosing which flavor to get as they are all amazing. She's a joy to work with and even makes you a special cake to celebrate your first anniversary. Our cake was fabulous & I plan to use her for special birthdays, etc. in the future. I wholeheartedly recommend her.
---
Delicious and Beautiful Cakes!!!
Reviewed on

4/29/2014
Lindsey D
Let me begin by stating that I am VERY picky regarding cakes! I myself love to bake and love unique, delicious flavors made from natural ingredients. I quickly learned that Paloma feels the same way! When my now husband and I went to our cake tasting she was VERY accommodating and sat with us discussing all the different flavor combinations we could create! It was one of our favorite days throughout the wedding planning process! The hardest part was deciding on cake and flavor fillings because they were all so delicious! Paloma also helped us create beautiful, unique cakes that express our personalities! We would definitely recommend her to anyone looking for an amazing baker!
---
Elegant and delightfully delicious !
Reviewed on

9/07/2013
Tamara R
I just celebrated my first year anniversary and my husband and I enjoyed a complimentary tier of our wedding cake from Paloma - which reminded me how fortunate we were to be introduced to her last year when we were planning our wedding! Coco was so very easy to work with and made multiple samples for our tasting. I thought it would be easy to pick - but I was sooooo wrong. With each flavor we tasted, I was convinced that wold be the one. Ultimately we decided on two flavors: white cake with a lemon curd and fresh raspberry filling and chocolate with buttercream and fresh raspberry filling. (Absolutely perfect for a mid-July wedding in TX!) I chose to serve our cake for dessert at our wedding and I have the sweet tooth in the family. I was pretty particular about having a cake that tasted as good as it looked. Paloma gave us that!
---
Great cake
Reviewed on

8/07/2013
Nicole G
I can't eat gluten and from the get go Paloma had a variety of cakes for myself and my future hubby to try. We ended up with a top layer of gluten free Almond cake and two lower layers of chocolate with chocolate. The only down side was that the delivery was late and it stressed out my wedding planner.
---
LOVE Coco Paloma!
Reviewed on

6/20/2013
Kelsey G
Paloma was amazing to work with! She understood my taste and vision immediately, and I always felt confident in her. When I first saw our wedding cakes, it took my breathe away! They were just so beautiful. She delivered exactly what my husband and I wanted - and more! Not to mention, the cakes tasted SO good! And, they were so fresh! We received many compliments from our guests. Paloma herself is such a sweet and creative person. Working with her was so easy and stress free. I definitely recommend her! Thank you Paloma!!
---
Delicious cake and outstanding service
Reviewed on

6/17/2013
R F
We had a fantastic experience working with Coco Paloma for our wedding and groom's cakes in June 2012. Both cakes were beautiful, delicious, and a good value based on the quotes I got from several Austin bakers, and Paloma was a pleasure to work with and provided excellent, reliable service. Paloma was able to accommodate several special dietary requests (nut-free, vegan), and I was impressed with how conscientious she was to avoid cross contamination for my seriously nut-allergic husband--not all bakeries can even do nut-free cakes. I also loved that she made my idea of a giant chocolate chip muffin shaped groom's cake work, and incorporated our wedding's lavender theme with a lavender flavored wedding cake with lemon curd filling. She was great about working out a plan for a smaller wedding cake and backup sheet cakes, to keep the costs reasonable for feeding all 230 of our guests; and it was easy to communicate with her from afar as we planned our wedding from D.C. She delivered the cakes and tons of mini chocolate chip muffins with wrappers matching our wedding colors to the Salt Lick in Driftwood right on time and without any trouble, despite the 105 (!) degree heat on our wedding day. And delicious and gorgeous as the wedding cake was, it was the vegan chocolate chip muffins that completely blew me away--I'm not even vegan and I loved them so much I'm ordering a batch shipped to D.C. for our anniversary. Overall, Coco Paloma met and exceeded our expectations--a total winner!
---
Send Message