Home

Colorado Wedding Productions
Details
Artistic, Classic, Dramatic, Lifestyle, Modern, Vintage
Bridal Portraits, Day After Session, Engagement, Trash The Dress
Getting Engaged, After Party, Rehearsals + Parties, Wedding
Destination Wedding Packages, Destination Weddings, Online Proofing, Digital Files, Printed Proofs, Wedding Albums, Photo, Second Shooter Available, Social Media Sharing, Photo + Video
Contact Info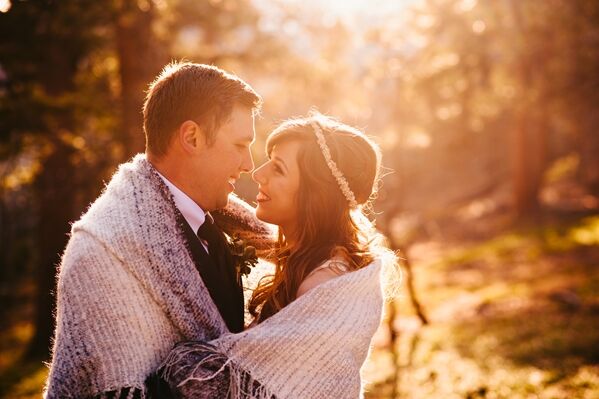 Reviewed on

10/01/2017
Jamie S
Bed and Courtland were our photographer and videographer for our adventure wedding in Rocky Mountain National park and I can't begin to describe how awesome they were. Not only were the pictures and video we received breathtaking but they made our day so much fun!
---
Reviewed on

9/18/2017
Abby A
We are so happy to have had Carl and Amber be apart of our wedding day!!! Amber was great!! Any request or questions we had, she was able to helped us. We're already awkward to begin with and I'm so very excited to see how it all came out. She was very fun to be around and not... Read More once did we feel uncomfortable with having her presence. She's very professional and easy to talk to. I liked her opinions and thoughts on anything I might be indecisive about. When things felt a little overwhelming Amber helped us with giving our family a some directions on what we needed at the time. She was just amazing and it really felt like she apart of wedding not just taking our photos. My family loves Carl by the way. He made sure that the music flowed very well through out the day and set the tone for every moment. We definitely had lots of different emotions that day, and all the way to the last song play he was able to feel for what we needed. He went above and beyond and we are so very grateful. My family had separate concerns that I couldn't attend to or be able to address and he took care of them or would go and find someone who can help them. Carl is a really great and fantastic guy. I hope he knows he was super popular at our wedding and is praised continuously! It was a such a blast.
---
Reviewed on

8/07/2017
Brian B
My wife Crystal and I had the luck of stumbling upon CWP through the internet. We live in Tennessee and recently had a non-traditional, backpacking elopement in the James Peak Wilderness outside of Boulder and it was the most pain free thing we have ever done. Our elopement was... Read More essentially an epic hike to go get married. CWP went through incredible detail in every aspect of our wedding to tailor it to us and make it as pain free as possible. To begin, Shaun gave us a multitude of options of sites to have our wedding based on length, difficulty, altitude, and distance from Boulder. After the site was selected, Erik, our officiant basically interviewed us in what seemed to be like a crash course in becoming someone's close friend over a couple of months. Once he had a ceremony framework worked out he sent interactive documents to let us review and add what we wanted to include and exclude from our ceremony. We even included quiet music.... at 10,000 + feet for our exit. After the ceremony was ironed out, Shaun then went over the hike and wedding. Obviously hair and makeup were important to my wife so Shaun hooked us up with Naomi, who called Crystal multiple times to figure out hair styles, makeup, and other things that I don't know anything about. I will say that Crystal made a comment on how awesome the makeup Naomi used was. While this was happening, Shaun went over the Logistics of getting married on the top of a mountain... If you don't get anything out of this review, just know this man carried up a 40 or 50 lb. battery cell in his pack 7 miles along with many other supplies, so Naomi could use a curling iron on Crystals hair. Day of, we got to meet our photographer who we specifically asked for, Amber, and our two Videographers, Ben and Hugo. They also carried their professional equipment up the mountain with us and got incredible shots, and there was even a drone. Day of, we got all the way to the site, met everyone and realized we forgot our rings/suit/dress in the hotel. There was immediate plan B's and C's and the option to say screw it and just go up (Colorado afternoon rain season). We went up anyways and ended up having a great time. The hike up can be described as spending the day hiking with close friends or even family. Everyone had large packs of supplies (excluding Crystal of course) and the photos and video were breathtaking. What really surprised me with Amber, Ben, and Hugo was that none of it felt forced or like staged awkward scenarios where you're inserted into a frame, they would disappear ahead of us on the trail sometimes and set up natural shots. A lot of the time, we didn't even know we were being filmed or photographed. When we got to the top we set up a home base and everyone got ready. It ended up raining for an hour. Before the rain started coming down Shaun, Erik, Hugo, and Ben set up an awesome rain shelter seemingly out of thin air and kept us dry and the conversation was great. It passed and we had incredible light for our ceremony. Erik came out of left field with the most amazing ceremony based on his interaction with us and just getting to know us. Afterwards we got great photos and began the hike down. The whole experience was unbelievable and I couldn't have imagined ever having anyone else to do it with. We will never forget these people and are framing a group photo of all of us to hang in our house. Thank you all for everything you did and making our day unforgettable. We love you guys!
---
Reviewed on

7/31/2017
Natalie F
Kira did our engagement pictures in Golden, CO and she did a great job! She was very personable and made the experience fun. We would definitely recommend her!
---
Reviewed on

6/23/2017
Kaya M
We hired Cortland to do our photography and I cannot say enough about how great he was! He was going from the minute he showed up to the minute we left the wedding. It was so nice not to have to worry about giving him direction as he just went with the flow and either let us be... Read More or told us where he needed us. We got so many candid shots that we absolutely love! Cortland has a wonderful eye for photography, and we are so happy that we went with him as our photographer.
---
Reviewed on

6/08/2017
Ashley N
My husband and I had a small destination wedding in RMNP on Lily Lake on 5/12/17 and we used CWP for photography services. We could not be more happy!! First, setting everything up through Shaun was a breeze. Second, the day was captured perfectly by Amber. She gave good... Read More direction and had fabulous suggestions for where we could get the most beautiful pictures. We are so happy we chose them, couldn't of asked for anything better.
---
Reviewed on

5/27/2017
Greg D
Colorado Wedding Productions gave us a day we'll never forget. My wife and I never thought we'd get married up in the mountains but Shaun and his team made that all too easy for us. CWP is a turn key service. There's no pressure, stress, or headaches. Show up, get married, have... Read More fun, and leave with a memory you'll never forget. Shaun's communication during the planning was concise and his attention to detail for the ceremony was spot on. He literally came prepared for anything that could have happened. Memories are made to last but they're enjoyed even more with great photos and Amber did an awesome job capturing a day we'll never forget. Neither my wife nor I have ever spent time in front of the lens with a professional photographer but Amber made the photos so much fun. She has an eye for composition and knows how to create images that will last a life time. A wedding is not complete without an officiant and Lisa was a pleasure to work with. She let us know up front that this was our wedding and it was about us, so we could tailor our ceremony however we pleased. And I'm glad she did because we were able to create a ceremony special to the both of us. Words cannot express enough how much fun we had on our wedding day. Shaun and his crew are professionals in their craft and we can't thank them enough for the memories we've created.
---
Reviewed on

4/19/2017
Miranda M
Colorado Wedding Productions is amazing!! My husband and I are from Wisconsin but we got married in Colorado in March 2017. I guess you could say that we had a non-traditional wedding as we eloped in the mountains without any guests. It was definitely an adventure and it... Read More wouldn't have been the same without CWP. We had never met them in person prior to our big day but they were so helpful throughout the planning process. Shaun was very responsive and helpful with my many questions. He was always accommodating and made sure that we were happy. Amber was our photographer and she was simply amazing. She did a great job capturing the emotion of our day with beautiful candid shots. Our friends and family absolutely LOVE our photos (and of course we do too!). Erik was our officiant and he was fantastic! We only communicated through email and a phone call prior to the wedding day, but he had the most perfect ceremony script that really described mine and my husband's relationship. When we met the team on our wedding day, it felt as if we had known them forever. That alone made hiking up the mountain to our ceremony location even more fun! Shaun even brought blankets for me and champagne to celebrate immediately after our ceremony on top of the mountain! It was incredible! The best decision that I made for our wedding day was to marry my husband. But the next best decision we made was to hire Colorado Wedding Productions to make it the best day of our lives!!
---
Reviewed on

3/29/2017
Rosemary C
WOW! Colorado Wedding Productions was the absolute best company to choose from and I am so glad we did! My Husband and I decided we wanted to elope to Colorado March, 7th 2017! I called Shaun that very day and told him I needed a bouquet, a boutonniere, a photographer, a makeup... Read More artist, an officiant, and I wanted to get married in a very certain location on March, 9th 2017! I gave him 48 hours and he blew us away! He got us the most beautiful flowers, the best people to work with, and it was a completely flawless day! Did I mention it was very affordable as well? He makes you feel very special throughout the whole process and I recommend him very highly! 5 stars is not enough for this amazing company!
---
Reviewed on

1/12/2017
Kate D
Brides, PLEASE READ!! We chose CWP for ALL THREE SERVICES (music, photography, videography) and we were blown away! We addressed each area of expertise individually, because they are all unique in their work and each deserve a separate acknowledgment. Music: Shaun Piazza... Read More (DJ/Master of Ceremony) We cannot emphasize enough how FANTASTIC Shaun truly is! We can easily say, our wedding wouldn't have been the same without him. If you are looking for a DJ who is not only professional and responsible, but can read a crowd and have fun, this is your guy! He really worked with our budget, met with us whenever we wanted, confirmed all details days before the wedding to ensure our day would go perfectly, and made the day of our wedding run so smoothly and with the biggest smile on his face! He managed our entire night from start to finish! Along with being extremely organized and dedicated to our wedding, Shaun continuously checked in with us to ensure things were going the way we wanted it to! Not only were we thoroughly impressed, but our friends/family were as well! Thanks to Shaun and his unbelievable devotion to our wedding, our day was flawless! Photography: Amber and Mary We were so lucky to have these two lead photographers at our wedding! Amber is such a fun, creative, and innovative individual and we would HIGHLY RECOMMEND her! We really appreciate how she encouraged us to choose poses, backdrops, etc., but also wasn't afraid to take charge when we weren't sure what to do next! She made our photo-taking experience fun, quick, and efficient! Mary also did an OUTSTANDING job! She is such a kind and wonderful individual who takes beautiful photos. Mary made it easy to take "natural photos" because she blended in with our family and friends so easily. Both of these ladies were FANTASTIC and everyone who has seen our photos are tremendously impressed with their work! They took photography to an entirely new level! Along with taking "traditional" wedding photos, they took unique photos that really emphasize their extraordinary skills. If you want exceptional photographers at your wedding, please consider Amber and Mary! Videography: Ben and Lindsay We are so happy we had Ben and Lindsay document our day! Ben is such a FUN individual who wasn't afraid to get in there and start recording the moment we arrived. He brought with him this unbelievable camera that moved in every direction, which made for some great footage! The recording was very smooth and his creative mind just wouldn't stop! I can honestly say, he is the most talented videographer we have ever met! Lindsay, our second videographer, was AMAZING! She was such a pleasure to work with and blended into our day so nicely! She has her own unique take on videography, which we loved! Collectively, they created one incredible video in the end that my husband and I were speechless! We were so lucky to have this incredible duo at our wedding and would recommend them to anyone! Weddings can be stressful, but thanks to CWP, our day was stress-free and absolutely incredible! We would highly recommend any of these professionals, especially all of them together because they work so well as a team! It didn't feel like they were there for a job, but rather to be a part of our day and make it as wonderful as possible! Please consider CWP for your wedding! They are the reason our day was so perfect and why our family and friends called it "one of the best weddings they have ever been to!"
---
Reviewed on

12/24/2016
Mel A
I cannot gush about Courtland enough. As a photographer myself (although not often shooting events), I appreciate the work that goes into doing a wedding solo and Courtland nailed it. We were happy to let him just do his thing and we would just roll with it and things were... Read More perfect. I look forward to calling on Courtland anytime I need photos in the future!
---
Reviewed on

8/26/2016
Lisa B
Lisa and I would highly recommend Colorado Wedding Productions for both DJ and photography services. It was an absolute pleasure working with Shaun (the DJ) and Amber (the photographer). They were an incredible duo that made our special day that much better. We had our... Read More ceremony/reception at Deer Creek Valley Ranch, in Bailey, Colorado, and we were blown away with the service and care both Shaun and Amber provided for us the entire day. To say they went above and beyond would be an understatement. Shaun's coordination, professionalism and prompt replies to questions made our planning that much easier. I emailed him at 1 am the night before the wedding and he sent a reply immediately saying the change I hoped to have would be good to go. That kind of service is hard to find. Our photographer, Amber Sovorsky (Ambler L Photography), captured our day perfectly. She was so personable, fun and helpful and made getting the perfect shots seem effortless. Her eye for a photograph is one of a kind and we have hundreds of photographs that are now forever memories. It is everyone's dream to have everything perfect for their special day and we have Shaun and Amber to thank for their part. Thank you, Colorado Wedding Productions, for everything. We will be forever thankful and grateful.
---
Reviewed on

7/06/2016
Taylor C
As a Wedding Planner, I recommended CWP photography services (Mary) for one of my clients and was very impressed with the vendor! From the initial consultation, Shaun was very professional and timely - he took time to consider the client's budget, timeframe and overall vision.... Read More Shaun connected us to Mary (photographer) and she did an absolute terrific job! Mary took time to listen to the wants and needs of the couple and executed it perfectly and again, very professional too. Overall, I was very very pleased with the services and would definitely recommend both Mary and CWP again!
---
Reviewed on

7/05/2016
We had an incredible wedding celebration on June 1st, and Mary captured it beautifully! We're so happy we found CWP -- they were reasonably priced and did a very professional job. Great follow up on everything. Highly recommended. Chuck Vandenberg and Martin Lopez, Denver
---
Reviewed on

3/06/2016
We had an Estes Park Elopement/Adventure Wedding on 2/20/16 on the edge of a cliff overlooking Long's Peak and Mt. Meeker. We were blown away with the talented individuals collaborating with Colorado Wedding Productions to set this all up for us. After contacting CWP, Shaun... Read More Piazza was prompt, professional, and very detailed in his responses. He went above and beyond to truly understand our budget and our vision of the day. He kept us in the loop while he discussed those things with his team and he worked hard to procure a ROCKING group of people for our special day-- Lisa Hunter (Officiant: Ceremonies With Lisa) and Amber Sovorsky (Photographer: Amber L Photography). He even acted as pack-mule the day of our ceremony and carried all of our blankets/jackets/etc. that we brought with us (and even a blanket he brought for me because it was so cold!)! Lisa was joyful, calm, and friendly. She was not pushy and gave us freedom to modify our ceremony scripts. She was timely in her responses, and always available to assist us with questions. She performed our ceremony better than we had envisioned! Amber was an absolute doll- she spent time with us to help locate a ceremony location with a perfect view of the mountains. She was incredibly personable and made us so comfortable that it felt like a friend taking our photos instead of someone we had just met! Her ability to capture the world around her in such a beautiful was is truly astonishing. Shaun, Lisa, and Amber were three of the most fun, down to earth, and sweet people that we've met and we cannot express how thankful we are to have found them, and shared our special day with such genuinely great people who we can now consider friends. They had no problem hiking up a mountain, and hanging out in 35* weather, just so we had an amazing ceremony location. We recommend Colorado Wedding Productions because everyone deserves to have THE most perfect day like we had- and this team will not stop until everything is just as you imagined! Thanks again to Shaun, Lisa, and Amber- we are so grateful!
---
Reviewed on

12/13/2015
We used Amber for our wedding last September and I couldn't be happier. Fantastic pictures and a fantastic person.
---
Reviewed on

11/11/2015
Amber from Colorado Wedding Productions was wonderful! She was easy to communicate with during the whole process, was such a relaxed and fun presence during the wedding, and got our photos back to us quickly. And the quality of the shots...Wow! Go with Amber, you won't be... Read More disappointed.
---