Home

Columbus Traveling Beauty Team- Bridal Specialist!
About this Vendor
Onsite Airbrush Makeup, Hairstyling, & Extensions
We offer hair (formal styling & hair extensions), airbrush makeup (& traditional),& nails. Specializing in large bridal parties, our team of professionals are there to help you relax on your special day! We bring everything we need (plus a little more) to make sure you will look and feel your best.
Details
Hair + Makeup Trials Available, Hair Stylists, Airbrushed Makeup, Eyelash Extensions, Makeup Artists, Nails, On-Site Hair + Makeup, Beauty
Contact Info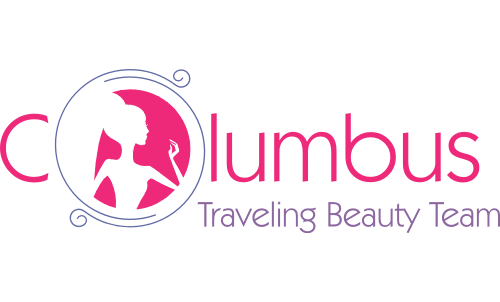 6666 Sawmill Rd, Columbus, OH
Absolutly Recommend!
Reviewed on

4/17/2015
Jennifer S
I had the best experience working with Chris, Jess and Nicole on my wedding day! They arrived to my house, set everything up and got to work on me, three bridesmaids and the moms. I found them on the knot and besides the convenience of having them come to you on the day, I was interested in tattoo cover up. I had some tattoos on my back that would be visible with my dress and my mom really preferred that I got them covered. Chris did a beautiful job and the make up they used was so great. Didn't come off on my dress at all! In fact my husband actually had to scrub it off the next day. The makeup by Chris and Nicole on me and the ladies was so beautiful and held up great all day. Jess did an absolutely amazing job on our hair too! The real value was just not having to worry about anything that morning and knowing that we would get beautiful results. I would definitely recommend them!
---
awesome!
Reviewed on

5/11/2015
Samantha C
Columbus Traveling Beauty Team did an absolute amazing job! Christine and Faith did the makeup for me and my bridal party and not only did they make us look fabulous, they were fun to hang out and chat with as well!
---
Amazing quality and traveled to my wedding!
Reviewed on

11/03/2014
Sara S
Chris and Jess did an amazing job! They did my hair and my maid of honor. They also did hair for 5 bridesmaids, 1 flower girl, 2 moms, and myself! They traveled to my wedding, 1.5hours from Columbus. I decided to do a "trash the dress" session the next day and Jess even came back to do my hair and makeup! Columbus Traveling Beauty Team was amazing! I would recommend them to anyone!
---
So fun!
Reviewed on

7/17/2015
Natalie S
We had a big group, about 12 of us who needed hair and/or make-up.It was so convenient for them to come to us at our hotel. All of the girls who came did a great job, and were so much fun! Everyone looked great!
---
Exellent!
Reviewed on

11/01/2014
Collyn W
Christine was amazing for my wedding day. She arrive on time and had my hair and make-up done within no time. I received compliments on both my hair and make up all night. I strongly suggest them for any bride or bridal party!
---
Last minute booking
Reviewed on

10/15/2014
cansas c
I'm a terrible procrastinator and put off booking my makeup artist until literally two weeks before my wedding! But, Christine was great, she squeezed in a trial run before the wedding, and really listened to what I wanted. Very professional and great to work with! :-)
---
Amazing hair experience
Reviewed on

10/08/2014
Meghan D
Chris has been doing my hair extensions for about 1 year and made sure to give me the absolute best service I could find. She gave me the exact look I was wanting as well as making sure to keep my hair healthy. She was able to give me the most hair I've ever had with extensions and that made my wedding day hair styling incredible (as well as everyday hair styling)! Thanks Chris!
---
Wonderful!
Reviewed on

10/07/2014
Christina S
Had an amazing experience with CTB! Chris was SO easy to work with, very approachable, and always got back with me quickly. I loved having them come to us, it made my day so much less stressful! Not to mention the hair and makeup turned out perfectly! I could not have asked for more:-)
---
Fantastic!
Reviewed on

10/05/2014
Chris did my hair and make-up for my son's wedding. I looked fantastic! My hair and make up stayed fresh throughout the entire evening. My makeup had a nice matte finish with a glow, but the makeup was not heavy. I had many compliments on how I looked. Chris worked with me to develop a look that "worked " for me. My hair was an up-do that was flattering and stayed in place all night without appearing stiff. I will absolutely have Chris do my hair and makeup for future special events.
---
Stress Free & Beautiful Wedding Day
Reviewed on

10/02/2014
Lucy S
Christine and her team (assistant) were the best decision we made for the day of wedding hair services. My daughter was married in Columbus just two weeks ago. The Hilton downtown was home base. Christine arrived at the designated time; assimilated beautifully into the atmosphere at the suite while still focussing on the MOST important thing - hair! She (and team) were creative, professional, and honestly wonderful to have on our wedding day. It could not have been better and I absolutely recommend her to anyone planning a wedding or similar important function.
---
Great work / Highly Convenient
Reviewed on

9/09/2014
Jo M
Christine did a wonderful job for me and my two bridesmaids. We all loved the job she did and the hair held up for most of the evening with no issue. She listened to what we were looking for and created exactly the look we wanted.I would definitely recommend Columbus Traveling Beauty team to any bride!
---
Wonderful work and expertise!
Reviewed on

8/06/2014
Jillian M
Christine C. of CTBT did an amazing job with my hair and makeup for my wedding on 6/28/2014. From the makeup trial run, hair extensions prep all the way through to everything that went on during my big day, she made it easy and stress-free, and I am very pleased with the outcome. I received many compliments on the "beauty side" of being the bride; I have her to thank for it! - Jillian H.
---
Chris is amazing
Reviewed on

7/15/2014
Maegan S
I found Chris by chance about 6 months before my wedding when I was experiencing massive hair shedding. Frantic, I went to Chris and have been going ever since. I will never let anyone else touch my hair- let alone at my wedding. She and her team made me and my bridesmaids feel beautiful. They are fun and accommodating and the very best at what they do. I love Chris and I'd recommend her to anyone. :)
---
FANTASTIC!!!!
Reviewed on

7/12/2014
Caleb Z
We LOVED working with the Columbus Bride Team! The trial was a blast and Chris's talent is incredible. I was able to choose from 7 styles and she and her team came to the church the morning of our wedding. They moved so quickly and my bridesmaids were so impressed with how quickly they worked AND how great they looked! I LOVED working with this team and I would recommend them to anyone!
---
Wonderful Experience!
Reviewed on

1/28/2014
Nicole T
Christine did my hair and make-up for my wedding. She was wonderful to work with. She was on time and professional and well organized. She took our feedback and made adjustments as necessary. The results were wonderful! I would highly recommend Christine!
---
Kathleen
Reviewed on

1/06/2014
Kathleen M
Columbus traveling beauty was a God send on my very busy day! Being able to have them come to your home or location is genius! I had a beautiful updo and she even assisted with my hair extensions. The make up was flawless and held up through my tears of happiness. I HIGHLY recommend this service if you are a bride to be!
---
Overall good experience
Reviewed on

1/02/2014
Amy M
Overall mine and my bridal parties experience with Chris and the other girls was good. All of our hair looked beautiful. My only complaint was that I spent $85 and 2 hours for a trial hairstyle, and my actual wedding hairstyle looked nothing like my trial one. I liked my hair for the wedding but because I got the trial was picturing something for weeks that ended up being not what my hair looked like. She had to redo my hair once already though because I didn't like it and I didn't want to complain again. LIke I said, my hair looked good and I got a lot of compliments but I wish I wouldn't have wasted my time and money on the trial hairstyle to not have my hair look anything like it.
---
Columbus Traveling Beauty
Reviewed on

11/20/2013
Lisa B
Christine was a pleasure to work with prior to the wedding and answered all of my questions very quickly. Nicole did my makeup and my mother's makeup for the wedding day and Christine did my sister's makeup. Both of them were very professional and extremely easy to work with. They were also very easy to get in contact with. Nicole listened to exactly what I wanted in the trial and did an amazing job! My husband was blown away when he saw my makeup. I would highly recommend the Columbus Traveling Beauty Team to anyone!
---
Wedding hair
Reviewed on

10/18/2013
Bria G
Christine and her team did an excellent job on all the hair for my wedding! I know all my bridesmaids, flower girls, and even my MIL were all very happy with the result!!! Thanks!
---
Chris is the best.
Reviewed on

10/06/2013
Sue S
Thank you.
---
Best in Columbus
Reviewed on

10/06/2013
Britney R
Christine was great! She did my hair, 3 bridesmaids, 1 flower girl & a mother all under 3 hours!
---
I got a ton of compliments
Reviewed on

10/06/2013
Cary A
My hair was one of the highlights of my wedding look. At the trial Christine did as many looks as I needed to help me make up my mind. She even gave me pointers for normal days because my hair is so thick and obnoxious. On the wedding day the ladies made everyone in the party look amazing. There was a wide variety of hair types and lengths as well as comforts in amount of make up. Columbus Traveling Beauty was so accommodating and even did hair for some last minute people. I got so many compliments on my hair and how many small details were in it. Christine sent us with extra hair spray which helped my uncooperative hair stay up all night.
---
Best Glam Squad Yet!
Reviewed on

10/06/2013
cimeone s
Nicole P was amazing. Nicole is like a one woman glam squad. She provided stellar service and even went above and beyond what she was hired to do to make sure not only I but my bridal party looked fabulous. We had some issues initially scheduling the trial but she made up for it in a way that I have not seen many others do. Her work is wonderful and shes uses nothing but quality products, I recommend her to anyone and she works well with women of color. People are still asking me who did my makeup and I am so glad I chose Columbus Traveling Beauty!
---
Blushing Bride
Reviewed on

10/05/2013
The Columbus Traveling Beauty Team came to my wedding location for my hair and make for a Friday night wedding. After doing a brief trial of my wedding look, the team made my day so memorable. I remember looking in the mirror and welling up with tears as I told Christina "I look like a bride!" I did not wear a veil but Christina helped me accessorize my look with the perfect flower and a few rhinestone clips for the perfect amount of sparkle. Through the photos, dancing , and celebrating my hair and makeup looked great in Every picture. I am so thankful that I will hold such beautiful wedding memories.
---
These ladies are awesome!
Reviewed on

9/30/2013
Theresa V
Christine did our hair & Amber did our makeup. They were on time, very professional, & made us look absolutely beautiful! They even helped me out with a flower situation! I will definitely go to them for all future formal event needs.We had a lot of fun with these ladies too, great senses of humor! Highly recommend these ladies to anyone who is planning a big event!
---
Send Message