Home

Confetti Skies
Details
Engagement Party, Getting Engaged, After Party, Bridal Luncheon, Bridal Shower, Rehearsal Dinner, Welcome Party, Rehearsals + Parties, Ceremony, Cocktail Hour, Day After Brunch, Reception, Rehearsal, Wedding
Destination Wedding Packages, Destination Wedding Planning, Destination Weddings, A la Carte Wedding Planning, Budgeting, Day-Of Coordination, Full Service Wedding Planning, RSVP Tracking, Planning
Contact Info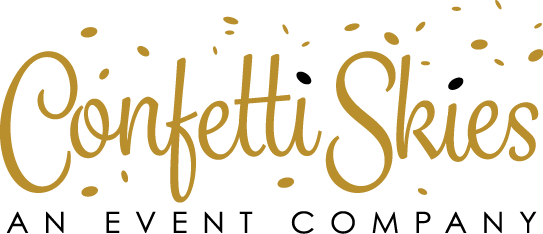 Reviewed on

9/21/2017
Confetti Skies coordinated our wedding over the course of our 2 year engagement, and we had a fantastic experience with Aimee and her team. From the kickoff meeting up through our big day, Aimee worked on Wedding day timeline creation, coordinating with our various vendors... Read More (florist, photographer, videographer, music, wedding venue), and helping us with all aspects and nuances that came up. Since my wife and I were based in NYC, and our wedding took place in Malibu, Confetti Skies was instrumental in helping us coordinate all aspects of wedding planning from afar, providing prompt feedback and executing our gameplan with a fast turnaround. We loved working with Aimee and highly recommend her services to all prospective brides and grooms to be! All the best, Lisa and John
---
Reviewed on

8/31/2017
Mika M
Aimee and Katie at Confetti Skies are amazing! From initial consultation through post wedding tasks, Aimee and Katie were on top of all the things I needed and helped with the tasks I hadn't even thought about. They were available to answer all my spur of the moment questions as... Read More well. One of the most helpful items of my wedding was the wedding timeline that Confetti Skies created for me. It kept my vendors, my bridal party and me on task. I even used their template to create a weekend timeline of my own! If you are looking for a professional and polished wedding coordinating team, look no further!
---
Reviewed on

8/28/2017
Carly W
If we could give Aimee 10 stars we would! She is absolutely amazing and was on point from the very first conversation right through to the wedding day itself! We hired Aimee for the full package as we were planning our wedding from England and she made the whole process a... Read More breeze and stress free! She was so much fun to work with via FaceTime and on our 1 visit to California during the planning phases that we actually miss not having planning calls and meetings with her now! Her knowledge of styles and themes, recommendations of vendors, and budgetary advice was all top notch! On the day, the only thing we had to worry about was enjoying ourselves. Aimee kept everything flowing perfectly but did so discreetly and never made us feel rushed! We would not hesitate in recommending Aimee to anyone planning their wedding whether locally, or from overseas! In our minds Aimee is the only choice when planning an OC wedding. Aimee was not only our wedding planner but is now a valued friend and forever a part of our family! Thank you Aimee for making our California Dream come true - we love you!
---
Reviewed on

8/09/2017
Sogol Z
To start off... Aimee and Alyssa were AMAZING! It was a real challenge trying to convince my parents that we needed a day-of coordinator and these ladies definitely exceeded all of our expectations. Real game-changers! Not one thing to complain about at all. Aimee was so... Read More helpful throughout our whole process, she was always available for any advice or suggestions... even while out on Maternity Leave! Alyssa was our day-of coordinator and we couldn't be happier! She was on top of everything and really helped make sure everything ran smoothly. It was the most perfect day thanks to all her help! It was truly the best investment for our wedding and Aimee and Alyssa were a delight to work with!
---
Reviewed on

6/21/2017
Genna D
Words cannot describe how amazing the team at Confetti Skies was on our special day! Aimee was soooo helpful, especially during the last month before the wedding making sure to help me feel less overwhelmed and assisted me soooooo much! On our wedding day, the world welcomed a... Read More new beautiful baby (Aimee had a baby), so Alyssa took over and let me tell you...She was AMAZING!!!!! We talk about your team alll the time and can't brag enough about how smooth, easy, and wonderful our day went because of you all. Side story, I forgot my wedding shoes in the venue. Alyssa took it upon herself to run back to the venue from the mission and had my shoes in her hands. Truly wonderful work! I wish I could give you 100 stars if I could. You will always have a place in our heart! Thank you all again!
---
Reviewed on

4/15/2017
Elizabeth Y
Aimee was amazing!! We hired her for day of coordinator and honestly we should have just hired her for the wedding planning as well! It would have been a lot easier! Our wedding day went so smooth and there were no issues the entire day! She took care of everything. She was... Read More great all the way up to the day of! Every time I had a question she was always more than helpful. I ended up going with a floral company that I ended up being very nervous about and she assured me she would make it look great. The day of, Aimee and her assistant made sure the florist made everything look great and it did! She set up our reception area and our sweetheart table and it was all amazing! If I were to do it all over again I would have hired her for the full wedding planning package! Thank you Aimee for making our wedding so beautiful and memorable!
---
Reviewed on

1/25/2017
Luciana V
Aimee from Confetti Skies was absolutely AMAZING!!! She made my wedding day go smoothly and I didn't have to worry about a thing. She was also lovely to work with and fun to talk wedding stuff with her. The entire wedding day was planned according to what I exactly wanted with... Read More Aimee's suggestions, of course that I definitely took into consideration and appreciated. Any question I had via email was always answered promptly and I did have many questions. From groomsmen suits, flowers, linens, etc. She was able to answer it all and help alleviate my stress. I even texted her images of some décor items I wanted to buy to get her thoughts and she was super helpful in helping me make a decision. On the day of the wedding Aimee was amazing and absolutely nothing went wrong on that day. I always heard from other brides that something always goes wrong at weddings and nothing did for mine. That can be attributed to Aimee! Her expertise and professionalism is on point and I would be happy to work with her again for any future events.
---
Reviewed on

1/06/2017
Caitlin D
Aimee is the greatest and we are so thankful we worked with her! She has awesome recommendations, is super responsive, and made us feel at ease so we could enjoy our wedding at Franciscan Gardens. Aimee doesn't miss a beat and I assure you, you won't regret choosing her!
---
Reviewed on

9/14/2016
Rita L
Aimee was an amazing wedding coordinator! We hired her for the wedding day coordination package and she was absolutely great! Aimee was always very responsive to all of my e-mails and questions. She is very organized and detailed oriented. She definitely knows what she is doing... Read More and she tries to make the bride and groom enjoy the experience of wedding planning. We met face to face with her on three different occasions before the wedding day and each meeting was very informative and helpful. She's been in the wedding industry for awhile so she is a great resource in looking for vendors or specific items for weddings. I didn't have enough time to figure out where to put certain DIY decors and items at the wedding and Aimee did a wonderful job putting it all together herself on the day of the wedding. Aimee even stopped by our hotel after our wedding because I left my bridal bouquet at the wedding venue. She's very thoughtful and I would totally recommend her!
---
Reviewed on

7/11/2016
Kalyn R
Aimee is amazing!! She is professional, experienced & friendly. She helped with everything, from finding vendors, making sure my dress arrived on time when the vendor was being difficult to making sure all of our details were perfect. She made our wedding day run smoothly and I... Read More can't thank her enough for helping turn my Pinterest wedding into a reality.
---
Reviewed on

6/30/2016
Courtney K
Aimee from Confetti Skies was absolutely AMAZING!!! We booked her as our day of coordinator, but we felt like she was so much more! She helped throughout the planning process with any questions, help, and advice needed. She was always there with a quick reply and friendly... Read More attitude. Along the planning process, she was so key in providing names and contact info for other vendors that I needed to book as well as helping to organize every single detail, most that I didn't even think about. She was able to contact everyone on my behalf as the big day was fast approaching to organize down to the minute how everything was supposed to be laid out. The last two weeks prior to the wedding, I had nothing to do as far as the wedding and was able to enjoy time with family and friends which was so nice! During the festivities, her calm and organization allowed the bridal party and family to enjoy every little aspect of the day. Not until after coming back from our honeymoon did we find out about some behind the scenes dilemmas that were completely taken care of by Aimee. My husband and I were able to simply enjoy the night, and it seemed as though everything went perfectly!! Aimee does everything flawlessly, and you'll be in good hands with her by your side!!
---
Reviewed on

6/18/2016
Have you ever had one of those moments where you looked back on a decision you made and you realize how valuable it was? Maybe in that moment you're just a little blown away by the impact of your decision because when you made it you didn't know what the outcome would be.... Read More That's the feeling I have now when I think back on me and my wife's decision to choose Aimee as our Wedding Coordinator. We got married at Franciscan Gardens in San Juan Capistrano and in the beginning I figured having some help would be beneficial but I was also thinking that my wife and I could pull it off on our own. Holy crap was that a naïve thought and now quite laughable considering we planned a two-hundred person wedding. There is nothing to prepare you for the amount of work to be done and decisions to be made regardless of the guest count or location. Be prepared to choose how you want your napkins folded. Yeah, that's really a decision that must be made. I would suggest you ask for help on your way to the alter and Confetti Skies is a great place to start. Aimee is the rock. When the room catches on fire and everyone is standing around looking at each other she is the one who calmly walks over and dumps a pitcher of water on the flames. Aimee has the expertise that calms your nerves and she is such a good listener it's the first thing you'll notice about her. Our wedding day was such a hit and throughout that day and for the past four months every one of our guests has raved about how much fun it was. Aimee was attentive, communicated well, and thought of everything to ensure our day was so memorable. I'll sum this up by saying I can't wait to get married again just so I can work with Confetti Skies (Aimee, please don't tell Jenny). Do yourself, your sanity, and your future spouse a favor and contact Aimee Takumi. She was a huge part of our special day and it would not have been such a success without her. Thank you Aimee!
---
Reviewed on

6/11/2016
Ashley P
My wife, Ashley, and I could not be more pleased with the level of service that Aimee provided during the wedding planning right on through the actual wedding. She was beyond helpful and understanding with every aspect. No matter what we asked or when we asked it, Aimee got us... Read More the answer. We both highly recommend her to help make your wedding as memorable and amazing as she made ours!
---
Reviewed on

5/05/2016
Brittany G
Words cannot begin to express the gratitude we have for the amazing job Aimee did coordinating our wedding. She was professional, attentive, and organized throughout the entire process and her follow up was impeccable. Her timely communication and quick responses were greatly... Read More appreciated. She always stayed one step ahead of the planning process and always made herself readily available for any questions or advice we needed throughout the planning process, often responding to our late night emails. Her online planning tool made guest list and vendor management a breeze! Finally, Aimee truly cares about her clients and it showed on the day of our wedding. Days before our wedding, she went above and beyond to help me find gardenias, my late grandmother's favorite flower, to place in my bouquet. She even added a special touch of placing one of the extra gardenia blossoms at my dinner place setting which truly touched my heart. Also, the bustle on my wedding dress became quite problematic and would not stay hooked. Before I knew it, Aimee and her assistant were right behind me figuring out a fix while we continued to visit with our guests. We cannot thank her enough and would recommend Aimee to any bride wanting a stress free planning process with the care and personal attention of a friend!
---
Reviewed on

2/17/2016
Helena K
We contracted with Aimee for day-of wedding coordination, and she was absolutely indispensable! We were planning our SoCal wedding from Seattle and I really do not know how I would have done it without her. She provided vendor recommendations, and simplified the process of... Read More finding vendors from afar. She kept us on point and organized in the weeks leading up to the wedding, and we were able to truly enjoy the day because she had everything under control. On top of that, Aimee was LOVELY to work with. It was such an enjoyable process with her, and I can't recommend her enough!
---
Personable and efficient
Reviewed on

1/07/2016
Katherine R
My husband and I found Confetti Skies through a vendor recommendation list that the Franciscan Gardens in San Juan Capistrano gave to us after booking the venue for our New Year's Eve wedding. From the start, Aimee and Confetti Skies appealed to us as a down-to-Earth and... Read More personable alternative to some of the large event coordination companies out there where we may have gotten lost in the shuffle. Aimee never made us feel as though we were bothering her; no question or concern that we had was too small for her. She always replied to my emails within 24 hours (usually within just a few hours) and made us feel as though we had a good friend helping us plan our wedding. She introduced us to some of our favorite vendors, and relieved a great deal of stress that comes with planning an out-of-state wedding. Confetti Skies negotiated for us, fought for us, and helped us throw the wedding of our dreams. We cannot recommend their services enough.
---