Home

Coordination Co.
Details
Ceremony, Cocktail Hour, Reception, Rehearsal, Wedding
Destination Wedding Planning, Destination Weddings, A la Carte Wedding Planning, Day-Of Coordination
Contact Info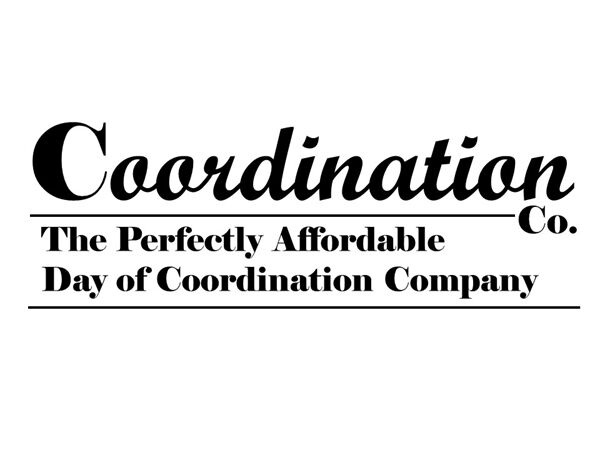 Reviewed on

10/30/2017
carrie b
0 stars. We had our first consultation with our coordinator, and then heard nothing since. No contract, no deposit, no nothing. I attempted to reach out several times with no response. This is certainly not the kind of company that I want to be paying to coordinate my wedding... Read More day.
---
Reviewed on

10/25/2017
Michele M
We loved working with Kate! She was a huge help in coordinating all of our vendors and making our months of planning a wedding reality. It may be excessive to deduct a whole star for this, but we couldn't give her the full five because there were some issues in our wedding... Read More that definitely should be addressed. Like the fact that it was raining when it came time for our first look and she did not come to get us or find a new location for us until we asked, which set all of our pictures behind schedule. She also didnt check that the table numbers were properly assigned and my wife's family ended up sitting in a corner table. That all being said, we still highly recommend her. We loved our wedding and a large part of it was because she took a lot of the stress out of it for us. She even had food brought up to our room after the ceremony since we didn't get to eat in all the excitement!
---
Reviewed on

10/01/2017
Alex K
Kate was my day of coordinator and everything went so smooth and on time!! Every detail was perfect and having her there set my mind at ease so we were able to enjoy the day taking pictures and relaxing with friends. She was there all day coordinating vendors to packing... Read More everything up at the end of the night. Thank you so much for helping to make my day perfect, Kate!!
---
Reviewed on

9/14/2017
Jordan S
I would echo the review below me. Emails and calls definitely go ignored. You should also know before you go with this company that your main contact leading to the wedding will not be your actual coordinator. I was given someone especially incompetent who did not return my... Read More calls or e-mails leading up to the big day, and frankly, I didn't really have a lot. She also missed my rehearsal because of traffic and started my wedding day late (by her choice, not traffic) so she was setting up my ceremony location when the guests were arriving. She didn't end up working the ten hours I paid her for. I could honestly go on and list more things, but I don't think I need to other than to say, don't add more stress onto your day than you absolutely have to. This caused me stress. I would probably have been better off paying a little extra and hiring someone personally. The amount of extra tips I had to give vendors who covered up, and gifts I gave to friends and family members who saved my day, cost me what I would have spent on someone better.
---
Reviewed on

7/20/2017
Chuck W
Sent an email over a week ago, no response. Scheduled a call using their appointment system, nobody called. Is this the level of service we would expect to receive if we utilized this company for our day-of coordination needs? We'll never know because we're going with someone... Read More reliable.
---
Reviewed on

6/19/2017
Olivia A
Jessie Lynn was FABULOUS! We used her as a day of coordinator, but she went above and beyond what a day of coordinator would normally do. She helped me nail down the timeline for the day, made sure our vendors were all squared away for the day of and she even met us at the... Read More reception site a few weeks before to sit down with our reception coordinator. Leading up to the day of I just felt so comfortable and confident with her work. My husband and I could not have had a more spectacular wedding day, and Jessie Lynn's organization, attention to detail and overall positive attitude played a major part in this. We cannot thank her enough and HIGHLY recommend her for anyone searching for a day of coordinator. And to top it off, she is way more reasonably priced compared to others who I am sure wouldn't have completed the job more successfully.
---
Reviewed on

1/05/2017
Stefanie V
Jessie Lynn is out of this world. I was lucky enough to have her as my day of coordinator and all I can say is WOW! She is not just a day of coordinator. We had spoke countless times before the wedding, she helped me find certain items and vendors, and even helped me with my... Read More wedding vision. I would've been lost without Jessie Lynn. On the day of she went out of her way to make sure everything was handled and we could enjoy our day and live in the moment. At the end of our night she handled every last detail so we could leave without any of the stress.I cannot express how helpful she was. You will not go wrong with Jessie Lynn, she is truly one of the best!
---
Reviewed on

12/29/2016
Justin V
They addressed any issues I had and were enthusiastic to help out.
---
Reviewed on

9/16/2016
Diane H
Jessie Lynn was fantastic to work with! We met with Jessie several times before the wedding to go over the timeline and all the details. She facilitated the rehearsal which was a big item for us as we weren't sure how to handle the rehearsal details. The day of our wedding,... Read More she came to our suite to get all the decorations, etc. She really took over and handled everything so we didn't have to think about anything but having a good time. Anytime I needed her she always seemed to appear out of nowhere and was there to support us on our day. I can't say enough good things!
---
Reviewed on

8/16/2016
Sabaa A
Jessie Lynn and Coordination Co far exceeded our expectations leading up to and during our wedding day to make sure everything went according to plan. For seven months, Jessie made herself available to meet with us anytime and she always responded to emails immediately. I can't... Read More tell you how many times we needed help finding a specific piece for our wedding and Jessie found it for us. She even recommended a dress shop in Denver where I eventually brought my dress! My husband and I turned to each other at one point during our wedding night and said "Hiring Jessie was probably the best decision we made when planning our wedding." And it was. Hire Coordination Co and you will not be disappointed, Jessie will make sure all your wedding dreams come true!
---
Reviewed on

3/19/2016
I wanted to do my own wedding planning, but I needed someone for the day of. The quotes I was getting where really high and I didn't think we were going to be able to afford it until I found Coordination Co. Their service was amazing and they are totally reasonable in price.... Read More Thanks Coordination Co!
---
Reviewed on

3/18/2016
I wanted to feel like a princess on my wedding day. I wanted a day of coordinator so didn't have to worry about anything. For the same price as one coordinator through other companies, I had my coordinator and two assistants. I didn't have to lift a finger and I paid less than... Read More most my friends did at their weddings for half the service.
---
Reviewed on

3/17/2016
Coordination Co. made this whole process so simple. I mean I filled out the form online, they call me the very next day, we set the meet and greet where I met Jessie Lynn and the girls that would be working my wedding, and they were there for my rehearsal and then my wedding day... Read More and took care of Everything!
---
Reviewed on

8/04/2015
Jessie Lynn had amazing insight to just what I wanted my wedding to be and a friend of mine's wedding as well. Being great listener and making thoughtful suggestions are what set MOD Events apart from the other companies I interviewed with. And we stayed within budget!!! My... Read More special day was amazing :)
---
Organized and professional planner to help with your wedding day details!
Reviewed on

8/02/2015
Jessie Lynn is the perfect person to help plan the details for your next wedding. Jessie Lynn views wedding planning as a passion. She is willing to listen to her customers to ensure that everyone is getting a personalized experience. In addition, Jessie Lynn is extremely... Read More organized. Her previous experience as a classroom teacher helps her be able to multitask different tasks. In addition, Jessie Lynn is always up to date with latest wedding decor and fashion trends. When visiting her facebook page, you are able to receive additional ideas to help you plan your wedding. I would highly suggest hiring Jessie Lynn for your upcoming wedding.
---
Jessie Saved Me!
Reviewed on

8/02/2015
I remember feeling completely overwhelmed by the planning process. It seemed like my sisters, bridesmaids, mom, pretty much everyone had an opinion but no one was really helping. That's when I decided to look for a wedding planner. I called around quite a bit but when I spoke... Read More with Jessie I knew immediately she was the one to hire. She listened to exactly what I wanted & was able to help me figure out the things I was stuck on. She had no problem meeting for a quick coffee to go over a new idea, or go along to meetings with me. I honestly don't know how many times we ended up meeting. She was really great about handling all of my vendors and gave me weekly updates on everything. Jessie is a very creative, thoughtful, and patient person and I know she will do everything she can to make sure your wedding day is exactly what you want & I cannot recommend her enough. I really don't know how I would have done it without her.
---