Home

Coppersmith Video Productions
About this Vendor
Professional Videography Services
Coppersmith Productions is a professional video production company located in Cleveland, Ohio. We utilize state-of-the-art high-definition cameras and equipment to bring you stylized cinematic wedding films. Please click through to our website to see our videography packages & pricing information. Additional video samples can be viewed there as well too. If you have any questions, don't hesitate to call or email us!
Details
Artistic, Documentary, Modern
Digital Files, Second Shooter Available, Social Media Sharing, Full-Length Video, Highlight Video, Video, Photo + Video
Contact Info

Reviewed on

2/12/2017
Lexy S
We were so impressed with Leland and his assistant. The footage they captured was beautiful and perfectly showed all the parts of our special day. He was with us from the hair salon in the morning, the first look, the pictures, the ceremony, and all the important parts of the... Read More reception. The video he put together was amazing and I get so many compliments from my family and friends about how great they thought it was. He was also great to work with and made certain that we loved the final product. He even hand delivered the dvd copy of our video to our house. Would recommend Coppersmith to anyone in the Cleveland area looking for a videographer.
---
Very Happy!
Reviewed on

9/06/2013
Angela C
We were extremely happy with Leland and his team at Coppersmith. During our planning stages, Leland was always very responsive and organized, and even came to our rehearsal to familiarize himself with the venue. For our wedding day, we had them with us during prep, ceremony, and... Read More reception, and we were so impressed with their professionalism, skill, and adaptability. They were so friendly, worked perfectly alongside our photographers, and really went with the flow of the day - even when they had to react to surprises from the DJ, and a surprise song performed by the groom and groomsmen. They truly blended right into the crowd and were able to capture such beautiful and candid moments without us feeling like we had spotlights or cameras in our faces. The end product turned out beautifully and we were so happy all of the small details were captured along with the big moments. The angles, edits, and music are very professional and well done, and we are so excited we have this amazing keepsake to look back on and relive our day! We would absolute recommend Lee and Coppersmith to other brides.
---
Professional & personalized final product!
Reviewed on

7/23/2013
Virginia R
Leland from Coppersmith was wonderful from start to finish. He's excellent at email communication (my preferred method), and we knew what we'd be getting based on the samples on his website. The HD quality is amazing - anyone that has seen our video comments on that - but... Read More harder to find is the skill it takes to shoot and edit. And Leland shot and edited our video in such a professional and beautiful way! There were 3 angles for the ceremony - 2 handhelds (Leland + his assistant) and 1 camera on a tripod. Having 2 camera operators allowed them to split up for the bride vs. groom preparations. The music on the video was great, which is something he let me have a say in although I'm fairly confident that if I picked a song that would be too "off," he'd use his professional opinion to kindly let me know ;) Before finalizing the video, Leland let us see a "rough draft" online for review - which we loved and didn't have any edits or changes to suggest. After seeing all our wedding photos and the video, we can definitely say that for us, there really is a lot a video adds to the wedding memories beyond just still photos. Leland and his assistant captured the sentiment and the memories, and they also provided us a glimpse of things we hadn't seen. I received the final DVDs, which were beautifully and professionally assembled, less than 2 months after our wedding. And we would have received them even sooner except that his hard drive crashed post-editing; but alas, he had all the raw footage and so at the end of the day that didn't affect us at all. In short, Leland was a pleasant guy to work with who put together a professional yet personalized wedding video. We'll remember him often and happily as we watch our video during future anniversaries :) He gets our highest recommendation!
---
Reviewed on

10/30/2017
Emily D
Words can not express how absolutely incredible our wedding video is! From the full 1 hour film to the 5 minute highlight video, every important moment was captured in an artistic and cinematic way. Leland was so easy to work with and truly listened to every request we had and... Read More delivered our perfect vision of the day. Not to mention the turn around time was extremely quick and he even had us watch a rough draft to make sure we were happy with it before creating the final video. This is one of the most special ways to remember and relive our wedding day, and I am so happy we have this footage to keep for years to come. I can't wait to watch it every year on our anniversary!
---
Coppersmith Video Productions
Reviewed on

5/03/2015
Halle G
Leland was amazing to work with. He captured every detail!! Perfect video for a perfect wedding day!
---
CAPTURES THE MAGIC!
Reviewed on

1/29/2013
Jessica L
I could not have been more impressed with Leland and Coppersmith Productions. This was the easiest and best decision I made for our wedding. Leland was professional, prompt and a pleasure to work with. We were married outside along Lake Erie and the sound quality was still... Read More excellent. He manages to capture all of your special moments, the personal touches, and he takes the time to invoke the couple's personality into the video. The work is amazing and we couldn't be happier with our video and our choice to use Coppersmith.
---
Amazing! Could not be better!
Reviewed on

6/28/2012
Tricia S
I was beyond impressed with Leland! He was absolutely awesome to deal with during the entire planning process and on the day off. We just received our video and it is perfect. It captured our day so wonderfully and we really can't thank him enough for what a fantastic job he... Read More did! Hire him!!
---
Memories Never Looked so Good
Reviewed on

6/11/2012
Sarah O
Let me start by saying this is not a paid advertisement-it just sounds like it:) I am an English teacher, so my prose gets away from me at times, mostly when I am so excited about what I am writing about. To say Coppersmith Video Productions did a great job on our wedding... Read More video would be an epic understatement. Our wedding itself was epically themed (built around the foundational themes of Lord of the Rings and of works by J.R.R. Tolkien) and we had real reservations that the small details we worked so hard to put in would be lost. For a time, they were. Our special day FLEW by (yeah, when doesn't it), and we simply remembered the quickness, stress, joy, and tightness of the dress (that's information for another review!). But shortly after our wedding, magic happened again! Our video from Coppersmith Video Productions arrived, and let it suffice to say, we were captivated by ourselves. Not only did the team at Coppersmith Video Productions truly capture us in all our wedding glory, they got the small details we feared would be lost. But simply taking video of these things and presenting them to us is not what Coppersmith does. They made art, a veritable movie, out of our wedding! As we sat back to watch our own wedding (a slightly meta experience) we were taken away to a world similar to Middle Earth. We saw Hobbits, Ents, Wizards, guests at a lively party of spectacular magnificence, and a stunning groom and lovely bride. That couldn't have been us we laughed! Everything was beyond the beauty that our minds recalled. In crisp, colorful, realistic detail, Coppersmith captured the fantasy of not only our day, but of our minds. This team was 110% willing to work with our theme, and they produced a product that showed 150% effort to create something magical for us. I will never hesitate to recommend Coppersmith Video Productions for any and all occasions. Having a video of one's wedding is wonderful beyond measure, and this team can and will create for you an artists, realistic, beyond lovely token to stimulate and reactivate all your memories! All such special occasions should be so documented! Coppersmith Video Productions gave me my special day, wrapped so beautifully in a custom made cd case, to keep, treasure and relive for the rest of my days. We couldn't be more pleased with the results!
---
Great to work with!
Reviewed on

8/11/2011
Shannon W
Leland is a great wedding vendor! He was very prepared for my wedding ceremony and reception with three video cameras. I have not seen the finished product yet, but I'm sure it will be wonderful! The only negative was that he was dressed a little too casual for our classy... Read More wedding.
---
Easy to work with!
Reviewed on

7/05/2011
Lindsay J
Love Leland and his assistant and can't wait to see the video! Made me comfortable and was great with all the guests!
---
Awesome Job! Like a documentary film!!
Reviewed on

5/24/2011
Jim H
They did an amazing job on our wedding. Leland and his assistants were really friendly and nice and made a point to be as unobtrusive as possible. We almost forgot they were filming us, but when we got the DVD we were amazed at how many great moments they captured. Our favorite... Read More parts of our film were the behing the scenes shots they got of the caterers and venue people setting everything up for us, and of the cocktail hour. We were busy taking photos so we never saw all the work that went into making our wedding reception happen. it made us feel like VIP's! LOL. We originally weren't going to have a videographer, but in hindsight it was the best decision we made. We can relive our wedding day any time we want. Totally worth it!!!
---
Excellent Experience With Coppersmith Productions
Reviewed on

9/16/2010
Sara D
Lee did an amazing job. He was with us the whole day (prep, ceremony, limo time, reception), is super professional, has top of the line equipment, and really captured the feel of our wedding and reception. Along with the full-length video, Lee actually did 2 shorter video... Read More clips to songs (one of the prep/ceremony and one of the party bus) which were great to send out to friends and family (who probably won't watch the full video). Everything came out excellent and allows us to "re-live" our day! He came to our rehearsal as well to check out the church for how he wanted to do the video. I honestly wasn't going to have a videographer (because of the cost, and figured the pictures would be enough), but trust me - there are so many moments you miss! There are things people mentioned that I had no idea even happened! Everyone says getting a video is worth it - and it is. I would recommend Lee – he went completely above and beyond and I couldn't have asked for more.
---
Meet The Owner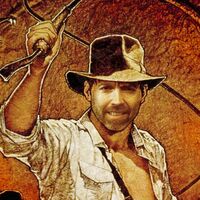 Leland James
I still remember the first movie I ever made. It was an epic robot spaceship battle, and I was 12. My parents got a VHS camcorder that year for Christmas, and it was the best Christmas ever. In retrospect, the thing weighed probably 10lbs and there was no way to edit the tape unless you just stopped and started the recording button. I've come a long way since then, but my love of filmmaking hasn't changed. I shoot many different projects now but I love weddings because they force me to be creative under pressure. Someday I plan to make "Epic Robot Spaceship Battle Part 2". Get in line now! ;)