Home

Country Bride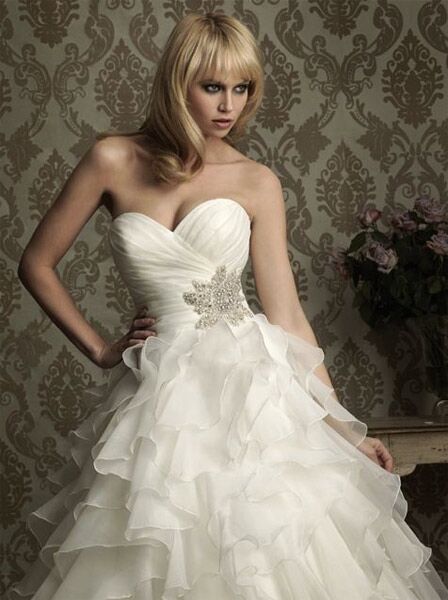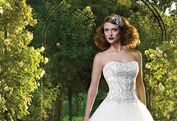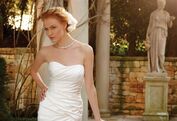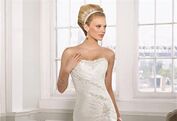 About this Vendor
The Country Bride…Come experience the difference.
See why over twenty-one years sets us apart from the rest. We take all the time it takes to choose the perfect gown and then fit it to your likes. Nothing is more important than your wedding day and nothing is more important to us than you.
Details
Bridesmaid Dresses, Flower Girl Dresses, Mother of the Bride Dresses, Wedding Dresses, Alterations
Contact Info
708 Sumneytown Pike, West Point , PA
The BEST dress shop!
Reviewed on

8/20/2014
Theresa L
I loved my experience here, from searching for my gown to my final fitting. Krystyna was amazing at helping my find the PERFECT dress. I explained to her what I liked and didn't like and she was very attentive. The first dress she put me in I was in love with, but I knew not to... Read More act too fast since it was just the first dress. I tried on about three more, but kept thinking back to that first dress. Mind you this whole time, Krystyna was keeping all information about the dresses a surprise (a factor that I know some brides may not like, but this small detail made the story of finding my dress that much more perfect!). When she put me back into the first dress, it was just as amazing as the first time. As I was busy gushing over the dress, Krystyna revealed to me the best news of all : my dress was by the designer Alfred Angelo, and was from his Disney Princess dress collection, specifically this was his "Cinderella 216" dress. My mouth dropped to the floor! My now-husband and I lovingly refer to each other as "Cinderella" and "Prince Charming", our entire wedding was Disney Fairytale themed, specifically Cinderella themed, and my now-husband and I were going on our honeymoon to Disney World (we're a little Disney obsessed, if you couldn't tell lol). I had not mentioned ANY of this to Krystyna! That was when the waterworks started and I knew I had found the perfect dress! At that point everyone in the shop had heard my story and was very excited for me, saying it was fate! The staff is phenomenal. Every time I called the shop I received prompt and courteous responses. My dress and veil came in in a timely manner and my dress came in in the correct size. My seamstress, Regina, was fantastic too! I am very, very petite and was worried about my dress fitting my properly and not being too long. By the time she was done alterations my fit n' flare style dress with a corset back fit like a glove! I still have people raving about my dress and how much they loved it! I wish I had more reasons to wear it because it was just that gorgeous. This place truly makes you feel like a valued customer and they genuinely care about your happiness. You're the bride after all! You simply cannot find a place that will give you a better wedding dress shopping experience. I would recommend all brides to check out Country Bride and Gent. You may just find your fairytale dream dress like I did!
---
Friendly and Fashionable Service
Reviewed on

2/06/2014
Melissa R
I first came to Country Bride after a friend referred me to their shop. The selection of dresses was phenomenal and they had a VERY wide variety. As someone looking for something different than the norms (NOT strapless, sweetheart, ball gown, etc). I was nervous that I would... Read More find the perfect dress, but they had not only one dress of the style I had my eye on. (An illusion necklined lace fit and flare with a dramatic back) They had multiple so I was able to choose the dress that was absolutely perfect. They also worked with me and the designer to make the little tweaks I wanted. The train was only lace and I wanted it lined like the rest of the skirt. Once you begin alterations, you keep the same seamstress so she knows what you want and works with you to get there. They were all very friendly and by the time I was to my fittings, they knew me by name. Always willing to squeeze in an appointment !
---
Wonderful experience!
Reviewed on

4/28/2013
Danielle N
Excellent service, great prices & selection. Tricia did a phenomenal job altering my gown so that it fit perfectly! Highly recommended!
---
Great experience
Reviewed on

9/08/2015
Chelsea K
Had a great time shopping at Country Bride & Gent. They had an excellent selection and prices seemed more reasonable than other places. My only issue with them was that they ordered the incorrect belt for my dress, and then made a stink about not letting us return it (even... Read More though it was their mistake). We ended up getting a refund, but it did ruin the experience just a bit!
---
Great Store
Reviewed on

8/30/2014
Nicole S
I had a great experience. I worked with Regina who was so patient and helpful. She actually picked my dress before I even told her what I wanted and it was perfect. I was not interested in the corset back, and she was more than happy to research zipper options and satin buttons... Read More to add. The building may not look totally updated, but their selection of dresses was great! The woman that work here go above and beyond. I loved my veil so much, I wore it all night!
---
Hmmm...
Reviewed on

5/18/2014
Joelle C
I will start off by saying that getting my wedding dress here (Bensalem) was a good experience. I walked in with my mom on a whim though it was close to time to get a dress. We browsed around for dresses and one of the consultants came and assisted with no appointment. She... Read More asked what we were looking for and pulled out three dresses for me to try that fit the description. The second dress I tried on was the dress! She was very helpful in providing advice and what we might need for alterations and such. After such a good experience I decided to go back with my bridesmaids to get their dresses there. I had set up an appointment and everything. When we all got there we had to look for someone to help us. When we did she stayed in the shadows and did not provide any guidance or assistance. I especially valued to input of someone as all the girls in my party were of different sizes and skin tones. We ended up leaving and getting their dresses at another dress shop in town. Also, when my dress arrived it was at the West Point branch. We made an appointment for a fitting. When we arrived it was packed and it was prom season. We waited for a couple of minutes (which I didn't mind) until someone came to assist us. When I got in the dress, the consultant made it very clear that we were inconveniencing her time by being brief and not being helpful. It was my mom who was noticing what may need altered while the consultant just stood in the background with her arms crossed and nodding. We decided to take care of the alterations ourselves elsewhere.
---
My Dress
Reviewed on

5/08/2014
Maria S
Nice selection of dresses. I was happy i found the dress of my dreams. But i was not happy that my bustles broke at the start of the night.
---
Disappointing Experience
Reviewed on

10/21/2013
Kate D
I set up an appt nearly 2 months in advance for Wedding Dress Shopping here with my close female relatives, and was shocked how little attention we received. They barely welcomed us, did not ask many questions, and provided little feedback. It was pretty deflating. On top of... Read More that, there was very little seating and the place was pretty dingy looking. I was surprised to see this considering the reviews I skimmed on here. I just don't want another bride-to-be to go through what we did here.
---
Wonderful store!
Reviewed on

10/11/2013
Ashley B
I absolutely love Country Bride & Gent! Their staff is the most helpful, and they were very accommodating with appointment times even though I have a very busy work schedule. And the gowns are beautiful!
---
Not too Shabby
Reviewed on

7/29/2013
Samantha S
This boutique was far from my house and they didn't do a great job to accommodate that with me. The seamstress also made a mistake about 2 months out that made me give up ice cream and potato chips until after the wedding, but in the end, but dress was perfect.
---
HOW TO FIND THE PERFECT DRESS IF YOU ARE NOT SURE
Reviewed on

7/01/2013
Holly B
I actually bought my dress at the Country Bride in Bensalem, PA before it closed down and they consolidated into one store in Lansdale. I did not know this was happening when I purchased my dress 6 months before. However, the woman at Country Bride knew exactly what I was... Read More looking for when others said I would not be able to find it and would have to settle. There was no problems having the rest of my appointments in Lansdale other than that it was farther away and more inconvenient. The service in the Lansdale store is good and they have a lot of nice dresses for reasonable prices. My seamstress was Ann (I think). She is British and only works Mondays. She was the best. However, alterations were very expensive for little work (taking it in a little and shortening it was about $400). Overall I am satisfied and I do love my dress.
---
Great dress, great staff
Reviewed on

6/26/2013
Amy V
I have been to Country Bride probably 15 times as a bridesmaid and this time as a bride, I have gotten the same excellent service that I have gotten from all other times I've been there. The sales staff is amazing and the dress was delivered when promised and with plenty of... Read More time for alterations. I did love all the alterations. The staff was amazing at getting the idea of what I wanted and delivering on that. The only reason I gave the less than four stars was because of the bustle. Which is why the quality rating was poor. The woman that did my alterations, was great at the dress and giving me help with the bust...but the bustle...was a bust! She did eye hooks and for a dress that delicate (lace) and someone with as much movement as a bride, the hooks didnt stay. I had my dress re-bustled 4 times and at the end had to put a rubber band in it to hold it all together and up then drop the lace sheath over that mess. It was horrible, I tripped twice on fallen pieces of the bustle that came out and couldn't dance until the rubber band at the end of the reception. Not what I expected! I do plan on contacting them to let them know...but you should know...great dress.,,amazing alterations, great super easy to work with staff...bad bustle. If they're doing fish or eye hooks...ask for something else. No way. I wish I'd have done snaps or ties. I didn't know any better!
---
Small but perfect.
Reviewed on

5/25/2013
Katie H
I love this store. Has everything you need from your gown to bridesmaids, flower girls, tuxes, even invitations (and will give you discounts when you order your gown and bridesmaids there!). My only complaint is that it is small and can get very crowded. Overall, loved my... Read More experience.
---
Good Sales, Professional Service, Gorgeous Gowns!
Reviewed on

2/02/2013
Amy R
I was able to find a beautiful silk satin dress on sale for over 50% off. The ladies working in this shop are just fabulous--they treat you like a princess and are very professional. The tuxedo manager is also very professional and knows his stuff. He helped the guys look... Read More awesome in their tuxedos that matched the bridesmaids' dresses perfectly!
---
:/
Reviewed on

12/07/2012
Jamie H
I was a bridesmaid in my friends wedding, our dresses came from the Country Bride. I ordered my dress in January, it came in about a month later. I was told to pick up the dress and call back about a month before the wedding for alterations. I called back as instructed one month... Read More before the wedding to set up an appointment for alterations and was told they were booked and couldn't help me and the woman on the phone was pretty ignorant like it was my fault for waiting to call. I ended getting stuck going to a dry cleaner for alterations, which turned out horrible. Thanks for nothing!
---
Wonderful experience
Reviewed on

10/02/2012
amy T
Everything was on time and as promised at the country brides& gent. I highly recommend them or all our wedding attire! Bridal gown, bridesmaids and groomsmen all had a great experience!
---
Very Accomodating
Reviewed on

8/23/2012
Lisa B
Country Bride was wonderful. The dress I wanted to order was only available in the Bensalem store, so they shipped it to the West Point store so I could try it on before ordering it. I live out of state, so getting to the shop for alterations was a little difficult, but Trisha... Read More worked with my schedule every time to accomodate my 2-hour drive. When working on the bustle, we weren't able to get exactly what I had envisioned on the first few tries. Trisha and the other ladies in the store continued coming up with different possibilities until we found exactly what I wanted.
---
wonderful (Bensalem location)
Reviewed on

6/06/2012
Stephanie T
This was the third location that I visited for my wedding dress and compared to the other two places, it was a breathe of fresh air! Everyone was very welcoming and offered their opinion when necessary. But, when offering their opinion, they did it gently, as to not step on... Read More anyone's toes or hurt any feelings. I purchased my wedding dress, bridesmaid dresses, mother of the bride dress and even the grandmother of the bride dress at Country Bride (Bensalem location). We also complted all alterations at this location
---
Great dresses at great prices
Reviewed on

5/08/2012
Leighann P
I wanted a really beautiful chiffon dress but was absolutely not willing to break the bank to do it and I found a lot of great dresses here with totally reasonable prices. I also got my bridesmaids dresses here which were gorgeous and all of the tuxes for the groomsmen. They... Read More have really great incentives to getting all of your wedding party's attire here. Just remember that this is not an extremely upscale bridal salon. Don't get me wrong, its very nice, but its a little more hands on when it comes to finding your dress.
---
My Dream Dress
Reviewed on

1/09/2012
Maria B
I truely got my dream dress. I couldn't have found a more wonderful dress. The prices aren't too bad but it's worth it in the end.
---
beautiful selection
Reviewed on

11/06/2011
Colleen A
I used country bride for my bridal gown as well as my bridesmaids dresses and flowergirl dress. i thought that i would receive some sort of discount but it ended up not applying so that upset me a little bit bc i would've had my girls look at dresses somewhere a little less... Read More expensive. i loved my dress even though it was over my pricepoint (which i didnt know before they had me try it on) but it was beautiful and absolutely perfect for the day! really the only major negative thing i have to say about country bride was the reminder card they sent out when my dress was in. they put the balance that i owed on the card, and it was a post card so anyone who saw my mail could see what i spent on my dress. that really annoyed me. other than that i had a pretty pleasant experience with them and would recommend them again.
---
Perfect
Reviewed on

10/13/2011
Darah N
Essentially flawless! I got my dress here and guys tuxedo's. The staff helped us with every detail!
---
Found my Dress!
Reviewed on

10/05/2011
Kristen G
Customer service was outstanding! Found my dress after 8 dresses! Never put on another! Love my girls dresses and my mother's dress all were pick under 10 dresses! Colette was outstanding!
---
Very pleased
Reviewed on

10/01/2011
STACIE G
My experience with the County Bride was a good one. The sales staff is very helpful and accommodating and their goal is to assist you in finding that perfect dress. I came in set on one dress and came out with something much better.
---
good selection, reasonable prices
Reviewed on

9/15/2011
Jess M
while i didn't like most of the dresses here, i happened to find one dress i absolutely LOVED (which is all i needed!). the staff were very helpful and the seamstress was fabulous.
---