Home

Couture Bridal Co.
Details
Lighting, Chiavari Chairs, Folding Chairs, Chairs, Dance Floor, Dinnerware, Linens, Lounge Furniture, On-Site Delivery + Setup, Cocktail Tables, Dining Tables, Tables, Tear Down, Rentals + Equipment
Contact Info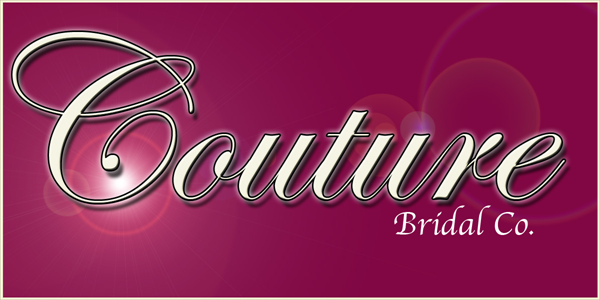 Reviewed on

10/13/2015
Jessica G
AnnMarie is amazing! She asked if I could be her 'guinea pig' and I agreed and I am so glad I did!!! She knew what would look good on my body type and knew what I wanted and blended that together! She was honest and confident and I trusted her. Couture was also extremely clean... Read More and has a very romantic modern feel as soon as you walk in the door. The bridal suite is private and huge! I had the best experience! My bridesmaids will be back to get their dresses at couture! Thank you so much!!!! I said YES TO THE DRESS at couture ❤️ #couturebride
---
Wonderful experience
Reviewed on

10/04/2015
Courtney A
I was worried about having my mother and mother-in-law meet during the experience of picking out my wedding dress. But it was seamless. I didn't look at dresses out of my price range. I tried on dresses first that were not exactly what I was looking for so that I could... Read More officially eliminate them. But when I put on the dress, I knew. It clicked. I didn't want to take it off. They take your measurements after you find the one. And they order a size without really talking about it. I got nervous when I saw the number of the size; I'm a relatively tiny girl. But I had them order it the way they saw fit. But, when it came in - it was tight. I had lost weight since I ordered it so that couldn't be the reason. Thankfully the tailor they recommended was PHENOMENAL - but I'm not sure if I was ordered the wrong size or if the making of the dress was just a little off. However, the dress was stunning and everything I hoped it would be.
---
Great Customer Service!
Reviewed on

10/16/2014
Michaela A
I recently used Couture Bridal for my table linens, chair covers and sashes and it was a pleasure to work with such an experienced and organized vender! They had the exact color I was looking for and lots of choices for table linens. If you are looking for great quality and... Read More great customer service, Couture Bridal is for you!
---
The best place for wedding reception decor
Reviewed on

8/07/2013
sarah a
I used Couture Bridal for my wedding dress, chair covers/sashes, overlays and napkins. The extra linens and colors changed the boring venue room into a room that took my breath away. I highly recommend adding something to your room, whether chair covers or sheer overlays or... Read More contrasting napkins. It adds so much to the room... and Couture Bridal has every color, design, style you can think of. I highly recommend them!!! And my dress was beautiful, they have such a great amount of wedding gowns that are all very well-made and beautiful..
---
Executive Director, Gabrielle Dinsmore Heart & Hope Fund
Reviewed on

7/29/2013
Ladies, I have worked with Annmarie at Couture Bridal for 3 years on a major fund raiser I run for the Gabrielle Dinsmore Heart & Hope Fund, a non-profit organization in Rhode Island. The event attracts 500 people with over 70 sponsors. Annmarie and Couture Bridal supply... Read More our chair covers and sashes for the event and I have to say, SHE IS THE BEST! Annmarie is kind, easy to work with, very organized and on top of her game! If you are looking to work with a professional in this business, leave your worries behind and give Annmarie at Couture Bridal a call today. You would be disappointed. Louise Dinsmore
---
Always a pleasure!
Reviewed on

7/03/2013
Katie J
I have used Couture Bridal for more than one event. They are always very helpful and knowledgeable! The Chair covers, sashes and table linens were the perfect touch to the parties! Thanks again!
---
Wedding
Reviewed on

6/30/2013
Staci G
Thank you so much for your wonderful service. I had previously ordered my own chair covers and sashes only to realize I was being scammed. Couture Bridal was fantastic with minimal notice in securing me enough chair covers and then using my own sashes. It was a smooth experience... Read More with absolutely no issues. Arrived on time and had a seamless set-up! What a great wedding service and one I will recommend to brides in the future!
---
A quality find.
Reviewed on

10/03/2012
Stephanie E
Couture Bridal provided chair covers and sashes for my September 2, 2012 wedding. When I arrived at the reception the linens were perfect and looked great. While I was not a part of the set up, I know it went smoothly because they were in and out and it looked amzing. The only... Read More reason gave 4 stars for value because for a wedding of 90, it's tough to justify $600- but in the end they can't control what the market going rate is.
---
friendly
Reviewed on

10/22/2011
KATELYN N
We rented chair covers from Couture Bridal. They had many choices of colors and fabrics. Only thing we didn't like was that we had to give them our final count at least 1 month in advance which meant all RSVP's had to be back.
---
chair covers
Reviewed on

8/08/2011
Tracy c
covers looked amazing!
---
Everything you need is here
Reviewed on

8/05/2011
Jennifer G
I got runner and chair covers with sashes and they made my reception look so great. I would tell everyone who's getting married to come here. She has ton's of colors and styles and is super helpful and not stressful which seems to be hard to find today. Definitely helps to make... Read More my special day even more amazing.
---
Large Selection
Reviewed on

8/01/2011
Gabby R
Couture had a large selection of wedding items. We got our chair covers and card box from there. The chair covers looked so nice. They put them on for you (for a fee) and they really dress up the room. They have a large selection of colors as well. So many accessories here,... Read More definitely check it out!
---