Home

Covenant Cakes
About this Vendor
The very best in special occasion cakes
Contact Info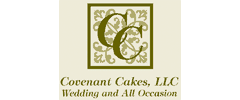 610 N. High St., Independence, MO
Beautiful Cake
Reviewed on

10/24/2014
Jessica H
Covenant Cakes did my wedding cake and it turned out perfect! I gave them a picture of what I wanted and they gave me exactly that. It had intricate designs that they used stencils to perfect. The flavors were also amazing! It was hard to choose which flavors we wanted. Their... Read More almond cake was my favorite though and great flavor.
---
Everyone LOVED the cake and Dana was wonderful!
Reviewed on

4/10/2014
Heather
We had so many people tell us this was the best cake they had ever had! They were wonderful to work with!
---
yum!
Reviewed on

12/19/2013
Elizabeth B
These ladies are really easy to work with. Contact was easier by phone than email. We just wanted a small cake and sheet cakes, and they still treated us very sweetly, and even decorated the sheet cakes to match our round cake. They coordinated with our florist to have flowers... Read More on the cake that matched the rest of the decor. We had basic white wedding cake with basic buttercream icing -- sooo tasty!
---
Delicious!
Reviewed on

11/08/2013
Kristin H
Rhonda and Mary were very sweet and great to work with. My fiancé and I were living apart while I was planning so I brought a friend along for the tasting. However, they prepared 3 flavor combinations for my fiancé to try when he was in town which we truly appreciated. The final... Read More product was just as I hoped and everyone raved about the flavor and how moist the cake was. Many guests had seconds! Price was also very reasonable. If I was still living in KC, I would probably get all of my cakes from them! Yum!
---
Cakes
Reviewed on

10/29/2013
Carrie H
My groom's cake was awesome, they did such a great job! The cakes arrived a little later than they said, but nobody told me, so all was good and they looked and tasted wonderful! Highly recommend!
---
Delicious & Beautiful cake
Reviewed on

10/07/2013
Samantha H
Mary & Rhonda did our wedding cake and grooms cake just a few weeks ago. They were so kind and accommodating when we first met with them and we knew they were a great fit with what we were wanting. The 3 tier wedding cake turned out great and the Jayhawk cake was AMAZING! Not... Read More only did they look great but they tasted great as well. We highly recommend Covenant Cakes for delicious and beautiful cakes
---
Took the Cake!
Reviewed on

6/26/2013
Ryan L
The ladies at Covenant Cakes are the BEST!!! They have been making different cakes for me over the years, so it was a no brainer to use them for my wedding cake. They were very accommodating and helpful. My wife changed her mind about 2-3 times in regards to the cake design. I... Read More must say the final cake was really amazing.
---
Urban Bride
Reviewed on

6/10/2013
Quiana R
Great service! LOVED my cake.
---
Great tasting cakes
Reviewed on

9/26/2012
Kayla M
I worked with both sisters and they were both so easy to talk to and work with. I did all of my wedding planning for long distance. They did a great job of delivering my vision for the cake and everything tasted so wonderful. I would recommend them to everyone.
---
amazing!
Reviewed on

8/11/2012
Kristin Kelleen F
I had Covenant Cakes make both my wedding cake and The Groom's Cake for my wedding in Kansas City. These ladies were delightful to work with and extremely accommodating. And most importantly, the cake was delicious! (I should also be clear that I spent a little over $750,... Read More but I had TWO cakes, as mentioned above, and I also rented a specialty cake stand as well, with hanging crystals on it. I felt the price was VERY reasonable for everything I ended up with!) Covenant Cakes worked with me on all of my different preferences - decorations, shape, scroll-work in the frosting, and their flavors, and always had helpful suggestions to offer. (They offer a great variety of flavors too!) I fell in love with their pink champagne flavor, but wasn't ready to commit to doing a whole layer of cake in that flavor (I wasn't sure if the groom would appreciate having an entire tier of pink cake). The ladies offered to make me a separate "sheet cake" that would look EXACTLY like my other tiers, and that would give me about 15 servings of pink champagne. This was a perfect solution... not too much commitment because I didn't have to do a full tier of our cake in that flavor, but just enough to give me and the bridesmaids a few slices! I also like A LOT of frosting and they made note of that and put it on extra thick for me! ;) I would definitely recommend Covenant Cakes to all of my fellow KC brides! xo
---
Terrific-Terrific-Terrific
Reviewed on

6/26/2012
Jennifer O
I am a cake hobbyist, so I do cakes on the side. I was looking for a place who would do a special grooms cake for a fairly reasonable rate and also would do my regular wedding cake (cupcakes in my case). These ladies were AWESOME! Not only did the cake taste amazing, the... Read More final product was out of this world! My grooms cakes was fashioned in the shape of a game board along with sugar pieces and they knocked it out of the park. The price was reasonable and I got a terrific product. I would highly recommend these ladies and plan to go back for other cakes.
---
My Cake
Reviewed on

10/12/2011
La Juana E
My cake was fabulous.
---
Amazing!!
Reviewed on

8/17/2011
Leslie B
These women should have their own show. This was a very pleasant surprise the day of the wedding. Not only are their cakes (and pies!) to die for, but the workmanship on the grooms cake was unbelievable. I ordered a groom's cake to be shaped like a vintage baseball jersey and... Read More it was better than I expected. We also had plenty of pie at our wedding, I wish I could have sat down and eaten a whole pie they were so good! I would highly recommend.
---
Great!
Reviewed on

7/09/2011
Amy B
We LOVED Covenant Cakes! They were so nice and friendly, and the cakes were GREAT! Everyone loved them! They have amazing flavors, and if you decide to go with them, they'll make you as many samples as you want! We wanted to try a bunch of flavors and when we picked them up,... Read More we had so much cake we had to call our parents over to help us try them all and pick them out! We had a LOT of problems with our wedding, but the cake was the ABSOLUTE best part of the day (other than getting married, of course!)
---
beautiful cake
Reviewed on

7/02/2011
Tracie R
I was recommended to this place by my florist and I have to say it was a great choice. They were very flexible and had props to show examples of any ideas that we thought of. They also had plenty of pictures from previous cakes and great samples. The cake they made for us was... Read More beautiful and delicious. We got plenty of compliments on our cake!
---
most delicious cake EVER!!
Reviewed on

6/04/2011
Rachael H
oh geez, the cake was soooo wonderful!! i had cupcakes instead of a cake and it turned out so great!! they were so moist, I couldn't stop eating them!! Will definitely be giving out their number!!
---
A Work of Art
Reviewed on

11/20/2010
Mandi O
We had signed up with another baker and at the last minute that person flaked out. Covenant Cakes came to the rescue just 2 weeks before my wedding. We had a themed cake and a 3D grooms cake. They really went above and beyond what we had dreamed up. The cake was the most... Read More amazing work of art. You will not be disapointed at all.
---
Awesome
Reviewed on

11/14/2010
Tess C
They did a marvelous job working with me and my family on the flavors and design of the cake. We were going with something really unique and they bent over backwards to make it amazing. And they were the best TASTING cake that I tried as well... So everything from taste to... Read More execution of the design, I just give them the highest praise.
---
Best Wedding Cake Ever!!
Reviewed on

11/11/2010
Julia H
The most beautiful, best quality cake I've ever seen. The owners were wonderful to work with.
---
Delicious!
Reviewed on

11/07/2010
Stephanie R
The cakes were sooo good! We had five different flavors and everyone loved all of them! They have different types of buttercream, and let us mix and match those for the outside icing and the filling. My cake was a little bit plainer than I thought it was going to be, but... Read More other than that, it looked great. I gave them pictures of the detailing on my dress, and they copied that to decorate the cake! The grooms cake was a duck decoy made out of rice krispies and they did a great job on it!
---
Review for Covenant Cakes
Reviewed on

8/31/2007
Nicole N
They made a beautiful cake and it tasted delicious
---
Send Message