Home

Craig Satchell Piano & More
Details
Classical, Dance, Disco, Jazz, R&B, Rock
After Party, Rehearsal Dinner, Ceremony, Cocktail Hour, Reception
Live Music, Sound Equipment
Contact Info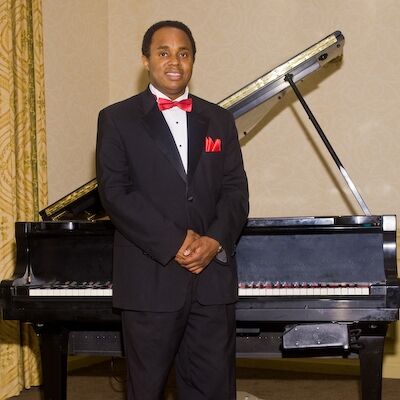 Reviewed on

10/17/2016
K M
Craig was very professional and did a wonderful job. He played the songs we wanted and even suggested some. He worked so well with us, including ensuring the piano was tuned at the venue!
---
Highly Professional & Quality Music
Reviewed on

8/27/2015
Elizabeth W
Wow... Craig Satchell and his band (a trio for our wedding) delivered 100%!! Their jazz sounds created the perfect atmosphere during the first 2 hours of our reception. Our guests couldn't say enough great things about the music. Craig worked with us ahead of time to... Read More uniquely create a song list that worked for taste. He was always available if we had any questions before our big day. He's really a stand-up, professional musician who can be counted on - with no worries at all. We'd love to work with him again, if we need music at a party in the future.
---
Rises to Exceed Expectations!
Reviewed on

7/24/2014
Kate N
We were looking for a classic jazz sound for our ceremony and cocktail time at our wedding, thankfully we found The Craig Satchell Jazz Experience online! Since we live in San Francisco, my in-laws went to see Craig Satchell play piano at a restaurant in Philadelphia and they... Read More loved him! I reached out to him to get more information. Craig got back to me right away and we were really excited to work with him. We asked if they could play some more current songs, I didn't know what to expect, but we were blown away! They even learned and wrote music to some pop songs that we really liked and made them into the jazz version. We absolutely loved the music at our ceremony and cocktail time. Our guests really enjoyed it too! Craig and his fellow band members are very talented and have a great fun sound! It felt so special that they played our favorite pop songs in a classic way! We loved the music so much in fact that we are paying to have them record the 6 songs for us! We absolutely cannot wait to hear them again. They really exceeded our expectations! I need to plan another party to hire The Craig Satchell Jazz Experience!
---
THE BEST
Reviewed on

8/10/2013
Melissa C
Craig and his band are hands-down the most entertaining, swinging jazz band in the area. He was so helpful to us in planning the songs and even learned a few new songs just for us. If you're looking for a quality jazz ensemble, look no further!
---
Everyone at our wedding raved about the Craig Satc
Reviewed on

12/10/2012
Meghan B
The Craig Satchell experience played at our November, 2012 wedding at the Audubon Center at Mill Grove. From the very beginning, Craig was incredibly easy to work with, responsive, and friendly-- he is a true professional. And we also can't say enough good things about the band-... Read More they had everyone up and dancing at our afternoon wedding! My husband and I are so grateful they were part of our wedding day and we can't recommend them highly enough!
---
Very talented and professional!
Reviewed on

10/03/2012
Laura K
Mr. Satchell played jazz piano at our wedding cocktail hour, and it really helped add a special touch. He is incredibly talented, he was very professional, and our guests loved the live music. I would highly recommend him!
---
Elegant Magic
Reviewed on

9/08/2012
Ashley K
The Craig Satchell Jazz Ensemble made the atmosphere simply perfect. So many people commented on how wonderful the music was, and they read the crowd perfectly. All the musicians were incredibly nice and Craig was very easy to work with and very receptive to songs we wanted to... Read More include. The dinner music was low-key but upbeat, and the dance music was fantastic-we had guests of all ages and everyone was able to dance to everything. People raved. Better than I could have ever hoped for.
---
PHENOMENAL | CLASSY | SPECTACULAR
Reviewed on

9/05/2012
Brittany M
I just had my wedding on Sunday August 19th, 2012 and the Craig Satchell Jazz Ensemble played jazz during our cocktail hour. They were absolutely OUTSTANDING. They played smooth jazz that was upbeat and celebratory! They added the perfect level of class to an already beautiful... Read More event. I kept getting compliments during and after the reception. Even though I was the bride, and I couldn't come out until we were announced, I was so happy that I got to hear some of their set before they ended while I was waiting behind the stage. For all the brides (or anyone who is planning an event) who would like something different at their wedding that EVERYONE will enjoy, definitely choose the Craig Satchell Jazz Ensemble! Craig, himself, is very professional, prompt, and amazing to work with. I can't say enough about him. They have so many talented members from which you can choose! From the Jazz Trio, to the Quartet, to the lovely singers. No matter which package you choose, you'll definitely be satisfied! Even though I won't have another wedding anytime soon (*fingers crossed* :-), I will for sure use Craig Satchell and his Jazz Ensemble again for events I plan in the future. A BIG THANKS GOES OUT TO THE CRAIG SATCHELL JAZZ ENSEMBLE FOR MAKING MY SPECIAL DAY ABSOLUTELY SPEACTACULAR!
---
This band was incredible!!
Reviewed on

5/29/2012
JULIA D
This band was incredible, and the reception what it was. They played music everyone loved, and gave the whole reception a classy, 1940's feeling. Many guests have said the band was their favorite thing.
---
Very Nice
Reviewed on

11/26/2011
stephanie h
Craig Satchell was fantastic to work with. He played everything we wanted and even learned a new piece for our wedding. He responded to e-mails very fast and was very easy to talk to on the phone. His prices were great. I would recommend him to anyone.
---
GigMasters Verified Review - Blue Bell, PA
Reviewed on

9/10/2009
Mr. Satchell was perfect and he is still getting rave reviews from our guest. He was awesome and we will recommend him to others for future events. Well done!!!
---
Review for The Craig Satchell Experience
Reviewed on

1/22/2009
Gina T
Craig was very easy to work with and he had a trumpet player with him to add a classical elegance to the ceremony. My friend Gloria provided the vocals.
---