Home

Custom Linens
Details
Decorations + Accents, Draping, Linens, On-Site Delivery + Setup, Tear Down, Rentals + Equipment
Contact Info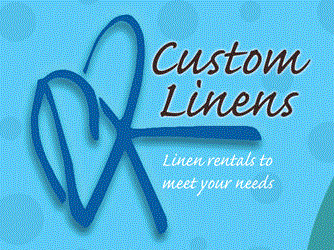 Reviewed on

10/29/2017
Regina R
Great to work with! Beautiful and affordable linens. Check them out!
---
Reviewed on

6/26/2016
April G
I actually found them through Facebook with a special deal they were doing. I looked them out, checked them out, seemed great. Called and spoke to Chris who was very helpful. We set everything up and he coordinated on the day of with the wedding coordinator of the hotel we were... Read More getting married and having the reception with. Everything was gorgeous! We got white chair covers for all the chairs, and then just white bows as well. Looked amazing!!
---
Reviewed on

10/25/2015
Josh V
Chris and his wife at Custom Linens were fantastic. Our meeting went smoothly and he was able to picture what my wife wanted the room to look like. He went above and beyond in meeting our expectations.
---
Reviewed on

10/25/2015
Marlena D
I would highly recommend this linen company. Very easy to work with. Really nice people! Huge variety of linens to choose from.
---
Reviewed on

9/17/2015
Brittany Y
I was a little nervous about quality when I saw the prices, but they looked fine in pictures so we took the plunge and I am so happy we did. First, they were so helpful with recommendations and checking-in. Then we go to pick them up and I am blown away by the quality and the... Read More fact that everything is pressed, hung, and organized by size. They even provided laundry bags to bring them back in. We couldn't have been happier!
---
Beautiful Linens
Reviewed on

7/31/2012
Cynthia B
Custom Linens provided a quality product and service while being extremely affordable. Their linens made such a difference to our decor and was a great hit!
---
Linens
Reviewed on

7/16/2012
Erika K
Custom Linens were great. The linens at the wedding looked amazing and really made the room. He did a great job. The price is very reasonable for all he does. He was great at communicating through email and was very responsive. He even worked with the venue and set up the day... Read More before so we could go in and set some things up the night before. If you need linens, this is the place to go.
---
Above and beyond with your service.
Reviewed on

10/20/2011
Claudia G
Chris did and excellent job with the linen decoration and with all the details we asked for. The banquet room looked stunning with the Taffetta Crinkle table cloths, chair covers and sashes. What an amazing job you did with the cake table as well as the sweetheart table. We... Read More had so many positive comments about the linen. I will def recomend this company to all my friends and family, and I will let them know about the afordable prices you have. Thanks again for making our day extra special.
---
Amazing Linens
Reviewed on

10/20/2011
Devin M
Chris and Abby were awesome to work with. Their company is from Florida, but we actually got married in Pennsylvania. They both put in so much hard work to make our day special. The colors turned out to be perfect. They even brought up some extra linens for the 'final touches'.... Read More When it was all said and done, the venue looked beautiful. We received so many great comments from our friends and family. If you're looking for great service; honest, creative, hard workers; and fair prices, you should definitely check this business out!
---
love
Reviewed on

6/07/2011
Alisha P
custom linens is the best place to save time and money
---
Very affordable
Reviewed on

1/07/2011
Mellissa J
Chris was very professional and friendly. The linens were in perfect condition and the colors just brought out the wedding colors.
---
Perfect Linens and Great service.
Reviewed on

12/08/2010
Liz V
Chris was so helpful and prompt to return all my emails with questions. I didn't have any interaction with them the day of but walked into a PERFECT reception! He made my vision come to life and it was just as I had imagined it. Great attention to detail and very helpful with... Read More guidance on colors, set up and suggetions! We used them for floor length table cloths and seat cover with sash! I would use them again without any hesitation. Very stress-free and great experience.
---
An Amazing Day!
Reviewed on

7/02/2010
Lani M
Custom Linens not only provided amzing linens for my weddning, but amazing customer service as well. I was not around when everything was being set up and when I saw the room I was floored. Everything came together so well! I really liked that they offered two options for set... Read More up: pick them up myself and return them (and do our own set up) or have them do it (for what I found to be a very reaonable fee). They were not only professional but fun to work with and I definitely reccomend them to anyone ion the Tampa Bay area. Trust me, you can't beat their prices, and the selection is outstanding! I couldn't be happier with my experience.
---
Great linens
Reviewed on

6/30/2010
Tina M
This was one of my favorite vendors. Chris and Abby were fantastic. Abby met with me on several occassions to discuss colors of table overlays and chair sashes. Our hotel allowed them to set up a couple of days before our wedding because they didn't have any other event going... Read More on as it was around a holiday. When I walked into the ballroom for our first look, I was blown away, as was my husband. We couldn't get over how beautiful the linens looked with the flowers and the lighting in the room. The hotel loves working with Custom Linens because they've always been professional. Their prices are the best in town and I wouldn't hesitate to use them again for any future linen needs.
---
Bad Customer Service
Reviewed on

5/26/2010
Jennifer C
Chris, from Custom Linens, was easy to work with leading up to the wedding (until I had a complaint). I liked that he didn't pressure us into choosing his company or try to upsell us on higher priced linens like some of the other rental places did. We decided to pick up & return... Read More the linens ourselves to avoid delivery charges. The delivery charge was not brought to our attention until after we signed the contract and was not listed in our quote. The staff at the Hilton set them on the tables & chairs, but I was very disappointed at how wrinkly they were. I'm not sure who should have ironed them, but they didn't look as good as they could have. The other major problem we had were the color of the chair covers. We ordered ivory covers & napkins. Once the linens were set up, I noticed that the chair covers were not the same shade as the napkins. Custom Linens orders their chair covers & napkins from two different companies, resulting in very different shades of ivory. When we requested fabric samples, Chris mailed us many shades of green, but only one sample of ivory. How was I to know they would be so drastically different. I did not see the room set up until the reception. It was impossible to complain at that time. The next day we left for our honeymoon and my dad returned the linens. I was not about to call Custom Linens on my honeymoon to complain about the color of the linens just to abide by their policy. It wasn't until I saw our professional pictures from the photographer, did I realize how horrible the chair covers looked. After MANY emails, Chris would only offer a refund of 10%. This was not to our satisfaction & reflects their horrendous customer service. Because of the way he handled this matter, I will never recommend them to anyone.
---