Home

Daniel's of Morgantown
About this Vendor
Giving Confidence for Over 50 Years
We use our wide selection of tuxedoes, ties, suits, shirts, and shoes to achieve a man's most attractive look. Our seasoned staff help you sort through styles. Our spacious store gives you privacy during your selection process. We offer books of looks for weddings and other events. We have examples of timeless formalwear outfits on mannequins to facilitate a man's selection. We do all we can at Daniel's to give you a comfortable and successful shopping experience. We do all we can to make a man look his finest in his formalwear.
Details
Alterations, Custom Designs, Group Discounts, Online Ordering, Private Appointments Available, Rentals, Fashion Services, Bow Ties, Cummerbunds, Shoes, Ties, Tuxedos + Suits, Vests, Menswear, Fashion
Contact Info

Great Service
Reviewed on

10/29/2014
Erin K
We recently used Daniel's for the tuxedos at our wedding and they were amazing! When my husband and I went to pick out the suits it was the best experience we had. We had visited several other tux shops and Daniel's was by far the most efficient and professional. All of the men... Read More in our wedding told me they had a fantastic experience with their fittings as well as picking up the suits. They all looked perfect on our wedding day. We also liked that they picked the tuxedos up for us at our venue (Lakeview). This took a big stress off us and allowed us to spend more time with our family and friends. I would highly recommend Daniel's to any future bride and groom for stress free tuxedo rentals.
---
Wonderful service!!
Reviewed on

7/05/2013
Susan R
Daniel's has amazing customer service!! All the tuxedo's fit perfectly. The staff at Daniel's even said they would pickup the tux's at Lakeview Resort after the wedding so no one had to gather them and deliver them back to the store. Our groomsmen simply dropped off their tux's... Read More at the front desk!! Wonderful services :)
---
So Helpful!
Reviewed on

11/14/2012
Katie S
I had tried a couple of other tux rental companies before Daniel's rescued me! They offered a HUGE selection of sizes and styles along with some AMAZING customer service. My whole family and bridal party looked (and felt!) great! They were also the most inexpensive in... Read More the area. We also had so many tuxes in our order - they gave us 2 free! Seriously - go to Daniel's. They're AWESOME and LOCAL!
---
Reviewed on

11/09/2017
Elizabeth K
I was extremely disappointed during the whole process. From the first appointment selecting what we wanted the men to wear, we were put off. I know I'm probably going to sound like I'm some demanding person here, but this experience was just ridiculous from start to end. The... Read More staff continuously argued with us over style choices and even tried to go behind our back and not order certain items. It's been over a month since the wedding, so this is even after having a chance to calm down about it all. The day before the wedding we didn' t know if the groom would even have a suit. If they were the only suit shop left on earth, I would sew my husband a suit myself the next time.
---
Reviewed on

7/24/2016
Kaitlin Justine B
Overall I was pleased with Daniel's however leading up to the big day I was very nervous that they were going to not have everything together. I had the groom, groomsmen, ushers and dads, and ring bearers all wearing a little different version of the same outfit and each time I... Read More confirmed with them they had something different written down in their notes. On the day of everything was perfect!!!
---
Reviewed on

7/19/2016
Julia B
Great service and they picked up the tuxes from Lakeview!
---
Very helpful
Reviewed on

8/18/2014
Molly
Daniel's was very helpful in choosing our suits for the men to wear. They made suggestions, and even altered the rented suits for a custom fit the day before the wedding!
---
Great
Reviewed on

1/21/2014
Cassie K
They were great to deal with, even though they were in the middle of moving their entire store. They even picked up the tuxedos for our out-of-town guests at the hotel.
---
Very, very pleased
Reviewed on

11/05/2012
Angela J
We chose Daniel's in Morgantown for two reasons -- 1. They have a great selection of tuxes at a great price. 2. We were able to leave the tuxes at the front desk at Lakeview, and they came and picked them up. We initially worked with Phil, who was fantastic. Our guys looked... Read More amazing on the day of our wedding -- and it's all thanks to Daniel's!
---
Many alterations needed.
Reviewed on

5/11/2012
Briana K
Daniels was one of the few places in town that we were able ti find the color/type of suit that we were looking for. We were pleased with their service at first, but when the suits arrived we quickly realized that their measurements were way off. We ordered 9 suits and 8 of... Read More them had to have pieces either reordered or altered. The suit pieces that needed to be reordered weren't in until the morning of the wedding, so there was some added stress wondering if everything would fit. Everything turned out alright, but when we called concerned with the fact that not many of the suits fit and the wedding was the next day, we were told that it was something that happened to everyone and that we shouldn't be worried/upset about it. Not exactly what we wanted to hear.
---
Meet The Owner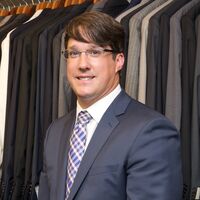 Phil Mauser
Phil, "My father wore a suit and tie every day growing up. I've always seen him dress professionally as an attorney. So I think subconsciously it's something I wanted to do: to be like him wearing a shirt and tie every day. Daniel's of Morgantown gave me that opportunity. I needed a summer job. And Saul gave me a job running errands for him. And here I am now. Been in the men's clothing business for about a decade, owner for about three years."