Home

Definitely Debra Invitations
About this Vendor
Stylish Invitations for all of Life's Events
Here you will find the best selection of invitations available for every budget. Largest dealer of Envelopments for custom orders and DIY brides. Debra is an etiquette expert who is a co-founder of The Stationery Guild. Call Debra directly for your personal appointment 480.491.0903
Details
Custom Invitations, Save-The-Dates, Shower + Party Invitations, Wedding Invitations, Invitations + Paper Goods
Contact Info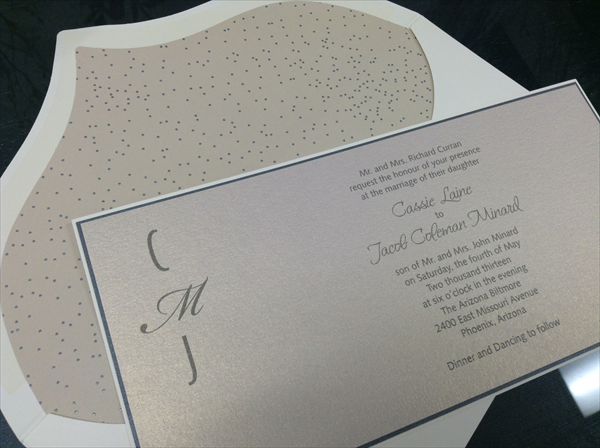 Your search is over!
Reviewed on

10/22/2013
Aleena
I used Definitely Debra for my Save the Date cards as well as my wedding invitations. I cannot express enough how incredible Debra's work is!!! My wedding invitations were a work of art!! She is very helpful in helping you to decide what you want and will provide you with the options you have available based on your budget. Debra is up front and honest - a no BS type - which is refreshing when you have so many other vendors who will tell you whatever they think it takes to sell you more. I would absolutely recommend Debra for any stationary services!!
---
Very Helpful
Reviewed on

5/18/2013
Megan K
I loved my invitations! I came in with a vision of what I wanted and Debra was able to custom make my invitations. They were exactly what I wanted and Debra is very knowledgeable when it comes to writing the invitations. She had a lot of helpful tips and advice. They came in earlier than she said they would, which was a big help. I went back and ordered my Thank you cards from her store as well!
---
Invitations
Reviewed on

4/06/2013
Sarah G
They were wonderful! I was having such a hard time finding the perfect invitation. Debra walked up to us, took the books of invitations off the table and started bringing paper over and created the invitation I was looking for from scratch. I highly recommend her if you just can't find what you're looking for!
---
Reviewed on

7/22/2015
Kelly A
Definitely Debra is amazing! We used Debra for our invitations, place cards and table numbers. They were beautiful and so chic! Everything was flawless and Debra is so easy to work with. Her organization and attention to detail made our picking our paper products such a fun and stress free process! We will use Definitely Debra for any of our invitation or party products again in the future!!!
---
Definitely Debra is definitely your invitation specialist!?
Reviewed on

6/01/2015
Stacey G
Thank you to the knot for having Definitely Debra invitations on your list.. She is amazing and I would suggest to anyone looking for invitations to stop right here!!! You found perfection.. Debra was so detailed, her timing and turn around amazing and even met me on Memorial Day for me to proof my invites.. Now that is someone who cares... The invitations are perfect and the quality is gorgeous... Thank you Debra with all my heart.. My guests will be stunned when they see your amazing work.. Stacey and Rob
---
Reviewed on

5/30/2015
Rachael M
I highly recommend Definitely Debra. I contacted her after encountering an issue with another local invitations company. Debra is fast, creative and easy-going. Of all my wedding vendors, she communicates the best. I also appreciate her ideas and guidance. Rachael Myer
---
This is all you need!!!
Reviewed on

2/11/2015
Luke M
Debra was an ABSOLUTE gem to work with! Not only is she extremely professional and well-versed in creating invitations, but she also made my family and I extremely comfortable throughout the entire process. Debra knows EXACTLY how an invite should read and follows all of the proper etiquette - which is so important when creating your invitations. She worked on my wedding invitation and I cannot wait to use her again in the near future. She is very organized and precise with your order and also adds her own little touch with packaging! Pricing is not bad at all, rather have someone walk me through everything than order online and pray it turns out correctly. I have been telling everyone about her, and I am receiving countless compliments on the uniqueness of our wedding invitation. Can't go wrong with Definitely Debra!!!
---
Invitations
Reviewed on

12/27/2014
Going to Debbie for your wedding invitations is a must! I searched for a person who was able to bring my idea to light, there of course were companies on the Internet I could go to but I wanted to see it in person. I was blessed to have been recommended to Debbie by another invitation vendor, which is an amazing compliment in itself. I had no idea how much the invitation portion of the wedding actually meant. The invitation sets the whole tone for your wedding, people opening them and seeing a unique and wonderfully constructed invite gets people excited to go to your wedding, meek DIY invites are mediocre and no bride wants to be mediocre. Debbie might not be the least expensive place to get your invitations but her knowledge is priceless, you get what you pay for and you will not be embarrassed because someone caught a mistake or there wasn't proper etiquette used. She is the queen of invitation etiquette and a wonderful person to work with.
---
I could not be happier
Reviewed on

9/25/2014
Danielle E
Debra made the invitations for my wedding and I am more than beyond pleased with them. She was amazing throughout the whole process. She took the time to make sure that when I designed my invitations that is was everything I was looking for and more. She was always quick to respond and her prices are better then expected for the amount of work and quality that go in to each invitation. I just received the invitations today and it was so exciting to open up the box, I felt like a child on Christmas day. The invitations looks perfect and I can't wait to get them sent out to my guests. I would recommend Debra to anyone I possibly could. She is extremely knowledgable and so helpful in the process, especially since I was not as sure as to the route I wanted to take. She will far exceed your expectations, at least I know I can say that she did for me. She not only helped with the invitations but gave some great tips and advice when it came to other wedding solutions.
---
Lots of choices for any price range!
Reviewed on

6/24/2014
Samantha R
Debra was great to work with for my invitations and Wedding programs! She has so many options to choose from and a great range of prices. You can really tell she loves what she does and really takes the time to explain your options and show you exactly how it will go together. I had orignally just ordered my invitations from her, but loved them so much decided to have my programs made by her as well! Since she makes everything herself you can truly get a unique product for yourself, which is so much nicer than the warehouse companies with stock product. I would highly recommend meeting with Debra!
---
great invites
Reviewed on

5/20/2013
Brittany F
I loved the invitations I bought from Definitely Debra's. They were fun and simple and in the store they had a million and 12 invites to choose from. The one thing was they are very formal there so they make sure you have have ALL the envelopes and everything like that which now of days isn't really necessary.
---
Perfectionist and Great to Work With!
Reviewed on

4/02/2013
Lynnette A
This is THE lady to get invitations done with. Cannot go wrong. My invites came out beautifully and absolutely perfect. Great to work with. I received MANY compliments! Thank you Deborah!
---
Loved working with Debra
Reviewed on

11/08/2012
Brittany W
Debra is a blast to work with. She is incredibly knowledgeable, and her and her staff were fast and wonderful! Highly recommend for anything stationary.
---
Amazing job
Reviewed on

11/01/2012
Jamie N
They did such an amazing job on our invasions, programs, and napkins for our wedding. There staff was so helpful with us as they are in AZ and we live and had our wedding in MN. They made our invitations look so classy and they were just what I wanted! They did such an excellent job!
---
Beautiful!
Reviewed on

10/28/2012
Danielle S
Debra is very helpful in helping you select invitations and place cards that you want. There are millions of choices of papers and fonts and options. The invitations were very high quality and turned out great!! I highly recommend!!
---
Chose someone else
Reviewed on

10/17/2012
Megan B
I went to Definitely Debra for my save the dates. The lady who helped me was very nice. I was in a hurry and she agreed to rush my order. We designed the cards based on what materials the store had in stock so we didn't have to wait for anything to be shipped. The designer came up with a cute design and I gave her the ok to get started. She called right on time to tell me they were ready. This is where my opinion of Definitely Debra changed. I went in to get them and they were nothing like what we talked about. They were supposed to be on nice linen paper, instead they were on basic white card stock. They were supposed to be square with a nice textured square envelope. Instead they were 4 x 6 with a 5 x 7 envelope! The nice lady who helped me was not in when I went to pick them up. It was Debra the owner. She made me wait while she called the designer, she scolded me for rushing them. She told me this would not have happened had I ordered them sooner. They didn't even fit the envelopes, for goodness sakes! As a solution Debra glued the white card stock save the dates to a larger background card in my wedding color. This way they at least fit the envelope. She didn't apologize or offer a discount. I wasn't completely happy, but I figured they were only the save the dates. I gave them another chance a few weeks later on some birthday invitations. I went in there and Debra was so rude. She was not helpful with the birthday invitations and again scolded me for waiting too long and said mistakes happen when thigs get rushed. She was rude. I felt that I was very accomodating to their mistakes and was even willing to give them another chance. I did not order my invitations from her. I would not recommend this store. I got beautiful invitations done, with great service and a price that was 1/3 less than the price Definitely Debra charged me for cheap white card stock save the dates. Don't use Definitely Debra.
---
Beautiful invitations and a wonderful staff
Reviewed on

9/17/2012
Elizabeth H
I had a very short engagement of only five months and planned my wedding from across the country. It is a daunting enough task to plan a wedding, let alone in a short time. Within my first meeting with Deb and Dori, I had picked out my wedding invitations, all the way down to the font and color of ribbon. Dori was absolutely wonderful to work with. She communicated all the details to me via email and answered my questions. The invitations turned out beautifully, and faster than I anticipated. I would absolutely use them again!!
---
Best Invitations in Phoenix
Reviewed on

8/26/2012
Jon-Michael S
Definitely Debra was the best vendor of all in our wedding planning. Our invitations were beautiful and many of our guests complimented them. We had a ceremony followed by two receptions and they personalized our invitations perfectly to fit our needs. We spent a little more than we planned, but looking back, we wouldn't have changed a thing. Simply stunning invitations and Deb was so involved in making our day special. It was such a pleasure. I would recommend their services to others in the future.
---
Great Invitations
Reviewed on

6/11/2012
Jennifer M
Debra and her team did a wonderful job designing my invitations. She took extra care in selecting a special image (sand dollar) to give my invitations a beach feel. She also expedited my order. Thank you!
---
Invites and more
Reviewed on

5/24/2012
Tricia L
Debra was a our go to girl. She made sure our traditional wedding followed all the correct etiquette. We ordered invites, save the dates, bags, favor boxes, and more. She did a great job and kept us informed along the way. She was great to work with.
---
Wonderful Service!
Reviewed on

5/19/2012
Tisha N
Debbie was so wonderful in helping with our invitations. They turned out beautiful! We love them so much. Debbie always replied to my emails and was a pleasure to work with. Definitely would recommend Definitely Debra to all my family and friends. :)
---
A-M-A-Z-I-N-G
Reviewed on

5/09/2012
Annette V
Debbie was awesome! She helped me custom design my invitations and they turned out great! Even though I had change after change and add on after add on, she always went out of her way to get everything done for me. I will recommend her to anyone I know getting married and I will Definitely use Debra again!
---
Debra Provides Excellent Service!
Reviewed on

3/04/2012
TIFFANY M
As a professional designer, I always buy my supplies from Debra. She is very accommodating and helpful, and often goes out of her way to make sure my order goes just right. Her expert advice is always much appreciated!
---
Biggest & Best Invitation Selection in AZ!!!
Reviewed on

11/29/2011
Jasmine H
It doesn't get better then Definitely Debra's. I looked everywhere for invitations, including online and this is the only place that had exactly what I was looking for, creativity, a variety to choose from, great prices and most of all professional. Debra was amazing, just an absolute joy to work with. She did everything we had asked for and more. I <3 Debra.
---
The Best Place for Invitations
Reviewed on

7/19/2011
Cathryn C
We got our invitations, programs, place cards, and thank you cards from Debra. Debra is amazing and such an easy person to work with. She took great care of me and made sure everything was perfect for my invitations. She was on top of everything and made sure the quality of the products were top notch. Everything we got from Debra looked beautiful. I love going to the store just to talk with Debra. She is an amazing person who really cares about her clients. You will not be disappointed if you use Definitely Debra!! I will continue to use this store for any invitation I need in the future!
---
Send Message