Home

Degas House
About this Vendor
The Famous Home of Edgar Degas
Our New Orleans-style weddings are a blend of art, history and hospitality. Enjoy an intimate setting of Creole elegance in graceful double parlors, or a New Orleans reception in the French Quarter-style courtyard. Available for ceremonies, receptions, rehearsal dinners & parties up to 350 guests.
Amenities + Details
Amenities
Bridal Suite

Liability Insurance

On-Site Accommodations

Indoor

Outdoor - Covered

Outdoor - Not Covered

Reception Area

Wireless Internet
For more details about amenities, please message the Venue.
Backyard, Ballroom, Garden, Museum, Historic Venue, Hotel, Tented
Bar + Drinks, Destination Wedding Packages, Destination Wedding Planning, Destination Weddings, Food + Catering, Planning, Service Staff
Contact Info

2306 Esplanade Ave, New Orleans, LA
Perfect Day!!!
Reviewed on

4/19/2012
Kim S
The venue itself is beautiful. We were both fond of Edgar Degas and his work. It was awesome to both get married and stay there. The staff was amazing. It was as stress free as a wedding can be. Sharon and Kelly were incredibly attentive and helpful. We look forward to returning every year for our anniversary.
---
Exceptional Wedding Experience!
Reviewed on

4/03/2014
Deborah L
As mother of the bride I wanted my daughter's wedding to equal what she had envisioned. I would have to say it met those expectations and beyond. The Estelle Suite, served as a perfect place for the night before the wedding, for the dressing of the bride, and the Bridal suite for the bride and groom. The house and courtyard served as a perfect New Orleans setting for both the ceremony and reception. The Degas House staff transformed the ceremony space into the reception space seamlessly while guests were served hors d'oeuvres. Mrs. Sharon and the waiting staff made us feel at home and truly outdid themselves! Our guests, both local and those from out of town, raved about the exceptional food! The menu offered was a tribute to New Orleans cuisine. The house itself served as a beautiful backdrop for pictures and the cutting of the cake. If you are looking for a venue that provides New Orleans ambiance and tradition this location is a perfect choice.
---
What a fantastic evening!
Reviewed on

3/24/2014
Ashley S
My now husband and I were blown away by how amazingly perfect everything was at the Degas House. It is not only the most beautiful location, but the staff are the most special people. We felt so taken care of and they were kind and helpful. I would suggest you stay there the night before and the night of because things worked out perfectly for us. If you are looking for an intimate setting, this is the place! Also.. the food is to die for!
---
Reviewed on

6/02/2015
Josh P
Everything went perfectly with the Degas House. The attention to detail and flexibility to work with all of our various needs along the way was just amazing. The experience was all very personal, and the staff super wonderful to work with. Our coordinator at the house, Eva, was the best person to work with and did just everything she could to make sure the day went just as we wanted it. Her enthusiasm and knowledge really helped take a lot of the worry off of us. They were so willing to help with any questions that came up all along the way. We stayed there, got ready there, and had the ceremony and reception all on site. That got rid of so much potential stress by doing everything there. I definitely recommend to anyone planning a nice and personal wedding in New Orleans!
---
Charming Place for a Wedding
Reviewed on

5/08/2015
Rachel K
Overall, the Degas House takes care of a lot and it is a beautiful place to have a wedding. We were very happy with our choice. Eva is very sweet, which is helpful when you get stressed out with wedding planning. She helped us with our special requests, like serving nice beers at the reception. They were also flexible with our rooms. However, it was generally difficult to get in touch with her, especially during the last week when we needed a tent for predicted rain. The only reason we got a tent in the end was because the bride from the previous day found one we could share. Ms. Sharon is amazing! Her cooking was great and she made sure we had everything we needed. She even put aside food for us to eat after the wedding.
---
Reviewed on

5/04/2015
Lindsay W
We couldn't have asked for a better setting for our wedding. Eva and the team at the Degas House took exceptional care of each and every detail. The house was beautiful, the food was excellent and every guest was very well taken care of. The weather leading up to our Saturday ceremony was awful and with about 24 hours to go the whole city was covered in mud and leaves...except by Saturday morning the Degas House was spotless. We can't say enough great things about our experience. They were great to work with and did a great job coordinating with our florist and band as well.
---
Beyond Perfect at the Degas House!
Reviewed on

5/01/2015
Megan B
My husband and I decided to hold both our wedding ceremony and reception at the Degas House, as well to stay in the bridal suite that evening. We are so happy that we did! From start to finish, everything was perfect. Eva, our onsite coordinator was a dream to work with. She has a wonderful personality and is the consummate professional, making the entire planning process stress-free. All of the staff at Degas were fantastic and took very good care of us. The historic house and courtyard is such a beautiful and memorable place to be married. Highly recommended!
---
Just what I was hoping for
Reviewed on

4/27/2015
Wendy A
Besides the fact that the Degas House has a wonderful historical value, the grounds are lovely and provided a gorgeous backdrop for our event. My deco-style wedding March 21, 2015, executed splendidly, and all of our guests (75) were delighted by the ambiance! Though I really hoped for an early evening affair, the $10k minimum for a Friday or Saturday night was out of the question, and we opted instead for the altar at high-noon Saturday. The prices then are quite reasonable--no separate venue fee by the hour or charge for linens, chairs, etc. Bah. They have a straight price of $100 or so per head (dependent on the bar selection), with discounts for kids! Of course, you mustn't forget the automatic 18% gratuity, but I tell you, that a staff was worth every penny! Where did they find those SWEETHEARTS?? Oh! And they give you a $150 coupon for the baker! Now that's what I call fair pricing. Eva (the coordinator) was wonderfully hospitable and gracious, and frankly, was the winning piece in my decision to use the Degas House for our destination wedding. She was amenable to everything I wanted to do, but was also very much in charge of coordinating everything from beginning to end. She had my back, but was open to suggestions. She's professional and knowledgable and provided all kinds of advice and recommendations. She was my calming agent throughout the event, because I knew she'd make sure everything went according to plan. My nay-saying groom, who was sure it would be a disaster since he had no control over any of it, was even gleeful during the event, shedding his harrumphy predisposition entirely! He walked away saying it couldn't have gone any better. I'd say it could have gone better... if it had lasted another two or three hours. Three hours was not long enough to fully enjoy the reception. On the subject of catering, I couldn't eat a thing... not even a taste! And as we're from out of town, I had a friend do the pre-tasting for me. However, everyone praised the stuff, so I'm sure our selections were perfect. As for the accommodations, the rooms are gorgeous, but too rich for my blood. I wish I could've afforded to stay there. It's absolutely lovely, though it is a ways off Frenchman and the Quarter. Ultimately, our lodging in the Marigny was perfect for our occasion, and still just a short drive to this venue. From the first time we met and Eva offered me a hug and a glass of champagne, through the building and planning and final execution, Eva was charming and helpful and calmly confident, not to mention sweeeeeeeet! I'm so delighted by our selection in venues, but truth be told, I knew the day would be perfect as soon as he asked me to marry him.
---
Edgar Degas House Delivers Perfection
Reviewed on

3/26/2015
Walt S
When my beautiful bride-to-be and I began searching for wedding venues, we realized there were so many to choose from. From huge and impersonal to small and quaint. After viewing many online and narrowing down our list, we made a site visit to The Degas House. There we met Eva Tracy. She showed us around the house and grounds and really took the time to understand exactly what we were looking for in a venue. After the visit, the choice was clear. We were assisted every step of the way, from recommendations on other vendors, photographer, DJ, etc., to menu planning and accommodations. Every detail was handled flawlessly. The night of the big event was finally here. The house and grounds were beautiful, the staff was amazing and the ceremony and reception were perfect! That is the word that kept coming up throughout the evening and in the days since. All of our guests truly enjoyed themselves and just could not believe the exceptional level of service and attention that was shown. It seemed that each and every member of the staff went above and beyond; not only to provide world class service, but to also make each and every guest feel valued and appreciated. They made themselves a part of the celebration instead of just being there. Ms. Sharon's food was excellent, Erin was wonderful as was Val and Larry. There were many others, whose names escape me now, but suffice it to say, that each and every one of them were fabulous. We also took advantage of the fact that the house is also a bed & breakfast. We reserved all three suites on the second floor and enjoyed our time there immensely. We stayed in the Estelle Suite for our wedding night and it was magical. Being able to walk out onto the balcony and enjoy a few moments winding down from the nights events was perfect. It was so nice to know that when all was done, we only had to walk up a flight of stairs to find our accommodations for the night. The staff graciously provided enough food there to feed the wedding party all over again! The room was full of rose petals scattered about on the floor and the bed. A bottle of wine was chilled and waiting for us. The perfect romantic ending to a perfectly fantastic day. I have thought it over and over and if I could do it again, I wouldn't change a thing. The Edgar Degas House is the perfect place to make your dreams come true. Thank you again to the wonderful staff! We love you all, you made our night truly spectacular.
---
Beautiful Venue, but...
Reviewed on

1/12/2015
Kristen A
Beautiful venue, delightful staff, disorganized wedding planner. She did not have control over the wedding and as a result there was a lot of unnecessary chaos and confusion. I would recommend hiring your own wedding cooridnater if you select this venue.
---
Fantastic in all Facets!
Reviewed on

1/04/2015
Sara B
We used The Degas House as the venue site for our ceremony and reception, and we had an absolutely fantastic experience. Quick Facts: - Event coordinator, Eva Tracy and staff were amazing to work with. - Caterer was incredible, provided a wide variety of options and was accommodating to dietary needs. - Physical venue is historic and beautiful. - Value of the wedding package was far superior to other venues we looked at. Throughout the entire wedding process, The Degas House event coordinator, Eva Tracy was a pleasure to work with. She was very easy to get in touch with, always positive, very patient, and extremely helpful with every single issue and question that came up. During the ceremony and reception she was always on hand and made sure that everything went smoothly, including a number of unique requests that we had. All of our guests were well taken care of, as were our DJ and Photographer which we really appreciated. One of the many reasons why we chose and loved The Degas House, was their caterer. The menu options as part of the wedding package were plentiful to choose from, and we were extremely pleased with the fantastic quality of the food. In fact we are still getting the occasional comment on how good the food was, over a month after our reception. The caterer was also able to accommodate a variety of dietary needs for our guests without any issue. The venue itself is beautiful and historic. It allowed us to capture the feel and experience of New Orleans without having to be in a very crowded part of the city for a big name venue, or a park. The buildings themselves are picturesque and comfortable for hosting an event, and the courtyard outside was perfect for an outdoors event, even toward the end of November. Furthermore, the bedrooms upstairs were very comfortable both to stay in, and to use in getting ready for the event. Finally, with all the options that come with the wedding packages, a wedding at The Degas House allowed us to get all that we wanted and more while still keeping to a budget. We strongly recommend The Degas House, for wedding ceremonies, receptions, and even just for a great B&B.
---
My own little fairytale!
Reviewed on

11/01/2014
Candy H
Word cannot express how thankful I was to find this venue! I am a New Orleans girl born and raised but have been living out of state for a while now. Planning away from home was quite the challenge but Eva and The Degas House made things so much more easier for me! I called venue after venue and each one, I just felt kind of beside myself. More as if because I wasn't physically there, they didn't really want to help. Instead of just make it work, I kept looking and I am SOOO glad that I did! From start to finish The Degas house made me feel so welcome! From every phone call to every e-mail, they were there to answer everything! The moment I meant Eva, it was the most comforting feeling any bride can have with their venue! She made me feel like family! Eva took care of everything for me so that I and especially my family didn't have to worry about a thing! Everything looked absolutely beautiful, and I will remember them forever! I had the most carefree and loving day to last a lifetime! The only regret that I have is that I didn't get a chance to thank the staff personally the night of the wedding. It FLEW by but every time I turned around a staff member was there to make me smile! I was this nervous bride sitting in the stairwell, trying to peek at who was out there! lol Just waiting...nervously for it to be the moment when I am facing everyone for the first time. A couple of the staff members waited with me to give me the signal and while we waited, they made me feel so comfortable! She told me stories and took away all of nerves! I literally felt like I had a whole new family on my wedding day and that really meant a lot to me! Ms. Sharon's food was the talk of the town too! My whole family raved about her and she sent us off with the food we didn't get a chance to eat and for the next couple of days we were in heaven! I'm hoping she sends me the recipe to her red beans! LOL The Degas House was an absolute beautiful place and the staff just topped it all off! I could keep going but you really should see it yourself! The pictures does NOT do it justice either, I had my questions of space not being able to be there but when I finally got to see it, it was like a moment in time. I cannot thank you all enough for everything that you did for me, my new husband, and all of our friends and family! Can't wait until we see you all again!
---
Vow Renewal
Reviewed on

10/31/2014
Beverly J
We were very excited to find out that our original date of our wedding 10 years ago was available. We were very impressed from there on out. The staff the days leading up our renewal was so supportive and professional. The day of was stress-free and everyone had fun. Everything went even smoother then our wedding years ago:)
---
Bridal Shower Fun!
Reviewed on

10/31/2014
Rachel C
This past summer I hosted a Bridal Shower at Degas House. We wanted something different and fun. I worked with Paige on our small event, but she made us feel important. It was fun! We had beer, wine and appetizers. We got to bring in our own cake. They even helped us with games- it was part of the Dressing of the Bride Package. We just added on to it. It was really nice for the older people who came, they had just as much fun as us girls being silly!
---
Romantic Backyard Wedding
Reviewed on

10/31/2014
Megan M
I highly recommend getting married here! My partner and I got married in NOLA for our destination wedding and were only able to make one trip down to the city to pick a venue and get everything in order. We had a list of place to visit, but after visiting Degas House, we were so excited and we knew that it was "the one." We rented out the entire bed and breakfast (8 rooms) for the weekend and had our immediate family from all over Canada and the US stay with us at the house for four days total. One of my best memories is waking up and hearing our family downstairs talking and laughing. We had the run of the house and it literally felt like we were home. The staff are ABSOLUTELY INCREDIBLE! They were warm, funny and extremely responsive to our needs. Every single person in our family said that they actually felt as if the Degas House staff were family, which made our wedding weekend so much more special and memorable. The event staff, Eva (wedding planner) and Paige were amazing from the moment that we first visited Degas House until our taxis arrived at the end of the weekend. They accommodated everything that we asked for and were quick to follow up via email/phone leading up to the event. We organized a beautiful rehearsal lunch outside in the courtyard and Degas House brought in an amazing chef to cater our meal (chef made vegetarian accommodations too!). The meal was elegant and beautifully arranged and Paige and Eva even served us! Degas' great grandniece (who works in the museum) came to our luncheon to give a welcome and explain the history of the house, which I would highly recommend. Our family was blown away by this special surprise. In looking at photos before, I thought that the courtyard looked a bit small to accommodate our ceremony, but it fit our 100 guests perfectly without leaving too much empty space. We brought a lot of our decorations and the staff set them up. Degas House has a beautiful white arbor that a past bride donated to the house and is available for couples getting married there. Everyone said that our wedding was one of the most beautiful and romantic weddings that they had ever been to, largely because of the setting. Degas House will get you out of the French Quarter in a beautiful historic neighborhood with huge live oaks and lots of space to enjoy. One more thing, our reception was held outside, but we also used the parlor of the home for seating. If you have any piano players in your group, there is a baby grand in the living room--my dad and his best friend played a blues duet for everyone. My final suggestion is to ASK Eva or Paige if you have any questions or concerns and trust that they will work it out for you. They are extremely flexible and want you to be happy! We are already planning our visit back to NOLA and want to stay at Degas House.
---
A Prefect Day!!!
Reviewed on

10/31/2014
Elizabeth S
My perfect day was everything it was supposed to be thanks to Eva, Paige, and the rest of the amazing staff at Degas House!! They worked with me on every detail, making sure I was completely satisfied! My husband and I were on a VERY tight budget and that didn't compromise their service or enthusiasm at all! From the tasting and full bar selection, to help with a florist, bakery, and send off ideas, Degas was there every step of the way! They waited on us hand and foot throughout the exceptionally coordinated ceremony and reception; my husband and I never had to 'lift a finger' and never were without a beverage in our hands and smiles on our faces! They made sure we got to eat by setting us up our own table on our suite balcony for the two of us to eat and visit together after the ceremony and before the reception. The food was plentiful and delicious!! We were so excited to find after we returned from our 'just married' celebratory cocktails at the Sazerac that they had decorated our suite with our wedding flowers, more food, our pictures of us with which we had used to decorate our reception tables, and rose petals adorning the bed!! It was such a memorable event and the staff at Degas House made it all the more memorable! I obviously do not intended to get married again, but if I did, I'd do it all over again at the Degas House, absolutely!!!
---
our wedding at the Degas House
Reviewed on

10/30/2014
Ashley B
We just got married at the Degas House in New Orleans. The entire experience was PERFECT! Our wedding planners (which were included in the entire wedding package) Paige and Eva were so wonderful and helpful and fabulous that I wasn't stressed for a second. They even got the Degas House wired for more electricity to accomodate our amazing band! Paige felt more like a best friend than a wedding planner. She was easy going, friendly and made everything go so smoothly. I didn't have to do anything on the big day and that made it so wonderful. Our ceremony was gorgeous! The lighting they use down the courtyard and over the dance floor was so beautiful and magical. It really made for an enchanted evening. My entire family stayed at the Degas House which was such a cool experience. The rooms were great and the breakfast was spectacular every morning. My bridesmaids and I got ready in the Estelle Suite which was so fun! We had lunch on the balcony and took some amazing photos overlooking beautiful Esplanade Ave. We used Ms. Sharon, who is employed by the Degas House, to cater our wedding and she did not disappoint. The food was superb. Everyone loved it. We had such a great experience with the Degas House that we'd do it all over again in a heart beat. It was absolutely the best day of my life and I have Paige and Eva and the Degas House crew to thank for that. I know my husband agrees. We thank you all from the bottom of our hearts and we also HIGHLY recommend this vendor for your wedding day.
---
Vintage Chic Wedding
Reviewed on

10/29/2014
I was married at a local church in New Orleans and had my reception at The Degas House. I have nothing but AMAZING things to say about The Degas House, their staff, and the wonderful reception they helped put together. First, Eva, our wedding coordinator went above and beyond to make sure our reception went perfectly. She was constantly in contact with my mother and I to make sure everything went better than it was supposed to. You could always count on her to email you back the same day, if not within a few minutes, even if it was later in the evening. Next, the staff set up everything we had. Any decorations, favors, anything was set up so that my parents did not have to worry about it the day of the wedding. Eva placed everything where it was supposed to go and never missed a beat. The day of the wedding was fantastic. The second my husband and I got off the street car Eva was smiling with champagne glasses in hand to greet us and get me freshened up. She was constantly telling me what was next and giving me a heads up if I needed to be anywhere for toasting, cake cutting, etc. I literally didn't have to worry about a thing and was able to let go and just have fun with the guests and my husband. The staff could not have been more perfect. They were smiling, getting food for my husband and I without us asking, and making sure we were eating (since I'm sure most of you have heard that the bride and groom usually don't eat on their wedding day). They were always checking on our guests and a joy to have. The food was to die for! If you are looking for amazing New Orleans cuisine you do not need a caterer for this venue. They will also try to accommodate anything you may want at your reception. I gave the Degas House 5 starts for all of these reasons listed above and so much more. If you are looking for a place with exceptional service, a New Orleans feel, and beautiful atmosphere this is the venue for you!!
---
If you're getting married in New Orleans, this is the place to do it!
Reviewed on

10/29/2014
My husband and I live in Chicago and we wanted to get married in New Orleans. We were lucky enough to find the Degas house to host our dream New Orleans Wedding. They could not have been more accommodating and wonderful in planning a destination New Orleans wedding! -The food was gourmet and classically New Orleans, prepared in house by an extremely talented local chef Ms. Sharon who has worked there for years (they provided a tasting for my parents and my husband that was simply wonderful); -The owner David was so helpful and generous in talking to us, showing us around, and really made us feel at home during our stay there; -We got to stay in the Degas house where the wedding was held, and just walked up stairs to an amazing honeymoon suite in old style New Orleans decor at the end of our ceremony; -The wedding planners (Eva, Rachel) were incredible (Degas house provided us with wedding planners!)! Every need we had, every convenience we hadn't even considered, they had already taken care of. They catered to what we wanted and helped us from the beginning until the end of the second line! They even wrapped up food and cake for us at the end of the night and had it waiting in our room knowing we'd be famished; -The Degas courtyard was classically New Orleans, with gorgeous lighting between the houses, full space for our 8 piece band, and flawless access to the main house; -The main house was stunning and a wonderful place to cool off and mingle between the courtyard and the guests; -The Degas staff was first class, professional, cordial, and showed us that constant warm hospitality New Orleans is famous for; Degas house created an incredible event for us and we would choose it again in a heartbeat. All of our guests keep telling us that "this was the best wedding [they've] ever been to." As we talk about it, ours was the best wedding we've ever been to as well. And at the end of the day, our wedding was the best wedding for us, because it was at Degas House. I cannot recommend Degas house enough to anyone and everyone I talk to. Degas house is THE place to have a wedding in New Orleans.
---
Innovative Ideas in an Elegant Setting
Reviewed on

10/29/2014
The Degas House provides that charming Southern elegance that is uniquely New Orleans. I personally have attended several events ... ranging from art gallery receptions, private parties on the patio, and their unique "Dinner With Degas". The staff is so accommodating; the food was delicious; and the setting is just perfect. A lovely venue for a destination wedding!
---
Great atmosphere, friendly staff
Reviewed on

10/29/2014
I was at the Degas house with 16 guest and had an unbelievable experance with the food , service , and entertainment. Working with Page was awesome took care of all of our needs and put our experance over the top.
---
Magical Venue with a Fairy Godmother
Reviewed on

10/29/2014
The Degas House was a perfect location for our reception. Not only is it beautiful, the staff is knowledgeable and helpful. The venue was already wonderful, but only became better when they saved us from a very difficult situation. At the last minute (3 hours before the reception!) our caterer went missing and we were completely lost. It looked as if we were going to have a reception without food (a problem in general, but even worse in New Orleans, where we love our food!). As soon as Degas House heard about our troubles, they sprang into action, somehow creating a feast within hours. David, Rachel, Paige, and Eva were so helpful, and the talented chef, Ms. Sharon, salvaged the night with delicious in house catering. Our approximately 300 guests were none the wiser and the party went off without a hitch. Everyone commented on the great atmosphere and flow of the event and fully enjoyed the ability to travel throughout several spaces. Working with the staff, we decided on 3 different musical acts for the main house, the second residence, and the courtyard. The flexibility of the space makes me want to throw other events there in the future. Above all, though, I will never forget the grace and generosity of the Degas House staff and their extensive efforts to make sure our reception was everything we envisioned.
---
Truly New Orleans
Reviewed on

10/29/2014
We could have chosen from any number of banquet halls, but the Degas House is the only way to go if you are looking for an authentic New Orleans experience. The house and grounds are beautiful, the food delicious, the history of the home fascinating, and the staff extremely helpful and professional. Our coordinator, Eva, was a dream to work with. My son and his bride were absolutely thrill with their wedding. It was everything they hoped a New Orleans wedding would be. If you are looking for something out of the ordinary, this is the place! Leslie Quinn, Florida
---
So Romantic!!
Reviewed on

10/29/2014
Rose G
Beatiful and elegant, we had a great time for our wedding and everyone was so accomodating. Eva and Paige were great, thank y'all for making our day so special!
---
A Truly Memorable Experience
Reviewed on

10/28/2014
We feel so fortunate to have had our daughter's wedding reception at the beautiful Degas House! The romantic atmosphere of the historical home and charming courtyard was the perfect setting for a New Orleans wedding celebration. The entire Degas House staff was so attentive and warmly catered to each of our guests making everyone feel so welcome. All of our guests enjoyed the delicious dinner buffet prepared by Ms. Sharon. We received so many compliments, and the New Orleans cuisine was one of many special highlights of the evening. We loved working with Eva, our wonderful wedding coordinator. She handled every detail of the reception in such a caring and professional manner. She truly has a special gift for smoothly coordinating all aspects of wedding planning, and her kind and sweet spirit was so appreciated. It was such a sincere pleasure working with the exceptional staff at the Degas House. The venue is one of the most beautiful settings in all of New Orleans. It was a wonderful experience, and we will treasure the memories!
---
Meet The Coordinator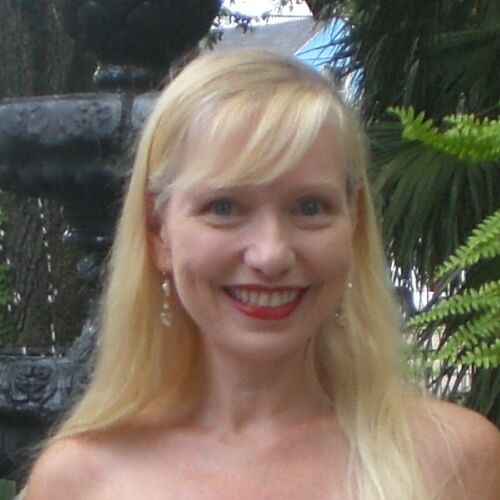 Eva Tracy
Eva Tracy is the main wedding coordinator at Degas House. From the first time you step on the property for your site visit, Eva will be involved in helping you plan the wedding of your dreams. She will help with your planning and be there with you to coordinate the ceremony and reception. A reading of our reviews tells you all you need to know about how much the brides and grooms like and appreciate her.
Send Message