Home

Designs by Tricia
About this Vendor
We'll make your floral dreams come true!
Satisfying your needs and desires is our ultimate goal. Each floral design is created with individual attention...each is a true original! With over 15 years of wedding experience, we can do it all...Traditional, Classical, European, Contemporary and Ikebana. During your free personal consultation,
Details
Aisle Decorations, Centerpieces, Flower Girl Baskets, Pedestals, Vases, Decorations + Accents, Bouquet Wraps, Bouquets, Boutonnieres, Flower Arrangements
Contact Info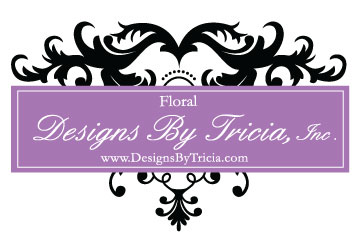 18 Helmcrest, Aliso Viejo, CA
Designs by Tricia, Inc.
Reviewed on

9/25/2013
tina m
Even though I am working with Brides all the time in the business I am in, when it came time for my only daughters Wedding it was evident that I was in for a rude awaking. This statement pertains to the many aspects of Wedding planning that one doesn't think of. In the beginning a budget was put in place and we were not to deter from it, my daughter being the wonderful wise young lady she is just wouldn't have it any other way. We went to many Wedding shows, talked to many people, and then when it came down to Vendors we listened to people we trusted. Becky Halbreich from Dove Canyon Country Club recommend that we set up an appointment with Tricia for our flowers. This was without a doubt one of the best decisions we made. Tricia is there to help you make your Wedding Flowers part of the dream that you envisioned for your Wedding day. She listens and knows her business, she cares and knows flowers, plants, etc more than anyone I have ever known. My family comes from a horticulture background and knows about flowers, Tricia's knowledge takes this to a new level. The first time we went to Tricia's house, yes she has a complete florist in her home and loves and cares for all of her plants like her very own kids. The florist is critical in your decision making as we soon found out. Their were so many suggestions and input that Tricia provided about flowers, plants, succulents, and vases, etc. In fact I had a special charm that I wanted put on my daughters bouquet as a memory of her Grandpa's recent passing. This was done in private without the secret leaking and made the Wedding day even more special. After the Wedding Tricia even sent us pictures that she took of all the flowers. This will not mean as much to you until you have your Wedding, because you will find out that if you are like us we didn't even get to see the flowers until the room was filled with people. Each and every little detail she thinks of is just for you and her biggest concern is taking care of YOU! Tricia is personable and knowledgeable and her work speaks for herself!
---
Best floral design I've ever seen
Reviewed on

7/06/2014
Lara B
I was delighted to have the services of Tricia from Designs by Tricia this June 2014 for my 10 year vow renewal, as I did for my wedding 10 years ago. Both ceremonies were at Disneyland (Hotel, Wishes collection wedding). I was referred to her through a friend's wedding I had been in. In that wedding I was so delighted with my bridesmaid bouquet, and all the floral that I was interested and asked my friend about her. The bride was head over heels delighted with her and the price value she received, but most of all the quality of her flowers. Back then I had a simple bouquet of pink and white roses...this time I have a much better idea of what is beautiful and partnered better with Tricia with an outstanding bouquet. With both bouquets I was delighted! But my tastes have simply gotten better. That's the great thing with Tricia....she'll do whatever you like, and make it look wonderful. She will have GREAT advice though. I'd say one of the major hallmark's of going with Tricia is that she takes great care to get floral immediately before your event (it is the freshest it can be), stores it overnight in a temperature controlled environment before completing design just before your event. After witnessing several weddings I'm really shocked at how poorly some vendors will deliver floral to brides and grooms. That doesn't happen with Tricia. She is fantastically reasonable on price (though you have to understand Floral is one area that you need to seek out quality first and foremost, as the prices of flowers don't go down, and depending on season, some flowers may cost more). For my original wedding Tricia did all of my floral and it turned out amazing. She added Disney touches that made my floral magical then and this time. I just wish that for our vow renewal, I'd had her do the ceremony gazebo décor, since Disney's selected florist made a big error that Tricia would never have (they didn't include one of the colors they were contracted to, and the floral was droopy). Fresh flowers are Tricia's hallmark, and she doesn't deliver poor quality or missing elements. You cannot go wrong with her.
---
Look no further, Designs by Tricia, SERIOUSLY AMAZING
Reviewed on

10/08/2013
OK, so I know putting fives across the board might seem a little excessive, but seriously (SERIOUSLY!!!), Tricia was truly amazing. I really would give her a 10 out of 5 on responsiveness and flexibility if I could. Why does Tricia deserve all this praise? I'll tell you: with a sudden change in plans I was in need of a new florist about 3 weeks before my wedding and Luckily we found Tricia who was available that weekend. After calling her on a Monday we set up an appointment for that Friday. Tricia, my Mom and I spent a couple of hours that evening working out about ten months worth of ideas and magazine clippings I had collected. Not only was she excited throughout the whole meeting, she never once made us feel bad about the short timeline. Tricia was so fun to work with, I never remember her once saying "I can't do that" but instead would always say "That's a great idea! We could also...." Over the next few weeks we were in constant contact and I felt included and at ease with each of the floral decisions. She was very considerate of our budget and was always trying to find ways to achieve the look I wanted without going over budget. When I arrived at the reception the flowers were breathtaking, above and beyond my expectations. EVERYONE wanted to take home a centerpiece. Tricia was an absolute pleasure to work with and I would recommend her to ANYONE.
---
Amazing flowers! Everything was perfect!
Reviewed on

4/14/2015
Traci W
Tricia went above and beyond my expectations. We met in person twice before my wedding and were in constant contact through emails and text messages. Her level of involvement and detail helped put me at ease about my flowers. She showed up on time and everything was perfect. Thank you Tricia for helping make my day so special!
---
Tricia is Great!
Reviewed on

12/16/2014
Tricia is amazing! She was referred to me by my wedding videographer. I emailed Tricia to see if she was available on our wedding date and she responded promptly. I met with her at her house for the initial meeting where she showed me pictures of weddings and events she has done. That helped me a lot because I was one of those brides who had no idea about flowers. We contacted each other several times via email before wedding day. Tricia was always very quick to respond, sometimes in the middle of the night! I went to her house again about a week before the wedding and she showed me some of my flowers. Tricia is very nice and she listens and makes suggestions. I highly recommend her.
---
Just Stunning!!!
Reviewed on

12/06/2014
Natasha G
I am not even lying when I say that Tricia was my favorite vendor from my wedding. In the months, weeks, and even days leading up to my wedding day, Tricia was so responsive and even did her absolute best to accommodate my last minute requests. I can only imagine how frustrating that must be, but she did whatever she could to make my vision happen. And the results far surpassed my expectations! The flowers for my wedding were so beautiful, and exactly what I was hoping for. I would recommend Tricia to anyone in search of an excellent florist!!
---
Designs By Tricia
Reviewed on

10/29/2014
Sara s
Tricia went above and beyond what I ever could have expected. She was extremely easy to work with, had helpful suggestions and truly cared about my opinion and what I wanted. From the very first meeting I knew she would be the perfect addition to my wedding vendor list. Tricia was prompt in replying to emails and always made herself available to meet. She even offered for me to meet her at venues where she was doing the flowers for a wedding that day to get some ideas. You can tell how passionate Tricia is about her business and the amazing arrangements she creates. I LOVED all of my flowers and everything turned out exactly as how we had discussed. I knew I wouldn't have to worry about anything as far as flowers go because Tricia was so on top of it and organized. I would highly recommend Tricia to anyone planning their wedding. She is absolutely the best and really cares about her brides :) You won't be disappointed!!
---
Unique, beautiful flowers, excellent service
Reviewed on

10/21/2014
Tricia is not only extremely professional and talented, but she is a lot of fun to work with. You can browse her webpage to get an idea about her style which my wife and I very much liked from the moment we saw it. We used succulents in our arrangements which were different from other arrangements we had seen and they were beautiful! Tricia is also very fun to work with and her service was top notch in every way. I truly hope you will consider her for your wedding. She will partner with you the whole way and you will not be disappointed.
---
Beautiful Wedding Flowers
Reviewed on

10/20/2014
Ashley B
To say Tricia's floral arrangements are stunning is an understatement. Everything about my experience with her and her work went above and beyond my expectations. Her passion for her work is so apparent as is her talent and creativity. On the day of my wedding, she delivered every little detail we talked about when choosing my arrangements months before and even took time to add in a few floral surprises around the wedding venue that meant so much to me. She takes the time to really get to know her brides and treats you and your wedding so intimately. That is what sets her apart from most wedding vendors I worked with and I appreciated it. She wants you to feel special and will not settle for anything less than perfect. In the midst of the chaos of wedding planning, Tricia was always there to answer any questions from floral arrangements to bridesmaid dress colors to decoration ideas (even my questions I had in the wee hours the night before my wedding). Like I said, she goes above and beyond! I cannot wait to have her do floral arrangements for baby showers in the future :) If you want someone you can trust 110% to make your wedding florals gorgeous and have a stress-free and fun experience then look no further. She is the best of the best!
---
Tricia made our wedding beautiful and elegant!!!!!
Reviewed on

10/17/2014
Raizalyn L
Tricia picked out the most gorgeous purple dahlias. We loved the bouquets and floral arrangements she created for our wedding. She made the water fountain look amazing and perfect by adding purple and red flowers to the greenery and around the fountain. All together she made the wedding reception look so beautiful and elegant. We relied on the flowers to show the purple and red color for our wedding and Tricia delivered. She's very easy to talk to and she makes you feel comfortable. From our first meeting to knowing nothing about flowers until the day-of with last minute changes, Tricia was so flexible and willing to make things absolutely perfect. Her passion for flowers and weddings really shows with her work.
---
Wedding Flowers
Reviewed on

10/09/2014
Kristin H
I was so happy when I saw my flowers! Tricia far exceeded my expectations. She was so easy to work with and she delivered the most beautiful arrangements. She was also very respectful of my budget which I greatly appreciated. I would sign her again in a heartbeat!
---
Tricia's flowers are beautiful!!!!!!!!!
Reviewed on

10/06/2014
Rachel W
Tricia is by the far the best florists I could have hired for my wedding! In fact, I only spoke with her and never even looked into anyone else because I knew right away there was no one better. Her prices are great, she is super easy to work with. She responds to emails quickly and is extremely flexible. Wedding planning can be stressful and with her easy going demeanor, I enjoyed working with her. She worked within my budget and had great alternatives for the bridesmaids bouquets while keeping my bouquet exactly what I wanted. She even allowed me to make a change the week of my wedding. Everything with Tricia was just easy easy easy. And did I mention that my flowers were GORGEOUS!!!!!!!!!!!!!!!!!!!!!!!!!!!!
---
my wedding flower
Reviewed on

10/06/2014
Claudia l
I loved my flowers on my special day thanks Tricia
---
Best Florist in OC
Reviewed on

9/22/2014
Kelle P
Where do I begin?! We knew Tricia was a fit for us the moment she welcomed us into her beautiful home on our first meeting. Her work is beyond impressive and her prices are more than fair. She took the time to sit down with us and discuss our budget and options. When I told her I wanted Dahlias for my March wedding she said it would be hard to do based on the time of year and the budget I had set but she would see what she could do. On my wedding day I had the most beautiful pink and white dahlias in mine and my bridesmaids bouquet I was blown away. She is incredibly thoughtful and her work speaks for itself. The best florist in Orange County! Tricia was a pleasure to work with from start to finish. Thanks Tricia!
---
Tricia is the BEST!
Reviewed on

9/19/2014
Jennifer S
I could not have asked for a better florist for our wedding. Tricia is SO thorough, responsive, adaptable, and most importantly made the most gorgeous arrangements for our wedding. I am so thankful to have found her! All of our guests were raving about how beautiful the flowers were!!
---
Loved our flowers!
Reviewed on

9/18/2014
Cory N
Tricia did an amazing job with our flowers, she captured our vision and made our day special. We highly recommend using her for your big day. My husband and I were super happy with her service.
---
Happy Bride
Reviewed on

9/16/2014
Daisy G
When I first went to Tricia, I had found out that my flower of choice was unfortunately not in season at the time of my wedding. I had my mind set that I wanted peonies in all f my arrangements, so hearing that they were unavailable at the time of my wedding was not what I had wanted to hear. I had no idea what I wanted for my flowers since I had my mind set. However, Tricia made it very easy for me, she had MULTIPLE flower arrangements in her home for me to see the different flowers in person that were available. On top of that, she had hundreds and hundreds of pictures to show. She made the process easy peasy! She recommended Garden Roses which almost look exactly like Peonies, (which they did). Tricia definitely knows her flowers! Needless to day, the day of my wedding came and I was MORE THAN HAPPY with all of the beautiful flower arrangements she had made for us. I'm still receiving compliments on all of our flower's! Can't wait to receive my pictures back and look at them again! Thank you Tricia for your absolutely amazing work!
---
Wedding Florist
Reviewed on

9/08/2014
Autumn C
Tricia was a delight to work with. She made sure that all the flowers were exactly as I had requested and more! I am so glad I didn't second guess my gut, Tricia was my first florist that I looked at and my last! I will definitely recommend her to everyone I know for weddings, parties... anything!
---
The Best!
Reviewed on

6/08/2014
Megan G
I can't recommend Tricia enough. First of all, she doesn't have a minimum for an order which was perfect for us because we only did personal flowers at our wedding. Honestly, that in itself was hard to find. Tricia came recommended by the representative at my venue, who had used Tricia for her daughter's wedding. Which seemed like a good sign to me! I met with Tricia at her home office, and we talked through what I wanted for the bouquets, boutonnieres and corsages. I brought some pictures I liked and while other florists I met with basically suggested just copying those pictures, Tricia expanded on it, suggesting other flowers in similar colors/styles. Tricia even found a special tulip at the flower market and put that in. I would never have known about it but I absolutely loved it. I ended up with a truly unique bouquet that felt very "me." The rest of the flowers were great as well, and held up very well through the whole night. Tricia was extremely professional and quick to respond to texts and emails. She seems to truly love her work and it shows. Also, her prices are incredibly fair, I think even low for the quality of the work. Hire her!
---
Best Florist Ever!
Reviewed on

5/30/2014
Rachel G
Tricia was the florist for my husband and my wedding on May 4th 2014 and she was so perfect for us!!! I had been concerned because I was so lost among flowers, but Tricia was able to create the most beautiful floral arrangements for the chairs and chuppah at our ceremony and the boutonnieres and bouquets looked amazing. Tricia's flowers elevated our wedding without going overboard, they matched our personalities so well; thank you Tricia!
---
Amazingly Talented!
Reviewed on

5/10/2014
Donna D
I can not say enough how amazing Tricia is and how beautiful our flowers were for our wedding day! I am so blessed to have chosen Designs by Tricia as not only the flowers and arrangements were beautiful, but the creativity and Tricia's commitment was impeccable. Tricia is super personable, professional, responsive and knows her flowers! I had a vision, and she went above and beyond to make it more than I could have imagined. What a dream florist to work with!
---
Tricia not only understood our dream wedding she made it happen
Reviewed on

2/24/2014
Amber W
My husband and I met with four other florist's before meeting with Tricia. I was getting discouraged that a florist would not be able to make our October plum country themed wedding possible. The moment we walked in the door to meet with Tricia she made us feel like we had been friends for years. Tricia is so sweet and personable! I described my plum country elegance themed wedding to Tricia and she got up, went to her garage and brought some flowers out to show us. She designed our centerpieces right in front of us. Tricia not only understood our dream wedding she made it happen. Tricia was quick to respond to all questions I had and kept me updated at all times. We were overwhelmed by how sweet Tricia was. My bouquet was everything and more I pictured for our big day. She was even able to attach to charms of our Grandma's who had passed away on my bouquet. Tricia provided a wide variety of flowers and floral designs for our wedding. The moment I walked into the reception and saw the centerpieces I cried. It was perfection and everything I had always dreamed of. Tricia even designed our cake! Our bakery only baked and frosted the cake. Tricia was the one who placed the cake topper and cascading flowers onto it. The cake was a show stopper at our wedding with how beautiful it was. Some of the flowers on our wedding cake were even from her garden, absolutely gorgeous! Words cannot express how much Tricia made our dream wedding happen. Tricia became more than our florist she became our friend and I am truly blessed to know her. I am definitely going to be using Tricia for any event we need flowers at, she is the best florist!!
---
Beautiful Wedding Flowers!
Reviewed on

11/10/2013
Joelle W
I can't express just how wonderful my wedding flowers were and how great it was to work with Tricia! She is a true artist, professional, and overall nice person. She was so helpful too--she had great recommendations and is an expert in flower arranging, that's for sure! When the bouquets arrived I screamed in excitement because I couldn't believe how gorgeous they were. My bouquet complimented my dress and hair so well, I truly felt like a princess on my wedding day. Thanks so much to Tricia and her team, all of my dreams came true!!! I highly recommend Designs by Tricia for future brides!
---
Amazing Flowers!
Reviewed on

10/22/2013
Melissa H
People still talk about how beautiful the flowers were. My daughter was extremely happy with all of the arrangements.
---
Loved my wedding flowers!
Reviewed on

10/16/2013
Laura C
My husband and I got married on September 21st 2012 in Laguna Beach at 7 Degrees. Tricia designed our flowers for our wedding and we were so happy with everything. We both live in San Francisco, but wanted to get married where we grew up- in Orange County. We were a little nervous about planning a wedding from far away but Tricia made everything easy. She was always responsive to emails and calls and was flexible in her scheduling to meet with us when we were in Orange County. She also was considerate of budgeting and didn't try to make you spend more than you wanted, which we encountered with some other florists. Everything turned out beautiful. The flowers we're exactly as we had discussed and lasted for a while after. (My mom enjoyed them since we were on our honeymoon.) I loved seeing everything come together the day of the wedding and was very pleased with the final result. Also my bouquet was my favorite part! It was so beautiful-- we received lots of compliments on the flowers :) I would definitely recommend Tricia for any brides!
---
Send Message