Home

Devlin Photography
About this Vendor
Storytelling Images
Christopher Devlin has been a visual artist for over 20 years. His style and art for storytelling, results in captivating, truthful images that translate into a photographic collage of lifelong memories. A well-recommended photographer, Chris seeks to exceed your expectations!
Details
Online Proofing, Digital Files, Wedding Albums
Contact Info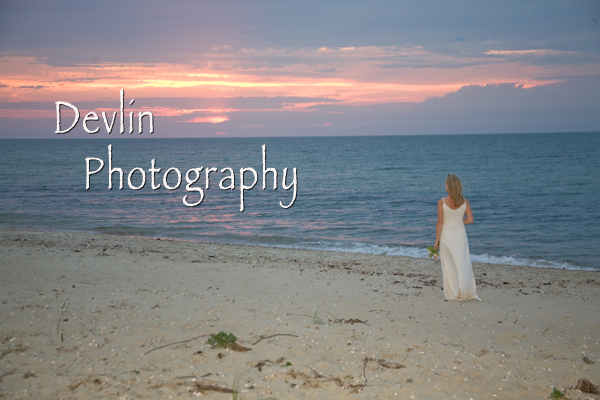 New England and NYC Metro, CT
New England and NYC Metro
Devlin photography
Reviewed on

10/26/2014
Theresa G
Chris was one of the best decisions we made for our wedding at Anthony's Ocean View this summer. From the start he was very approachable and flexible with what we were trying to capture in our photos. We were extremely pleased with our engagement photos taken by him a year before our wedding day. He made us feel comfortable by giving us ideas on how to make the pictures stand out while taking advantage our surroundings. On the day of our engagement session, I saw a butterfly on a flower at the park where we were, and he actually got a picture of us with the butterfly centered in. On our wedding day, Chris met my husband and I at the hotel where we were getting prepared. He got many candid shots of us and our families that we didn't even realize he took. He then met us at our venue where he got amazing photos of our beach ceremony, formals at sunset, and a huge family picture including both sides of the family. When we received our digital pictures we were surprised to see so many details that were a part of our wedding day which we would have missed if Chris wouldn't have captured them. He was also extremely patient being that we had a big wedding and everyone wanted a photo with us. Even after the wedding, Chris has worked with us when ordering prints to ensure that the pictures look even better than the original. I would recommend Chris to anyone who is looking for a patient, professional, and experienced photographer!!
---
amazing
Reviewed on

1/09/2013
Mindy J
chris, and his work, is nothing short of amazing. i was immediately comfortable with him from our very first conversation. he was communicative, and definitely understood what we were looking for as well as offering some of his own great suggestions. his photos captured perfectly the love and happiness that was so clearly felt in the room. couldnt possibly be happier with the way they turned out!
---
Devlin Photography
Reviewed on

3/16/2015
Carol A
Loved having Chris at my daughters wedding. I could tell he loved his job! Helpful, easy to work with and fun. So glad he is 'local'. He took so many memorable pictures that we are so grateful for. Thanks Chris for your professionalism and flexibility. You made our day enjoyable!
---
Wedding
Reviewed on

2/16/2015
Chris was professional, prompt and friendly. We are very happy with his photos.
---
Wedding Photos
Reviewed on

11/03/2014
Sara K
Chris provided wonderful customer service. He met with us multiple times before the big day to ensure we got the photo types we desired for our wedding. Chris was incredibly professional and friendly - we enjoyed working with him. My con is that his tier 3 package was expensive. Looking back, we would have opted for a different package.
---
Absolutely the best!
Reviewed on

10/31/2014
Thank you, Chris!! Not only are the photos stunning, but you were a pleasure to work with - start to finish. We just had my in-laws here for a visit - we gathered together, brought out the wine, cheese and crackers and watched the slideshow together - again. It is just wonderful. We are so pleased to have that - and all the photos. Thanks again. Will be recommending you over and over again. Nancy and David
---
photographer
Reviewed on

10/30/2014
Laurie N
Chris was a wonderful photographer. he was easy to get a hold and made himself available to us whenever we needed him. the quality of his work is top notch! all the pictures are just fantastic. one criticism would be that i would have liked a few more candid shots of guests. Chris is very professional and i would highly recommend him to anyone.
---
Super day
Reviewed on

10/29/2014
Mary F
Great day with a really friendly and professional photographer. I am very happy with our pictures. Can't wait for the big day.
---
Devlin Photography is by far the best!!!!!
Reviewed on

10/24/2014
Our wedding photos are amazing!!!! As the bride, I can say that of all of the planning and decisions, Devlin Photography was above and beyond the best choice that we made for our day. I can't even believe how beautiful our photos are! Chris is so talented! He captured the true meaning of every moment in the most sensitive, artistic way. I was able to share our slideshow with family that could not be there and they were in awe of how he brought our day to life. The wedding goes by so fast, but now our memories will live on forever. I can't thank you enough, Chris, you are the best!!!!
---
Simply Amazing!
Reviewed on

10/17/2014
Chris is amazing! He is more than a photographer, he is an artist. He came up with great ideas to truly capture the essence of the day, and from the beginning makes you feel like a friend. We are complimented constantly on our pictures. Chris is hands down the best and we are so happy we chose him. Thanks again Chris!!!
---
Chris is AMAZING!!
Reviewed on

9/14/2014
Carolyn W
From the moment we met Chris, we knew we wanted to him to be our photographer! He totally understood our vision and captured it through amazing unobtrusive pictures. He provided us with a beautiful gift box with an engraved flash drive with all of our digital images! What a special treat! An absolute great guy to work with and would recommend him to any bride!!
---
Wonderful photographer
Reviewed on

8/12/2014
Michelle L
Chris was a pleasure to work with, from our first meeting to our wedding day to getting all of the photos. He captured all the special moments. We got the photo session done during cocktail hour, with time to spare!, and without rush. He let us really enjoy the reception and really captured everyone enjoying the day and having fun - just what we were looking for. Such a great guy!
---
Devlin photography rocks!
Reviewed on

1/12/2014
Liz H
If you are looking for a photographer look no further and pray Chris still has your date available! Devlin photography is simply the best we have more than 1500 images of our special day!
---
Chris Devlin's Work Is Spectacular!!
Reviewed on

1/02/2014
Pat D
Chris Devlin's work is spectacular!!!! We have to tell you that the wedding pictures were extraordinary! Chris captured so many precious and wonderful moments, expressions and settings. It was tremendous and we are so happy with his work!! Chris was very easy to work with right from our first meeting. He knew the venue extremely well and directed people to all of the beautiful settings in order to capture wonderful pictures. He has mastered the process of being in the right place at the right time to secure very special moments without ever knowing he was there. He truly made the photography all about the bride and groom, their families and the wedding party! Chris produced an incredible slideshow! Setting the pictures to those two songs was really special to us and to Marissa and Dustin. Great work!!! The gallery that Chris put together was also beautiful. The gift box and the flash drive it contained were fantastic!! What a great way to package all of the digital wedding photos!! We loved it!! Chris could not have done a better job of creating a precious visual memory of our only daughter's wedding!!! Thank you!! ! Thank you!!! Thank you!!! Maryellen and Pat (Mother and Father of the Bride)
---
Beautiful pictures to capture my special day
Reviewed on

11/08/2013
Sabrina V
Chris was so great to work with. He knew exactly how to be unobtrusive but also get fabulous shots. We were so happy with the pictures he took. He was also so calm and great to work with before and on the day. I was a little stressed, but he took all the stress away from the photography.
---
wedding photography
Reviewed on

10/06/2013
our experience with Devlin Photography was outstanding. Chris Brown, our photographer, was amazing! He captured the feel of our wedding and I find myself smiling at my favorite photo daily which, is on our bookshelf. Chris has an incredible eye for creating pictures which will be family heirlooms!
---
Great!!
Reviewed on

10/06/2013
Caroline R
Chris was awesome to work with - enthusiastic, professional, and a great crowd-wrangler! The pictures from our wedding are so beautiful and more than that, he really seemed to capture the essence of each person and the energy all around us that day. From the minute we met him and all through the big day, we knew we had chosen the right person to trust with our wedding photos - whole-heartedly recommend!
---
Very nice service and highly recommended vendor
Reviewed on

10/05/2013
Thanks a lot for the beautiful pics ! With Chris's artifical eyesight, we really enjoyed the wedding photos which gives us precious memory.
---
Devlin Photography Review- 5 Stars!
Reviewed on

10/04/2013
I know everyone says that their wedding is perfect but we have the photos to prove it thanks to Devlin Photography! The quality, professionalism and overall experience working with Chris was fantastic! He captured so many special moments with family, friends and of course my new husband that we will look back on years from now. The attention to detail was phenomenal, he incorporated so many personal touches into the pictures which made it all the more special. We are thrilled with the photos!
---
Highly recommended
Reviewed on

10/01/2013
Kimberly W
Of all of our wedding vendors, Chris takes the cake. Not only did his photos capture the simple elegance of our wedding day, he was super fast at returning our emails or phone calls. His photo packages are reasonably priced and he was happy to work with us to select a package that best fit our needs. He is the perfect blend of friendly and professional making photo sessions relaxed and easy. He captured the essence of our day perfectly and we hardly knew he was there snapping all of our beautiful photos! To our delight, images of wedding day were available as soon as we returned from our honeymoon. Many friends and family have shared with us how much they enjoyed the slideshow of photos Chris put on display during our reception as well. We highly recommend Chris Devlin of Devlin Photography for your wedding photos!
---
Great photographer makes for great memories!
Reviewed on

9/01/2013
Erica B
Chris was absolutely fabulous. We couldn't be more pleased with everything he did for us. He took fantastic photos for our engagement shoot and captured every precious moment of our wedding ceremony and reception. He was extremely professional and fun every step of the way. He even made our two reserved dads smile for the camera! Chris was able to take beautiful photos of intimate moments without us even knowing he was there. He is an extremely talented photographer and an all around great guy. We would highly recommend Devlin Photography!
---
Beautiful Pictures
Reviewed on

8/18/2013
Marissa D
Chris recently took our engagement photos, we were extremely pleased with how they turned out. He was fun to work with, down to earth, and provided immediate turn around for us to see the photos. We received the digital images the next day. He is an excellent communicator, and a creative yet classic photographer. We loved the way our pictures look and we are trying to decide on some favorites to display at the wedding. We are looking forward to having him take our wedding photos this October.
---
Absolutely perfect!!!!
Reviewed on

7/29/2013
Lindsay C
We HIGHLY reccomend Devlin Photography! Our wedding pictures were classic, simple, and perfect!! The way he uses the natural lighting in every picture is amazing and really makes them stand out from others. Our day went so smoothly we hardley even knew he was there snapping all of those beautiful photos.
---
Photographer
Reviewed on

7/23/2013
Danielle D
Working with Chris was amazing! We hired Chris 7 months prior to the wedding and loved every minute of working together. We met several times in person and talked regularly through email. It was very easy to contact Chris and made me feel like I was the only bride he was working with. His work is fantastic and every time I look at my pictures I am taken back to that day. Throughout the day, Chris was a total professional and such a pleasure to work with. I didn't even realize he was there, and he caught some great moments I wouldn't have seen!
---
Happy Bride
Reviewed on

6/18/2013
Tara T
Chris was amazing...simple enough. As the bride, I of course loved every minute of our wedding. And because of Chris's amazing photography, I get to relive every moment of our wonderful day every time I look at our photos. Everyone says "all you need is that one perfect picture." Thanks to Chris I have a countless amount of those "perfect pictures." I couldn't be happier with Chris's kindness, patience, and creativity. I would recommend Devlin Photography to anyone who asked. Thanks Chris!!! Tara & Jay
---
Send Message