Home

Devon John Photography
About this Vendor
Life IS Art!
Proud to win Best of Weddings again for 2015! Offering photojournalistic, moment driven photography and heirloom quality products. Please check out www.devonjohn.com to see more work, and call or email today to secure your date!!!
Details
Contact Info

26 Green Ridge Road, Yardley, PA
throughout PA, NJ, NY and DE
Devon- The BEST Experience
Reviewed on

11/14/2012
Kristen P
Devon met with us for an engagement session and also took the pictures for our wedding. TO THIS DAY, I look at our photographs regularly. Working with her was so easy- she met with us in person, made us feel comfortable in her home, and showed us examples of her work. We knew her high standards ahead of time, and we were sure we were getting the best. Instead of feeling an awkward pressure to pose in certain positions or feel a specific way, Devon made us feel comfortable and natural. She captured genuine moments between myself and my husband; many of which look EXACTLY how I felt in that moment. On my wedding day, I do not remember seeing Devon as she took pictures. She was not "in our face" or invading our very precious moments. Instead, she discreetly moved about the church and reception hall capturing the moments that made our day so special. Our wedding was over a year ago, and I still keep in contact with Devon because she has become a part of our relationship. She felt more like a guest and friend at our wedding instead of just a photographer. I can NEVER thank her enough for the photographs that she took and the memories she preserved. I would recommend Devon John to photograph ANY and ALL important family moments. You will not be disappointed!
---
Comfort and Ease
Reviewed on

11/01/2014
Jessica M
Devon and Nikki did the photos for our wedding this past September. She made everyone in my bridal party feel very comfortable in front of the camera, including the members of our family that hate having their picture taken. Everything was super easy from beginning to end with Devon, and most importantly, her pictures are amazing!
---
Genuine moments captured by a genuine gal with a camera!
Reviewed on

10/29/2014
Bridget M
Devon John photography is much more than just a gal with a camera of course but Devon makes you feel just like that was the case! She is genuine and unassuming & captured the subtle moments of our wedding day that may have otherwise gotten lost in the "noise" of our wedding day. She made us immediately feel like it's our friend who was there sharing our day. And in fact, Devon works to get to know YOU; what your unique story is and magically captures your wedding essence. I love her pictures so much the biggest problem I have is narrowing them down. The most amazing treasure that I admire all the time is a video that Devon put together for me that was the epitome of our wedding day. I highly recommend Devon for any special occasion that you would like to remember in a truly unique and personal way and not a cookie cutter, cold experience like other big name studios.
---
Worth every penny!
Reviewed on

11/02/2014
Kacie O
My wife and I were referred to Devon from a friend, and we are very glad we listened and went with Devon John Photography. It is hard to describe in words how perfectly Devon captured every moment of our day. Her work completely speaks for itself. From our Engagement Photos to the Wedding Photos, every single shot was for a purpose. The way Devon makes you feel comfortable, and captures natural moments is one of a kind. My wife and I will continue to recommend Devon to absolutely anyone!
---
Made it memorable
Reviewed on

10/30/2014
Devon makes it so you are left with just memories of your day that you otherwise could be so busy you miss out on certain things. She makes it natural and easy. While she remains business thoughout she becomes your friend through the process. Devon knows what pictures she wants as well as when and where she wants them taken to get the best possible results. Excelent photographer.
---
Personal touch
Reviewed on

10/30/2014
I recently was a guest at 3 weddings in a 2 week period. Devon John Photography shot 2 of the weddings. They were very professional, but what really stood out to me was the fact that I never realized they were there shooting the wedding. They are wonderful at getting the personal shot , a special moment without making you "pose". I saw some of the shots from the weddings we attended on their website and honestly they were the most candid and real wedding photos I have seen. Beautiful moments between a bride and groom. Personal moments with family members. The one couple had children and the family photos just melted my heart. They were just sitting there with the kids and the photo tells the story of how happy this new little family is. Devon is a hard worker, and takes great pride in her work. I would recommend her to anyone who wants to capture the intimate moments of the day without being asked to stop and hold that pose. A true artist who takes great pride in making your day special.
---
Devon was amazing! Book now!
Reviewed on

10/29/2014
Cara G
I do not know how I can write a review that would fully do Devon as a person and her photography skills justice. From the beginning Devon was extremely easy to communicate with and dealt with any and all of my questions and concerns honestly and with kindness. Her pricing is fair and transparent. She will communicate with you openly throughout the entire planning process and has a lot of flexibility. She provided lots of great suggestions for how to lay out the entire day and how to go about planning the photos. On the day itself is where I felt we really made the best choice we could. Devon was a calming and professional presence. She sunk into the background when necessary to capture good shots but she was going to step up and help whenever anyone needed her to as well. It was less like having a photographer and more like having a very talented but professional friend with you throughout a very exciting but stressful day.she knew exactly what she was doing and help keep the timing of everything well run without being intrusive. She captured every single shot you could've wanted and if you would like the photojournalistic style which is more natural but very crisp and true to the people in the photos Devon is your girl. My husband and I who do not necessarily like having our photos taken felt comfortableat all times with Devon. She helped us with posing she help suggest locations and she gave us lots of great tips along the way that made us feel at ease. After we got the photos back after the wedding we saw that she captured literally every single moment from start to end and truly told the story of our entire special day. Everyone who has seen the photos has commented on how spectacular they are and we will treasure them forever. I am basically at the point where I am looking for the next event or excuse to hire Devon again not only because she is an amazing photographer but because she is a joy to spend time with. You will not regret hiring and Devon.
---
Devon is the BEST!!!
Reviewed on

10/29/2014
Bonnie T
As a photography and film teacher I have very high standards when it comes to pictures and media. Devon delivered beyond my expectations. She was professional, fun, and delivered amazing photos. After seeing the beautiful pictures she shot for my engagement sitting I was not the slightest bit worried the day of my wedding. Devon captured so many moments beautifully, got every photo I asked, and was so pleasant to work with. You will not be disappointed with her work!
---
Best Wedding Photographer
Reviewed on

10/29/2014
Mary G
Devon came recommended by a relative of mine and I consider myself REALLY lucky! There are a lot of choices to make for your wedding so let me make this one easy for you...book Devon John today! She was punctual and professional. She has a great eye for unique photo ops. She makes great suggestions and also follows your lead. She traveled around the city with us in a cab to capture photos of where my husband and I first met. She was so calm and laid back which is what we needed on a day with so much going on. When we got our photos we were so amazed, she captured everything we wanted, every big and small moment. I highly recommend Devon John!
---
A record of our family began with Devon
Reviewed on

10/27/2014
We read good things from The Knot about Devon, so, when my wife and I needed wedding photos, we reached out to her. From the pre-wedding photos to the big day, Devon did a fantastic job. So fantastic, we decided to have her take photos of our first child at age 1 and 2. When our second child was born when our first was 3, we had her come by for that, too. And, of course, now that our second is a year, we've reached out to Devon again. I cannot recommend her enough. Oh, and I created an account on The Knot just to recommend her.
---
Devon is the best
Reviewed on

10/15/2014
I can't say enough about the amazing job Devon did from start to finish. She has a great eye for beautiful shots and is an amazing person to work with. My husband and I are so happy with the artwork and photographs that Devon was able to provide for us on our wedding day. When you view the pictures in order, they tell a story that I will always cherish and remember. I would recommend Devon to anyone looking for an amazing wedding photographer!!!
---
Wonderful!
Reviewed on

10/07/2014
Danielle C
When we first met Devon for our engagement pictures, we connected immediately with her. She's makes the sessions fun and loves a challenge. Our pictures were absolutely beautiful! On our wedding day, Devon and her assistant were so great to work with. They got all the pictures we requested and more. Many of our guests really complimented how on top of things they were. They captured every moment. Devon is fun, friendly and outgoing and she goes out of her way to make you feel comfortable.
---
AMAZING Engagement Pictures
Reviewed on

8/28/2014
Jordyn
We used Devon John Photography for our engagement pictures and I could not be happier with how they turned out! Devon is so sweet and instantly made both my fiance and I feel so comfortable and at ease. Since we are having a destination wedding we wanted our engagement pictures on the beach and Devon even woke up at 4 AM to drive down to Belmar to do a sunrise engagement sitting!!! The light in the pictures is beautiful and I felt that she truly captured "us" as a couple. After the shoot Devon provided the proofs very quickly and even added in an awesome GIF for our wedding website. She is an absolutely fabulous photographer and person who I would highly recommend!!!!!
---
Devon John is The Greatest Wedding Photographer
Reviewed on

9/26/2013
Not only did I have amazing engagement pictures and the best wedding pictures, she has become my "life photographer". She has watch John's and mine love and family grow, & captured all of the special moments. She has an amazing talent, and is such a honestly nice person. I feel so lucky to have her capturing these special moments in my life.
---
Mrs Michael Morris
Reviewed on

9/26/2013
Theresa C
Devon did our wedding in 2008, my niece and good friend also. We were all very pleased with her work. She even helped me with my hair before finishing a series of photos. Love her!
---
Couldn't have asked for a better photographer!!!!
Reviewed on

9/25/2013
Heather R
I would definitely recommend Devon John Photography for weddings!!! She was so helpful and supportive during the wedding planning process. She was always available to answer any questions we had and was very creative in our group wedding pictures. We had left it up to Devon John as to what pictures were taken especially during our reception. We couldn't have been happier with the way our pictures came out!
---
Long Beach Island Beauty
Reviewed on

9/23/2013
Devon was the best photographer we could have asked for. She was open to anything that we asked of her, suggested some wonderful pictures that we wouldn't have thought of, was as involved as we wanted her to be and took the best pictures we could have asked for. Our wedding was on Long Beach Island, Devon texted me to let me know where she was the day of the wedding and was so friendly upon arrival that it helped to relieve any nerves that any of us had. Our pictures are beautiful. The day was hot, muggy and about as sunny as possible. You'd never know that we were all melting in the heat by looking at our pictures. They are crisp, organic and exactly what we wanted. She captured Long Beach Island and our wedding in a manner that allowed us to see what was happening around us as we looked through them just a few weeks later. Thank you so much, Devon!
---
Devon is awesome
Reviewed on

9/23/2013
Rachel O
Devon is amazing. I am very pleased with what she has done for us thus far. Her packages are reasonably priced, and you get a lot for your money. At our engagement sitting, Devon made my fiance and me feel so comfortable. The shots happened naturally. Devon's eye for lighting and nuance is great. Our engagement photos are awesome, and I can't wait for her to shoot our wedding in a couple of weeks. I know the pictures will turn out great!
---
Mrs. Joyce Orland
Reviewed on

9/23/2013
Devin is the best. Great and very patient! We love her!
---
Best Photographer Ever
Reviewed on

9/23/2013
Devon is the BEST! She's so down to earth and makes you feel comfortable and catches some of the best shots Ive ever seen!
---
Practically Perfect in Every Way
Reviewed on

9/23/2013
Kristin M
Devon is amazing; her photos are beautiful and unique, and manage to capture our personalities perfectly. Perhaps more important is how easy she is to work with; everyone in my bridal party remarked how much they liked her and how much fun she is. Her eye is spectacular but the person behind that eye is even more impressive.
---
Great photography!
Reviewed on

8/26/2013
Laura C
Devon was our photographer for our wedding in April. She was wonderful. We love all of our pictures and we had so many to choose from. She was helpful and calming on the day of the wedding and really responsive to our needs all throughout the process. We highly recommend her!
---
Excellent Photography - Rain or Shine!
Reviewed on

8/19/2013
Carianne R
Devon John Photography was a pleasure to work with for my June 2013 wedding! Even though there was a tropical storm in town and it rained buckets, I had full faith in Devon's expertise. A true professional, she came to the venue with a rainy day plan and the shots she and her assistant, Max, captured exceeded my expectations. My husband and I will definitely be using Devon John Photography in the future to capture our special moments and memories!
---
Photos
Reviewed on

7/10/2013
Janet S
Haven't gotten pics back yet, but Devon is truly a pro. She got all the family together for pics by being organized. She really helped keep things moving. So nice too!
---
Beautiful Wedding Pictures and so much more!
Reviewed on

9/28/2012
Michele S
Devon is just perfect. We witnessed her work and personality first hand at our friends wedding in May 2007. I wasn't even engaged yet but took her card just in case! A month later I was engaged and the first thing that popped in my head was to call Devon. She really makes you feel at ease and her services are worth every penny! You meet with Devon to do your engagement pictures and it just helps you to get comfortable and learn what she needs from you - which is pretty much nothing except for enjoy your wedding day and she'll capture every precious moment of it. Devon also loves weddings so she actually wants to be at your wedding - not like some photographers that I've witnessed that just seem to be there taking posed photographs. Call her today and you won't be disappointed!!! She also does beautiful baby pictures! We just had a little boy in July and 3 years after our wedding, Devon is still the photographer we want to work with for our life events!
---
Meet The Owner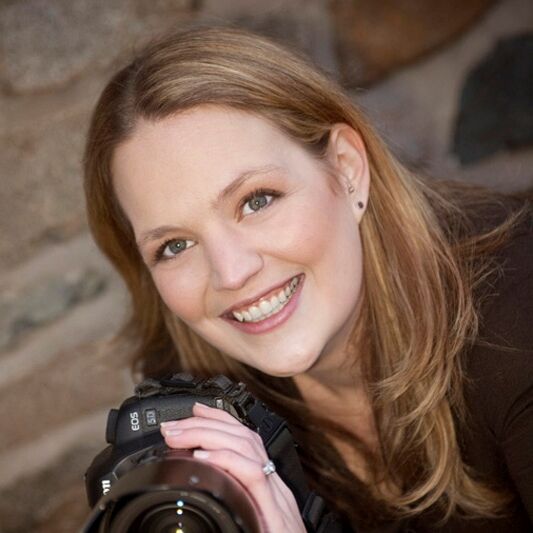 Devon John Chebra
I am Devon, an editorial and environmental portrait photographer in Yardley, PA. My style is based in photojournalism and editorial work, with a definite emotional bent, and relaxed, comfortable portraiture with personality. I opened Devon John Photography in 2003, and have focused my attention on giving my clients artistic, fun, flattering photos and helping them tell their stories! Follow me on Instagram @devonjohnphoto or check out www.devonjohn.com for more information.
Send Message