Home

Diamond Mills Hotel & Tavern
About this Vendor
Luxury in the heart of the Hudson Valley
Let Diamond Mills create a once-in-a-lifetime experience complete with gourmet catering, luxury accommodations and breathtaking views. Our versatile event space can accommodate all of your wedding needs, however intimate or grand. Just 2 hours north of NYC and 45 minutes south of Albany.
Amenities + Details
Amenities
Handicap Accessible

On-Site Accommodations

Indoor

Reception Area
For more details about amenities, please message the Venue.
Ballroom, Waterfront, Hotel, Loft, Restaurant, Tented
Bar + Drinks, Cakes + Desserts, Food + Catering, Planning, Rentals + Equipment, Service Staff
Contact Info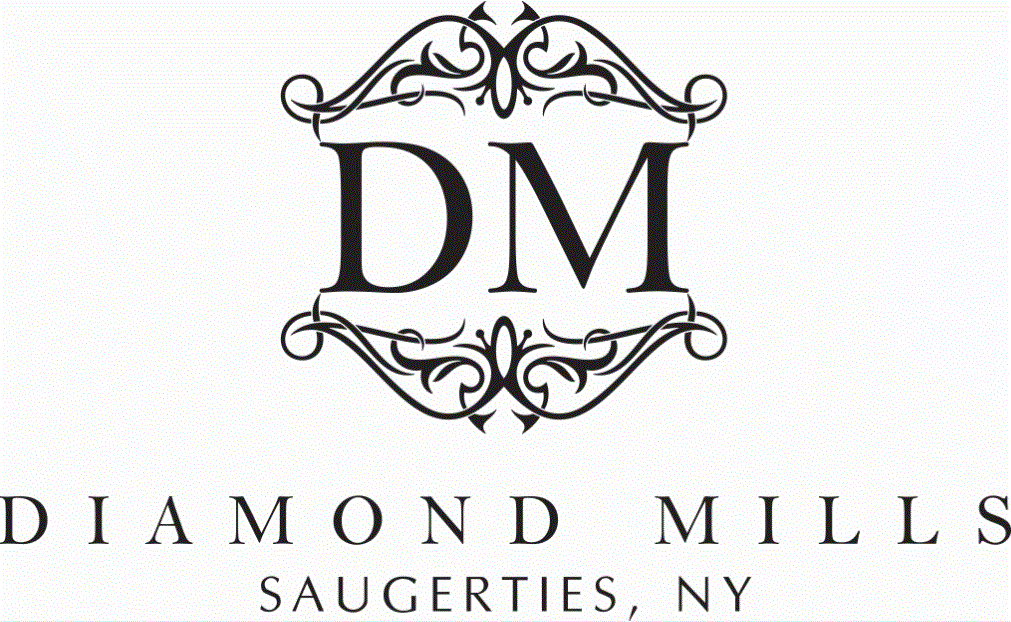 25 South Partition Street, Saugerties, NY
Wonderful memories that will last a lifetime at Diamond Mills!
Reviewed on

4/09/2015
Our wedding on 3/29/15 held in the Tavern at Diamond Mills was everything we wanted it to be and so much more! From our brunch and initial meeting with the Events Director, Laurie, to our menu planning with the Chef, Guiseppe, to the unbelievable grounds at Diamond Mills we could not have been happier!!! When planning our event we found it very easy working with Laurie and she had answers for all of our questions. She helped us create a time line for the day and and design the layout for the ceremony and reception seating. Gina, the hotel manager, gave us a large room block at a fair price and comped our suite, which was awesome! The detail in the hotel, grounds and doing areas bring a lot of added value to the overall experience. Next, I must address the fantastic food, the Chef and his team! My husband and I and our guests could not get over how delicious and plentiful the food was. There was fresh fruit and danish sent to my room while I was getting ready, there were platters waiting in the bridal suite during cocktail hour prior to our entrance filled with all the food served during cocktail hour, and an unbelievable dinner served family style followed by the presentation of our beautiful wedding cake and a very large vienesse display. People were raving about the food, how every dish they tried was great! I am a pastry chef, my husband a chef, my executive chef was in attendance as well as his sous chef (my good friend) and everyone was raving about the food. The service was spot on, no one had empty glasses or dirty plates piling up. Nothing but compliments from all the guest on how wonderful the service was. Even the owner was there chatting with guests and giving my parents a hand at the end of the night gathering everything up. Our wedding was awesome and we absolutely loved every minute of it! A huge thank you to Diamond Mills and their team for helping us create a day we will always remember!
---
New Year's Wedding
Reviewed on

1/09/2015
Meredith C
My husband and I were lucky to find the Diamond Mills while attending a close friend's wedding prior to us even being engaged. We left the wedding with the feeling that DM would be the perfect place for us to tie the knot. We were in touch with Laurie immediately after the proposal and we quickly snatched up NYE as our date. We chose to have our ceremony in the foyer area which is not typically where weddings are held - the staff was eager and excited to take a risk and help us have our wedding on the staircase. The reception turned out to be incredible and all of the vendors that DM recommended truly over delivered. The food is amazing and our guests were blown away by the view and incredibly hard working staff. We also had our rehearsal dinner in the Tavern and filled the hotel so you could say we kind of took over the DM for a few days which made the whole experience that much more fun! We are looking forward to visiting the DM again in the near future.
---
Wonderful wedding weekend at Diamond Mills
Reviewed on

7/26/2014
Jackie W
Diamond Mills was wonderful. We had a gorgeous day of sunshine which definitely helps, but we are still getting compliments on our venue, the weekend and our wedding overall. The team at DM was amazing - from helping us customize our food choices, our wine list, some extra special requests, and just in general keeping us on track. The cake is included and was amazing and gorgeous. We filled all the rooms at the hotel and our guests LOVED IT! Amazing venue - all rooms have a balcony. Laurie was a pleasure to work with, ran the rehearsal extremely efficiently and just in general was able to help us pull off an amazing event. Also, because of the space we got some great photos too! Outside, in the bar, on the stairs - great choices! Have fun! Highly recommend this venue for your special day.
---
Reviewed on

5/27/2015
Jennifer P
Our experience with Diamond Mills was nothing short of amazing. All of our guests ranted and raved about the attention to detail and wait staff, how beautiful everything looked, and how "perfect" it all was. Diamond Mills was the first venue that we looked at because we loved how beautiful the grounds were, the waterfall in the back, the open terrace for guests to enjoy, and we had dined there before and knew the food was amazing. After our first sit-down with their coordinator, we knew we had found the place. They accommodated every single request that we made and were extremely professional throughout the whole planning process. It may sound strange, but even the tasting a few weeks before the wedding was something my husband and I will never forget because it was THAT good. They paired each dish with a wine that could be offered the day of our event and it made the entire meal that much better. Open bar is included in each of their packages with many different options for upgrades. The cake is also included and there are an endless number of ways to make it your own (for example, we had alternating layers of vanilla and chocolate with fresh strawberries in between) and all of the guests loved it! I could go on and on about our wonderful experience with Diamond Mills. We drove 45 minutes from the church to there because we felt it was worth it. We are so very glad that we chose Diamond Mills for our venue!
---
Constant Battle
Reviewed on

8/20/2014
Victoria C
It has taken us some time to write this review. We went back and forth on what to say in order to properly forewarn couples. First, we want to say how beautiful the DM property is. However, there were many issues on our special day. This is what we encountered: 1. When we first met with Diamond Mills Laurie was our contact person. We worked with her for approximately eight to nine months prior to our wedding. However, a week before our wedding, we went for our final walk through at which time we were told an entirely different woman, Josephine, would be handling our wedding and Laurie would be on vacation. Why this information was only provided a week before the wedding is beyond me. Nevertheless, Josephine was a nightmare. 2. We told Laurie from the start of our planning that we wanted to have our ceremony outside on their large deck/patio area with the falls as a backdrop. I told her we did not want a tent if it rained as we would move the ceremony inside if need be. The Wednesday before our wedding (wedding was on Saturday) the same day she was to leave for vacation we were told that the tent would be up on the day of our wedding and that there was no way for them to take it down. After making a formal written request they finally agreed to take it down the morning of our wedding. Then Laurie left. 3. The day after, we were scheduled to have our wedding rehearsal at DM. After receiving the confirming email about the tent Josephine proceeded to give us an ultimatum saying that if we chose to have my ceremony outside and it rained the day of they would not move the chairs inside and either there would be no ceremony or our guests, the chairs and we would be soaked. She told me we had to decide by Friday at 2p.m. where the ceremony would be (24 hours + before the ceremony – which is not customary). After being forced to make a decision we deiced to move our ceremony inside just incase. It did not end up raining. 4. Josephine situated the chairs for the ceremony in a position that was not conducive to the ceremony and refused to move them and threatened liability if we moved them ourselves. 5. When the groom arrived there was no food and refreshments for him or the groomsmen. If not for some beer in one of their cars they would not have had anything. The groom was then accosted by a waitress while getting changed & ready on his own for the ceremony, to pay for a round of drinks that another guest had ordered. Fortunately he had the cash ($50 for 5x shots). 6. Once the ceremony began, the temperature in the room was very high, to the point that the groom (and reverend) were sweating profusely. A request was made to turn down the temperature which was refused. To add to the uncomfortable atmosphere we had to contend with loud noise from the nearby kitchen, which could be clearly heard by the wedding party and guests. This carried on throughout the process of the vows and being addressed by the reverend. 7. There were issues with the booking of our rooms at DM. We were instructed that if we could fill out a block of 10x rooms before a set date, we would get the bridal suite for free. However, we couldn't fill out our block before the set deadline and were therefore paid full price for our room ($600+). By this time we had 9 rooms booked out for the event and were eventually allowed the bridal suite at half price ($300+).
---
Our wedding at Diamond Mills Hotel & Tavern
Reviewed on

8/12/2014
Tracy H
We were married at Diamond Mills on Saturday August 9, 2014. Our ceremony and reception were both there. This place is fantastic! Laurie (event coordinator) was easy, professional and great to work with. She gave us everything we asked for. The staff working the wedding reception were wonderful and very attentive. All the food (from the wedding party suite, cocktail hour, dinner and cake) was perfect. We had pass around hors d'oeuvres, open bar, salad, dinner, mini pastries and our cake (part of the wedding package), a Champaign toast to start the evening and wine poured at the table throughout the dinner service. Everything was delicious. All of our guests were first time visitors to Diamond Mills and all were highly impressed. We stayed 5 nights at the hotel and were treated great by the staff. The room overlooking the falls were spacious, clean and we were given turn down service (and chocolate) each evening. Congratulations to everyone at the hotel for a job well done! We highly recommend Diamond Mills to anyone planning an event.
---
Fabulous in every way!
Reviewed on

7/01/2014
Stephanie W
We booked Diamond Mills for our daughter's wedding (June 2014) about 18 months in advance, and since everyone was traveling from NY or Boston, we reserved the entire hotel as well. Laurie H leads the event staff and was extremely helpful, answering many questions, and she was always very patient with our many questions and requests. I loved that she always tried to get to 'yes'. She was very easy to work with, and as the time drew near, her experience and professionalism was very reassuring. She was on top of all the details including reviewing the rental chairs we wanted as they were being delivered. The service staff was excellent. The setting was amazing, with the ceremony on the patio overlooking Esopus Falls, and the guests came back out through the evening to enjoy the sunset, smoke cigars and enjoy the summer night and floodlit waterfalls. On the day of, Laurie was very calm and in charge and we didn't worry about anything, and they took great care of the bridal party. The food was outstanding! All our hotel guests were thrilled with the venue as well: great bedding, clean and pretty rooms, patios overlooking the falls, and very friendly and helpful hotel staff. There are many wonderful opportunities for wedding photos here including the Tavern bar where the bride and groom hosted drinks after the wedding. We cannot say enough wonderful things about this venue/vendor and highly recommend Diamond Mills!
---
Beautiful wedding and venue
Reviewed on

6/30/2014
Leslie C
Overall, we are very pleased with our wedding at Diamond Mills. We received many compliments about the beautiful venue and the town of Saugerties. We had about 70 guests, so it was on the smaller size. The ceremony was on grounds, we reserved 10 rooms at the hotel and also chose to keep the tavern open following the reception so our entire wedding was with DM. We worked with Laurie H. throughout the year for our wedding planning. Laurie was always very kind, helpful and communicative when we had questions/concerns. We were able to go to DM several times to get a better feel for our special day and plan decorations and set up, Laurie coordinated all of this. About 2 months before our wedding we were contacted by Josephine, saying she would now be taking over our wedding and would be reaching out again as we got closer to the wedding. We did not hear from her again. This was confusing and concerning as final details were still not discussed. Thankfully, Laurie continued to coordinate. Josephine was present the day of the wedding, however, Laurie ended up being our main go to person and we were very pleased and thankful for this as Josephine does not seem to have great people skills. Several of our guests asked who she was and noted she scowled most of the night and/or was rude to them. Gina, the hotel manager was of similar kind. There was a mix up early on with regard to hotel reservations and although it was corrected, Gina was unpleasant, rude and talked down to my parents several times even though it was the hotel staff's mistake which needed to be corrected. There was a sense that because were were not reserving the entire hotel that we were not good enough to be treated with the same respect. Additionally, the Gold Package is supposed to include special hotel rates, however, apparently this only applies if you book the entire hotel. I wish there was another hotel around that we could recommend instead, however, this was the most convenient and in the end they allowed us to check in early which was a plus. You also can't beat the view and the rooms are definitely top notch. The ceremony was perfect. Again, Laurie was there to walk us through each step as we went through it as we did not have a rehearsal prior to the big day. This was a bit nerve-racking for me, but Laurie was calm, organized and this was greatly appreciated. The Gold Package provided just the right amount of food (we are Italian) and we were very pleased. The cake was beautiful (the chef took the lead on the design and matched our colors perfectly!) however we had a difficult time deciding on the flavor as we did not really like any of the choices we sampled at the tasting. The assorted pastries, we heard were delicious, however, they were only left out for about 30 minutes and taken away before many people were able to sample. DM allows you to have a signature drink and this allowed for no back up at the bar, which we had seen at many other weddings. Table wine service was superb, I don't think anyone's glass was ever empty, whether it was water or wine, the waitstaff was EXCELLENT. Keeping the bar open at the tavern was a bit disappointing financially. In hindsight we could have continued the party up at The Pig instead and saved about $300, tax and gratuity were tacked. Again, overall, we were very pleased with our wedding and would recommend DM because of the beautiful location and the elegance the venue provides.
---
Beautiful Venue with a few hiccups
Reviewed on

6/29/2014
Ashlea B
We had a summer wedding at Diamond Mills, my husband and I chose this place because it is absolutely gorgeous!!! The pricing was better than other venues in the Hudson Valley. Our ceremony was out on the terrace and the ball room was beautiful. I did put a lower rating on the service, I felt as though this was lacking. The bar ran out of beer by 8pm and instead of getting more just told our guests they didn't have anymore, I was not made aware of this issue until after the wedding was over, but I feel as though if was made aware I, as the bride should not be left to deal with the issue. I felt as though the waitstaff went above and beyond for our guests, although we were supposed to have a personal waiter and they did not seem to be around asking if we wanted drinks or anything. Management here needs to step up their game. The first unfortunate event happened when guests were trying to sign the guest book and the pens I had bought we're not working. The management staff told the guest after she asked for new pens "that's the pens they brought, so what do you expect me to do about it?" I was mortified to find that this is how one of my guests was spoken to I feel as though it should have not even been an issue to get some pens for the guest to sign the book. As I was saying goodbye to my guests the lights were on and we we were rushed out, they we're actually vacuuming around me as I was trying to clean up. I do understand that they had a wedding the next day, but I feel as though they should have waited to clean until we had all of our things out, and my husband and I did have everything out of the ballroom by 10:30pm. I was left at the end of the night in my wedding dress cleaning up after my wedding. As was promised in the contract we would get our centerpieces and anything we brought, out of the venue, instead of the staff helping they were busy telling my guests where to take things and letting them know what was left to move. I feel as though their staff should be there to help move things out of the ballroom so they can clean. I was also told by a guest that one of the management staff said "I hate confetti" unfortunately, it is a wedding there will be instances where there is confetti. The next morning we went to brunch and were treated very rudely by one of the managers in the tavern. We had a large party and told the manager that we would split up. The manager told us only parties of 4 were allowed, and we asked if there was any way a party of 5 would be ok? The manager then replied "you can do that but it will be pushing the envelope". One of the party members replied "ok we will push the envelope". The manager then replied "fine, but if you have a party of 5 your service will suck!" I actually could not believe the words came out of his mouth! We ate breakfast and the waitstaff again were amazing and our service was just fine. After the fact I guess the same manager was rude to other guests as well, but I am unclear on those details. So over all diamond mills is a beautiful venue, the food was amazing, the waitstaff was amazing, but I feel as though there are many improvements that can be made with customer service on the management end. I feel as though we dealt with a lot of different people throughout our wedding process and the staff has a very high turnover. Overall our wedding was wonderful, but I feel it was due to a lot of work by myself, my husband and friends.
---
Wonderful Venue
Reviewed on

5/24/2014
Danyelle M
My husband and I are so happy we chose the Diamond Mills for our wedding. We had originally planned to have our ceremony outside on the terrace but due to bad weather we had to move it to the third ballroom. That didn't even matter because everything was still so beautiful it blew our friends and family away. Laurie was so very accommodating she helped is in any way she could and any time I had a question I could email her and get a response right away. According to our guests, during the cocktail hour there was always multiple trays of food available and no one went without. During dinner we had many people coming up to us and telling us how wonderful they thought the food was, how beautiful everything was, and what a good time they were having. It was such a perfect evening and I wish we could live it again.
---
The Most Amazing Wedding!
Reviewed on

4/30/2014
Catherine C
The moment my fiancé and I stepped foot on site we knew this was the perfect venue for our wedding. We couldn't have imagined how much better it became! Laurie is absolutely amazing and was fully available throughout the entire process and answered any and all my crazy questions and requests! = ) She definitely goes above and beyond to make your day a dream come true. From the service to the food to the fantastic view of the Esopus Falls this was truly a fairy tale wedding. Even Gina and the Hotel Staff makes you feel like royalty. Diamond Mills makes it look effortless. My now Husband and I are truly lucky to have chosen this Venue to celebrate our Marriage. Run to this place immediately if you want the wedding everyone will talk about for years!
---
Money Well Spent
Reviewed on

4/09/2014
Andrew K
Our experience at Diamond Mills was very good. We chose to do our ceremony, cocktail hour, reception, after party, and brunch all at the venue, while also booking a majority of the hotel rooms with our guests. We found Laurie, the event manager, to be easy to work with and accommodating to our wishes. On the day of, she was very helpful in making sure everything went smoothly and as planned. Our guests had nothing but great reviews of the food, service, and overall quality presented by Diamond Mills, with several people saying it was the best wedding they have attended. Our only critiques are as follows: There is no wiggle room in terms of extending the reception by any amount of time. The times in your contract are all that is allowed. Also, the DM Tavern bar closed at 11:30pm for our after party. So, regardless of how many guests were there, closing time is closing time and that's that. The hotel manager is very Type A and you have to play by the rules or she can become difficult to deal with. We found the catering manager to be very Type A, as well. We heard a few comments from guests that the staff, including leadership staff, were a bit brash; however, we felt that their job was to ensure that our day went perfectly (and it did). Lastly, there was no discount offered on any rooms to wedding guests, nor for the bride and groom. As bride and groom, were we well taken care of? Yes. Did we feel special in any way? Aside from a few extra chocolates on our plate for nightly turn-down, not really. It would have been nice after having spent a lot of money to receive, at the very least, a discounted room or an upgrade. Overall, we would say that having your wedding at Diamond Mills is money well spent and you can trust that they will make the day as valuable as possible for the bride and groom.
---
Awesome Wedding Venue
Reviewed on

4/07/2014
Angela C
We just had our wedding at Diamond Mills. We can't say enough about this venue. The staff was top notch, Laurie, our event manager was the most amazing person to work with. Our theme for the wedding was a pink party for breast cancer. We asked all of our guests to wear some little accent of pink. Some wore socks, ties, nail polish - you get the picture. Laurie herself participated by wearing a beautiful pink dress. That's how personal the attention you get is. She made the entire process stress free and made sure everything went a off without a hitch. We can't say enough about her. The hotel manager Gina is awesome. Not a problem or issue she can't solve. The entire hotel staff rocked. The rooms are beautiful, clean, so inviting. So easy to go from your room to your event just a few steps away. The food was out of this world, mouth watering. The entire staff, servers were unreal. So attentive to all of our guests. The banquet manager Lucie rocks. The Tavern manager and staff could not do enough for you. The after hour party was unbelievable at the tavern. They made sure everything flowed. We ordered subs for the after party for our guests, Laurie knocked it out of the park. The response was overwhelming from our family and friends. The brunch we arranged the next day for our guests was outstanding. The staff remembered most of our guests names. The Venue is beautiful. The falls outside, breathtaking. There's not enough words to describe the Diamond Mills. They made our wedding a huge success. Our only regret is that it's over.......If you're looking for a place for your wedding please please call Laurie and check out the Diamond Mills in Saugerties, NY....You'll be happy you did........
---
Beautiful and Amazing!!!
Reviewed on

1/07/2014
Laura J
I had my wedding here during Christmas time, it was absolutely beautiful and perfect! The place was decorated beautifully, and everything was very smooth. The wait staff was excellent as well as the planners. We could not have asked for a more prefect place to have our wedding!
---
Easy going and BEAUTIFUL!
Reviewed on

10/09/2013
Erin T
I recently was married on Friday September 27, 2013 at the Diamond Mills. I considered myself a very laid back, easy going bride, which is good in some ways but once we were a month out, I thought "wow, do I trust these people so much that I really don't even know what my wedding cake looks like?" I had already picked my package (silver), made menu choices, sent a picture of my cake to Laurie H. (Event planner) and picked out my table linens, but other then that I felt as though I didn't know exactly what was going on! Well let me tell you, the wedding was more beautiful then I could have ever expected. Upon arrival, my bridesmaids and I were brought to the beautiful bridal suite and greeted with delicious hor d' oeuvres and champaign. The groom and groomsmen were also greeted with the same in another room. The staff was AMAZING. Cocktail hour hor d' oeuvres were passed around and offered to everyone, drinks were flowing and people raved about it! Then the main course was served and was not only hot but delicious! The cake was exactly like the picture I sent and also one if the best carrot cakes I've had! Again I can't explain how great the staff was. Plates were picked up promptly, drinks were filled continuously. They were wonderful! After the wedding we went to the tavern where we were welcomed with smiling faces and served quickly. From there we went to our room which was gorgeous and overlooking the beautiful creek. The bed was like sleeping on a cloud and there was a continental breakfast in the morning. It was overall a great experience and so relaxing, I trusted Laurie and the staff at the Diamond Mills to put on a beautiful wedding, and they were able to do that and exceed my expectations. My husband and I plan on celebrating our 1 year anniversary there!
---
Beautiful, Elegant and fun!
Reviewed on

9/27/2013
Emily S
I had my wedding at Diamond Mills in August this year, I could not rave about this place more. The staff was top notch, Laurie the event manager was amazing to work, and on the big day she made sure everything went a long without a glitch. Gina, manager of the hotel (which was sooo luxurious!!!!) was also so great to work with, really wonderful people working there! The food was amazing, out of this world good! The waitstaff was soo nice, haha and patient (even guests got overly excited), they really seemed to enjoy the night too! The Venue is just stunning - really one of a kind. The design and style is so elegant, but really cool at the same time - you have to see it for yourself! And being on the water was great - we all loved taking quick breathers from dancing and going out on their huge deck overlooking the falls. Ending the night at the hotel was was the giant cherry on top, they make you feel pretty darn special when you stay there, and the beds.. just heavenly. I wish I could relive it at least 10 times over. wow. Thank you so much Diamond Mills Staff you were all amazing! What a wonderful night to remember. Have your wedding here, you won't regret it! - One Blissful Bride!
---
The Diamond Mills Disappoints
Reviewed on

9/09/2013
Andrea S
We are writing this letter to inform everyone of some aspects of our wedding which fell below our expectations. Failure to Book our Room Correctly: - We booked the Tower Suite for Friday and Saturday through earlier this year. Saturday night was included with the wedding and Friday night was reserved at a pre-determined rate. Our credit card was charged prior to our stay. - Upon our arrival at Diamond Mills on Friday, June 21st, the desk staff printed up a one-page document showing that we owed a balance of over $500.00 on the room. They insisted we sign the document, even after we explained that this must be a mistake. It was obvious that no note had been made about our prior arrangement or that we were getting married there the next day. - They again asked us to sign the document. We explained that we had made arrangements with the manager and waited while they located her and brought her to the front desk. This was eventually resolved. Unexpected Tent Fee: - To our knowledge the tent was an included amenity. We were told we had to decide whether we required before the wedding and that we must make a choice three days prior to the event. - We were never informed (via a written contract or verbally) that the tent was an extra fee. - The day before our wedding, we were presented with a bill for $1,000.00 for the tent. We then had to break from our guests and privately talk to the staff about this unexpected cost, which we were not prepared to pay. It took time away from our guests and brought unnecessary stress and tension to the evening. Rooms Not Serviced/Cleaned: - Some of our guests stayed both Friday and Saturday nights. Several of those who stayed both nights informed us that they returned to their rooms Saturday night to find that they hadn't been serviced/cleaned. Lack Of/Incorrect Hors d'oeuvres: - We did a tasting before the wedding and selected six hors d'oeuvres for our cocktail hour. It become clear within 30 minutes of cocktail hour that the requested hors d'ouvres were not all present. In addition, of the six we requested, some had been modified. Some were alternative hors d'oeuvres, which we had not selected or tasted. - These alternate hors d'ouvres started to show up around 30 minutes in to cocktail hour. They were all fried. I cannot eat fried food, that is why we specifically selected the items we did. - It was also apparent that the hors d'ouvres coming out which we had not chosen were of a lesser quality in ingredients and preparation. - Our contract stipulated that a "Tuscan Table" of meat, cheese and fruit would be available during the "Reception". This was not present. Incorrectly Prepared Wedding Cake: - We specified to their pastry chef the two types of cake we wanted. Both types of cake was to have its own filling combination. - Both cake combinations were done incorrectly. Some did not have filling at all and the chef simply used the butter cream as filling instead. - The vanilla cake was exceptionally dry - an amateur mistake for a pastry chef. Due to the nature and consistency of these errors, it is our belief that this was a strategic approach to cut costs by excluding elements that were in our contract and delivering less than adequate products and service.
---
Mother of the groom
Reviewed on

9/08/2013
Elaine H
Diamond Mills provided the perfect venue for the Hudson valley area! A rehearsal dinner BBQ on the terrace, luxury accommodations, and a perfect wedding reception! The food was amazing! Thank you Diamond Mills team for such a memorable wedding weekend
---
dollinger/sinclair wedding August 23rd, 2013---8/23/13
Reviewed on

9/05/2013
my groom and i are writing this review to share our diamond mills wedding experience! Diamond Mills was our destination wedding from Thursday night through Monday morning. Every detail of our wedding from check in to check out was beautifully orchestrated and choreographed. The entire hotel staff, restaurant staff and event staff (particularly highlighting Laurie Hichinbothem) was par excellence; including a phone call to the city to turn back on the waterfall which was not running when we arrived the day before our ceremony!!! The bridal suite was elegant, spacious and divinely inspired with chocolate. The hotel lobby staff were very eager and always pleasant. The venue for a ceremony on the balcony and dinner upstairs in the tavern with a cocktail hour outside and dancing in a ballroom was a tall order of constantly changing rooms and scenes- not only was the staff accommodating of our most challenging vision for our day but made it all look effortless!! ---The food and particularly the hor d'oeuvres were perfect on the palate... everything was elegant, tasteful and well done!!!!! Although diamond mills cannot order the weather, we were blessed with one of the nicest weekends of the summer... Thanking all the staff at Diamond Mills, our photographer, Cynthia L. Starr, our DJ, Joey Garcia, our florist Dennis at Green Cottage Florals, and Lux Hair Salon for make-up and hair artistry. Thank you for making our wedding a sophisticated, warm and chilled event!!!!
---
Disorganization at it's Best
Reviewed on

8/02/2013
Chris z
I was very disappointed that the quality of services rendered by the planning/ coordination staff and hotel manager did not matched the sophisticated and well designed ballroom and grounds. The waitstaff was exceptional which was a pleasant surprise the day of our wedding. Every interaction regarding the planning with Diamond Mills was made more difficult because of the apparent inexperience of the many event coordinators... (there was a lot of turn over throughout our planning process.) A minor example of this would be when we were asked by the wedding planner if we were going to have a sit down or buffet dinner a week before the wedding and again two days before the wedding (she had been involved with our wedding for over 6 months at this point and it was stated in our contract signed a year before the event). More major examples included price changes to the hotel rooms for our guests, changes to our agreed on package without our knowledge after we signed the contract, and an overall uninterested attitude once the contract was signed. This could be illustrated by simple questions we asked regarding standard planning aspects, taking over a week to get answers(more often over two weeks). This became exceptionally stressful as we were less then 3 months away from our wedding at this point. The day of went well and I attribute this to our Privately Hired Event coordinator who I know had to address a few issues to keep the day the way we envisioned and ultimately paid for.
---
Diamond Mills, HITS and misses
Reviewed on

7/25/2013
Gina D
We selected Diamond Mills as our wedding ceremony and reception venue because of it's beautiful setting, delicious food and overall great value. In the end my groom and I were very happy with many things, especially with the: -Event planner Laurie H., who is wonderful to work with -Chef Giuseppe Napoli, who is excellent and accommodating to finicky eaters -Pastry chef ___, who makes the BEST red velvet wedding cake EVER -Catering coordinator Lucy, who did a gorgeous job -Indoor ceremony site with fabulous acoustics -Outdoor terrace overlooking the Esopus river and waterfalls, where we had cocktail hour, Hors d'oeuvres and pictures -Competitive price We were not so happy with these couple of things: -We were persona non grata at the Tavern, being repeatedly told that our originally contracted booking there would not be honored due to a Horses In The Sun (HITS) event. This was a disappointment because the size of our wedding (58 guests plus a handful of vendors) better fit in the Tavern mezzanine than in the ballroom, where we ultimately had the reception dinner and dancing. -We were also really unhappy with the treatment we got from the hotel manager, when five or so months before our wedding weekend we attempted to hold rooms for our guests and reserve our own wedding night suite. First we were quoted increasingly higher and higher nightly rates, (starting at $179/night and ending at $400+/night), first for a two-night minimum stay, then a three-night minimum stay, then a four-night minimum stay. Finally she said nothing was available as all rooms were reserved for HITS guests. Given our overall experience of Diamond Mills as a wedding venue, it is: -Good, if as a non-HITS bride and groom you can both stand being treated as second class citizens to HITS-ers -Great, if booked on a non-HITS weekend -Perfect, if you are an engaged HITS couple looking for a made-to-order wedding venue
---
Wedding by the waterfall!
Reviewed on

5/01/2013
rachel m
The goal of our wedding was to blend black tie luxury with the feel of a family road trip to the mountains and a dash of nightclub style excess, all while respecting nature, our religious traditions and our budget. As if that wasn't enough, we also wanted a hotel onsite that would be convenient for our guests with special needs. That's a lot to handle, the Diamond Mills has succeeded on all counts. The bride was instantly attracted to the view of the waterfall that can be seen from every room and the charming town of Saugerties that has shops and restaurants within walking distance that made our wedding weekend feel like a destination that was so close to New York. The groom loved both the intimacy of the space as well as the grandness: with the entire 30-room boutique hotel and the private spaces of the tavern blocked for the entire weekend, it was a place where all of our loved ones could descend on what was for 3 days the center of our universe. The staff was beyond impeccable - they not only helped craft the event from beginning to end, everyone from server to manager to owner was proactive in anticipating our needs and the flow of the weekend. I can pinpoint several cases: during an intimate family dinner, an impromptu set of toasts broke out, and the servers elected to wait until we were finished so that we wouldn't feel rushed. One young waiter had overheard a guest talking about going snowboarding and offered suggestions on where to rent equipment to avoid wasting time and money. The event manager knew the type of wine and whiskey the groom liked and ensured that spectacular bottles were placed in the grooms room. He custom crafted menus based on dishes we liked during our many visits, and offered some special touches (including a lighting effect, but I don't want to ruin the surprise!). The hotel night manager noted that while we were celebrating late into the night, someone had brought out a plate of cheeses but no utensils, and without prompting he brought us cheese knives and plates. Gina, the hotel manager, worked patiently with us for months on room assignments that changed even during the weekend. Despite having a great on-site chef whose meals we enjoyed during the planning and the wedding weekend (this is coming from picky new Yorkers), the owner brought in a kosher caterer for the wedding itself so that our religious traditions were respected. He also gave us some great tips for our first triathlon (he had just ran a marathon and biked a century before one of our planning meetings, but he still sat with us). Our wedding coordinator made sure the entire weekend flowed and felt personal with advance planning (and made sure there was a case of red bull behind the bar just for the groom), and introduced us to vendors that they have built a relationship with through their bridal expos. We had an overall exceptional experience hosting our wedding at the Diamond Mills - writing this review makes us want to relive it again but for real not just on video. Our advice is to jump in early while they are still growing and they realize they are a bargain for what they offer, and you too could feel like you have a hotel, banquet hall, tavern and bar,all set on a waterfall, just for you and yours, and for one brief moment in time, make it the epicenter of your universe.
---
Weddings and Waterfalls
Reviewed on

1/13/2013
Heather C
My husband and I got married at Diamond Mills in October and our expectations were exceeded! The venue is gorgeous and our guests loved how everything was in one place: the ceremony on the balcony overlooking the falls, the cocktail hour and reception in the ballroom, after hours drinks at the Tavern and walking back to our rooms for the night. We are still hearing about the delicious food and amazing cake (we had carrot cake)! The weather, scenery and fall foliage made for beautiful photo ops as well. The best part about our wedding though, was how professional and helpful everyone at Diamond Mills was. They were on top of the details so we could relax and enjoy ourselves. They all made such a great effort to make our day so special and it was nice to feel that they were truly there for us and wanted our wedding to be as wonderful as we did!
---
Christmas Wedding Review
Reviewed on

1/11/2013
Tiffany M
My husband and I love Christmas and we wanted to celebrate in the best way with friends and family. The Diamond Mills is a beautiful establishment. It is grand in every way. The bridal suites are gorgeous and I was more than comfortable getting ready in their grand suites. My husband and i have been in the restaurant business for years. We understand the importance of good food at an event. We have catered wedding for Ship to Shore restaurant in Kingston, NY, and we know what to look for and what to expect. The food was exceptioinal at the event. The Diamond Mills allowed us to do a tasting, my husband is a chef, and we had many options that were hard to choose because they were all fantastic. Our guests, all, raved about the quality of the food for such as large wedding (140 guests). The wait staff is also fantastic and accomodating. Friends and family complimente the professionalism and promptness of the wait staff. Our personal server, Kyle, was knowledgeable and did not leave a request unanswered. The Diamond Mills is a new establishment and with any new establishment there is much room to grow. We were pleased with our day. Our guests had a ball and everything ran very smoothly. I would have liked a little more attention placed towards to decorations. It was Christmas time and what we originally discussed with our wedding planners was not what we saw when we started the final process of preparing the space. That was a small disappointment on our journey. However, my mother is a wonderful decorator and I did have the most exceptional florist in all of the Hudson Valley, Dennis from Green Cottage, so the decor ended up being amazing! Again, the professionalism of the wait staff absolutely blew me away. If anything, Diamond Mills should be very proud of their hard working staff and culinary experts in the kitchen!
---
Send Message