Home

Digby & Rose (featuring Letterpress Light)
About this Vendor
Personal attention for your perfect invitation
Details
Custom Invitations, Letterpress
Contact Info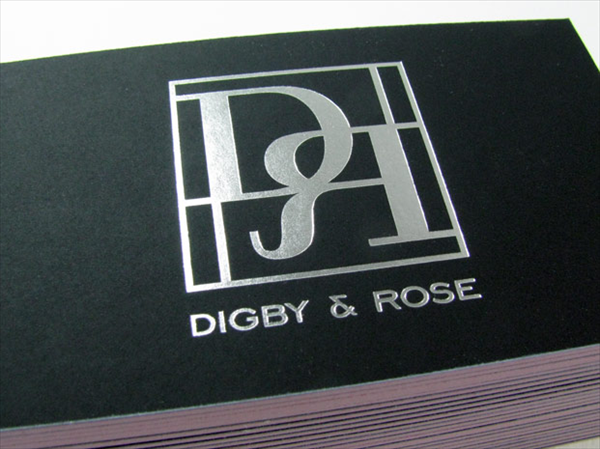 3711 Macomb St NW, Washington, DC
Perfect Invitations!
Reviewed on

7/13/2014
Wendy W
I worked with Taylyn from Digby and Rose for wedding invitations and she was great! She was extremely friendly and helpful. She knew exactly what my fiancé and I were looking for. Taylyn got proofs to us within days and the second one was absolutely perfect! Our invitations are gorgeous! The overall cost was reasonable for a letterpress design of extremely high quality. My fiance and I had looked at other stationary businesses in the DC area and nothing even came close to Digby and Rose. I highly recommend Digby and Rose for anyone that is looking for custom wedding stationary of high quality with excellent customer service!
---
My wedding invitations were awesome!
Reviewed on

11/15/2011
Chantal G
I spent hours and hours surfing the internet, trying to find wedding invitations that were sophisticated, unique and creative, yet affordable. One day, I found Heather at Letterpress Light. I loved the look of her work and contacted her immediately. She responded the same day, and was super friendly, helpful and informative. She sent me samples right away and worked with me to design an invitation that would work well with the look and color scheme of my wedding (which included creating invitations in two languages). Throughout the whole process, Heather was responsive and dependable. She was a pleasure to work with. And at the last minute, when another vendor didn't come through on my souvenir wedding certificate for the ceremony, Heather designed something beautiful and overnighted it to me in time for the wedding. I tend to be a demanding customer with high expectations, and LetterPress Light exceeded all of them!!!
---
Fabulous Invitations & Service!
Reviewed on

11/01/2011
ERIC E
We wanted a lavender fleur de lis wedding invitation and this was perfect. Heather is prompt and very accommodating - we were able to customize everything from the colors to the wording. She even did Save The Date cards for us with the same theme. Highly Recommended!
---
Outstanding products and service!
Reviewed on

10/27/2011
Ashley L
Digby and Rose was by far the best wedding vendor my husband and I used when designing our wedding. The quality of service, products, and overall experience was outstanding. When my husband and I began the design process with Heather we were blown away by her creativity. She took our vision and patiently created a custom save the date, wedding invitation packet, and later on designed the programs that incorporated all of our ideas. The printing process Heather uses is unique because it allows multiple colors and shades of colors to be used so printed products have a much more dynamic look than anything we had found elsewhere. Other letterpress vendors we looked at could only offer us 2 or 3 colors and were not as flexible about designing artwork. The paper Heather uses for her products is outstanding as well. I cannot count the number of compliments we received about the paper type and our design. Heather is a dream to work with as she is patient, positive, responsive, and budget conscious. If you are in the market for wedding invitations or any custom printed materials, I would highly suggest working with Heather at Digby and Rose.
---
Great custom designs!
Reviewed on

5/31/2011
Molly M
I found an invitation from Letterpress Light on Etsy that I absolutely loved. I got a sample and was able to work with them to customize the invitation to match my wedding colors and style. I was so happy with how beautiful the invitations came out that I had them custom design a program cover which was amazing. Not only did everything look beautiful but it all tied together so beautifully.
---
Excellent
Reviewed on

5/17/2011
Jamey U
Heather was great. She was timely and helpful. She always responded to emails, and the invitations looked great!
---
Heather at LL is the best!
Reviewed on

12/01/2010
Teresa S
After looking at what must have been hundreds of invitation samples for our wedding, my husband and I finally found a vendor we loved- Letterpress Light! Heather was a pleasure to work with. She patiently walked us thru the whole process and helped us design a custom invitation set. The quality of the finished product was fabulous, and we ended up with invitations that were truly special.
---
Flexible, responsive and creative!
Reviewed on

11/23/2010
Laura S
Heather was so responsive, which is very important to a bride in the midst of planning! She was also extremely flexible...although I originally selected one design, she did not flinch when I asked her to totally change directions and create something COMPLETELY different. We got so many compliments on our invitations, and I love looking at it framed in my home now!!! I would recommend her to any bride who wants a high-quality invitation at a very reasonable price!
---
Great Customer Service and Excellent Quality
Reviewed on

11/22/2010
Virginia B
Heather did a remarkable job in helping make my wedding invitations stand out. She is a talented designer and also gets back to you very quickly. Not only did she incorporate a hindu god on the mexican talavera design but she also came up with the awesome idea of red RSVP envelopes. It was the perfect combo for my Mexican/Indian wedding. I got so many compliments that guests still ask me where I got my wedding invitations. I would definitely recommend Letterpress light again and again.
---
Beautiful custom invitations
Reviewed on

11/22/2010
Maiya T
I had an extremely difficult time finding invitations that I liked until I came across Letterpress Light. I told Heather what I desired for my wedding invitations and enclosures and she came up with a design that exceeded my expectations. I was thrilled to have finally found someone that could create beautiful, unique invitations that I loved. Heather was very easy to work with making the process stress free. I would look to Letterpress Light if an occassion arises in the future where I need invites, announcements, etc.
---
Loved my untraditional wedding invitations!
Reviewed on

11/21/2010
Merisa F
Letterpress Light worked with me to create a beautiful, nontraditional invitation to go with my "Camp-Love" themed wedding. She was a pleasure to work with, even in the midst of that crazy Washington DC snowstorm last year which snowed her in. Everyone LOVED the invitations...except my VERY traditional mother. (But maybe that was the point, after all... :))
---
LOVED our invitations!
Reviewed on

11/21/2010
Teresa R
For some reason, invitations were hard for us. We couldn't find anything we really liked... until we stumbled upon Heather randomly via Twitter. Heather was great to work with. She was quick with responding to emails and making changes to the invitation design. She designed a custom invitation for us that went perfectly with the wedding. She had the invitations to us on time and in perfect condition. We received so many compliments on the invitations and are really glad we found her. We couldn't be any happier with the invitations!
---
Wonderful Experience!
Reviewed on

11/21/2010
Kimberly S
We ordered the wave invitations and I can not express how beautiful they were! We received so many compliments. Heather was also so easy to work with! She was very responsive and turned the invitations around very quickly. I can't say enough about how pleased we were!
---
Perfect Match
Reviewed on

11/20/2010
amy nakabanda f
I love this vendor!!! I wish her all the success she deserves for her business! She provided TLC in ALL aspects of the work. Yes, this is a real review! Heather you can use me for a reference anytime!!!
---
Amazing Invites!!!!
Reviewed on

11/19/2010
Alissa L
Heather did invitations for my Sept 2009 wedding. I wanted letter press but could not afford them. When I found Letterpress Light, I was thrilled! I got my invitations that included "letterpress" for half the price! Heather was also fabulous and easy to work with. I would not hesitate to recommend her to anyone who asked. Our invitations were like a work of art - in fact, we have one framed in our bedroom!!
---
Great Service, Top Quality, and No Hastle
Reviewed on

11/19/2010
Aaron T
Letterpress Light designed and printed wedding invitations, thank you cards, and signage for my recent wedding. I couldn't have been more pleased with the quality and service I received. The orders were completed before schedule and exceeded the expectations of my wife and I. Heather Noss and her staff were extremely helpful and accommodating. We came to Letterpress Light with a large order for our invites, and a limited time to get them printed and mailed. They were able to handle our needs, and the usual craziness that accompanies couples planning a wedding. I've recommended Letterpress Light to a number of friends and colleagues getting married or in need of customized stationary; and everyone who used them had the same level of enthusiasm as we did. I highly recommend Letterpress Light.
---
couldn't be happier!
Reviewed on

11/19/2010
Anne M
I used the Talavera tile for my wedding invitations and thank yous - they were perfect for my Santa Barbara wedding. Guests from around the country are still commenting on them. The price is beyond fair and the quality is very good. The entire process was easy and enjoyable. Highly recommended!
---
Could not have been happier!
Reviewed on

11/19/2010
Cristina M
My fiance and I had an EXTREMELY particular and slightly unconventional vision for our invitations, and Heather was completely game; not only that, but she improved upon our ideas every step of the way, and was a total joy to work with. We didn't have a lot of money to spend, so she helped us work within our price range (we ended up getting flat printing on that luscious, thick letterpress paper), and we came in well under budget (and she made invitation, reply card, and envelopes!). I had multiple people tell me they were the coolest invitations they had ever seen. I LOVED LETTERPRESS LIGHT. Honestly. One of the best decisions we made for our wedding.
---
The perfect invitation!
Reviewed on

11/19/2010
Jennifer W
I am a perfectionist (some may use another word), but finding the perfect invitation was a task for me. I needed somewhere to start, but wanted it to be personallized for us. When I saw Letterpress Light, I knew I had the perfect solution. Heather was awesome! She was patient (I called her so she could walk me through the process) and FAST! I ended up sending her a picture of my bridesmaids dresses so that she could see what color blue I was shooting for. She sent me a couple of colors as samples so that I could pick the perfect one and when I ended up wanting something in between, she didn't even hesitate! They were perfect and I got soooo many compliments on them. LOVE LOVE LOVE!
---
Beautiful and Special!
Reviewed on

11/19/2010
Cynthia A
A delight to work with from begining to end. Best sample presentation I received of any invitation artist I contacted, and the finished invitations more than lived up to it. The invitations both looked and felt beautiful and at an excellent cost. And I got a bunch of compliments from family on how unique my invitations were. Would definitely use again for other custom invation & stationary needs!
---
i couldn't have been happier with my invitations..
Reviewed on

11/19/2010
Rachel S
heather did an amazing job and her prices can't be beat! i got so many compliments on the invitations...they were so gorgeous and so different than your average wedding invite. you can tell she really puts her heart and soul into designing and creating the perfect wedding invitation. 5 stars all the way!!!!
---
A Pleasent Experience from Start to Finish!
Reviewed on

11/18/2010
Holly W
I found Heather while browsing through tons of invite designs on Etsy (I instantly fell in love with the design she has pictured above). I went through several drafts before settling on the final colors. I was worried that Heather would think of me as a pest, or worse, the dreaded Bridzilla, but she never made me feel like I was either. Heather delivered nothing but the best! All drafts were sent incredibly quick, emails were answered promptly, everything was in the mail on time and the final product was nothing short of exceptional quality. She made the process stress-free and I'm very grateful for that. I wish I could write a 100 more positive reviews to help her win!!!! Good-Luck, Heather!!!!! :)
---
Loved my invitations
Reviewed on

11/18/2010
shane a
My wedding invitations were perfect! Heather worked with me to insure the colours were exactly what we wanted. She was awesome and we could not ask for more.
---
AMAZING
Reviewed on

11/18/2010
Stacie W
The products are amazingly beautiful! Try this product, you WILL NOT be disappointed! We have had so many compliments. Now let's talk about Heather's customer service-BAR NONE! We have actually joked about a couple of our other vendors and say if only they "had a little touch of Heather they would be so much more successful". The products and the management receive my highest recommendation!
---
Heather is the BEST!!!
Reviewed on

11/18/2010
Jasmine M
I ordered 100 save the dates from Heather. Her product and service is unmatchable. She's responsive, customer oriented, and her invitations will definitely make an impression with your guests! If you're looking for something that will give your wedding a special touch, Letterpress Light is the way to go. Thank you Heather!
---
Send Message