Home

DJ Angie D Entertainment
About this Vendor
make your wedding memorable!
Why not elevate your expectations and celebration to the top? DJ Angie D Entertainment has the experience you can count on and we promise you will get 'performance beyond expectation.' Providing music and entertainment for all generations to enjoy, with system performance guaranteed.
Details
Country, Disco, Hip-Hop, Jazz, Pop, R&B, Rock, Latin, World Music
Ceremony, Reception, Wedding
MC Services, Recorded Music, Sound Equipment, Music
Contact Info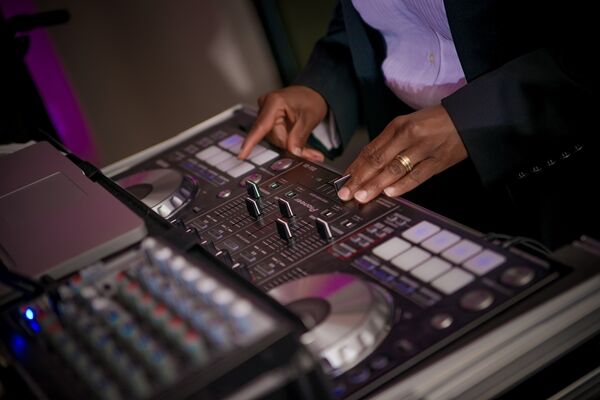 Reviewed on

10/07/2016
Christine M
Angie was terrific! To think our daughter wasn't sure she needed a D.J. and Angie completely made the dancing party. I loved how she kept the party going, but she wasn't trying to BE the party. I'd never seen a D.J. actually walk around the dance floor singing the calls. That... Read More was probably one of my favorites parts. She has such a beautiful voice, (I knew I liked it from the phone calls). Our wedding coordinator, said she was fantastic in rolling with the updated schedule. There was something else she did, that she probably didn't know would mean so much to us. Our daughter was concerned about having her table at the buffet line, to the point that she said she'd go downstairs to eat her food. She really hadn't eaten much all day. Angie obviously noticed the problem at the reception, and we saw her graciously redirecting people away from my daughter and her new husband so they could eat. What a gem she is!! Thanks agains so much!!
---
Reviewed on

9/07/2016
DeWan L
Having an event? Do it with DJ Angie D Entertainment! If you just want somebody to play music, hire anybody. If you want absolute audio/visual/professional personnel... Hire DJ Angie D Entertainment. I planned and coordinated most of my own wedding and people were surprised how... Read More calm and organized I was. It was due in large part to Angela's planning and preparation. Thank you for making my special day absolutely fun and magical. Add'l comments: After taking time to speak with my new spouse and my guests I need to add that Angela's attention to detail and the little extras she provided really made a difference. My guests said the quality of the sound system was awesome. They heard every word of the ceremony, announcements, toasts etc. Everyone raved over the lighted logo on the floor as well as the lighting overall. Great touches Angela! Thanks again.
---
Great Company and Personnel
Reviewed on

2/18/2015
Terri returned my calls and replied to my emails, promptly. I had contacted several companies with the same query and none answered with the speediness and professionalism that I received from DJADE's staff. My request was last minute, yet they still came through for my event,... Read More and it was spectacular! Angie was on the scene of my event in a timely fashion and her set up was very well received, my guests all loved the outside projection. I recommend them because they are so worthy!
---
Reviewed on

6/19/2017
Belle E
Angie was great. Valerie and I were able to see each of our guests during the reception. The music was great; and Angela kept the night rolling. Everyone had a lovely time; and we were so lucky to have Angela at the wheel!
---
Reviewed on

4/24/2016
Rebecca R
Angie did a great job!
---
DJ Angie D Spinin'
Reviewed on

10/29/2015
We recently used DJ Angie D for an event to honor a non-profit and were pleased with the service. Our guests were on the dance floor the entire night and had a wonderful time. The software that enables pre-selection of requested songs was great and easy to use. In addition, DJ... Read More Angie D was on time, courteous, and kept our guests engaged the entire evening!
---
Will Shop Around Next Times
Reviewed on

10/28/2014
Marianne E
We were engaged for a total of 16 months and booked DJ Angie Entertainment about eight months before our wedding. While we we impressed with her at our initial meeting, we were not impressed by the end of the wedding. First, we had to meet her at restaurants in DC to conduct... Read More business, warning sign number one. We were annoyed that she was still trying to upsell the lighting during our walk through at the venue in front of the venue Coordinator and our Caterer. The contract had already ready been singed and paid in full and it was inappropriate. Then she was trying to push her traditional views on our non-traditional wedding. She was upset that we were not throwing the bouquet and garter. And that we didn't have a small cake to cut because we were having cupcakes. She is there for business not to push her views. After our walk through we find out that we are getting a DJ and MC at no additional cost. Which was nice. However the MC danced when he was not talking so I don't understand why there had to be two people for one job. Then we find out at the reception that they brought two young adults to dance with my guests! THERE WAS NO MENTION OF THIS WHATSOEVER PRIOR TO OUR WEDDING DAY!!!! If the MC was dancing the whole night why were two extra people needed. Finally, the most upsetting thing was the equipment being poor quality during our wedding. There was static during our outdoor ceremony and static during dinner under a tent. For the amount we paid it should have been crystal clear. We have been to many outdoor events locally (low budget) where the sound quality was better than our wedding. The staff that was onsite blamed our wedding guests as the interface. Ridiculous! Lessons learned, we should have talked to more companies and done more research. Also get it in writing that the person you're coordinating with is the person that will be at your wedding. We only talked to Angie/Her Assistant and she wasn't there at our wedding. We would not recommend this company to friends.
---
Above and beyond!!!
Reviewed on

9/10/2014
Jason C
We met DJ Angie D at a wedding show and were impressed right away with her personality and presentation. After meeting with her a few days later, we were sure he had the right person for us. DJ Angie D entertainment offers lighting and DJ services and we took advantage of all... Read More of it. Our ballroom room was transformed by up-lighting, our cake glowed with the pin light focused on it, and our logo on the dance floor was amazing and all provided by DJ Angie D Entertainment. DJ Angie D suggested several games, which were a huge hit with our guests. The special touches she added were noticeable and made our wedding stand out from others. She offered suggestions and listened to what we wanted. She was flexible and went above and beyond. We never worried because we knew our timeline was just what we wanted and we knew DJ Angie D had everything under control. Her guidance throughout the process was invaluable. We can't say enough about Angie D and her team's professionalism, flexibility, and wonderful suggestions. DJ Angie D Entertainment is FIVE stars all the way!
---
Best ever
Reviewed on

7/19/2014
Dj Angie made the party I loved every minute. If I had another event I would only hire this company
---
Flexible about many things, but did not listen to us on music
Reviewed on

6/10/2014
Kari L
DJ Angie was responsive while working towards the wedding. She was also good at setting and schedule and trying to keep things moving. She was willing to come for the ceremony to set up sound for the ceremony when we only had her for the reception because we had a string quartet... Read More during the ceremony. She was also flexible during the reception when my photographer suggested a different formal exit, we were planning bubbles and the photographer suggested the light sticks would make better photos. My main concern was that we were specifically asking for salsa music during the reception for dancing. When we finally got to dancing we had less than 2 hours left and the first 4 songs were Electric slide, Cupid shuffle, something else along those lines, and Mambo #5. NONE OF THIS WAS MUSIC WE REQUESTED and specifically Mambo #5 was on my do not play list because I knew it was one of their popular songs. It was not until I went up to her during the wedding that and informed her Mambo #5 was on my do not play list and we wanted salsa music that she started playing our requested music.
---
THE BEST DJ FOR THE DAYS BEFORE AND THE DAY OF!
Reviewed on

11/14/2012
Supapan K
DJ Angela is the DJ to have at your wedding and the months and days that ahead of the wedding. 1. She is detailed oriented 2. She works with you to incorporate items of sentiment throughout the evening 3. She and her team responded to most of my emails within 24 hours or less... Read More - which to me was important 4. She professional and punctual 5. She is added value to your wedding - her fees cannot be beat and she brings offers more than the average DJ 6. Her team Terri and Marvin were also wonderful work with. 7. She added structure to my whole day 8. She got on the dance floor with us! 9. She eased my nerves the days leading to wedding and the on wedding day itself. 10. Last but not least, she truly cares about you and your wedding day. You will not be disappointed if DJ Angela and Team are a part of your day.
---
Not Good
Reviewed on

9/10/2012
Jen R
Be Aware: We used DJ Angie for our wedding and there was little flexibility. She wanted to do things her way. Most importantly though, she had pre-recorded the wedding party introductions and sent us an MP3, to make sure the names were pronounced correct- which we thought was... Read More great. We never thought she would use the MP3 that day but she did. Using the MP3 rather than actually speaking made the intro's rushed and hard to hear. Worst of all it cut our first off in the middle!
---
Gia'Donna and Vanessa
Reviewed on

3/26/2012
Gia N
We had a fabulous time. The music was everything that we asked for and more. The added touches of being a host, DJ, floor general and corrdinating every move with the caterers took all the pressure and decision making away from us leaving us free to enjoy our guests and... Read More reception!
---
Unforgettable Reception!
Reviewed on

11/14/2011
Karen M
We were very happy with our choice to go with DJ Angie D! She helped make our reception unforgettable. She was always flexible and very responsive, especially during the planning phase. She worked with us and always presented suggestions and things for us to think about to... Read More include in our reception, some of which we used and glad we did, though we never felt pressured to go with any of the ideas. When meeting, she was always on time, prepared, and organized. If you go with DJ Angie D, you will not be disappointed. Thanks DJ Angie D!
---
Perfect Day
Reviewed on

10/10/2011
Cainna J
Angie D was amazing! First of all, we were incredibly late in trying to find a DJ, and we got lucky that she was available. Even though we hired her just a couple of months from our wedding date, she made time to meet with us in person at our venue and also stayed in close... Read More contact on the phone after that. She has a lot of experience and was able to help us out with the timelline, and she walked us through all the decisions on important songs for our day. Be sure to trust her wisdom, and you won't regret it. She has a great website where you can choose songs to play or not play during the wedding, and she followed all of our requests. She was even able to find an obscure Dean Martin song I requested that wasn't previously in her library. Angie D had a great energy during our reception, and she followed our request to remain relatively unobtrusive on the microphone, but the party still flowed seamlessly. Plus, she's just a really nice and good person. I would highly recommend Angie D for your wedding. She provided exceptional service, valuable experience, a wonderful personality, and an exceptional value. Thanks, Angie D! P.S. At the time of this posting, the featured picture on this page is of me and my husband during our first dance!
---
Awesome!
Reviewed on

9/26/2011
Jay T
Well worth the investment for the proffesionalism, care and personal touches this DJ added. We received compliments from the guests, a proffessional production company executive in attendance and from the location. The lighting was beautiful and really made the eving pop. We... Read More all had an amazing time and literally the time of our lives. Thanks Angie your officially family now!! If you are trying to make a good decision for your wedding day then go with Angie and you will be delighted. From pre-planning to the day of she makes it easy and in a low pressure fashion. Great choice.
---
DJ Angie D was great!!
Reviewed on

9/14/2011
Sekwana C
DJ Angie D was great! Her website where we could request music was extensive and gave great recommendations. We especially appreciated the unique flair that she added to our wedding reception. She introduced our guest by adding little interesting tidbits about them. The... Read More wedding party was pleasantly surprised to hear their introductions. They were expecting just their names but they were happy with the more "extensive" introductions. She was extremely accommodating, she created an "old school, new school" mix of our wedding song. She even worked with us to create a short children's section since this was a family event. She worked the crowd very well, from taking request for appropriate songs and dealing with requests for inappropriate songs all while keeping the guest happy. We had a really great time and the grand exit was unforgettable. DJ Angie D even provided us with a little time to actually eat by pretending to talk to us before guests came to greet us at our table. If you want really great music and have fun at your wedding, then pick DJ Angie D!
---
DJ Angie as our Emcee
Reviewed on

3/03/2011
x x
We had DJ Angie D as our emcee (since we already have our DJ). She was fantastic!! She was very professional and very accomodating. She helped us with planning our reception and gave out several amazing recommendations to make our reception memorable. Most of our guests are not... Read More comfortable dancing so DJ Angie had a very challenging job to keep the party moving and make it last all throughout. She danced with our guests, lead the line dancing, and was able to convince our guests (even us!) to dance! Everyone had a great time! Some of our guests even asked where did we find her. She was amazing indeed! We highly recommend DJ Angie D.
---