Home

DJ Brothers
About this Vendor
Your DJ Specialists
High quality DJ service at an affordable rate. We will act as your master of ceremonies, take care of all the necessary announcements and work with all of your wedding/event vendors to make sure that everything goes according to your plan. Call today!
Details
Contact Info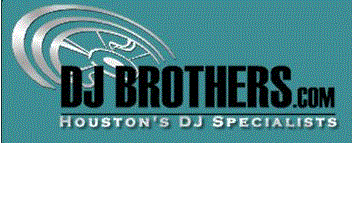 Serving Houston & Beyond, TX
Great!
12/21/2014
Kimberly R
DJ Brothers was so easy to work with! The online planner and playlist made it easy for us to select music for our wedding and get all of the details in order. Whenever we had a question, we could just shoot an email through the online system and we would get a response back very quickly. The DJ for our wedding was fabulous and played the kinds of music we asked! Great experience!
---
So fun!
9/20/2014
Catie B
We loved having DJ Brothers at our wedding. It was the perfect amount of DJ interaction with the crowd. Also, the combination and mix of music was upbeat and fun and had people of all ages on the dance floor. We had so many compliments on DJ Brothers!
---
Best Guys!
8/08/2014
Kristen G
We had the absolute best DJ ever! Sterling was awesome and went above and beyond for us! We also purchased our photobooth and uplighting from DJ brothers and it was very affordable! They were a hit!
---
Great Service
7/11/2014
Ashley W
Our DJ was included in our wedding venue - and that made us a bit nervous because we knew a DJ could easily make or break the wedding. Luckily for us, our DJ Sterling was amazing. Prior to the wedding we went online and filled out an extensive breakdown of the ceremony and reception music. A few days before the wedding Sterling called us and it was apparent he had thoroughly read over what we filled out. He asked very good questions and reviewed each detail with us. On the night of our wedding he did a fantastic job. I would recommend Sterling and DJ Brothers to anyone! You won't be disappointed!
---
Wedding DJ
8/09/2014
Melissa I
The music and our DJ was awesome!! He played a lot on our list of requests and more! Our reception was great thanks to the awesome music!
---
Really good
7/26/2014
Heidi L
The interface to set up your wedding is fantastic. You put in all the songs you want as well as all of the songs you don't want. Additionally, the website has a timeline planner; which, I found extremely useful. The dj did a good job of getting the crowd to dance, and limited the interaction with the crowed to the amount you want. Our dj (Joey) also checked with me a few times during the reception to make sure everything was going how I wanted it to.
---
What a night!
6/21/2014
Amy C
I reserved DJ Brothers as I had heard many good things about them and spoke with them at a bridal show that I had gone to. Joey K dj'd at our ceremony and wedding and did such a great job! Everyone was enjoying the music and atmosphere that it created. Not to mention the dance off! HAHAHA! Thanks Joey for making our day/night so special!
---
Wonderful service
5/04/2014
Kristi W
JR met with us about a month for our wedding and shared a lot of useful tips and advice regarding music. He also gave us some personalization advice. He really got into our theme and help make our guests get into the theme as well. He would check in with us periodically to make sure we felt everything was going well.
---
Great job
11/23/2013
Lauren L
DJ brothers was great! Their online database is full of all the songs we wanted. The DJ (Sterling) did a great job during the wedding letting us know what was coming up next. He kept people on the dance floor all night long and made sure everyone had a blast at our wedding! The DJ was one of the msot important parts for us and DJ Brothers did beyond exceptional!
---
Not your average DJ
11/17/2013
Lauren L
DJ brothers is the recommended vendor for the venue we used at our wedding. When we spoke with this DJ and arranged our music with him, it was pretty confusing. We assumed that most DJ's can use mp3's and can work with an I-Pod. We were wrong. Gladly, we confirmed that they couldn't a few weeks before our wedding and quickly made CD's of our music. Their website is user friendly. However, one thing I found odd was that when you selected the music you prefered them to play; I don't think they get that information in a way that it can be utilized. When we spoke with our DJ he seemed like he had no idea what we were speaking about, and then asked us to supply all of the music we would be playing at the wedding. Honestly, I thought that was part of what a DJ was paid to do? Maybe, I was wrong. We supplied him with all of the CD's broken down into categories (pre-ceremony, ceremony, cocktail hour, etc). However, during the reception he began playing music we specifically did not want to hear, for example a song that was between my groom and his ex-wife. We decided to ignore that, but were further confused when the DJ began playing random music neither one of us had asked for or had heard before. Why did we have to provide cd's of music if the dj was going to just play whatever he liked? This will remain a mystery. Also, we had asked for the DJ to be really interactive, to encourage dancing, etc, and he only talked to say that dinner was served and when there were specific events happening (father daughter dance, etc.) Nonetheless, overall this DJ was okay and worked for our event.
---
Great DJ!
10/26/2013
Lauren M
DJ Brothers makes the music process easy! The planning tools online are super helpful and easy. Jim Beeler was my DJ and he did an amazing job. Great at feeling the crowd and knowing just the right music to play and things to say to keep the party going!
---
Awesome!
11/09/2013
Katie
We used DJ Brothers for our recent wedding and we are so happy with the service! Tom was our DJ and he did everything possible to make our big day special. He played our requested songs, was very interactive and easy to work with. We also had an open-air photo booth which was a huge hit. Many guests could fit in at once and the props were awesome. Thank you DJ Brothers and Tom for making our wedding reception so wonderful!
---
A solid and dependable DJ
9/21/2013
Gina G
We hired Jim Beeler of DJ Brothers as our DJ and were pleased with the job he did. Nothing particularly special about what he did, but my husband and I both thought he did a perfectly acceptable job of MC'ing the night. Nothing went wrong, audio quaility and sound level were perfect, and he played what we had requested through the online music selection tool. Overall, a really good DJ.
---
DJ & Photobooth
6/08/2013
Melinda M
DJ Brothers was a great vendor. We requested Joey K (the owner) to be our DJ and he was a well-balanced MC (not too much talking but enough to give the guests direction and energy). He played all the songs that were on our "Must Play" list and he pronounced our family and friends' last names correctly when he announced our wedding party! The photobooth was a great discounted addition as well. The open air booth allowed a ton of people to get in the pictures. We also like how they gave us an electronic copy of each of the photos taken as well as put them in a scrapbook. Joey K encouraged people to take pictures in the photobooth too which was really great. They have an extensive wedding planner template online so you can login and update up to 5 days before your wedding. Joey K worked well with our photographer, videographer, and wedding coordinator. Highly recommend for a great price too!
---
Attentive DJ
7/06/2013
Stefani
The DJ Brothers made it very easy to create a playlist and request songs all through their website. Everything could be done online and I never even met with them in person before the wedding. We spoke on the phone the Monday before my wedding to double check everything and that was that. My one negative comment is that they played a lot of requests. When we spoke on the phone I told him that I did not mind requests, but I should have been more specific because he didn't scatter the guest requests between the playlist that we had already created. It was probably just a communication error on my part, because other than that, I thought he did a wonderful job. I was most impressed with their assistance in editing the song that I walked down the aisle to. I couldn't decide which 40 seconds of the song to use because I liked different aspects of it, so the DJ looked at it and sent me a link of a clipped version of it just for me to use. It was perfect! I was so glad that this DJ was included in the package that we had through our vendor (Heather's Glen). They did a great job!
---
Great all around service DJ
6/08/2013
Samantha C
DJ Brothers provided my DJ, uplighting and photobooth with an attendant. They offer all online planning and assistance for the couple for the music selction. During the planning process, I changed my mind several times and Joey the owner was VERY flexible and helpful!!! The uplighting was beautiful, the DJ was AWESOME (keeping the crowd entertained at ALL times) and the photobooth was a HUGE hit!!! They also offer video to be recorded with the booth for your guest to give you a special message!
---
Great service
5/31/2013
Melanie P
From the beginning, DJ Brothers offered great service. When I sent an email before I even signed on with them, I received a response (email or phone call) within hours! They always remained easy to get ahold of. At first, I wasn't thrilled about the complete online aspect of their planning. However, it was very user friendly and won me over. I let my husband go through and make a lot of music decisions and went behind him with minor changes. Also, the timeline aspect is great because it gets everything organized to make sure the night flows well. Sterling was my DJ and he was very good. He called the night before to go through everything with me. He played all of the major songs perfectly (one hitch in my husband's mother-son dance song but that was not his fault at all). He kept me in the loop through out the night with the timeline and asked about if I wanted to do certain things at certain times without being in my face ever. :) He definitely got people on the dance floor and having a good time! Looking back, I think there were a few "priority" songs they he did not play...however, the night was so great and filled with dancing it wasn't really missed. Overall, great!
---
Pretty good - no complaints
5/31/2013
Connie P
I used DJ Brothers as recommended by my wedding coordinator. They were pretty good. I have no complaints. I did like their website where I could go and pick the songs I wanted played at the reception and rate them as a first priority or second. I would use them again.
---
Wonderful Job
5/25/2013
Brittany C
Sterling was our DJ from DJ Brothers and he was phenomenal. He kept everything on track all night. He constantly checked on us and made sure everything was going as planned. He made sure all special songs were played. He was amazing!
---
works well
5/26/2013
Sarah G
We used DJ Brothers for our wedding. You get to pick songs to go on your playlist and block ones that you don't like. Prior to the event they called to check what songs we wanted throughout the ceremony and added songs for the reception. They were very courteous with our schedule during the wedding and I would recommend them.
---
Great DJ
4/20/2013
Debra K
DJ Brothers came in my wedding package so I didn't have a choice, however, they did a great job! Their website was easy to use and my DJ called the week of the wedding to confirm everything.
---
DJ Brothers Wedding DJ Review
11/17/2012
Katherine Z
My husband and I used DJ Brothers for our wedding dj service on 11/17/2012. We were very familiar with Joey K (Dj for KSBJ) and so we requested him and we got him! So exciting! He was super easy to work with and kept the party moving and made sure to play a mix of music so everyone could join in! We were so blessed to have him DJ our special day. We also used a photobooth from DJ Brothers and that was the best investment ever. We had 3 hours of fun for all of our guests and the personalized videos were hilarious and so fun to watch after we returned from our honeymoon. We also ordered the 12 piece uplighting and boy is it gorgeous. We spend so much money on everything else I think brides forget how beautiful the uplighting is and how it bring the room together. We would HIGHLY recommend every bride and groom to them. They simply, ROCK! :)
---
So special!
1/12/2013
Melissa H
Joey K made my special day perfect! He did a fantastic job!! His website made everything so easy to plan! We were able to get out guests to request songs online and we had plenty of time to get everything the way we wanted it! Definitely recommend Joey K and the DJ Brothers!
---
Great DJ
12/30/2012
Megan K
Joey from DJ brothers really listened to what I wanted for my wedding and followed through with what i wanted. I didn't really want a highschool prom/homecoming type event with a lot of corny dance songs and he listened to exactly what I wanted and steered clear of all the corny songs I didn't want. I was worried, because I have heard from other brides that a lot of DJs will just play whatever they want even when you are very specific about what not to play, because they want to kick up the party! We did not want a very huge party atmosphere and Joey listened to us and it was fantastic!
---
Awesome DJ!
11/17/2012
Kim R
JR worked our wedding in November. He did an AWESOME job, and the entire business was very professional and dedicated to making us happy. We met with the owner, Joey K, before booking to make sure that we felt comfortable with booking and he made us feel very at ease. We gave JR a playlist and he did not stray from it at all! We loved the music, the dance floor always had a decent crowd on it, and JR interacted well with the guests! They provided the best service for the most reasonable price! Highly recommended!
---
Send Email