Home

DJ Jason & Associates
Details
Classical, Country, Disco, Folk, Hip-Hop, Jazz, Pop, R&B, Rock, Arabic, Indian, Klezmer, Latin, Persian, World Music
Ceremony, Reception, Wedding
MC Services, Recorded Music, Sound Equipment, Music
Contact Info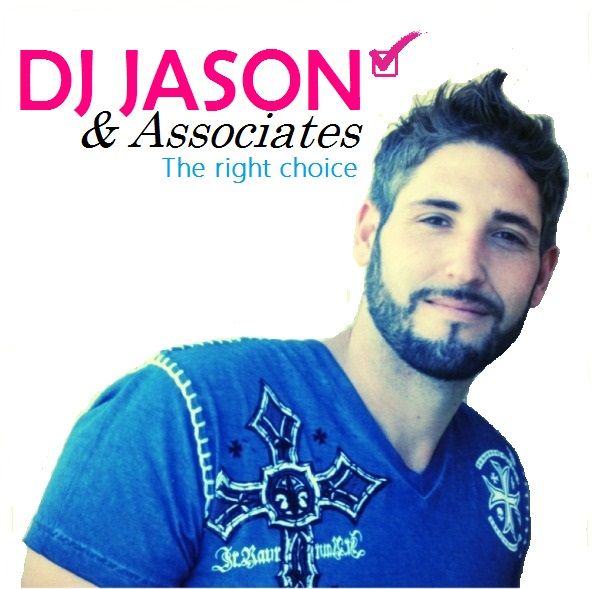 Reviewed on

5/10/2017
Melissa M
Jason was great! We had a lot f songs we left for the last minute and he had no problem with any changes and put everything together perfectly. He was always fast at responding and made us feel very comfortable. Our reception room looked beautiful with pink uplights he provided... Read More as well! After shopping around a lot, his packages definitely were the best prices. He did our ceremony, cocktail hour, and reception music, up lights and a gobo! He was a great MC too! Everyone loved the music 😀
---
Reviewed on

4/03/2017
Laurie A
We used DJ Jason for our wedding! We had an awesome time! He kept our guests on the dancefloor. Two weeks later we are still being told how fun our wedding was. I would highly recommend DJ Jason to anyone wanting to have a great time at their wedding. Thank you, thank you... Read More DJ Jason!!!
---
Reviewed on

2/21/2017
Caitlin C
Jason was great, very professional and was very flexible with my crazy, multi-cultural family. His bi-lingual announcements we're very helpful, and he kept the party going with music that pleased all ears and dancing feet! The only thing that I felt was a little off, was in... Read More between songs for the scheduled dances (first dance, daddy/daughter, mother/son) were a bit awkward, not having any music in between and just kind of silent. But it was nothing that guests seemed to notice, just the very aware bride (me). That would be my only complaint, but overall I would ask to work with DJ Jason again in a heartbeat! Easy process, fun to work with, and providing an upbeat, fun service while also including special dances like the "Anniversary Dance" and other couple dances.
---
Reviewed on

1/25/2017
Christina M
DJ Jason was perfect for our wedding! We were looking to find a DJ who listened to what we wanted played understood the type of music we were into plus the age differences at our wedding and DJ Jason nailed it. He offers several packages so you don't have to break the bank to... Read More make your special day spectacular.
---
Reviewed on

12/14/2016
Jenna S
DJ Jason was beyond wonderful! He was caring, personable, exciting and kept our guests on the dance floor all night! I would highly recommend him, as well as his team, to anyone looking for a fun filled party!
---
Reviewed on

10/26/2016
Jennifer M
DJ Jason was very accommodating to our requests and did not make us feel pressured into making a decision to pick his company as our DJ for our wedding. Giving a 4 star review instead of a 5 star as we have yet to actually utilize their services (Our wedding is 1/7/17), but so... Read More far it's been a great experience!
---
Reviewed on

10/23/2016
Stephanie P
I am truly thankful for the blessing to work with DJ Jason and Associates! They went above and beyond to make my day special. Thank you guys so much!!
---
Reviewed on

10/23/2016
Lauren Z
DJ Jason was absolutely amazing! I would definitely hire him again for my wedding!
---
Reviewed on

10/22/2016
jack H
DJ Jason and Associates is an awesome company! They totally came through and made a wedding a blast! I would definitely use these guys again!
---
Reviewed on

9/22/2016
Juacy R
I can't say enough great things about DJ Jason!!!!!!!!!!!!! He seriously MADE THE NIGHT. Music was perfect, vibe was PERFECT, everything was just Beyond perfect! Thank you sooooo much DJ Jason for everything! You truly made the night unforgettable! I'll never book another DJ... Read More ever again!
---
Reviewed on

9/01/2016
Erica E
We had DJ Louis at our wedding on May 7, 2016. He did an amazing job! He was very professional and accommodating. He also did an excellent job at feeling out the mood of the guests to keep them on the dance floor. DJ Jason was also super helpful during the planning process. He... Read More was easy to reach via email and always got back to me very quickly. I highly recommend DJ Jason & Associates! They are affordable AND do a wonderful job. =)
---
Reviewed on

6/13/2016
Kate R
My husband and I attended a wedding that DJ Jason was working, and decided that we just HAD to have him be the DJ at our wedding! He had a great online system for requesting songs for each of the special moments ahead of time, and gave recommendations in case we couldn't come up... Read More with anything. He was very professional and had everything set up early on the wedding day. At the last minute, I added a sand ceremony section to our wedding ceremony and I don't think I told Jason about it. However, when that dawned on me at the beginning of the sand ceremony, he was already playing the song that we had played as the bridesmaids and groomsmen walked the aisle. It was perfect! I was also impressed with how seamlessly he transitioned everything throughout the evening. My favorite part was the acoustic hour, in which he played his guitar and sang during the appetizer hour. My husband's favorite part was the lighting! We both loved the music as well. Our wedding was so much fun! I HIGHLY recommend DJ Jason and Associates to any bride and groom!
---
Reviewed on

6/11/2016
Jason was amazing to work with from start to finish. He was very inquisitive about the crowd and played the perfect mix of songs for our eclectic bunch. He kept a great pace throughout the night and was very flexible and helpful. Hope to get a chance to work with him again in... Read More another capacity!
---
Reviewed on

5/18/2016
Stacie W
I am so happy that we decided to use DJ Jason & Associates as our DJ. I had no clue that my family would be such dancers, but everyone had such a great time and, to me, that's what makes a wedding great. So, thank you Jason for keeping the party going all night! Edith, was a... Read More complete life-saver as our day of coordinator! From her help with the rehearsal to all the work she did with the set-up - she made the day so seamless and stress-free for me. If anything went wrong, then I was completely unaware and didn't notice. I loved the small details she added like spelling "Love" with our honey jar favors and decorating our sweetheart table. My parents and husband were so impressed and all commented on how they were so glad that we decided to hire a day of coordinator. I cannot thank Jason and Edith enough for all their help making our wedding day so memorable!
---
Reviewed on

5/05/2016
Caysie A
DJ Jason & Associates did a wonderful job!! I would highly recommend them for your wedding reception. You won't regret!
---
Quality Professional
Reviewed on

1/26/2016
Caroline K
Dj Jason provided the music for our ceremony and reception. He was able to handle challenges on the day of with professionalism. The ceremony music was perfect. He managed the timing during the reception in conjunction with our photographer very well. He was subdued and... Read More professional throughout which is exactly what we were looking for. We had many compliments from our guests about the job he did keeping everyone dancing. He did an excellent job overall, his equipment was very good and the setup looked very professional. The lighting provided added an extra boost to the feel of the night.
---
DJ
Reviewed on

1/06/2016
Kristi B
My husband and I were extremely happy with DJ Jason. We definitely felt he was worth every penny. He was really easy to work with and everyone loved the music! Highly recommend!
---
Reviewed on

12/24/2015
Megan E
This company did great DJing for my wedding but DO NOT use them for your wedding video they are a complete scam!!!!! My contract stated that I would have my video in 3 months. When I asked Jason about the status of my video after the wedding he said they were running behind and... Read More it would be 6 months. After 6 months Jason said they were still working on it and I should be fine with this because I got a great deal (even though the price I got was what he advertised online). When I finally received the video 2 days before Christmas because I told him that I really wanted it to give to my family, it didn't even work in the DVD player only on the computer then when we watched it there were parts that hadn't been edited and you could hear the camera man instructing people, to top it off, at the end credits he spelled our last name wrong! When asking Jason to fix this and at least get me a DVD that worked in a DVD player he told me to quit emailing him and he was going to file a harassment suit. Do not fall for him telling you how his company is Christian based because these are definitely not Christian qualities.
---
Reviewed on

11/19/2015
Scott
I was looking for a Christian DJ that could work my reception. DJ Jason & Associates were recommended by a friend, so I checked out their bio, reviews, and website. On his website, he advertised that he was available to do weddings in Jacksonville, so I tried to get into contact... Read More with him. I immediately got a reply that they wouldn't be interested in doing my wedding reception because was "too far". I had not even had the chance to give any details or talk price ... my budgeted price exceeded his package prices, so I would've been willing to pay travel and stay if necessary. Extremely disappointed in the false advertising.
---
Reviewed on

11/08/2015
Kate F
Honestly can not even begin to explain how great DJ Jason was. He listened to what we wanted and went above and beyond. I received so many compliments about the DJ and I must say he made my night. People who I did not think would dance were out on the floor dancing. I... Read More experienced a dress disaster and the DJ was just so calming. If you have not hired a DJ you need to hire this DJ!!!! Thank you so much!!!
---
Reviewed on

11/03/2015
DJ Jason & Associates were amazing! They went out of the way to make my wedding very special! The DJ they sent me rocked the party and kept everyone dancing all night long. The lighting was terrific also. I would definitely use them again!
---
Amazing DJ!
Reviewed on

10/27/2015
Nicole b
DJ Jason was amazing! We were so happy with all the music he selected along with our requested songs! He kept the crowd going and was aware of our needs! We highly recommend him and his services!
---
Recommend
Reviewed on

6/17/2015
Jennifer W
When researching DJ's to hire for my wedding, everything I read said that the brides wished they had given a song list of their requested songs. Even the ones that loved their DJ's. My groom and I spent A LOT of time making a list of songs that everyone would enjoy. None of... Read More them had curse words nor negative meaning. A complete mix of years and styles of songs. On the day of our wedding, it became clear that hardly any of those songs from our requested play list were played. I absolutely did not want any synchronized songs (wobble, line dance, cupid shuffle)played, I personally cannot stand them, (He must have played every single synchronized song ever made)including the Congo line, which in my opinion is tacky. Yes, I understand it gets the crowed up dancing and at the end of the day it was fine and it did not matter what songs were played. Everyone, including ourselves, had a great time. Overall, Jason was a good DJ, no serious complaints, but my advice for anyone with hiring any DJ, do not waste your time making a play list because you probably, A. Will not get your songs played, or B. Even remember with everything going on. You have enough to worry about. Regardless, it will be a beautiful wedding, so enjoy it. :)
---
DJ Jason & Associates is #1 Wedding DJ Company
Reviewed on

1/05/2014
Jason M
DJ Jason & Associates is the Right Choice for Tampa Wedding DJ! Personality, Style, and Quality! God Bless!!!
---