Home

DJs For Hire
About this Vendor
The soundtrack to your event
We've been providing the soundtrack for Kansas City weddings for nearly 30 years. Our philosophy – play the right song at the right time, be professional and classy, and provide vocal direction when it's needed (and stay quiet when it's not!). We are KC's most trustworthy DJs!
Details
Country, Disco, Hip-Hop, Indian, Jazz, Latin, Pop, R&B, Rock
Ceremony, Reception, Wedding
MC Services, Recorded Music, Sound Equipment, Music
Reviewed on

6/27/2016
Deb K
DJ's for hire did a great job at our daughter's wedding. They were attentive and helpful and truly took the time to make sure that everything that my daughter wanted for her reception dance was taken care of. They did a great job !
---
Reviewed on

10/04/2016
Tim was our DJ for our September 24th wedding, and it was perfect! He made a personal visit to our home to discuss our ideas and wishes. We also had some last minute changes, and he went out of his way to accommodate us. Our guests danced all night, and had such a great time. A... Read More number of our guests even mentioned that he was the best DJ they had encountered. Thanks DJ's For Hire for such a memorable day!
---
The Right Kind of DJ Service
Reviewed on

1/27/2014
Kim H
A DJ will set the tone for your event, which is why finding the right one is so very important. The ladies of You're Invited Weddings enjoy working with Mario and Tim for their professionalism, thoroughness and desire to create the right event for their clients. You cannot go... Read More wrong with selecting DJ's For Hire for your event!
---
Reviewed on

6/01/2017
Hannah T
Mario and Tim were phenomenal. Very professional, stayed in constant communication with us, and paid close attention to everything we wanted and didn't want. Great pricing, friendly, and easy to work with. Highly recommend.
---
Reviewed on

8/20/2016
Courtney H
Mario and Tim were awesome! They were professional and fun! They kept the party going all night. Everyone was on the dance floor, Highly recommended! We used them for the ceremony and reception and everything transitioned seamlessly
---
Reviewed on

10/14/2015
Kyra S
I went around and around with different DJ options. I felt that many in my price range were too cheesy, too sketchy or completely impersonal (you didn't know who you were going to get the day of). Mario was always a class act- extremely professional and reliable. I told him... Read More the tone I wanted to deliver for my wedding reception and he nailed it. He was so flexible and helpful when we had a guitarist that bailed last minute. Seriously, save yourself the time and just book these guys NOW.
---
Reviewed on

10/13/2015
Brooke A
Mario and Tim were amazing!! They worked with us and did a great job! We used a live musician for several elements of our ceremony and reception and they worked seamlessly with her. In fact, she said they were the best DJ group she's ever worked with. We had a blast dancing... Read More the night away with the music provided by DJs For Hire and everything was very budget friendly. We would definitely recommend them for any wedding!
---
Reviewed on

9/03/2015
preety m
DJs for Hire are awesome! We had a great time working with them and still very happy with the entertainment! Everyone enjoyed the music and had great time on dance floor. We had a diverse guests and wanted to play different genres and Mario & Tim were able to find the songs and... Read More were able to mix them. It was very easy to communicate with them and they were very prompt and accommodating with our ever-changing requests. One of my biggest worry going to the wedding was the entertainment and to see everyone enjoying and dancing till closing was great. They really set up the dance floor and the guests are still talking about it! Thanks for the wonderful event and making it fun!!
---
Reviewed on

8/31/2015
Heather C
Mario and Tim were the easiest vendor we dealt with during our wedding/reception planning. They were extremely responsive when it came to phone calls and emails. Mario even did a Google hangout with us one week to discuss some of the details when we were short on time to meet... Read More in person. We had a need for a "mix tape" for the Father Daughter dance and Mario knocked it out of the park! He even got it to us months ahead of the reception so they had time to practice! When it came to the day of the reception, the vendor we were least concerned about was Mario and Tim. They showed up exactly on time, dressed to impress and were absolutely on point with the music, timing and voiceovers. They were even flexible with us as we pushed the schedule around on the fly. I wouldn't hesitate to hire them again for ANY event -- They were simply fantastic!
---
If you want it done right...
Reviewed on

1/05/2015
Alexandria L
If you want it done right, DJ's For Hire KC should be your only stop! We met with Mario and immediately knew our DJ search was over. DJ's For Hire KC is professional, easy going, and will create the exact atmosphere you are looking for at your event. We hired Mario and Tim for... Read More our wedding reception in September 2014. From our very first meeting we briefly discussed music selection, and Mario knew exactly what we wanted. I wanted to mash 2 very different songs together for the Father/Daughter dance. Within hours of emailing him, he had created the perfect mix! As the big day approached, Mario helped me create the reception's itinerary with all the necessary details. DJ's for Hire played the perfect mix of slow/fast songs and never strayed from our requested genre selection. Mario was in charge of the mic and knew exactly when he needed to direct our guests and never made it about their performance. DJ's for Hire went above and beyond our expectations, creating not only a magical night, but an evening that flowed beautifully; a night our guests still rave about. Mario and Tim, thank you so much for making our day better than we ever dreamed. DJ's For Hire KC = A++
---
Hire DJs for Hire!
Reviewed on

12/02/2014
Elizabeth O
I recommend Mario and Tim because they are classy, experienced, affordable, and know how to set the tone with the right music. We interviewed 4 other DJs before we found Mario and Tim, and we were immediately comfortable with them. I believe the DJ is the most important element... Read More to your reception - the music can either make for great dancing and memories, or groans from guests and buzz kills. We chose wisely with DJs for hire. We were looking for DJs that were professional with trustworthy music tastes and didn't cost and arm and leg. They had a professional presence and wouldn't try to make themselves the star of the show like some other DJs do. They kept the reception flowing and naturally announced the cake cutting, first dance, etc. I've also been to over 10 weddings in the past year, so I didn't want to hear typical wedding songs and had a do-not-play list a mile long. Tim and Mario are very accommodating to make the wedding YOUR day. They even cut a custom first dance song for us, as we wanted a mashup of two songs. Also, they have an innate ability to read the vibe of the party to keep the dancing going. Everyone had a blast and still talks about how great the dancing was at our wedding! They are very responsive and organized, as well as the most affordable DJ I found in town and trusted! I HIGHLY recommend!
---
Love Djs for Hire!
Reviewed on

10/31/2014
Solissa F
Mario and Tim were super friendly and easy to work with. I tend to be very particular (as any bride might be for their big day) & they graciously helped us plan the exact type of party we wanted. I really appreciated their prompt responses via email which made planning a wedding... Read More when your very busy with work super easy. I would hire them again for any special event! :)
---
DJs For Hire
Reviewed on

9/20/2014
Briana M
Fun, friendly, and they did a great job! I would definitely recommend to a friend.
---
Wedding DJ
Reviewed on

2/23/2014
Alison G
DJ's for Hire was great to work with! They were very professional. They always replied quickly to e-mails or phone-calls, and were reasonably priced. They read the dance floor very well and all of our guests keep complimenting us on how much fun they had at our wedding... Read More reception. They kept the reception flowing perfectly throughout the whole night. We had some ethnic songs that we wanted played and Mario had no problem with getting the songs. My father and I wanted to do a dance routine for our father-daughter dance, which Mario helped make the cd for and it sounded great! We are so happy with DJ's for Hire and would definitely recommend them!
---
Experienced, Professional and Fun
Reviewed on

1/10/2014
Holly D
Mario and Tim do a fantastic job! As a coordinator I appreciate so many things about them and their service. First, their communication and approachability leading up to the wedding is top notch and allows all involved to feel confident and comfortable. On the wedding day they... Read More give 100% and execute to perfection with set-up, mc duties and song selections. They keep the client's vision and preferences in mind and always have a great party going.
---
Not impressed
Reviewed on

12/29/2010
Kelly N
We chose them because they were professional and seemed higher class. They didnt want to bring tacky disco balls, lights and decorations. In the end though I was not impressed. We met with them and told them the type of music we like. They played a lot of boring music we didnt... Read More pick. Then for the dance portion. They argued with me about not playing as many slow dances since it was ruining the vibe. They played music that was too old for the age group of my wedding.
---
great, fun djs!
Reviewed on

8/26/2010
Brie V
Mario and Tim have been DJ'ing for a long time, and their expertise shows. They have a great song list, good ideas, but repeated over-and-over that it was our wedding. They were super flexible and were downloading songs on the night that I had forgotten to request! They were... Read More great!
---
Stress-less ceremony and reception
Reviewed on

6/28/2010
Cori N
DJs for Hire KC were fabulous- we had them play music for our ceremony as well as our fun reception! There were 2 gentlemen so they could coordinate between having 1 person be with the bridal party, so the person in charge of the music could know exactly when to cue each song.... Read More Our wedding went off without a hitch, even with 2 singers who weren't able to rehearse with the DJs beforehand! Our guests admittedly weren't the most crazy about dancing, but the floor was never empty, so they did a great job choosing appropriate music! The DJs had great voices and were such fun MCs- I couldn't believe how little they charged for all the work they did for us! They were definitely the "wedding coordinators" of the reception- keeping our timeline so we could get everything done in time to be able to leave the venue on time. Good thing they don't do just weddings- we will be using them in the future for any event for which we need a DJ!
---
Meet The Owner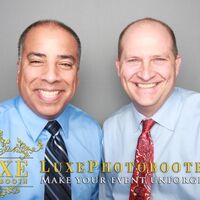 Mario Estevez & Tim Staley
If you have a good time doing what you do, that makes all the difference. We have a blast being a part of a couple's big day but the weight, significance and meaning isn't lost on us. We do everything we can to make sure things go off without a hitch but at the same time we thoroughly enjoy the roles we have and we think that comes across in our approach. Professional service with the proper focus on the couple's desires all while feeling privileged to be a part of it sums us up. Want someone to lead people in a congo line? Keep looking. If you want the focus to be built around you, call us.