Home

DJs To Go - 5 out of 5 STARS - Wedding Pros
Details
Classical, Country, Disco, Hip-Hop, Jazz, Pop, R&B, Rock, Klezmer, Latin, World Music
Ceremony, Reception, Wedding
MC Services, Recorded Music, Sound Equipment, Music
Contact Info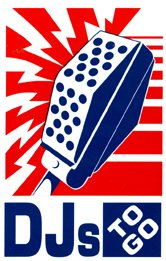 Address
901 N PACIFIC COAST HWY, Redondo Beach, CA
Los Angeles area and much of Southern California.
(310) 798-8711
WEBSITE
TIM IS THE BEST
Reviewed on

10/29/2014
Jeri C
TIME COMES EQUIPPED WITH EVERYTHING...FROM TUXEDO TO THE ELEGANT MUSIC WHEN THE GUESTS ARRIVED...HE WENT ALONG WITH OUR NEEDS - WAS PERSONABLE...AND WAS A GREAT GREAT CHOICE.
---
Dj's To Go helped make it a night to remember!
Reviewed on

7/14/2014
Janna L
I would whole heartedly recommen Tim Bentor and Dj's to go for any event or wedding. We hired Tim as our DJ for our recent wedding on the Queen Mary. We met with him initially to discuss our requests and find out pricing options. He was very up front with costs and what... Read More would be included. There were no fees for additional services it was very upfront. We gave him an idea of what type of music and songs we wanted (and didn't want) and he totally respected our requests! It was fun to her our customized play list through out the reception. He also acted as our MC for the evening. We requested everything from Sinatra to Bruno Mars. Our older family members loved the Bratt Pack feel during dinner and then he mixed it up with contemporty songs, swing and everything in between! He was great at keeping the party going with great music choices. We had a small lighting element for the dance floor and he equipment (microphones, speakers etc.) worked without any glitches (as far as I noticed anyway). In researching other DJ's I found that DJ's To Go offered the best value for their services. I was very happy with DJ's to go. Professional, reliable and fun! We loved our wedding and everyone danced until we were kicked off the dance floor!
---
Fun Wedding!
Reviewed on

4/24/2014
Djs To Go gave us Matt Short to use as a DJ for the wedding. My family LOVES to party. Sometimes they can be a little "over board". Matty handled everything really well. My brothers have short attention spans and normally run crazy around every family event. Matt got them... Read More focused for long enough to give really nice toasts. The guy in the office was right, he has the cool English accent. It seemed to give my wedding an extra little touch. We had fun and would recommend Matty to anybody getting married. Woop Woop!
---
Risha & Dwayne
Reviewed on

4/23/2014
Tim was our DJ, he had the club experience we were looking for. Music is not our "common interest". Tim had the knowledge to take my R & B background and mix it with Dwayne's various likes and dislikes. We are a mixed race couple (black & white). Tim made both of our... Read More families feel at ease with his quick wit and upbeat personality. We were a little worried how things would turn out, but everything was great. Tim told us what he was going to do and then did it. He did what he said he was going to do, it doesn't' get much better than that! Everybody had fun, everybody danced. Nobody felt left out. I recommend him to anybody, but especially mixed race couples.
---
The Ringley Review
Reviewed on

4/23/2014
I wish I had more to write about but this is really simple. Tim was my DJ, he said what he was going to do, he did it, and it turned out great. Tim was my sister's DJ a few years back. We've seen him before and we were happy to work with him again. Having the same DJ as... Read More we worked with before was very comforting. We knew Tim was reliable and lots of fun. I wanted my wedding to be different than my sister's, and it was. It was still tons of fun, but in a different way. Tim has got many talents, and knows how to play to different crowds. He worked well for us!
---
Beachy wedding
Reviewed on

4/22/2014
Sunny H
Tim was my DJ, he did a great job. He actually asked me to give him a nice review on this web site rather than a tip. I thought he was excellent, but I see I'm not alone. It looks like he's done this quite a few times before. I wasn't aware of this web site. Looks like they... Read More have everything a girl would need for a big wedding. Mine was small and casual at the beach. He told me he had been to 1100 or so weddings, wow, he HAS done this before. BUT, I wanted an experienced pro and Tim was definitely that guy. He kept the afternoon upbeat and light without talking too much on the mic. He is great as an emcee but we wanted a minimal type of emcee. He gave us exactly what we asked for. For all you web brides, I recommend Tim highly. Good job DJ Tim. A+
---
Matty Short Was Great!
Reviewed on

4/19/2014
The people in the office (Tim) was very thorough about sending me information and answering my questions. Just knowing there a real person to call with questions was helpful. Many of the DJs and wedding sites I looked at did everything on line. I'm sure there are brides... Read More who want to do everything on line and read the FAQs on every web site but I just don't have the time or patience to read through 30 pages of web text to find the answer to my one simple question. With these guys I could call the office or the DJ and get a quick answer. Matty was my DJ, love the English accent. It was a nice touch to our simple but fun wedding reception. Lots of family, saw cousins I hadn't seen in 5 years even though we live one town away. I guess it was a wedding and a family reunion wrapped into one fun party.
---
DJ
Reviewed on

4/18/2014
DJs To Go was very nice to work with. They have people in the office who take care of most of the details. I liked talking to my DJ, he was more in tune with my wedding. Steve was a pleasure to work with. He was a bit slow in calling me back a few times but he always had... Read More good answers to my questions. Steve was a great M.C. When we initially spoke, I didn't think he would be a talker but I was wrong. He handled everything and then some. Trying to coordinate my two teenage twin sisters is sometimes like herding cats but Steve kept them on course.
---
Palm Springs Wedding
Reviewed on

4/17/2014
My wedding was in Palm Springs, my family is from P.S. I hired most of my vendors from L.A. and gave them a small travel fee to drive to my wedding. It was easier than driving to P.S. every weekend to meet vendors. The ceremony was on the 18th hole green area. Nice shade... Read More tree and a gazebo. Very peaceful and natural. The dinner and dancing was inside the main room. Tim was my DJ. As it turns out, he has a house just outside Palm Springs so he came out a day early and previewed the club a day before the wedding. That made me feel better knowing there weren't going to be any last minute DJ surprises. Tim was very patient, I must have changed my mind on everything at least twice. He must be a saint in disguise. I made my photographer a little crazy with last minute changes but he pulled it off nicely. Good job!
---
S. "Yu" Lynn
Reviewed on

4/17/2014
Matt Short threw the best dance party I've seen in a long time. My family is Chinese and they don't normally dance much. BUT, this was a good party. Lots of dancing. Matt did our family introductions flawlessly. He said he would practice the names, he apparently did. My... Read More hubby loved his sound system, he is "sound picky" and Matt's system passed withg flying colors. Love his accent.
---
DJ Review
Reviewed on

4/17/2014
Tim was great at my wedding. He followed ALL my directions. It doesn't get any better than that. he made a planner for me, made things easier. My mom was a stress case and it made me stress out. Tim was my only vendor I didn't worry about.
---
We danced all night!
Reviewed on

12/28/2012
veronica l
Our DJ's name is Jaime. He was absolutely wonderful. He met with us multiple times to get to know us and to sample some possible songs. There was only one mistake from his entire set. No big deal though. The entire experience well makes up for it. I highly recommend Jaime as a... Read More DJ.
---
Made my wedding day!
Reviewed on

9/05/2012
Stephanie C
I used DJs to Go to book my music with Joe Farley being my DJ. All I can say is that this was one of the best decisions we made! Joe was amazing from start to finish, and made the reception so awesome that I danced to almost every song (and what kind of wedding is it if the... Read More bride doesn't party!). He was so professional and played all the songs I requested and was able to read the crowd and play just the right songs to get people going. I had originally only booked him for four hours, but my guests and I were not ready for him to leave so we were even able to add on an extra hour last minute. I would recommend Joe to all local brides!
---
Redondo Beach Office
Reviewed on

9/05/2012
Leslie F
Tim Benter was our DJ, and he was perfect! He met with us to discuss our song preferences and played what we wanted. He was on time and delivered exactly what he promised. There was no break in the music. It was non-stop fun, and many of our guests commented on how much they... Read More loved the music. I would definitely hire Tim again without reservation. He is a great guy with a fun and quirky personality, but he knows that it's the bride and groom's night. He does not try to steal the show like so many DJs I've seen. In fact, Tim is the best DJ I've heard at any wedding ever. You will not regret hiring him.
---
My DJ Tonic rocks!!!
Reviewed on

8/30/2011
Sol R
DJs to Go are awesome! they have different DJs to select, my DJ, DJ Don Tonic was absolutely a homerun! he had all the music I ask for, he was able to combine latin music with american 60,70,80's music. He knew when to continue playing same kind of music and when to change! all... Read More my guests danced and some dance for hours and hours!!!!
---
kept party going
Reviewed on

5/06/2011
Tracy F
Kept everyone on the dance floor. Great at transitions. Followed our play list for the most part but played the wrong version of our first song even after confirming the version with us at a meeting before our wedding. Did not take over the mic.
---
EXCELLENT DJ!
Reviewed on

3/22/2011
Hanna H
Tim was great, played all our requests and then some extra fun songs too. Even my dad was happy. Everybody danced. Tim kept us on schedule. We had a great wedding. Thanks Tim.
---
Great value.
Reviewed on

1/17/2011
Kristina E
Tim, our DJ, was polite and funny. He played just the right music, all of our requests, and all timed perfectly. Professional, and well-priced. He had everything ready on the fly as well, considering our decision to have a DJ was literally made the week before the wedding.
---
awesome
Reviewed on

12/17/2010
Amber S
Tim was great! I recommend!
---
Excellent
Reviewed on

11/10/2010
Tim B
Excellent DJ!
---
HIghly Recommend
Reviewed on

10/25/2010
Heather L
Tim Benter, the owner of DJs To Go was our DJ and he was great. He was quick and efficient, friendly and easy-going, and really listened to what WE wanted.
---
Loved him
Reviewed on

8/06/2010
Stevie R
Tim was our DJ, he totally understands grooms. It seems like everything is about brides but Tim understood what I wanted and really delivered. I thought I would be bored at my own wedding but I had a blast. Rock On Tim.
---
Great DJ!!
Reviewed on

8/06/2010
Sara L
Tim was awesome, played my requests, great voice, good fun. Highly recommend.
---
Great DJ & MC!
Reviewed on

5/20/2010
Jacqueline S
I would highly recommend DJs To Go. Tim is very professional and talented. We received several compliments from guests regarding what a great job he did at our wedding.
---
Rating for DJs to Go
Reviewed on

5/10/2010
Tiffany D
---