Home

DK Floral Wedding & Events
Contact Info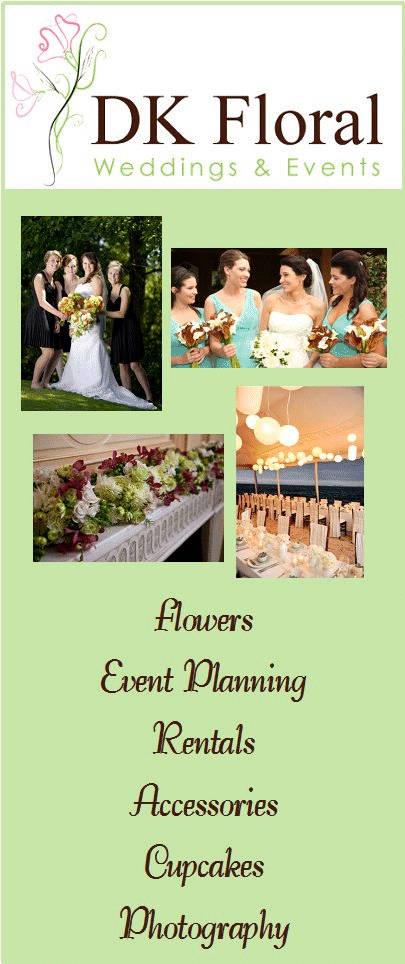 beautiful flowers and centerpieces
Reviewed on

1/26/2012
Heidi B
DK floral was great!! The flowers were so beautiful and Kathy had great ideas. Everything turned out wonderful and I would send any bride their way! Thanks again :) :)
---
Small floral order
Reviewed on

12/05/2011
Megan K
My wedding was very small (no bridal party) so I only needed my bouquet and a handful of boutineers and coursages for our parents. Kathy was able to fit in my order with less than a month's notice. I described what colors and style I was interested in, and she took it from... Read More there. I chose to pick up my flowers rather than have them delivered, and she had them ready on time. Several of the roses had dark spots and wilted leaves, but this was not apparent in any of our photographs. After comparing the price with an online-only vendor, I feel like I received a bargain.
---
Fabulous
Reviewed on

11/05/2011
Rachelle R
My wedding was at Crystal Springs Rhododendron Garden this past summer. I had a lot of fun meeting with Kathy to discuss what I'd like for my event. She had great ideas and quickly figured out what my tastes were. Over the course of the year, she was more than accommodating... Read More as I had to make changes to my order. She setup beautiful arrangements for my reception tables and a stunning archway arrangement for the ceremony. DK did an excellent job and made my day extra special. Thanks!
---
Excellent, Extraordinary, Awesome!
Reviewed on

10/03/2011
Cori P
I can't say enough good things about Kathy at DK Floral. When you're planning an event, in my case - a wedding, it can be daunting. You pick vendors without knowing how things will really turn out. And if you're like me, flowers are an important part of a wedding. Not only are... Read More they decorative for the ceremony and reception, you're holding a bouquet that will be in all your pictures. They better be everything you've wanted! Well, you don't have to wonder about DK Floral because Kathy takes your vision and makes it a reality. In addition, the prices are reasonable. I got a quote for the exact same amount of flowers and it was almost double the cost. Kathy was always flexible with my order since I had changes all the way up to two weeks before or so. And when my mother was visiting the week of the wedding, she wanted to meet Kathy herself to ensure we were all sharing the same vision. She was welcoming and comforting even though we bombarded her when she was extremely busy. I would recommend Kathy at DK Floral for all your flower needs, and especially for your wedding. She's excellent, extraordinary, and awesome!
---
LOVED DK FLORAL!
Reviewed on

9/25/2011
Dena I
DK floral did the bouquets, boutonnieres, and ceremony flowers for our wedding and they were just want I wanted. Kathy was so easy to work with and knowledgeable that it made it such a great experience. Additionally, I brought in a magazine page that I had torn out with the... Read More bouquet inspiration I had and Kathy not only was able to see my vision but actually surpassed what the magazine had done with the bouquets! She is so accommodating and easy to work with, I highly recommend her for any one's wedding!
---
Florist
Reviewed on

9/24/2011
Anne B
Kathy was awesome to work with! She was always accessible for changes and questions. Our bouquets turned out beautifully and Kathy was prompt in getting them to us the day of the wedding.
---
Great
Reviewed on

8/16/2011
Melissa O
We had a great experience with DK Floral. Our flowers were gorgeous, and Kathy had fantastic ideas for us. She took our vague picture and made it a beautiful reality.
---
Thank-you Kathy!
Reviewed on

8/13/2011
Karla H
Kathy is absolutely amazing, she makes sure to give you what you pictured, only better. I had asked for white tulips and silver edged iris, and she made sure to deliver. She did such a great job, I am sooo happy!
---
Stunning!!
Reviewed on

7/16/2011
Brenda S
Kathy made magic happen for us! We had a really small wedding and I wanted the flowers to be simple and gerbera daisy's. The colors (dark red, yellow and orange) that she helped us pick out were absolutely gorgeous against the black and white theme we had. We were absolutely... Read More blown away, thank you Kathy!
---
DK Floral
Reviewed on

7/14/2011
Markie B
My flowers and everything were beautiful. She did a great job and really fulfilled my expectations.Thank you for all your help on short notice!
---
Outstanding!
Reviewed on

3/10/2011
Jennifer L
Kathy did such a wonderful job with the flowers for my wedding I cannot say enough great things about DK floral. She really held my hand every step of the way, helping me figure out what I wanted and then offering her expertise in areas that I wasn't sure about. She was... Read More constantly involved, checking in with me about various aspects and even recommending changes if she thought something would work better. She definitely went above and beyond her role of florist, as well. She helped me set up my cupcakes and did all of the chair decorations (which were a huge asset to the reception hall decor). The day of the wedding she was instrumental in decorating the church and the reception hall and they both turned out more beautifully than I ever could have imagined. The minute I saw my beautiful bouquet I was so happy and the rest of the flowers were just as perfect! I would whole-heartedly recommend DK Floral to anyone in need of floral services for wedding or other event. She is timely, professional, and just a great person to work with.
---
Flowers were more then expected
Reviewed on

10/27/2010
Kristan J
I worked with Kathy at DK floral and really didn't have any idea what I wanted when I went in, just that I didn't want to spend a ton of money. Kathy was great in working with me to decide on the perfect flowers to match my color, even went out of her way to find a specific... Read More shade in hydranga to match. She walked me through different options on how to save a few bucks and the end product was more then I had imagined. We had so many complaments on the flowers and my bridemaids were amazed. I was also able to add on flowers for the Moms and Dads later, as I forgot about then when we wrote the contract. Kathy was very responsive to my emails and responded promptly to all my questions. She really walked me though the entire process and never made me feel that I was bothering her. Thank you Kathy for making my day wonderful, and colorful!! :)
---
5.1.2010
Reviewed on

6/28/2010
elysha u
I had the pleasure of working with Kathy (DK Floral) for my May-Day wedding. Not only was Kathy easy to work with she was able to bring my floral ideas to life. Unlike some other florist I attempted to work with she is very knowledgeable & her work is gorgeous. Thank you so... Read More much Kathy! You are highly recommended in my book.
---