Home

Doc Ford's Rum Bar and Grille
Amenities + Details
Amenities
Handicap Accessible

Indoor

Outdoor - Covered

Reception Area
For more details about amenities, please message the Venue.
Waterfront, Beach, Restaurant
Bar + Drinks, Food + Catering, Service Staff
Contact Info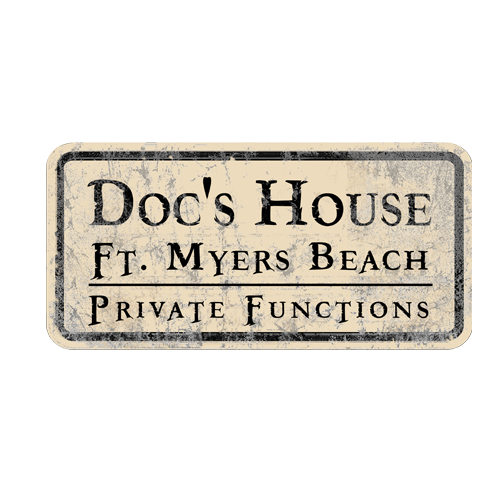 Reviewed on

9/13/2016
Kayla K
We had a wedding reception here on Labor Day weekend. Couldn't have been more perfect! Very easy to work with, no hidden charges, it's a naturally beautiful venue, and wait staff/bar staff were very friendly and accommodating. Everything was very smooth- very organized and they... Read More knew how to just roll with the evening. I couldn't find anything else this great in fort Myers especially for how reasonable the price was. Meredith is awesome and responds to emails very quickly and answers questions with clarity.
---
Reviewed on

5/27/2016
Adam C
My husband and I live in Indianapolis, Indiana. We knew we wanted to have a destination wedding in Ft. Myers beach, but I had just started a new job and wasn't able to take a trip to plan my wedding. I did everything via the Internet and phone. Originally I was concerned to have... Read More my wedding reception at a bar, but with the prices of weddings these days I just couldn't justify the ballroom. Then I came across doc fords. I spoke with Meredith and Corey in the beginning stages. They were so organized, thorough, and accommodating. The reception was so easy to plan. Meredith was readily available any time I had a question or concern in the planning process. Then the day came. I finally met Meredith in person the day before the wedding when we went to decorate the reception. This place was bigger and more beautiful than the pictures gave it justice for. We used the outside deck area and were not able to decorate that area the night before. I was going to go to the reception site the morning of the wedding and decorate our cake with our flowers and cake topper but ran out of time. It was a hectic morning and I meant to call Meredith to ask her to do it but forgot. I arrived to our reception and EVERYTHING was done. She was absolutely amazing. I had nothing to worry about and everything went off with out a hitch. The guests all raved about the food and view. They said it was so nice to have the sliding glass doors open where people could come in and out and it kept the room cool. Meredith and the bartender at the reception worked their ass' off! We're so incredibly grateful For them and the service they provided. They made our wedding day/planning so wonderful and stress free. Then to top it all off we received a beautiful arrangement of flowers today congratulating us on our marriage! I highly recommend this venue for any event as it greatly exceeded our expectations. Thank you Meredith and Doc Fords Staff!
---
Reviewed on

10/10/2015
Katherine C
Corey and Meredith were amazing! Throughout the planning process, Corey was incredibly responsive and helpful. On the day of the reception, Meredith went out of her way to help us set up all of our personal decorations early. They were very flexible and easy to work with. During... Read More the reception they were both very attentive and made sure our evening went off without a hitch. The food was delicious and reasonably priced. The space was warm and inviting. After the reception they even took care of cleaning up our personal decorations so that we didn't have to worry about it. We had a fantastic evening and would highly recommend Doc Ford's for your reception needs.
---
Reviewed on

9/17/2015
ABSOLUTELY AMAZING!!!!!!!!!!!!!!!!!!! I can't say anything but good things about Doc Ford's. We had our destination wedding on the beach and our reception here at the restaurant. Corey and Meredith were an absolute pleasure to work with. Very responsive and helpful with the... Read More many questions I had. The food was FANTASTIC!!!! We were able to come in and decorate and they were so accommodating. One of our guests knocked over a table and by the time I turned around it was picked up and cleaned like nothing happened. Top notch service if you ask me. We couldn't have asked for a better night. I thought planning from Michigan was going to be difficult but they made it so easy and did not disappoint. We will definitely be back for our anniversary if not sooner.
---
doc fords venue
Reviewed on

7/21/2015
We had a great time at doc fords for our wedding. It was good for a small party we had about 30 people and that was just about the right size of room for 30 people. The food was amazing always is at doc fords! Also very nice people to help. Over all a great place for a small... Read More wedding party.
---
Fantastic wedding and reception venue!
Reviewed on

5/16/2015
Doc Fords House provided an excellent venue for our wedding and reception (65 guests) on April 19, 2015. We worked with Cory for planning the event, not realizing he is a man of many talents. He and Meredith handled all the details, setting up the room, manning the bar and... Read More buffet, even serving the cake. We expected acceptable food as a buffet can be difficult to manage but we were pleasantly surprised with excellent food served fresh and tasty (the brownies are "to die for").The beautiful weather allowed us to actually get married on the dock with the guests watching from the deck. What a scenic location!The deck close to the restaurant was closed to the public and set up for dancing. We chose from the luncheon menu and had an open bar. The event was perfect and I cannot think of one thing that could have made it better. This is a hidden gem that will be booked solid as soon as more people learn about it.
---
Great afternoon vendor with Waterfront views!
Reviewed on

3/02/2015
Ann
I couldn't be more proud to have made the decision to work with Doc Ford's in planning our celebration after our wedding ceremony. First of all, Corey was amazing to work with from the very beginning of scouting the venue through to the end of the party where he handed me my... Read More last beverage at the bar. Second of all, the location couldn't have been any more perfect. I didn't have to do any decorating of the indoor/outdoor venue because the views were all there thanks to being right on the water. They provided all linens and even some nice center pieces! The food provided was amazing and all our guests were raving about that plus the fully stocked bar with 8 beers on draft! The venue space was able to accommodate about 100 guests comfortably plus a full live band. You can't go wrong with working with such a fine establishment.
---
A perfect venue for our destination wedding!
Reviewed on

2/10/2015
Liz S
The quote of the night was "best wedding ever"! Doc Ford's held our 50 person reception in their private room on 1.31.15 and it was flawless. Corey (the manager and our bartender) was great at providing suggestions on how much food to order and bar packages via email as I live... Read More in Chicago. We were able to play our own music, bring in cupcakes and enjoy wonderful bar service and exceptional food. I would HIGHLY recommend this restaurant for private events or just a great meal for lunch or dinner.
---
Perfect, intimate, and fabulous!!!!!!
Reviewed on

10/29/2014
I got married at Doc Fords Fort Myers Beach on October 19th, 2014. It's been over a week and people are still talking about how amazing everything turned out. I could not have asked for anything more. I decided to do the ceremony and reception in their private event room. I had... Read More 107 people RSVP. We did the ceremony on the outside dock. We had chairs set up for 40 people, they were used by family, and the older guests. The rest of the guests at the ceremony stood behind. It was a short ceremony, so no one was standing long, and everyone was able to see and hear perfectly, no microphone was needed. After the ceremony ended the guests went inside for cocktails and appetizers while Corey and his amazing staff set up the dinner tables outside. The transition from ceremony to dinner was seamless, I was worried that their would not be enough space, and the setup and breakdown was going to be intrusive to the guests. I was wrong.Corey helped me find a table arrangement that made dinner perfectly intimate, and again the transitions were perfect and very fast. After dinner the tables that were setup inside were broken down for a dance floor, it went so smoothly I didn't even notice it happening. The food was phenomenal. We had a buffet style dinner and roast beef carving station. Yucatan shrimp, seared tuna, coconut shrimp, cheese and fruit platter, chicken tenders, Boursin stuffed mushrooms just to name a few. EVERYTHING WAS PERFECT. The bartenders were lovely, so fun and personable all the guests loved them. I would tell any bride looking for an intimate wedding that is very budget friendly to check out doc fords. I know it may seem different to get married at a restaurant, but with the private event building you won't even realize you are at one. I had the most amazing wedding thanks to Doc Fords Fort Myers beach, wish I could do it all over again next weekend!!!!!!
---
Doc Ford's as reception venue was PERFECT!
Reviewed on

8/12/2014
Kristin M
Doc Ford's has long been one of our favorite restaurants in Fort Myers Beach. We weren't sure what to expect using them as a reception venue, but it could not have been more perfect! They were extremely helpful, well priced, and included all the amenities. They completely made... Read More the reception. I could not be more pleased.
---
great spot for rehearsal dinner!
Reviewed on

1/01/2014
Desi R
We held our rehearsal dinner here, and it was fabulous! We booked a dolphin cruise through another company, and were able to use the pier at Doc Fords to board/de-board. When we got back from the cruise, the table was ready for us, we had about 40 guests, and we reserved the... Read More cat-walk area, which was great! It is on the second floor outside and offers great views of the water! I called ahead and worked with the event coordinator to put together a set menu for the night to help us stick to a budget. He had some great ideas, and even with our budget, the food was great! We had beach bread and yucatan shrimp for appetizers, and then offered flatbreads, fish sandwich, burger, and salad for dinner! We also had wine by the glass and pitchers of beer for our guests. The service was impeccable, and the food came out fast. The food was delicious, and the atmosphere was great. They had a live band that started playing music at 7, and they were awesome! Overall, it was a great spot, and I would highly recommend it!
---
Wedding Reception Gone Wrong
Reviewed on

11/03/2013
Tiffany P
in case you don't want to read my entire rant, just know that Doc fords double book for my wedding reception, made me change my date and didn't give me the simple key lime pie i requested and they had promised to give me make up for it. That is the most important one of the many... Read More disasters that ensued when i had my reception here. WARNING!!!!!!!!!! DO NOT GO HERE FOR ANY LARGE EVENTS!!!!!!!!!!!!!!!! My Husband and I had our wedding reception here recently. When I started the planning I wanted to get everything finished quickly so I wouldn't have to worry about it for a bit after that, and I felt as if I was pulling teeth trying to get information. Their website was down, and I called to get the information packet emailed to me, the first thing I told them was that their website was down, and even so, their response was for me to look at the website and then I was hung up on. Eventually when I got the information packet I decided i still wanted to go there for the resorption because I really liked the food and the room, so I booked with them. So everything was sent for a few months, so I wasn't thinking about anything, i sent out my invitations everything was ready to go, then I got a phone call from them. They DOUBLE BOOKED!!!!!!! When they called to tell me, she wanted to move me out of the room (which was half the reason I booked there) into another room that would have been too tight for the amount of guests. Then her response when i said i was unhappy with that was, "well I'm not sure what to do for you then because even though you booked first, the other bride has a larger party and she doesn't want to move into the other room. It would be too small for her.". Of course this is 3 months before my wedding and I didn't have time to change everything, not to mention my invitations were already out, so I said I would change the date of my wedding to the days before. This meant that half my guests couldn't come. She offered to give us a free cheese plate. That's it. So I said, no thank you, I would prefer key lime pie with my wedding cake for dessert please, and if you could do banana leaf snapper on the buffet. She seemed surprised that was all I wanted, but agreed. When it came to the day of the last payment my husband and I dropped in to see the venue and pay. When we met the party director Corey, his greeting was hello, what's up? like what do you need? ... .. I was a bit appalled by the lack of professionalism, i thought they would want to get paid and maybe he would take lead on the conversation and give us some direction on what needed to be done since he deals with weddings all the time... The day of our wedding. Open bar was supposed to start at 7 when guests arrived, and they started it at 7:30 and made guests pay cash bar until then. My guests were furious. on top of that they didn't have the champagne toast ready on time, and they tried to make me, the bride, pay for the shot I asked for to try to calm down when everything was going wrong. When the appetizers were placed, no one said anything to my guests, so they just sat there, and didn't eat any until my buffet opened...Then to top it all off, they didn't give us the key lime pie I had asked for a reconciliation for double booking, the didn't refill anyone's water and they were incredibly slow with removing the dirty plates. Their only thing that they did somewhat right, was the food. The food was delicious. All except the stuffed mushrooms. They took a mushroom and basica
---
Use our messaging tool to connect with vendors anytime, anywhere. Stay organized, all in one place.