Home

Donna Forsythe, Lehigh Valley Celebrants
About this Vendor
Laughter. Tears. Joy. Celebration!
Congratulations! You are getting married and want to have an exceptional ceremony. It needs to be different than the weddings you've recently been to, and honestly, you want it to be better than the standard scripted presentation. You want it to be engaging, joyous, and truly reflect the two of you. As Celebrants, our specialty is crafting a couple-centered ceremony that embraces who you are, and creates an environment where everyone feels like they're part of the celebration.
Details
Elopement, Interfaith Ceremony, Non-Religious Ceremony, Same Sex Ceremony, Second Wedding , Vow Renewal Ceremony
Baha'i Faith, Buddhist, Catholic, Mormon, Orthodox, Adventist, Anglican/Episcopal, Baptist, Congregationalist, Holiness, Lutheran, Methodist, Nondenominational, Pentecostal, Presbyterian, Restorationist, Protestant, Quaker, Christian, Hindu, Interfaith, Conservative, Reform, Jewish, Muslim, Pagan, Secular, Sikh, Spiritual, Unitarian, Wiccan
Contact Info

Reviewed on

10/13/2016
Amy D
There's not enough room to write all of the wonderful things about Donna. With our first email exchange, Donna paved the way to making the entire planning of our ceremony a comfortable experience, and we were nervous! We initially had over an hour skype call as our intro... Read More meeting. As soon as we hung up, my husband and I immediately agreed we wanted Donna to be our celebrant. All of our wedding guests couldn't stop raving about Donna and the ceremony she put together. She crafted a ceremony that was a genuine reflection of us. Most of our guests actually thought she was a friend or family member they had never met. They labeled it one of the most beautiful ceremonies they had been to. Thank you Donna!
---
Reviewed on

6/06/2016
Erica B
We found Donna through wedding wire and loved her view on marriage and why she does what she does. She was booked for our wedding date and she suggested her associate Cely Santana. We could not be more THRILLED that she was our celebrant!!! We planned our wedding from a distance... Read More (we live in Texas and wedding in PA). Cely contacted us so quickly and we were able to FaceTime with her and get to know her. We immediately knew she was perfect for us, so light hearted, loving, and genuine. We felt like she was a close friend immediately. Cely created the most wonderful ceremony for us from the questionnaires she provided, it was so personal and exactly what we wanted, sweet and funny!!! We got to know Cely very well through our experience, and feel like we made a lifetime friend. She is a wonderfully intelligent and authentic woman, who truly cares about people and sharing a couple's love with the world. We can't thank Cely enough for how special she made our wedding and being so open, honest, and fun with us. I can't say enough how much we LOVED getting to know her!!
---
AMAZING
Reviewed on

7/15/2015
Meghan S
In short- Donna is awesome!!!! We were planning be be married in NJ and were looking for a non-denominational officiant when we found her website online. We set up a meeting with her and knew from the moment we met her that we wanted her to officiate our wedding. Donna was... Read More extremely helpful in working with us to plan the ceremony. She has a ton of resources to pick from if you want this, and is very flexible and willing to make it special and to fit your needs. After deciding on certain things from the resources she gave us, I was SO IMPRESSED with the final ceremony that she wrote up. After meeting with us and learning about us, she wrote a beautiful description of our meeting and relationship for the ceremony. She is truly a very talented storyteller and writer. We had 150 people at our ceremony, and we had so many people say how much they loved it! She really just did a great job narrating and making it special. It was perfect!!! Both my now husband and I am so happy we went with her, and feel we have made a friend in the process!
---
Reviewed on

12/14/2017
Jessica S
My Husband and I chose Cely as the Celebrant for our Wedding, and we couldn't be happier with the service she provided! She was professional, organized, caring and flexible. Any time we had questions, she was prompt to answer them and made sure we all came to an understanding.... Read More Her smile is infectious, and all of our guests had nothing but wonderful things to say about her. The day of our Rehearsal, she was the first one on-site, as well as on the day of our Wedding. We're so very happy that we found her, because she made such an important day to the both of us that much more special. We highly recommend Lehigh Valley Celebrants!
---
Reviewed on

12/12/2017
Christina D
Cely was absolutely amazing! She was so helpful from the beginning to the end and got back to us right away with any questions. We received so many compliments from our ceremony & everyone thought Cely has known us for years the way she spoke about us.
---
Reviewed on

10/29/2017
Jennifer V
There are simply not enough ways or words to use to thank Donna for the amazing job she did. She has a beautiful energy about herself; she's very personable, joyous, funny, warm, calming and was able to organize a large wedding party within a blink of an eye! She has a gift of... Read More being both professional and fun; you feel like she's part of the family. Aside from her wonderful personality, she has a gift for writing and is extremely helpful throughout the entire process. Our ceremony was exactly what we envisioned and much much more thanks to Donna, she was the highlight of our wedding!!! Thank you Donna for everything!!! Love always, xoxox Mr. & Mrs. Dawson
---
Reviewed on

10/24/2017
Erik O
We found Irene Blough from Lehigh Valley Officiants to be wonderful to work with. She was highly responsive throughout the whole process and gave us helpful nudges to keep us on track. She was kind and caring in our phone discussions with her and really got to know us even... Read More though we didn't meet face-to-face prior to the wedding ceremony. One thing I found especially helpful was the resources she sent us: example vows, readings, ceremony ideas. It saved us a lot of time and we wound up using those materials extensively. We got a lot of compliments on her service; it gave the ceremony the breezy, carefree, upbeat tone that we were looking for.
---
Reviewed on

9/28/2017
Mallory W
Cely was absolutely incredible! She made my wedding day so unique and special that I couldn't have asked for anything better! She was very flexible with being able to talk with us and was able to chat with us over Skype to give us a better understanding of what she does and how... Read More our big day would go. My husband and I then filled out a detailed questionnaire about how we met, what we love/respect about each other, etc... Cely used this information to create a beautiful detailed love story as the centerpiece of our ceremony. Our guests were blown away by her words as many of them had no idea how we met and fell in love. I 100% recommend using Cely if you're looking for a more personal touch during your ceremony on your special day! She is so sweet and professional, you'll be happy to work with such a gem!
---
Reviewed on

7/16/2017
Marrissa N
We had the pleasure of having Donna marry my husband and I twice! We had a small elopement ceremony in December and then a large wedding ceremony and reception in May and Donna was fantastic on both occasions. She really tailored the ceremony to my husband and I perfectly. She... Read More worked with us to make both ceremonies perfect. We couldn't have asked for more!
---
Reviewed on

12/13/2016
Arika Z
Donna was friendly, warm, and made our ceremony special. We were both nervous & we both agree that she put us at ease and made us feel comfortable. The ceremony she put together was beautifully written. I would highly recommend her to any couple!
---
Reviewed on

10/08/2016
Alexi S
This review is for Irene Blough who works with Donna. Irene did an absolutely lovely job officiating our wedding. Prior to the wedding, Irene prepared a personalized ceremony. She was open to all of the changes we requested and provided thoughtful feedback that made our... Read More ceremony all the better. Irene was flexible enough to allow us to forgo a rehearsal and with the timeline information provided by Irene beforehand, things still went smoothly. On a personal note, Irene is a very kind and genuine person and we are very glad that she was the one who officiated our wedding.
---
Reviewed on

10/07/2016
Dawn S
Donna was so easy to work with. She wrote a beautiful ceremony for our elopement! She was dependable and so sweet!
---
Reviewed on

8/10/2016
Elaine A
Donna performed a beautiful simple ceremony for our elopement. She was great to work with and gave us an opportunity to personalize our ceremony. It was absolutely perfect and we couldn't have asked for a better officiant.
---
Best Celebrant EVER!
Reviewed on

11/09/2015
Allisa L
Donna is the most amazing person we have met on our wedding journey. When we started our process together Donna came to our home and instantly went down on our floor to say hello to our then puppy. She offered guidance throughout the process which felt more like a fun time... Read More reminiscing about our past as a couple. As Donna learned our love story, she helped us tailor our ceremony and added wonderful person detail which was beautifully delivered on our big day. Choosing Donna as our celebrant was the best decision we made!
---
Reviewed on

10/21/2015
courtney h
Donna was such a delight to work with! She was extremely accommodating to our schedules especially since we were traveling from out of town. She sent us a ton of samples we could pick and chose from and from our selections she created a one of a kind personal ceremony. She made... Read More the day of run smoothly and definitely brought the zen to the hectic day! Everything was beautiful and we couldn't have asked for me.
---
Reviewed on

5/05/2015
Casey S
Donna is a beautiful soul and it is very clear that she loves what she does in joining couples together, because she is excellent at it. Within 5 minutes of meeting her we felt like we had known Donna for years. She is kind, personable, and acts with the utmost professionalism.... Read More She is well spoken and orates with such a high level of eloquence, audience members will hang on every word. If you are looking for a forward thinking, positive officiant who wants to capture the essence of you as a couple, and portray the beauty of your relationship and validate your commitment to one another then look no further than Donna Forsythe. We received so much positive feedback about how beautiful our ceremony was it was overwhelming. We love you Donna! You are truly phenomenal. Casey and Jay 04/24/2015.
---
Meet The Owner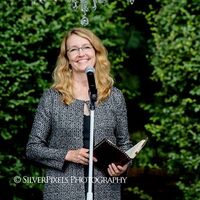 Donna Forsythe
Donna Forsythe is an award winning Celebrant and owner of Lehigh Valley Celebrants. ​Your wedding is an experience created for your family, friends, and mostly for you...the couple. It should be a reflection of who you are. When you work with a Celebrant, you are choosing to create a unique ceremony with a professional who is trained in the process of listening,researching, and writing. You are choosing to work with a professional who is experienced with crafting and delivering an exceptional ceremony and bringing your story to life. Contact us for more information!