Home

DoubleTree by Hilton Philadelphia - Valley Forge
About this Vendor
Newly Renovated Ballroom - Premier Deal!
Amenities + Details
Amenities
Handicap Accessible

Liability Insurance

On-Site Accommodations
For more details about amenities, please message the Venue.
Ballroom, Hotel, Restaurant
Food + Catering, Planning
Contact Info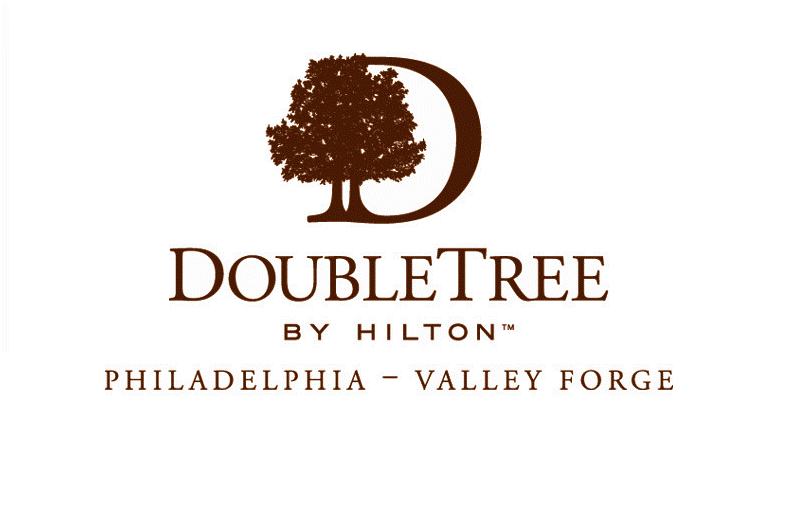 301 West DeKalb Pike, King of Prussia, PA
Reviewed on

5/12/2015
We had the pleasure of working with Mary Lehane (Bell) at the Doubletree for our wedding. Mary was a pleasure to work with throughout the 11 months of planning. We felt like we were working with a friend throughout the whole process. The DTVF staff was a pleasure to work with on our wedding day. They worked in conjunction with our wedding planning team and all the day's events went very smoothly. The venue was beautiful, especially the uplighting in the main ballroom. Overall, a great location for a wedding and I would definitely recommend it as a place to tie the knot!
---
Reviewed on

5/08/2015
I have been passing Doubletree KOP all my life and always wanted to find out what the actual venue was like. Taking a quick foot in, I realized that this would be the place I would want to have one of my couples get married - and so that happened this past with kicking off the wedding season for our Platinum Dream Events team. As the wedding planner, I started meeting with Mary along with our couple early Fall 2014 and knew from the beginning that the staff were people we would love to work with! Mary was so accommodating, worked within our budget and vision, and was on our side the whole time...even the day of the event! Holding a 400 person wedding with multiple events, guests from different parts of the world, different types of catering (Indian and American food), a horse & carriage for the groom's entrance, and many more things...this venue was AMAZING to coordinate all the logistics. The decor, furniture, new carpeting, and most importantly, the brand new LED dome lights really made the event & the guests were simply astonished the moment they stepped in. I highly recommend this venue to any couple & hope to bring even more couples back for future weddings! Mayank Amin Founder - Director of Operations Platinum Dream Events (www.platinumdreamevents.com)
---
Best Day of Our Lives!
Reviewed on

4/08/2015
Sara M
Everything the DTVF did for our wedding was amazing. I loved the venue (newly renovated), the food, and service was everything I ever wanted. Mary Lehane (Bell) is the best! She was very thorough and reliable. She answered all of my emails and phone calls so quickly and helped me make some great decisions for the wedding. The reception was flawless and I can't thank Mary enough for all of her patience with dealing with my million questions! I got married almost 4 weeks ago and my guests keep telling me how good the food was, how nice the ballroom was, and how great the hotel rooms were. The DoubleTree Valley Forge really did have everything I was looking for: spectacular ballroom that more than comfortably fit my 240 guests, hotel rooms for my guests, fantastic food, and amazing bar for the after party! Plus, best part was dealing with Mary from start to finish who pulled off every tiny detail I asked of her. She was a joy to work with and I trusted her completely which made it easy on me to not worry about a thing. I 100% recommend the DTVF :)
---
Wedding
Reviewed on

4/07/2015
Kristin M
Working with Mary was so easy and she made it perfect! She responded so quickly and did everything I asked. So friendly and loves what she does! Food was amazing! A ton of room for the guests! Highly recommend this place for a wedding reception!!
---
Father of the Bride
Reviewed on

10/17/2014
What a beautiful wedding. We had a great time. Everything was so nice, the ceremony, the cocktail hour, the dinner, everything. As the father of the bride, these were some of the many comments that I received after the event. Mary Bell was the person most responsible for a wonderful time had by all. Mary worked with Amber and Joe to ensure that their special day was indeed special. The love Mary has for her job is the thing that impressed me the most. She wants the event to go off as close to perfect as possible. She used her experience to help Amber and Joe make great decisions in the planning stage, and followed through with advice every step of the way. I never knew how many details need to be taken care of, to make a great wedding . Mary made sure that nothing was over looked. She was at her best on the day of the wedding, making sure everything was as Amber and Joe wanted it. She is the best!!
---
Great Service even after the Wedding was over!
Reviewed on

10/16/2014
Natalie Z
My husband and I chose the Double Tree Valley Forge after a lot of back and forth. The all-in-one advantage of the venue won us over. We were able to have our ceremony out by the pool, cocktail hour in Three01 and our reception in the Grand Ballroom. Our guests were then able to pour themselves into bed upstairs afterward if they chose. The sales and catering manager, Mary Bell was incredibly accommodating and forthright from the very beginning. She gave us up front pricing, and was negotiable when the package put forth wasn't quite what we wanted. The rates were the cheapest of any venue that we checked out, a huge factor in us deciding on the Double Tree. Our food was wonderful as it came from an entirely scratch kitchen-no frozen entrees here! I knew by our tasting that it was one of the best wedding menus I had ever experienced and our guests raved about it. Mary got every single detail from us before our big day. When it finally came, I was very relaxed knowing that everything was taken care of. Our tasting server, Rose took care of any need that I or my husband had the day of our wedding, including escorting me downstairs when it was time. She kept us on schedule and in the right place. I never had an empty glass, and she also really took care of both sets of parents. The ballroom had just recently been renovated and the lighting in the coffered ceiling was able to be set to our wedding color! It made everything super romantic and unique! Mary and her team were also able to put all my centerpieces and aisle decorations together and into place. This took a load off of me and really reduced my stress. They even accommodated us by hanging paper lanterns in the ballroom and out on the pergola. Almost everything went very smoothly. We did have an incident where one of the servers accidentally dropped our cake topper, breaking it. However the hotel is replacing it. Also just a couple of billing hiccups that the hotel is also correcting. In total, I am extremely pleased with the look and experience that the Double Tree was able to offer us. I felt taken care of from start to finish!
---
This was our experience
Reviewed on

10/15/2014
Meghan S
We had our wedding here on 10/4/14 with 180 people. Everything was perfect from start to finish. We had a long engagement and took our time searching for the best venue. This was the best choice for us and here is why. Most important was the price, not only was it the cheapest place in the area but they were straight forward about exactly what it's going to cost. Their quote included everything with tax and tip. Be warned about other places that don't quote the total cost. They also made some small changes to the menu without charging us extra. The next detail that I didn't realize was so important until we started the search was the person you are going to be dealing with at the venue. Mary was perfect! She will let you plan every detail if you want to but we trusted her to take care of the little things and everything was great. The service was great. We had 2 catering managers on our night and they kept my drink full the entire time. The food was great. Normally you get at least one complaint from someone but we had none. The after party was important to us and having it all in one place right at the hotel made it so easy and convenient. We didn't have to worry about shuttles or searching for a local hotel that can have so many people. We also gave vouchers to everyone for breakfast which made for a fun morning of storytelling and we only had to pay for the people that came. It's a huge place. Many places we looked at say they can fit a certain amount of people but I would be weary of their numbers. It was so nice to have tons of room with high top tables in the back which allowed everyone to get up and mingle like we were at a big bar with a photo booth. Last but not least it was a beautiful place. They just renovated the entire place and it looked great.
---
Our wedding at Doubletree
Reviewed on

10/09/2014
Amber H
My wife and I chose Doubletree by Hilton for our wedding – the ceremony plus the reception – and couldn't have been happier. When we first started dealing with them, our wedding planner was really on his game. Then, a few months after we made the down payment, he ended up leaving for a new job. Initially we were very worried. Thankfully our wedding planner, Mary Bell, eased all of our uncertainties. If anything, we were glad we had Mary to help us rather than the planner we were initially working with. Mary was on-point with the entire affair even when (especially when) we weren't. She was a calming presence for us and always supportive. We have no shortage of good things to say about Ms. Bell. When it came down to crunch time, she got everything done quickly, yet she always remained pleasant. She felt more like a friend than a wedding planner. No matter what was going on and how busy she might have been, Mary was always willing to talk with us and do whatever we needed. Everyone who came to our wedding raved about the venue, the service and also the friendly atmosphere among the staff. We've recommended Doubletree by Hilton not just because of the venue – which was very nice – but especially because of Mary. If she plans your wedding you won't be disappointed.
---
Outstanding Service!
Reviewed on

10/09/2014
Amber N
Our wedding was 5/17/14 and it was AMAZING! We started out with another wedding coordinator that left a few months into planning and I was slightly nervous that I would not get some things that had been promised to me, but Mary Bell was great (and so was her assistant Lauren that started shortly before our wedding). Mary and Lauren were both extremely responsive and always got back to me very quickly and handled all of our special requests. They both were SO warm and nice, it felt like we were friends by the end of the process. Our tasting was in December and we felt like royalty! The service was beyond anything I expected: the chef came out multiple times to talk to us, the attention to detail was over the top, and the food was delicious. I also loved that our final meeting and item drop off was a week before the big day, which forced me to get everything done ahead of time, and made me more relaxed the week of. I stayed in the suite the night before with my bridal party, which made the morning very relaxed. It was a perfect spot for getting ready, very spacious, with gorgeous views, and a nice little kitchen area. Upon returning to the hotel after the ceremony, everything was so smooth! Before heading to our cocktail hour, the wedding party headed to a private room with water, beer, and some hors d'oeuvres, which was great because I could put some food in my stomach before greeting my guests. When we headed out to the cocktail hour, the staff was very attentive making sure the groom and myself were always taken care of. Our cocktail hour by the pool was perfect. The space is beautiful and it had a great flow. Towards the very end of the cocktail hour, we were brought into the ballroom to make sure everything was set up to our liking (it was :D). The staff set up all of our decor, we did not have to do anything. The rest of the night was just as wonderful. My guests all commented that the hotel staff was so helpful guiding them to each location. I was hesitant about the table side ordering because I was worried it was going to take too long to get the food out, but the meal was served in a timely fashion and did not cut into our party time at all. The dinner was delicious and when we only finished half of our portion, we requested to have the 2nd half brought to our room and instead they delivered us, 2 fresh dinners that we enjoyed twice the next day! The service was great during the night and we were left wanting nothing. The staff coordinated with my husband's parents to take our card box out to the parking lot at a certain point at the night, the rest of the gifts were delivered to our room. I will say, I wasn't a fan of how things were stacked together to transport them, because it was hard to tell which gifts were from whom, but it was nice not to have to deal with any of it that night. After the reception, we moved over to the hotel bar and we ended the night with a few of our friends back in our suite, which had champagne and some chocolate covered strawberries waiting for us. So many of our friends and family stayed over at the hotel (even people that lived close since it was so convenient), which really kept the night going, which I loved! The hotel staff cleaned up all of our decorations and had them waiting for us the next morning, which was so amazing. (I've been to weddings where the bride is cleaning everything up at the end of the reception, who wants to do that?) Overall AMAZING!
---
Perfect Choice for a Bridal Shower
Reviewed on

10/08/2014
Ruth Ann A
In May of 2014 the bridesmaids and I decided with a large guest list we needed an outdoor area that would accommodate a large group for my daughter's Bridal Shower. We selected the Double Tree by Hilton Philadelphia - Valley Forge and it was beautiful. We held the shower out at the pool area which was extra special for the honeymoon theme summer wedding. The arrangements, food, down to the color linen choices for the tables were perfect. As I live out of state however a native of King of Prussia working with Mary Bell, the Catering Events Manager, made my job so easy and less stressful especially with her quick email and phone communication. She is amazing to work with, efficient along with her team. I highly recommend this venue and for its outstanding staff.
---
Mother of Groom with Some Really Kind Words!
Reviewed on

9/05/2014
Lauren G
Last month I had the pleasure of working with Mrs. Patty Zakrzewski in helping to plan her son's Wedding and After Wedding Brunch at the DoubleTree Philadelphia - Valley Forge. I am taking the opportunity to thank her for her positive feedback and share those words with all of you! "My son and daughter in law were married at the Double Tree Philadelphia Valley Forge in King of Prussia this past Sat. Aug. 23. From the check in staff, housekeeping to all those that helped put this wedding together, enough kind words cannot be found. Lauren Gotthelf, Mary Bell and Nelson were all spectacular. Lauren and Mary guided Mark and Dana throughout the whole wedding planning process. It was never too much for either one of them to answer an email quickly or return a phone call. I as mother of the groom worked directly with Mary Bell in planning the brunch on sunday after the wedding and things just went so smoothly and Nelson was there for all my requests and questions. He touched base with me after the wedding and the T. Burke's was set up beautifully the next morning for our brunch. I would highly recommend the Double Tree for a wedding and post brunch. Thank you all very much for a most memorable wedding experience." - Patty Zakrzewski Patty, we can't thank you enough!
---
Highly recommend DoubleTree Hotel - Valley Forge for your Wedding Day!!
Reviewed on

9/03/2014
Dana Z
We had our wedding ceremony and reception at the DoubleTree Valley Forge Hotel on 8/23/2014. Words cannot accurately describe how incredible everything was - from the hotel rooms, the staff, the food, the accommodations, the service, etc. My (now) husband and I worked with Mary Bell and Lauren Gotthelf to plan our wedding at the hotel. They were both amazing! They both went over and beyond anything we could have expected for our wedding day. Our ceremony was scheduled to be outside by the pool area, unfortunately, the rain could not hold off. Mary waited until the absolute last minute (1 hour before our ceremony) before gathering all the hotel staff she could find (housekeeping, drivers, check in staff, etc) to set up our ceremony in the ball room. It turned out to be just as perfect!! The staff must have had superpowers because they were all the most incredible people to have working with you on your wedding day. I am so thankful that we chose the DoubleTree Hotel for our wedding and are extremely grateful for Mary and Lauren and would highly recommend their services to anyone! Thank you again!!!
---
PERFECT PERFECT PERFECT!!
Reviewed on

8/18/2014
Marisa G
My wedding was on July 12th, 2014 and we had the reception at the Grand Ballroom at the DoubleTree in King of Prussia. Words can not express how grateful I am that Mary Bell took over the planning for my wedding. From the first moment I spoke to her on the phone, she was patient, understanding and really easy to talk to. She worked with chef John and made my dream of having a family style reception a reality. My family and friends still talk about how delicious the food was and about how much food there was!! I love the fact that everyone at all the tables had their food at the same time. No one waited for food! And the servers kept asking our guests if they wanted more food to be brought out! What more could a big Italian family ask for!? It was perfect! And they brought a tray of food to our wedding suite! Not to mention a tray of chocolate covered strawberries and a bottle of champagne. I was so surprised to see it when we went to the room. Such a nice surprise!!! Mary was super organized and had a timeline all set up for us months in advance with all the details that needed to be addressed. Every time I sent Mary an email, I would hear back from her by the next day at the latest. She was able to get our guests an amazing nightly rate at the hotel for more than just two nights since we had many guests from out of the country. Every one who worked at the front desk was friendly and there were no problems at all when my family checked in. In fact, we made welcome bags for our guests, had them all named for people and the staff handed out the bags to all of our guests as they checked in without any problems. There were no complaints whatsoever from any of our family when it came to their stay at the hotel. Our wedding suite was gorgeous as well! I want to gush a little more about how wonderful Mary is, since I spent so much time with her. (Lauren is amazing also!!) Mary understood the vision my husband and I had for how we wanted our cocktail hour and reception to be set up. It was perfect. Since I trusted her judgement, I just brought in all the items we wanted to be set up (place cards, picture frames for a memorial table, guest book etc) and asked her to set them up how she felt they would look best. It was perfect. There was even a small issue with the cake and cake stand, and she took care of everything for me. On the big day, as soon as I arrived at the hotel, Mary found me and helped me in a moment of distress. I am a klutz and tripped on my dress at Valley Forge Park (only me!) and I had a mud and a grass stain on my dress. Mary got out the club soda and worked her magic and got the stains out! Once that tiny debacle was over, she brought me to the ballroom so I could get a sneak peak before anyone else went in. My jaw dropped. Every single thing was perfect. The room looked like it was a picture out of a magazine. She and Lauren set it up perfect. Every bow on every chair was perfect. The linens were gorgeous and even how the menu was placed in the napkin was perfect. I could not have asked for anything more. The memorial table and cake table were gorgeous. I will always cherish that moment that I shared with Mary when she showed me the Ballroom, and I will never forget it! The whole night was perfect. I couldn't have asked for anything more. Again, I can't thank Mary Bell and Lauren enough for making my special day absolutely perfect!
---
Don't Let Your Wedding Guests Stay Here
Reviewed on

7/02/2014
Aimee d
We used the Doubletree for our wedding guest accommodations. In the beginning everything about this hotel was perfect - the price, the friendly staff, the bar, the perks! We were so pleased with our choice. ....and then the wedding came. To start, my husband and I couldn't check into our presidential suite at 3pm like everyone else. The room apparently wasn't ready....what?! And then the night of the wedding I realized the mattress didn't even have a fitted sheet - my first assumption was that everyone on the staff must be drunk because to me that's like hotel 101. Then I found out the welcome bags weren't passed out to every couple the Friday before the wedding and that rooms with 3 people or 4 people only received 1 bag. Also, each bag was supposed to come with a breakfast voucher, which the hotel forgot to provide. So their solution was to just have guests pick them up from the front desk but of course not everyone was aware that was the new plan, ugh. MANY guests were complaining that their room keys were not working. Another bothersome situation was when they referred to the old shuttle departure time for our guests attending the rehearsal, which resulted in the shuttle leaving 30 minutes late. I would say the lowest moment came after the wedding. Somehow the living room area connected to our presidential suite became locked. Numerous friends had bags and personal items locked in there, so the situation immediately became VERY problematic as a lot of them were trying to get their things and go to sleep. For some reason the key to our room did not open the door to the living room area. After about 45 minutes of explaining the situation to the front desk and eventually getting the night mgr on the phone at 2 in the morning, security opened the living room area for us. The shear fact that our key did not open this room was a HUGE oversight since it was the living room for our suite, but the hassle it took to eventually get the room opened was downright embarrassing for a hotel hosting such a large wedding. But the WORST part, of this whole debacle came when I knocked on the door to the other room connected to the living room which was SUPPOSED to have been reserved for my older brother. Little did I know, the hotel goofed that situation too. After knocking on the door really hard trying to get my brother to open up and let us into the living room from their room the door flies open and this strange girl answers looking understandably very annoyed. I apologize profusely and am absolutely red with embarrassment. I realize the hotel did not give my brother the room that we had always discussed he would get. And obviously after we got into the living room we immediately get a call telling us the room next to us was complaining about the noise, what a surprise. I mean the whole point of putting my bro in that room was to create like a buffer of family so we wouldn't be disturbing any other hotel guests. As soon as we got that call the party kind of petered out and everyone went to sleep, such a bummer. It also didn't help that at breakfast the morning after the wedding the staff seemed, in a way, "out to lunch." You had to ask for coffee or water like 10x before you got it. So basically, this hotel will literally wine and dine you and promise you the moon in order to make the sale. But once it's D Day (aka your wedding), they will fall flat on their faces & fold under the pressure. Do not book this place. Period.
---
Time of our Lives
Reviewed on

5/29/2014
Hillary C
My husband and I could not have asked for a more caring, enthusiastic, and efficient team. They treated us like royalty while we were there and made sure that our very wish and desire was implemented. Mary thought of everything and made sure our special day went smoothly. I can honestly say it was everything I had dreamed of and so much more. John made food that people are still talking about and everyone has commented on how relaxed I was throughout the day. This is all because I had complete confidence in the team that was running the show. Mary & Lauren are a great pair and I felt that they cared about me as a person not just another bride they had to cater to. I can not say enough how great they were and how my day was perfect in every way :) I highly recommend this hotel and their staff for hosting the wedding of your dreams.
---
Most wonderful wedding reception experience!!!
Reviewed on

10/18/2013
Melani B
My husband and I got married in Key West this past Labor Day Weekend which was a private wedding in which we were the only two present. After my family and I talked about having a party for our family and friends, I knew right away that the DoubleTree by Hilton-Valley Forge was the right choice for me. A lifelong King of Prussia native, I love the ambiance of the hotel and watched it go though many changes over the years. My choice was only made firmer once I met Clem Pascarella, who is the Senior Catering Sales Manager, and one of the nicest people I have ever met. Seriously. Within minutes of meeting him I felt as though he was a part of my family in that he was so patient, understanding and attentive to our needs, and was always responsive to any emails/questions I would have the same day. We chose a tropical/Key West theme for our wedding, and the overall tribute was to Jimmy Buffett. Clem was so wonderful that he even offered to dress up in a Shark costume during the beginning of the party to everyone's delight when I complained to him via phone that I couldn't find anyone to do so for me! I can't say enough wonderful things about how Clem helped create the night of our dreams. Our party was only 6 days ago, and I am still answering phone calls from our guests saying that it was the most wonderful wedding party they have attended. Do yourself a favor and stop thinking and just book the DoubleTree by Hilton-Valley Forge for your wedding venue. I can assure you it will be the best decision you will make for you and your guests and you will remember your special night forever. I am SO HAPPY we did!!
---
Great Value For Money
Reviewed on

8/03/2013
Varusha M
I thought that planning a wedding in the short amount of time that I had, would have been really tough but the staff at the DoubleTree - Valley Forge, were truly amazing! Clem is such a great catering manager and thanks to him, our wedding was exactly what we wanted and more. This is definitely the right place to go if you are on a tight budget and still want a beautiful ceremony. We were able to customize things the way we wanted to and nothing was impossible. The food was great and the wait staff were very attentive. The venues for both the ceremony and reception had a great ambience. Everyone had a great time.
---
Affordable Elegance!
Reviewed on

5/25/2013
Wilma A
Last summer, we started planning my daughter's wedding for 200 guests on the tightest of budgets. After looking at dozens of venues in NY and Philadelphia, we happened upon the Double Tree by Hilton and their wedding coordinator, Clem Pascarella. From the very first encounter with Clem my daughter felt as though he was a combination of father-of-bride and wedding planner extraordinaire. He patiently sat listened, took notes, and helped us put together a dream ceremony and reception that was customized for Twana and Wesner's special day. We eventually decided on an 11:30 a.m. ceremony on Easter Sunday followed by a brunch menu. The setting and ambiance were warm and inviting, and were only exceeded by the outstanding service. From the onset, Clem P. went beyond the call of duty to ensure that the day would be special. The brunch menu was presented in two sessions, with the breakfast and cold items served at as a cocktail hour, while the hot and lunch items were served during the reception. The food was superbly delicious and abundant. Many of our guests took advantage of the affordable package and booked rooms at the hotel for the night, some for the entire weekend. The staff was more than flexible in honoring our courtesy block of rooms, adding rooms, and extending time for wedding guests at no additional cost. Friends and family members are still talking about the accommodations, friendly staff, and the delectably, mouthwatering chocolate cookies you get at check-in. The entire event had a classy, yet personal feel. Clem is truly loves brides and is the Double Tree's greatest asset. He could not have been more accommodating if he was planning this event for a family member. He really helped us to pull off an affordably elegant affair which far exceeded our expectations. Many of our guests have indicated that they will be using the services of the Double Tree in the future. Oh! Let's not forget, it is conveniently located across from the King of Prussia Mall and the complimentary hotel shuttle will transport you there and back. I would not hesitate to recommend Clem and the Double Tree to any bride on any budget. Please mention Twana and Wesner's wedding for the customized "brunch special."
---
Allowed us to throw a great party!
Reviewed on

7/17/2011
Pam M
When we booked our wedding here I didn't have any doubts. We booked with Kevin who was amazing! He since has left (he was truly missed). While everything went awesome and everyone had a great time Linda (Kevin's replacement), didn't seem to guide us on the day as I would have liked. That being said the rest of the staff were great, very professional and helpful. The food was better than we could have hoped for. We loved the ability to have everything in one place... from getting ready in the morning, ceremony, cocktails, reception, after party (Three01), and sleep (this all made the day very relaxing). I would definitely recommend this to any bride/groom who is looking for a great place to throw a fun reception.
---
Decorated just as I requested
Reviewed on

12/15/2010
Natalie J
Kevin Kessler was wonderful to work with and made my wedding the way I pictured it.
---
Send Message