Home

D's Party Designs & Graphics Services
Details
A la Carte Wedding Planning, Day-Of Coordination, Full Service Wedding Planning, Planning

Contact Info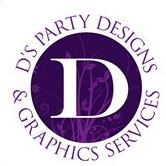 Beautiful and affordable calligraphy!
Reviewed on

10/24/2014
Katie D
D's Party Designs did the calligraphy for our weddings guests' addresses (on invitation envelopes), as well as for our wedding favors. Dianne was such a pleasure to work with, and she delivered everything we asked her to with a smile. The calligraphy was of great quality, and... Read More much better value than we could've gotten from a bigger shop. I'd definitely recommend her for anyone who needs a good calligrapher!
---
Wonderful experience with D's Party Designs!!
Reviewed on

9/23/2014
Audra H
I began working with Dianne and D's Party Designs fairly far into my wedding planning and my only regret is that I did not find her sooner! Dianne did the calligraphy for our invitations, and created our wedding programs, menus, and place cards. Dianne was extremely... Read More responsive, very receptive to working with my ideas, and also provided several ideas at my request, which were fabulous additions to our wedding. The calligraphy, and all of the paper products turned out absolutely perfectly, and we received lots of compliments on them. Dianne really went above and beyond to create all of these items for us on a quick turn-around time, and accommodated my hectic schedule when it came time to deliver the finished products. The pricing for such wonderful service and work was extremely reasonable. I would absolutely recommend D's Party Designs for your wedding!!
---
So happy and relieved to have found Dianne!!
Reviewed on

9/16/2014
Diane H
I thought I could handle doing all the preparations for my daughter's May 2014 wedding myself. Had hired all of the vendors with the exception of the florist. In January, I became very overwhelmed with it all and looked on thumbtack.com for a day of coordinator. One of the... Read More bids submitted was from D's Party Designs and Graphics Services. After speaking with Dianne, I decided to also hire them as a partial wedding planner. I sent her copies of all the contracts set up so far and she kept track of deposits made and outstanding balances owed. She also suggested a florist she had worked with previously which we ended up hiring. We were very pleased with how our daughter's wedding was handled as everything was conducted efficiently and professionally. Dianne and her assistant, Maureen, did a wonderful job coordinating all of the vendors. She set up the timeline for the wedding rehearsal, ceremony and reception and kept everyone on task. This was especially a big help to me as I wanted to be available to my daughter on this very special day. Dianne is very detailed oriented, is a joy to work with and gets the job done. She is very knowledgeable about wedding etiquette and guided us along the way. We mostly corresponded by email and she was very prompt in her responses. We also got Dianne to print the place cards and program fans….they came out great! The ballroom was beautifully decorated, especially considering how challenging it must have been tying all of the burlap sashes. We received compliments from many of our guests, one who was an arts and crafts professional. Dianne was very helpful keeping us calm and collected with all of the mayhem around us. We would strongly recommend her to anyone in the process of planning a wedding.
---
D'Party Designs and Graphics
Reviewed on

9/15/2014
Dianne did the Save the Date, Invitations, Fans, Place Cards and Menu Cards for our wedding. Everything was custom made and beautiful.We received many compliments from people about the invitations. Dianne helped us find a style, colors and paper that we loved. We always... Read More received a hard copy of the item before she had themprinted. The color theme was carried out in all of the items. Her quality work was completed on time and her prices were very reasonable. Highly recommend!
---
Day of Coordinator
Reviewed on

9/07/2014
Gina T
I used Dianne for my day of coordinator to ensure I didn't turn into Bridezilla! She helped me create a timeline that we passed gave to the other vendors that ensured everything ran smoothly- from onsite hair/make-up to when the last dance would begin. Dianne and her daughter... Read More who is her assistant helped us with so much more than I had ever expected! They did a walk through with us on Friday night to rehearse the ceremony and ensure the bridal party and parents would be well prepared, they helped with decorating the day of, she helped make sure the vendors knew what they were to be doing without having to ask, she helped us switch ceremony locations due to rain, she kept me informed without making me worry the entire day. She was there making sure everything went smoothly until the very end. I couldn't imagine my special day without her help! If you're looking for someone to give you peace of mind and make sure everything runs smoothly - Dianne is your person! She's worth every penny and even more!
---
D's Went to Bat for Us
Reviewed on

9/01/2014
D's Party Designs & Graphic Services made our wedding day wonderful. First, our vendor double booked after initially agreeing to our first date. Dianne asked us what we would like to receive from them to make up for their mistake. My wife and I came up with a list of items... Read More we wanted them to provide at no cost and a reduced rate. Dianne went to bat for us and successfully negotiated all of our requests. She was really flexible and allowed us to have the wedding we wanted. It rained on our wedding day and she helped our family member decorate the alternative spot at our venue the night before and all day during the wedding without any extra charges as she had already decorated the original spot. Her daughter was nice enough to babysit babies and toddlers during our ceremony. We couldn't of asked for a better wedding planner. I wholeheartedly recommend her to anyone looking for a wedding planner. Her price is reasonable and because her contract negation is bar none, her cost virtually pay for itself. We also purchased our invitations, programs, and place cards from her as well. She really allowed us to enjoy the wedding planning and was a pleasure to work with. It felt like she was part of the family!
---
The Best Wedding Planners in Washington DC.
Reviewed on

8/30/2014
patchan O
Our wedding was on December 10th,2011 in Alexandria,VA. We decided to get a wedding planner for the final two weeks of preparation and were so thankful when we saw this vendor on Craigslist and their price was just what we had planned to spend in our Budget. We called the... Read More number on craigslist and it was Diane who answered the phone,She was very professional and She listened.We arranged to meet and invited her to our house.She was just as professional as she sounded over the phone. She listened and wrote down our vision for our wedding. She is very friendly and respectful of her customers and She pays attention to detail. The day of the wedding Diane DELIVERED!!!!She was on time at the church and the reception.She made sure all our guests were seated and had a church program. Best of all the Center pieces She made for our tables at the reception hall were EXCELLENT!I would totally recommend D'sParty Designs to any bride who doesn't want to deal with stress on their wedding day. If any bride is interested in asking more questions you can contact us at [email protected] and we shall be happy to answer any further questions and also share pictures. Pat& Jimmy
---
Excellent Day-Of Wedding Planner
Reviewed on

8/29/2014
Candace R
I found D's Party Designs & Graphics Services and Dianne via thumbtack about 6 months before our wedding date last August. I wasn't sure if I wanted to spend the money on yet another thing for our wedding, but I can't tell you how happy and grateful that I did - and that I was... Read More able to work with such a fantastic lady. Diane is truly wonderful to work with and went above and beyond to make sure that everything went smoothly at the Rehearsal and on the day-off the Wedding. Prior to the big day- or weekend, I should say, Dianne was always quick to respond when I had questions(even in Feb/March when we found her). She is also very helpful in putting together a logical timeline and truly cares about ensuring your special day is a success! Dianne made multiple trips with my mom and I to the chapel where we had our ceremony and the country club where we had our reception to make sure she knew the places in-and-out. She has a ton of experience, which made it extremely easy to trust her. One of my favorite parts about working with Dianne was that she was so positive and calm at the rehearsal, wedding and everything else leading up to that, that she made everything feel so easy and comfortable. All we had to do was relax and have the time of our lives! It's been over a year since we got married, but our friends and family are still raving about how wonderful it was- much in part to Dianne.
---
Making miracles happen!
Reviewed on

8/28/2014
I cannot say enough about Dianne's service. She is extremely professional and is open to any ideas, especially when you find yourself in a crunch for time & money. The centerpieces were amazing and complimented our sangria theme colors. I am very particular about customer... Read More service and I can say that her attention to detail and sense of urgency provided me with the reassurance that I was working with a true professional. I highly recommend her services to all my friends and collegues. Thank you again for makiing my day so special and for being so accomodating.
---
Want a flawless day? Pick Dianne!
Reviewed on

8/28/2014
Dianne was awesome! She served as our day of coordinator and made sure everything ran perfectly. I didn't have to worry about a thing and really got to enjoy my day. She also made our programs and placecards for our guests. These turned out better than I could have imagined. She... Read More was patient, professional, understood my vision, and offered great suggestions! Would highly recommend her!
---
Dianne is PERFECT!
Reviewed on

8/27/2014
Rebecca M
Originally I did not think I needed a wedding planner, nor could I afford one. Two months before my wedding I started to panic - realizing I had so much left to do and so little time! I also didn't want to stick my family or friends with tasks on the actual wedding day because... Read More I wanted them to enjoy the event. I found Dianne online and loved her from the start. With her experience she was able to think of questions I didn't when we met with different vendors. She orchestrated my wedding perfectly and I received so many compliments! My only regret is not hiring her sooner!
---
Extraordinary Day-Of Services
Reviewed on

8/25/2014
Michelle L
Dianne was truly outstanding. I was a bride who decided to plan my own wedding from beginning to end, learning on the fly and just trying to take it day by day. Like most brides, I knew exactly what I wanted and had a vision of how I thought things should flow. I was all set,... Read More just under two months away from the wedding, and I realized we needed a planner/ coordinator for the day of, and also for the rehearsal - that I couldn't organize by myself. I found Dianne by visiting random wedding planner sites and emailed her requesting the following services: - coordinating the rehearsal the night before the wedding - setting up decorations (provided by me) for the ceremony and reception areas (this included rose petals, DIY cards, centerpieces, and multiple candles on reception tables; decorating sweetheart table and cake table with special flowers; adding the cake topper to cake; adding table runners, photos of the bride and groom, guest book, favors, and other decorations to gift tables; decorating table at ceremony site; and adding kissing balls to chairs at ceremony site) - directing guests to the appropriate areas - handing out wedding programs - taking down the decorations at the ceremony site when the reception began - and most importantly, drafting and implementing a timeline for my wedding day Dianne responded to my many many e-mails within minutes and provided me with much information when I had questions or just flat out didn't know what to do. She is available via email and cell which was important to me as I began stressing out over every little detail. Dianne is extremely knowledgable in terms of the ins and outs of weddings, but what surprised me most was her eye to beauty. I provided her pictures of how I thought things should look (I.e. Reception tables, sweetheart and cake tables, etc.) and Dianne accomplished those looks and more! The rose petals lining the walkway to the arch was something I didn't even think of, but she laid them out and my husband and I received so many compliments about how beautiful our ceremony looked! I saw them as I walked down the aisle and just smiled. That extra touch made our night so memorable. Dianne and her daughter (who is her assistant) directed the bridal party during the ceremony and didn't miss a beat! Our wedding started right on time and every moment was in line with the schedule that we drafted. Dianne directed the reception and double-checked with me before she made any changes, which I truly appreciated. Her work is absolutely phenomenal and she is so REASONABLY PRICED. My husband and I couldn't have asked for a better team to coordinate our dream day.
---