Home

Dueling Pianos - Felix and Fingers
About this Vendor
Dinner. Dancing. Dueling. Done.
Lose the DJs and the cheesy wedding bands. You're not just like every other couple out there, so why should your entertainment be? Featuring an AMERICAN IDOL FINALIST, Felix&Fingers is a dueling piano act that will keep your guests entertained all night. Ceremonies through Dancing, F&F does it all!
Details
80s, 90s, Big Band/Swing, Classic Rock, Country, Disco, Folk, Jazz, R&B, Top 40/Pop, Variety
Ceremony DJ, Coordination Services, Lighting, MC Services
Contact Info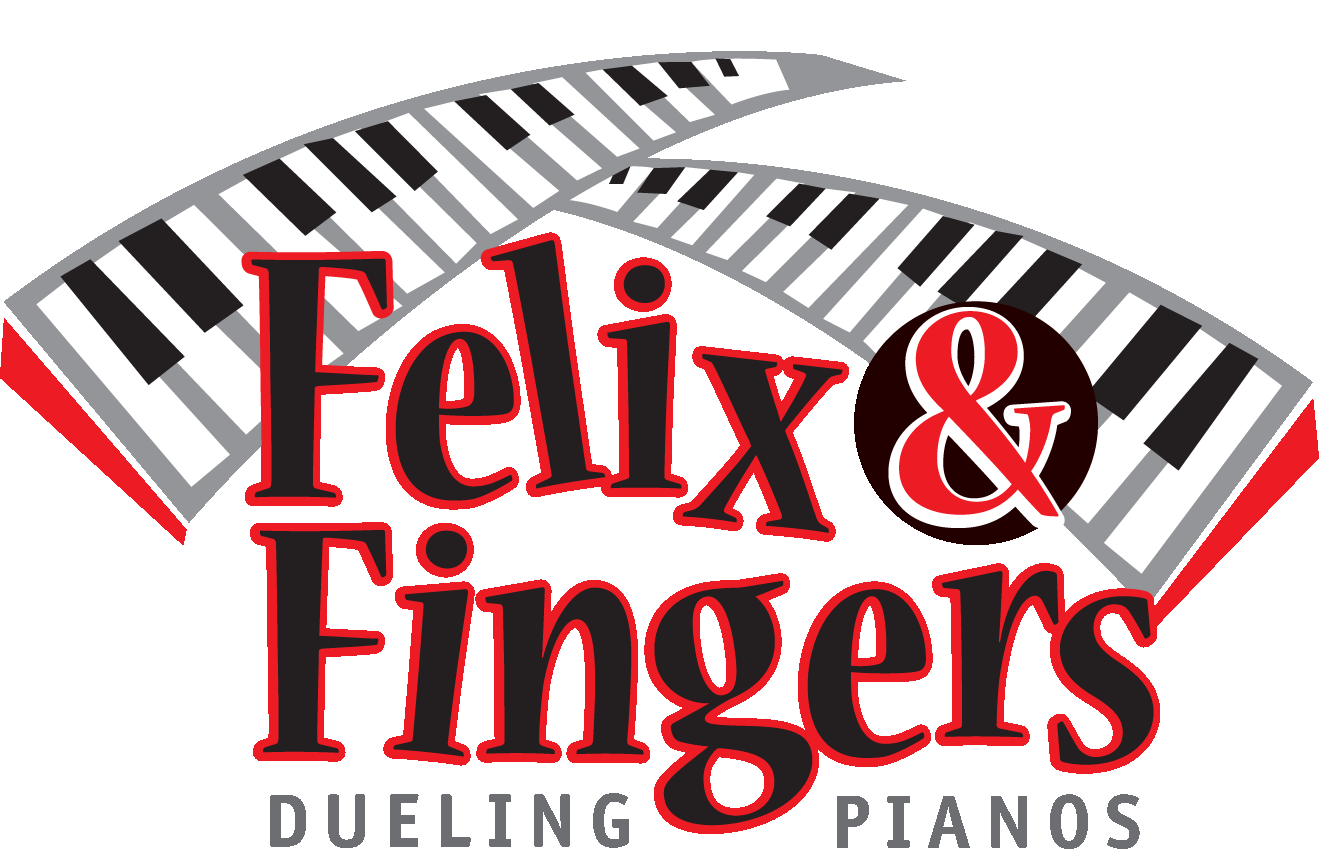 An amazing time had by all!
Reviewed on

11/17/2014
Michelle B
I have to give my husband credit for finding Felix & Fingers. But, as soon as he said dueling pianos, I was sold! Why? Because we wanted the dance floor to be hopping all night and we knew dueling pianos was the way to go. Think of it this way - a DJ spinning Baby Got Back will get the young adults on the dance floor, but not the older adults. But, Baby Got Back on the pianos? Everyone is dancing! Communicating with F&F was a breeze. They were responsive, friendly, and organized. They were also willing to go with the flow, which from start to finish was necessary for us. In fact, we booked F&F before even having a venue locked down. The planning process went smoothly and they brought several things to our attention we hadn't thought of, which was greatly appreciated. On the day of the wedding, things didn't quite go as planned due to the weather being freezing cold on October 4th! However, F&F were flexible and did everything they could to make it seem things were going exactly as planned. F&F played our ceremony, cocktail hour, dinner, and reception and everything was great. At one point during dinner I did a double take because I thought for sure they had put on a track, but it was them performing! Now, let's get to the reception. A-M-A-Z-I-N-G! The dance floor was definitely grooving all night and our guests raved about F&F! They were interactive, funny, talented, and incorporated some unique elements into the reception as well (spoiler alert- cowbell competition). The true testament of a great time? My husband lost his voice and I busted a strap on my dress from busting-a-move all night long. Thank you F&F for a unique, memorable wedding!
---
Great wedding entertainment!
Reviewed on

2/15/2015
Felix and Fingers is fantastic! We had never even entertained the idea of live entertainment for our wedding until we saw them perform at a friend's nuptials over the summer; all of a sudden we couldn't stop talking about them. We wanted to wow our guests, and F&F helped us do that. Are they more expensive than a DJ with a laptop and some speakers? Yes, but it's LIVE entertainment and completely worth it! The planning was easy, we chose the songs we wanted and they either knew them or learned them for us. Mike walked us through the entire day so everything would be smooth and painless. Dave and Emily are amazing entertainers; they play, sing, joke, and have a good time. We wanted our daughter to play a song on her trumpet... no problem! We changed the mother/son dance 10 minutes before it took place (wanted to split the dance between my mom and grandma)... no problem! They even changed the words to the song to fit the relationship difference. We wanted them to re-record the lyrics for our first dance song because we forgot to on the wedding night... no problem! I cannot say enough about how great, easy, and willing to do whatever they are! People in our families are still talking about how great and unique the live entertainment was. Nobody is going to remember the steak they had at your wedding or the photographer, but they will remember the entertainment if it stands out like Felix and Fingers! It's absolutely worth spending a little bit more for what they provide.
---
Stop Looking Right Now!
Reviewed on

11/02/2014
Danielle P
Seriously. There's no need to keep looking. Hire Felix and Fingers and stop worrying about the entertainment for your wedding. They will take care of everything and you won't regret a thing. They played our wedding in September and their performance was amazing. We knew we wanted something different and dueling pianos were perfect for what we had in mind for our wedding. There's nothing like having live piano for the ceremony and Mike and Emily delivered all the way through the reception. All of our guests were enthralled by their performance and can't stop talking about them! Mike and Jessica worked with us on all of our important details and I did not worry for a second about the entertainment that they would provide. They're personable, kind, funny, and amazingly talented! Best decision ever!
---
Well Worth It
Reviewed on

2/17/2015
My fiance and I booked Felix and Fingers for our wedding on 2-14-15. They were a significant part of the ceremony, cocktail hour and overall reception. Greg and Emily were our performers. I cant say how helpful, fun and engaging that Greg and Emily were. They played a great show, played fun music during the cocktail hour as well as after their performance. We often called and emailed Felix & Fingers leading up to the show and they were attentive and quick with a response and help. Well worth the money and many of our guests talked about how much they liked the music. Thanks so much! Don & Laura
---
Felix and Fingers made the night!
Reviewed on

2/15/2015
When planning our wedding I was very nervous about making sure everyone had a good time at our reception because we are not big dancers. After seeing Felix and Fingers perform at a wedding over the summer I knew this is what we wanted. Dave and Emily were our first choice after watching the online profiles and we were so excited that they made sure they were available for our night. Dave and Emily are incredibly talented performers that entertained everyone all night. There was comedy, singing, dancing, and entertainment all night. I felt that they truly were there for us and all of our needs and there to make us feel special. Our guests enjoyed themselves and we couldn't have been more pleased. I would recommend Felix and Fingers to anyone for their professionalism and talent.
---
One of my very best wedding decisions
Reviewed on

11/10/2014
Megan R
I can't say enough good things about Felix and Fingers! They were there for every step of our planning - answering questions, providing ideas, sending checklists, guiding our timeline. When we arrived at our venue to a few layout problems, Mike and Jim stepped in without hesitation to move tables and tape down extension cords. Their problem solving skills put us at ease immediately, and I was able to enjoy our cocktail hour knowing knew we were in good hands. And then they put on the most incredible show for our guests! We all had a blast, and I don't think I left the dance floor for a minute. There were a lot of things that made my wedding day amazing, but Felix and Fingers made my wedding FUN, which was very high on our priority list. I'm still getting compliments! I can truly say that working with Felix and Fingers was one of the best decisions I made for our wedding. The peace of mind and pure joy that they contributed were priceless.
---
Absolutely the best!
Reviewed on

11/01/2014
Rachelle S
First, Felix and Fingers were by far the best vendor I worked with for my wedding. They were very professional and took care of everything, and I mean everything! I had some trouble with my other vendors but not Felix and Fingers. They were always on top of their game which made things so much easier on me. I can't thank them enough. Second, the reception was an absolute blast! Everyone loved the dueling pianos. It was such a fun and unique thing to have. People were dancing all night long. They emceed the whole reception and even dismissed tables for dinner. It was flawless. Felix and Fingers is such a great find and you will not be disappointed. They are the best!
---
As great as they say!
Reviewed on

10/22/2014
Audrey W
We received more compliments on the band than we did on the food... and that's saying something!! Mike Potts and crew were just the right amount of professional and laid back. Their communication was great the whole time and we never worried for a moment that things wouldn't be taken care of. They were flexible with specific requests from us and worked the crowd wonderfully. Even our friends and family members who try so hard not to dance got into the show. We got a fantastic performance and a really, really great and memorable evening. *a note on the cost - we requested the FULL band and were 3 hours away!
---
Phenomenal!
Reviewed on

10/18/2014
Shalon H
Shortly after our engagement, in the midst of wedding planning, my (now) husband and I were guests at a Wisconsin wedding. A couple at our table had recently gotten married, so we were soaking up all of their advice and suggestions. I am so appreciative of this couple who first recommended Felix and Fingers. We had never considered dueling pianos, much less a group outside of the Madison area. After checking out their website, we were smitten with the idea!! From the first moment we contacted Felix and Fingers until after the actual wedding day, they were helpful, friendly, informative, and quick to respond to our questions. On our wedding day, they made everything so easy! Whether it was pianos, singing, or DJing, they played music from before our wedding ceremony, through the happy hour, until the very end of the evening. Not only did they help us keep to our wedding day schedule, but the musicians were PHENOMENAL! I don't think I have ever seen such a successful dance party! The dance floor was full the entire night and our guests are still talking about our beautiful wedding and the awesome entertainment. Five stars is not enough to reflect what we think of Felix and Fingers. They are absolutely off the charts and I cannot recommend them enough. Thank you to the entire Felix and Fingers family... You brought our dream day to reality!
---
Amazing Entertainment
Reviewed on

9/22/2014
Madeline B
I hired Felix and Fingers for my wedding musicians since I really enjoy live music. Not only did they play the reception but the ceremony as well. They brought their own microphones and speaker system since my location did not have any. They arrived promptly and stayed late. They played beautifully for the ceremony and sang the first dance, father daughter and mother son dances. It was fantastic. The crowd loved them! I didn't expect so much interaction between the musicians and the crowd and it was hilarious. The best part of the whole thing was the planning. F&F really make you sit down and plan out the whole ceremony and reception. I didn't have to think about it all evening. People tell you that your wedding day flies by, but because I had planned for all the big landmarks I really just sat back ad enjoyed myself. PLUS-the blue piano shells are quite stunning and even had professional pianist family members thinking they had trucked real grand pianos up the stairs. All in all I am so happy I chose them, definitely something people will be talking about for a while!
---
Great people, great time!
Reviewed on

9/19/2014
Brittany F
My fiance and I considered music to be really important. We had been to wayyyy too many weddings with music services that weren't great. When planning, we decided we wanted something different. And I am SOO glad we did. From the beginning, Felix and Fingers were prompt in their responses, very detailed, and extremely personable. They made it clear from the beginning it was all about us and our dream. They made the entire process easy. The prices were very reasonable, especially for the duration offered. During the final meeting, we went through every detail, which was really nice. The actual wedding was a huge success. Everyone was extremely impressed with the versatility and professionalism, while at the same time rocking the house! Extra note: they gave us suggestions for tipping (going to our honeymoon fund). This showed their professionalism, as well as a way to avoid the dollar dance. They also suggested avoiding the annoying clinking of glasses for us to kiss. We decided in order for us to kiss, a person(s) would have to sing a song with "love" in the title. This was hilarious, and really sweet. Everyone had a great time!
---
Greg was AMAZING!
Reviewed on

9/11/2014
Lindsey J
I had a pianist fall through last minute and reached out to Mike at Felix and Fingers two weeks before my wedding for intro music and two special pieces. Greg played keyboard for my wedding and he killed it. He was there super early and was overly prepared. Greg learned the two songs I had asked him to within a day or two and played them flawlessly. He also worked extremely well with my vocalists. They took all of the stress off of me for the event and I never had to worry about anything. These guys are real pros. I would refer them in a heartbeat! - Lindsey
---
Perfect, just perfect!
Reviewed on

9/11/2014
Rachel D
Mike at Felix and Fingers was amazing and easy to work with. He thought of everything and listened to (and recognized) our requests. Chris, Sarah and Robert helped make our reception unique and memorable. Our guests loved the dueling pianos just as much as we did. Felix and Fingers was money well spent for us. We paid for piece of mind, wonderful entertainment, and fun for our guests. We will recommend them to everyone.
---
my amazing wedding
Reviewed on

8/20/2014
Felix and Fingers did an absolutely amazing job at my wedding. They were professional, read my crowd well, had great song choices, sounded amazing, they were funny and made my event. All my guests loved F&F. I highly recommend these gentlemen and they are well worth the money!!!
---
Such fun! Great musicians, voices, and personalities
Reviewed on

7/03/2014
Samantha G
We had Emily and Jim, and they duet really well together. Super nice, fun. It was a great dance party!
---
stress free wedding entertainment
Reviewed on

6/23/2014
Ashley D
My husband and I used to go to dueling piano bars all the time when we first met, so that is what we wanted for the wedding. I am 25 and my friends were all for it but my parents were skeptical. They were worried it would be more of a show than a wedding. We had them play quiet music through dinner then more piano upbeat afterwards. Everything turned out absolutely incredible. They had uplighting for much cheaper than the venue and had piano shells for the keyboards to make them look like grand pianos. It went perfect with our slightly more upscale venue. The two men coordinated all events with our photographer and videographer. For example before he introduced us for each dance or the cake cutting he made sure the photographer was ready. I had never even though of that! I didn't have to do any running around at all. We also sent some of our guest requested songs ahead of time so they had a music genre ready. The guys were great with the guests during the wedding. They were fun and playful and not vulgar or offensive. If the dance floor cleared they found a way to get people back on, either through a cheeky comment, change of music, or a game. Many of our guests told us it was the best wedding they had ever been to because of the pianos. Several guests asked where I found them because they had never seen anything like it before. If you are on the fence, I say go for it! I would book them again in a heartbeat!
---
Life of the Party
Reviewed on

6/23/2014
Krista C
We recently had Felix and Fingers perform at our wedding from the ceremony through the reception, and I cannot express my gratitude enough for how at ease it made me feel to know they were taking care of not only the music but helping to run the show throughout our day. They not only promptly answered all of my questions from the moment we decided we wanted them to be a part of our day, but also had an in depth phone call with us the week of our wedding to go through every detail with us by the minute. I felt so confident leaving the music, announcements, and party in their hands! We had so many guests comment on not only how awesome they were, but also what a special touch having live music added to our day. Whether my husband and I were on the dance floor or out taking photos, greeting family, etc., they kept everything moving and on track and our night would not have been the same without them! I would more than highly recommend Felix and Fingers for your wedding day as they truly brought our party to life!
---
Awesome time!
Reviewed on

6/14/2014
Stephanie A
Felix and Fingers were wonderful to work with! Lots of energy, kept the wedding organized and were very nice guys!
---
Clap Along If You Know What Happiness Is To You...
Reviewed on

5/31/2014
Because We Are HAPPY! Felix & Fingers Dueling Pianos knows how to deliver from start to finish. Music helps set the tone of a wedding and dueling pianos is something new,fun and interactive for the crowd. We were elated to finding F & F in the Chicagoland area to entertain our April Wedding guests. All it took was 2 seconds on the phone with Mike to know this business wouldn't disappoint. Impressively, F & F shared a very through timeline tool. It made you feel comfortable that every detail was going to be handled because they already were one step ahead of you with their service. You didn't have to ask or wonder, F & F brought their A-game to the table in advance. In addition Mike & Jessica were: 1. knowledgeable about the wedding entertainment industry, 2. confident in their product, 3. thoughtful and kind throughout every conversation, 4. gave us undivided attention each and every time we had questions or asked for advice along the way - they really made you feel like family :) Speed up to wedding week, the F & F team checked in and had us complete a questionnaire to help us both know all the in's and out's needed to have a successful day that included Felix & Fingers performing at our ceremony and reception. Mike & Jim were our guys who made it a "tune-tastic" event! Some of our music was dj'd (songs that were a must by a certain artist) while most all others were their true talent shining from the hillside at Orchard Ridge and then inside the Pavilion. We kept their performance a surprise to our guests, and boy was it! Our friends and family are still raving about it - we had a blast - they were fantastic! Mike & Jim covered song after song - oldies, goodies, new pop, family favorites and....they brought a cow bell...enough said, but it provided for some great laughs and memories! Overall, BEST DAY of our lives and we would love to work with Felix & Fingers again and again. Thank you for your hospitality!! We give this team the highest recommendation to perform at any kind of event you are hosting. They will take care of you in the planning process and rock out the event in any venue for all fun loving crowds! With no reservations, book Felix & Fingers Dueling Pianos. Mike, Jessica, Jim & the F & F Team are a home run for excellent entertainment!
---
Best Wedding Reception/Dance!!
Reviewed on

5/26/2014
Through our relationship, dueling pianos has been our entertainment of choice anywhere we travel. When we got engaged and needed to begin wedding plans, the reception music and entertainment choice we wanted was easily, dueling pianos. We began our search online and found Felix and Fingers and initiated contact more than a year in advance of our wedding date. Communication during that year period was great and they always got back to me in a timely manner if a question popped up. They are very reliable and professional. When it came time for the wedding, Mike and I spoke on the phone for about an our and went over the whole reception and schedule. He mentioned things that I hadn't even thought of and gave good insight and advice on different options for the reception. They provided the reception with fun, games, humor, music, and dancing and everyone had a BLAST. I would recommend them to anyone in need of entertainment for an event. Great experience and a great time!!
---
An Amazing Night at Brookfield Zoo with Felix and Fingers
Reviewed on

5/21/2014
These guys were amazing!!! They truly enhanced our night and made it one to remember. Mike and Emily added so much personality and energy to the whole evening. They were game to play anything the crowd threw their way, and their own selection of songs kept everybody moving. Their sense of humor and special touches made everything perfect. People can't stop talking about how much they enjoyed the entertainment! I would highly recommend Felix and Fingers!
---
So happy!
Reviewed on

5/17/2014
Nathan W
My partner and I booked Felix and Fingers for our wedding last month and we couldn't be happier with the quality of music Felix and Fingers provided. Out of all our vendors, they were the easiest to work with and most efficient as well. Any questions that I had, they would get back with me right away. Mike included everything that we wanted at our reception and our guests absolutely loved them! Having a DJ is great but nothing beats live music. If you're considering live music, consider these guys. You will not be disappointed!
---
Even Grandma Danced...
Reviewed on

5/09/2014
Frances K
I was totally skeptical of the idea of Dueling Pianos when Felix and Fingers was recommended to us by our venue. My main goal for our entertainment was to ensure that the party would be fun and that people would be dancing. So, going on the reviews, the YouTube Videos, and the recommendation of our venue we hired Felix and Fingers for our wedding. I contacted many other bands/musicians and felt that we were going to get the best value for the money from Felix Fingers. I worked closely with Jessica on my super specific playlist requests for the ceremony and cocktail hour. She was super helpful and professional. I felt like my plans and organization were totally honored by everyone I worked with. On the day of the wedding, Mike Sherman and Jim were absolutely wonderful. Fearing that I had made a snafu on my rehearsal the night before, they went over the whole agenda with me and put me at ease. They were easy-going and accommodating. With them being in charge of all of the sound and essentially making the order of the whole event happen, I felt pretty care-free. The entertainment for dancing was fabulous. I had some friends who pretty much danced to every single song. One of my requests was a special song that for my grandma(Wake Up, Little Susie by the Everly Bros.). I had just planned on her hearing it and appreciating the request, but she got out and danced with me! Holy cow... You can feel very comfortable with your decision to hire Felix and Fingers!
---
Don't look any further!!!
Reviewed on

4/15/2014
Jessica S
Let's face it, wedding planning is completely overwhelming. And there are SO many choices. So if I can help a bride or groom with their decision for music, here are my two cents: Don't look any further than Felix and Fingers! These guys KNOW what they're doing. From the moment you book them, they will be there to answer your questions and ease your worries, night or day. And all of our music, ceremony through reception, was covered by F&F, which I found as a huge perk, and guess what? It all went off without a hitch. Not only that, but my friends and family are STILL talking about how much fun they had at the reception! My aunt said she was "danced out" by the end of the night, and I believe my sister announced she had as much fun at my wedding as she had at hers (huge compliment coming from an older sister!). F&F brought something truly special for our wedding that I honestly believe no DJ could have done for us. Like I said before, don't look any further, these guys know what they're doing, and they're REALLY good at what they do. :)
---
Entertainers
Reviewed on

3/30/2014
Karen G
Felix and Fingers are amazing at what they do! I enjoyed working with them for my wedding. They always answered emails and phone calls in a timely manner, they are a pleasure to talk to, and answered all of my questions. They know what they are doing, very prepared, and helpful. Felix and Fingers did a fabulous job at the ceremony and reception. The day flowed seamlessly from the ceremony; to cocktail hour; to the reception. Everything sounded great, whether it was live music or DJ'd. They were able to play the special song that we requested for our first dance. All of my guest, my husband, and I enjoyed ourselves during the evening. They were very entertaining and knew how to work with the guest to make it a fun evening! I would fully recommend them to a friend or anyone and I would use them again in a future event.
---
Send Email