Home

Edible Designs by Jessie
About this Vendor
"SAY YES TO THE CAKE"
Edible Designs is dedicated to the design and creation of personalized wedding cakes. We have worked with Brides for more than 21 years of experience. We have Private Consultations that can be made by-appointment. You can visit my website for pricing. If you have a special request for a quote, You're more than welcome to send me a email! Come and discover the unique details and try all of our amazing and savory flavors.
Details
Cake Stands, Cake Delivery + Setup, Cake Tastings, Groom's Cakes, Cakes + Desserts
Contact Info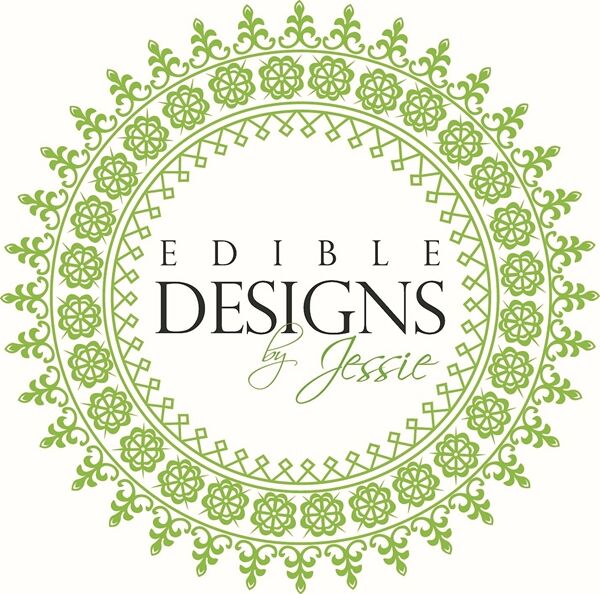 The Best Wedding Cakes!
Reviewed on

10/29/2014
sheli h
Jessie is amazing and so are her cakes! She has an amazing talent to create the best tasting cakes and absolutely stunning designs that are flawless! Mine and my fiances wedding cakes were so beautiful. My fiance is an auditor and Jessie created an exact replica of the... Read More calculator he uses for his job. She left no detail off this cake and literally replicated every part of this calculator. All of his coworkers could not stop talking about his amazing cake. Mine was equally amazing and Jessie was so patient and kind in entertaining my indecisiveness with the design.The final product was perfection, so much so that I have an 8 x 10 of it in our house. It was just that beautiful! I recommend Jessie to everyone I know!
---
Have Found My Go-to Bakery for Life!
Reviewed on

5/06/2014
Natalie J
It's official...My hubby and I will use Edible Designs for anniversaries and any other special occassion that we can think of! They are professional, offer competative pricing and just downright DELICIOUS! The best cake we have EVER tasted!
---
Most wonderful cake EVER!
Reviewed on

5/01/2014
Viece
Use them! You WILL NOT be disappointed!
---
Reviewed on

9/07/2017
Janice H
Jessie made the most amazing cakes for my daughter's wedding! The groom's cake was a fondant chocolate Mickey Mouse in a tuxedo. The main cake was amaretto flavored with a raspberry white chocolate filling with buttercream frosting. We requested cascading gum paste flowers... Read More which were in style with my daughter's bouquet. Edible designs worked well with my florist. The cakes were spectacular to look at but so delicious also. I would highly recommend Edible designs.
---
Reviewed on

9/01/2017
Jessica B
My husband and I didn't go to too many cake tastings before choosing Edible Designs. First of all, the most important thing to me is that the cake tastes good. If it doesn't all the fondant in the world can't help you. All of the flavors we sampled were good, which made our... Read More decision harder. When it came time to talk decorations, their shop is like a Hall of Fame of cakes. Absolutely breathtaking. We opted for only buttercream decorations, which was perfect for us (neither my husband or I like fondant much). Our cake was DELICIOUS and beautiful! We received so many compliments on it into the days after the wedding. We would love to work with you all again if the occasion calls. Thanks for a wonderful cake!
---
Reviewed on

8/23/2017
Marisa V
A huge thank you to Edible Designs by Jessie for the amazing cake at our wedding at Agave Real in August 2017. Not only was the cake beautiful, but it was delicious! We received so many compliments from our guests about how tasty that cake was and there was hardly any left at... Read More the end of the night! Everything from the tasting, to payment, to delivery and presentation was great and we really appreciate the wonderful communication from Jessie and her team.
---
Reviewed on

8/18/2017
Veronica R
Dream Come True!! First time we had Jessie's cake was at my cousin's wedding. My husband (boyfriend at the time) turned to me and said, "This is our future wedding cake!" And trust me when I say, we've had our fair share of wedding cakes in 4 years of dating. Time went by and we... Read More finally got engaged! We knew right away who would do our cake no matter what the cost! Jessie also came HIGHLY recommended by our very trusty and loyal friends of ours who have known Jessie for years, and said no one else compares to her! This gave us even more reason to book Jessie! From booking the appointment, to the consultation, the entire Edible Designs experience was incredible and seamless. Jessie and her daughter were very professional and worked with our budget for both the wedding cake (White cake with strawberry filling), and grooms cake (Texas A&M designed red velvet cake, with cream cheese icing and delicious chocolate covered Tuexedo strawberries) . We were so elated with the outcome and even after 1 year people still talk about our wedding cake and say it was the best they've ever had!! Speaking of our 1 year, our anniversary cake was AMAZING!! Jessie was so kind to wrap the cake for us ahead of time, and we properly stored it in our freezer with great anticipation. After waiting patiently for the cake to defrost, it brought us back to our special day. It was so incredible, smooth, flavorful, DELICIOUS just like it was on June 25th, 2016! Thank you Jessie for your professionalism, talent, and beautiful heart for making the best wedding cakes and making our dreams come true! You truly are the BEST!
---
Reviewed on

8/16/2017
Dede W
We were blown away with how our cakes turned out for our wedding/reception on July 23, 2017. Our guests are still raving about how beautiful and tasty the cakes were. Ms. Jessie did a fabulous job, I will definitely recommend her!!!
---
Reviewed on

7/24/2017
Briana C
My cakes were perfect! They were just like we had talked about. Everything was beautiful and both tasted delicious. We talked about her adding peacock feathers to some of the tiers on the main cake, since I had a peacock theme, and it turned out better than I could have... Read More expected. We also had an amazing chocolate groom's cake. They were so easy to work with and I'm so happy with how everything turned out!
---
Reviewed on

6/04/2017
Brittany W
I found Edible Designs by Jessie at a wedding show. As soon as I tried the cake I knew this was the place. Booking an appointment was easy and the times were very flexible. They were very nice and the cake was how I expected, AMAZING! They designed the grooms cake and wedding... Read More cake exactly how I imagined it to be. We had a miscommunication with family to get the cake stand back because we were out of town. They were so helpful and thankfully understandable with us returning it a little late. I highly recommend using them!
---
Reviewed on

5/30/2017
Paola R
THE BEST wedding cake ever!! Design, taste and cost was EXCELLENT. Jessie and her team was so easy to work with, very responsive via email. We scheduled a free tasting, she provided us with a great service from the beginning. She sketched our cake the day of the tasting, looked... Read More at pictures we had and really listened to what we wanted. We ordered a wedding cake and grooms cake. She took care of delivering it on time on a sunday . ALL of our guest had great things to say about how good the cake tasted, and both were DELICIOUS. best decision ever!
---
Reviewed on

5/07/2017
Rebecca T
We hired Jessie to make our wedding cake and we could not be happier! We live in New York and she was very accommodative to schedule our tasting and consult when we were in Houston. She understood what we wanted and gave helpful suggestions and advice, the only problem is that... Read More we couldn't decide on a flavor because they were ALL great! Most importantly, the cake looked beautiful and tasted AMAZING! Our guests were still talking about the cake a few days later. I highly recommend using Jessie.
---
Reviewed on

5/04/2017
Kathryn H
Cake was absolutely delicious and looked perfect! Everyone is raving about how tasty it was.
---
Reviewed on

5/01/2017
Teresa H
Words can't describe how AWESOME my wedding cake was! I was blown away by how pretty it was and how great it tasted! All of my guests raved about my cake. It was so moist and flavorful! Jessie and her daughter are wonderful to work with and I'm so thankful for such an AMAZING... Read More wedding cake! I will recommend Jessie to anyone who asks for a referral for a wedding cake in the future! Thanks again Jessie for a job well done!!
---
Reviewed on

4/17/2017
Diem N
We had Edible Designs by Jessie at the wedding and it was absolutely amazing! We had a four tier cake and we were able to have each tier a different flavor! The cake was delicious and all the guests loved that they had a variety of flavors to choose from. They delivered the cake... Read More ahead of the schedule and everything was already set up. Consultation with Jessie was also very easy and enjoyable. Such an amazing experience. Thank you!
---
Reviewed on

4/13/2017
Tiffany D
I ordered a 5 tier wedding cake along with a groom cake. Both were perfect! We used pictures on the groom cake and they came out great! I had no issues!
---
Reviewed on

4/12/2017
Janet M
Best wedding cake ever! The cake was not only beautiful but absolutely delicious! Also, Jessie and her daughter were a pleasure to work with.
---
Reviewed on

4/04/2017
Darka W
Jessie and her daughters were very detailed with the two cakes and the ornaments we ordered. They arrived on time and were set up without fail. We were very pleased! They tasted good too! Tom and Autumn Ashley
---
Reviewed on

3/29/2017
Elena R
they made my wedding cake exactly the way i wanted it. The design and color was perfect. Many complimented on how delicious it was and how beautiful it was made. I can't thank them enough and I am so glad I picked them for my wedding cake.
---
Reviewed on

3/15/2017
Teresa M
Cake was delicious and beautiful!
---
Reviewed on

3/02/2017
Allie L
Thank you for our beautiful wedding cake back in October!! It was absolutely gorgeous and tasted amazing!! We had a four tier cake and we were able to have each tier a different flavor! Her flavors are so tasty and unique!! Highly recommend Jessie!!
---
Reviewed on

3/01/2017
We loved working with Jessie at Edible Designs. The tasting process was very organized and flawless. We were able to narrow down our selections and design our cake one on one with Jessie. The finished product was exactly how we designed and envisioned it. Jessie's cakes are... Read More absolutely delicious. Many of our guests told us that it was the BEST wedding cake they had EVER had. AND we will confirm that...it was absolutely delicious. Her tuxedo strawberries were so good and beautifully crafted. They were delicious too! We give Jessie 5 stars and we would give her 10 if it was possible! You won't go wrong with Edible Designs...wonderful cake and great service.
---
Reviewed on

2/11/2017
Christina G
I downloaded a picture of the cake I wanted off the internet...I took it to Jessie... and just like that...she made it EXACTLY like the picture! But that's not all, cake was delicious. I got so many compliments on my cake..even days after the wedding people were still mentioning... Read More it. When you're getting married some people really do not pay attention to the details, and as the bride I must say every single detail was important to me. Jessie at Edible Designs must know this. My cake was excellent!
---
Reviewed on

12/31/2016
Logan W
You know your cake is going to be good before you even try it when your cake vendor has been mentioned or recommended to you by dozens of people! Jessie's cakes are SO good! We were able to have different flavors for each layer for our wedding cake and each one was amazing!... Read More My husband wanted a Crown Royal bottle for his grooms cake and it was the talk of the whole night because it turned out so cute! We had some leftover cake from the wedding and left it in the fridge while we left on our honeymoon for a week and when we came back, it still tasted so amazing! We have recommended Jessie to multiple people and can't wait to use her for other occasions in the future!
---
Reviewed on

12/02/2016
Katie T
Jessie is fantastic! We met for the consultation and was so professional. She drew out my vision and then we got to taste delicious cake! We mixed and matched layers and fillings! The cake was exactly what I envisioned and was delicious!! Cant wait to eat our topper! I would... Read More highly recommend Edible Designs by Jessie for brides out there!
---
Meet The Owner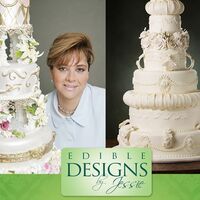 Jessie Lopez & Mariana Lopez
We have a great Mother and Daughter Business We both studied, and placed in Executive Pastry Chef. Now with the 21 years of experience in the wedding industry, and teaching my daughter, have been the greatest and blessing I can have in my life. We truly have a Great Cake studio, located in Houston Texas. The passion that I have designing wedding cakes is something that I want to pass to my daughter Mariana. With the love we have for each other, We Love to share it to the Wedding Industry. Best Part of it and saying "YES TO THE CAKE!"