Home

Ehrhardt's Waterfront Resort
About this Vendor
Lakefront Ceremonies & Lakeview Receptions
At Ehrhardt's Waterfront Resort we specialize in getting you to the 'Happily Ever After'. We offer stunning on site weddings & elegant receptions, all with breathtaking views of Lake Wallenpaupack. Every season at Ehrhardt's is one to celebrate love & we can accommodate weddings year round.
Amenities + Details
Amenities
Handicap Accessible

On-Site Accommodations

Indoor

Reception Area
For more details about amenities, please message the Venue.
Bar + Drinks, Cakes + Desserts, Food + Catering, Planning, Service Staff
Contact Info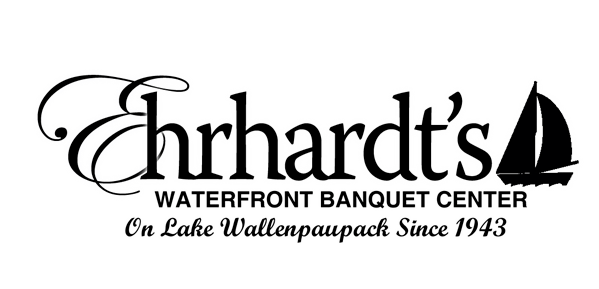 205 Route 507, Hawley, PA
Best wedding ever!
Reviewed on

7/31/2013
Stacey S
My husband and I are both from northeast PA. We have been to many weddings at the "same old" venues. When we started to plan our wedding we wanted something different, but amazing. Ehrhardts was the perfect choice; it was a destination feel without the extreme traveling. Not only did we have an amazing time, but many of our guests told us it was the best wedding that they had ever been at. The food was great and the views were spectacular. Everyone felt like they were away at the lake. The atmosphere at Ehrhardts is something you can not get at any old banquet hall. I have to say that I was not overly excited to plan my wedding, at first; I knew that my to-do list would be never ending. However, from the first meeting with Diane and the staff at Ehrhardts until the last dance at my wedding, I felt special. Diane and the staff are so kind and accommodating. They went above and beyond to make the day perfect! There is not a bad thing I could think of to say about Ehrhardts. The process of planning our wedding to the execution of the wedding was so easy and the day was amazing. My husband and I hope to go back for our anniversary and would love to make it a yearly getaway with our growing family !
---
summer wedding by the lake
Reviewed on

8/01/2013
Dawn M
Ehrhardt's - and specifically Diane Bernstel - made our wedding day go perfectly! We had a beautiful lakeside summer wedding and it was as stress-free as possible, with every detail taken care of by Ehrhardt's. The ceremony went smoothly, the food was delicious, the scenery was gorgeous. We had over 100 guests and planned everything long-distance using exclusively Diane's recommendations for the menu (including the cake), the florist, music (DJ/band) and photography. We couldn't be happier with how everything turned out for us, and with the way our guests were treated. ABSOLUTELY RECOMMEND HAVING YOUR WEDDING AT EHRHARDT'S!!!
---
Absolutely Perfect
Reviewed on

6/03/2013
Nicholas J
From day one, Ehrhardt's has been an incredible host for our wedding. As time went by and the wedding came closer, Ehrhardt's was always there to meet our needs and answer our questions. Ehrhardt's was more then accommodating for me, my wife, and both our families. The service staff were professional and courteous. Everything from the food to the resort rooms were perfect. This should be on anyone's list of possible venues.
---
Reviewed on

7/09/2015
Jul 5 at 9:45 AM Hi Karen, Just wanted to say Wow!!!! What a great time we had at the wedding and our guest are still talking about how great the food was and how beautiful everything was!! You were not kidding when you said I could put away my wedding folder, it was so nice to just enjoy the weekend with no worries! Everything was so stress free. Briana and Travis loved everything about their day. You made the day go so smoothly. We loved the new cabins and our guest all enjoyed their stay at Ehrhardt's. Breakfast the next morning put a special end to a fantastic weekend. Michael did a great job on breakfast. You all are a great team at Ehrhardt's. So again a big thank you for making our daughter and new son in-law's wedding a day to always remember. We had a blast!!! Sincerely Parents of Bride & Groom Linda & Jim Malachowski
---
Reviewed on

6/03/2015
Lindsay J
Karen and her team at Ehrhardt's are amazing! They really make sure every little detail is perfect for your special day, they think of everything! We had both our ceremony and reception onsite. We were blown away at how great everything was...from the food to the service it was all top notch. Karen makes sure your planning goes smoothly and is quick to respond to email and phone calls. She sends helpful reminders which are great because your mind will be all over the place right before your big day. We were so happy that we picked Ehrhardt's and you will be too!
---
Very Special
Reviewed on

11/20/2014
Laura C
We had a small wedding (~80) guests and made some special requests to try to keep the costs down. Karen (our planner, a service included in the price!!) happily helped and made sure our reception fit in our budget. She was attentive and helpful for the entire planning process. More importantly, though, on the day of the wedding, she really went above and beyond our expectations and made us truly feel special. She escorted the grandparents to their seats and seemed to show special attention as if ours was the only wedding the venue had ever seen. It was amazing. The entire staff was professional and courteous, as well. In addition to the exceptional quality, Ehrhardt's provided a wide array of service options, provided a wedding planner, provided set-up and tear down, AND did a big amount of the logistic work (cakes/flowers/etc) for us (all included). They even provided a list of options for DJs/bands/photographers etc (we ended up doing additional research and finding someone else to fit our needs and budget, but the service is convenient). Our reception was a buffet dinner style with hors d'oeuvres at the cocktail hour. The guests were raving about the coconut shrimp and mini-cheesesteaks (I really liked the bruschetta). After dinner, many guests commented that they were expecting the usual buffet dinner, but were pleasantly surprised at how delicious the food was. They reception layout is really convenient. The bar is large and accessible without intruding on the dining/dancing area. It overlooks the lake making it extremely scenic and all of the decoration is modern and elegant. It really gives you a ton of options on how you want to add an personalize it for your own wedding reception. The hall was very comfortable for our size wedding and could easily seat more (I think it can seat in the mid to high 200s for guests??). Lastly, the bar upstairs had live music planned and was a great after party hangout for us and our guests. It was also awesome that all of our guests were able to be accommodated in the resort's rooms. A larger wedding might have some trouble, but it was more than enough for ours. The rooms were also all very nice. We also had our rehearsal dinner in the restaurant above the hall. It was a little tight (can only accommodate 46 guests) but the food was excellent, the ice cream bar was super fun for everyone, and the service was extraordinary. As you can see, we were really happy with our service. I believe that IF your wedding pushed the limits of the hall's capacity, it could get a little crowded. The good side is that there is plenty of space near the bar, and a deck (if it's warm) for people to spread out after the dinner. But as for the service, there is literally nothing that made me say to myself, "wow I wish she would've done X." Karen and the staff way exceeded our expectations.
---
The Most Beautiful Day Ever!
Reviewed on

10/13/2014
Meredith C
When searching for a venue we didn't just want any old fire hall, but we also didn't want to bust our budget on the venue. Ehrhardt's Waterfront was the perfect compromise - not only did we have a gorgeous lakeside backdrop for our outdoor ceremony, but the indoor reception hall was absolutely beautiful. Having both events on site was extremely helpful and fluid. Not to mention that they took care of all the food, booze, even the wedding cake! For everything included in the price, it really couldn't have gotten any better. Karen Loeschorn and Eric Ehrhardt were extremely pleasant to work with, as well as their entire staff. I cannot say enough good things about Karen. She was there every step of the way to make things perfect for my husband and I. She put together everything exactly the way I had envisioned it and coordinated with the vendors seamlessly. She is one of the nicest people I have ever had the pleasure to work with on such an important event, and I am so glad I had the chance to meet her. I couldn't have asked for a better outcome. Everyone at Ehrhardt's was so nice, even the wait staff. Mike, the restaurant manager, did an amazing job at putting together our rehearsal dinner the night before, and Sue Ehrhardt at the resort made sure all our guests, including us, were set up with rooms and accommodations on the beautiful lake. The ceremony, reception, weather, sunset - everything was absolutely beautiful. I would not hesitate to use Ehrhardt's as your wedding venue. You won't be disappointed.
---
We love Ehrhardts!
Reviewed on

9/22/2014
Mia E
Last fall, we were researching and visiting wedding venues to find the perfect place to get married. We had initially planned to get married in Hawaii but we looked around locally just to see if there was a place that could match the beauty of Hawaii but would be more convenient for our family and friends. We found what we were looking for in Ehrhardts, it was perfect! It was beautiful, the food was amazing and everyone is so genuine and nice there. The view of the lake is breathtaking! Eric, Karen and Sue were extremely helpful in the planning process. We loved every minute of our wedding and we received so many compliments from our guests. Great job Ehrhardts!!!!
---
Perfect Place for Wedding Reception!
Reviewed on

9/08/2014
Kristen W
My husband and I viewed many different locations in our area for our reception to be held. We instantly fell in love with Ehrhardt's Waterfront Resort. Not only were we amazed with the beautiful view of the lake, but we were amazed with the professionalism of each of the staff members. All of the banquet staff was very accommodating and extremely easy to work with – especially Eric Ehrhardt and Karen Loeschorn. We couldn't have been happier knowing that Karen was available anytime of the day to answer any of our questions or concerns along the way; and worked with us to ensure that everything was in order for our special day. Our reception was picture perfect; from the sun glistening off the water, to the lovely sunset that set behind the dock and lake. The banquet room was elegant and the food was delicious! It has been two months since our wedding, and our guests are still talking about the food and how much fun they had! We would definitely, highly recommend Ehrhardt's to anyone for any occasion.
---
The perfect outdoor wedding on a lake
Reviewed on

7/06/2014
Jennifer F
We just got married at Ehrhardt's on 6/7/14. If you are looking for a wedding on the water, near the poconos, this is the place to go. From the moment we booked to the thank you card and champagne signed by all the staff, Ehrhardt's went above and beyond our expectations. Our wedding was perfect. Karen (the wedding coordinator) helps to make everything run so smooth, and to ensure you can take a break and enjoy the day. It was so fun having many of our guests stay on the property...kind of like a nearby destination wedding. We also did our rehearsal dinner and sunday breakfast buffet on property. The food is outstanding...all our guests raved about it. Also we rented firewood and had all our guests stay for a bonfire on the lake after the reception....so much fun!!! Not to mention, this was one of the most affordable venues that we looked at (we live in Philadelphia). I will recommend Ehrhardt's to anyone looking for a beautiful outdoor ceremony, and gorgeous ballroom with huge outdoor deck right on Lake Wallenpaupack.
---
kellie pompei
Reviewed on

6/15/2014
kellie l
Ehrhardt's staff was wonderful!! Our wedding was so much more than we expected!!! I highly recommend Ehrhardt's- If you are looking a venue on a lake--this is a must!!! Sunsets are to die for!!! They have the best spot on the lake!!
---
Wedding of my dreams
Reviewed on

1/17/2014
Jessica L
Ehrhardt's provided us with such a wonderful wedding. I couldn't have asked for a more perfect wedding! Everything was amazing from start to finish. From the moment we got there, everything was just perfect! Everybody there was so incredibly nice, and just phenomenal! They made this such an easy and enjoyable occasion, and we honestly can't stop talking about how much we love Ehrhardt's! They made everything so easy. The entire process was very enjoyable, and caused me no stress at all. My wedding turned out more perfect than I could have ever imagined, all thanks to the staff at Ehrhardt's. The venue is a fantastic location, beautiful scenery, and the staff makes you feel like you are part of the family.
---
Adam & Vanessa
Reviewed on

9/27/2013
Vanessa R
We searched for about a year looking at places to have our wedding and reception. We wanted a place where we could have an outside ceremony and then the reception at the same place. When we found Ehrhardts we were relieved. We didn't have to worry about anything. They did it all. All we had to do was pretty much show up. The ceremony was exactly what we wanted elegant yet not over done. And the grounds were perfect for the pictures. We got a lot of really good ones by the lake. Reception we couldn't have asked for a better atmosphere. The staff was helpful and on top of everything. We were very impressed and weren't expecting all that we got from ehrhardts. It was the perfect place for us and we had a wonderful day. The food was out of this world delicious. They really made our day the PERFECT DAY!
---
Perfect!
Reviewed on

8/12/2013
Lacey K
We were looking to have an outside wedding with less than 100 people. Ehrhardt's was the perfect place. The outside ceremony site was beautiful, and had an amazing sunset. The banquet room looked very elegant, and the food was delicious. The best part is that it is all very affordable compared to other wedding venues, and Diane (the wedding planner) was extremely helpful! I would highly recommend if you are looking for a beautiful wedding at an affordable price.
---
Couldn't have asked for more...
Reviewed on

4/03/2013
Megan S
My husband and I are both locals and have been to Ehrhardt's for many events throughout the years (Christmas parties, various weddings, mother's day, etc.) and so when it came time to select a location for our wedding it was a no brainer! Everything about our wedding day was picture perfect from start to finish. We had chosen to have a winter wedding in January and it turned out to be a beautiful, 50 degree day and had just snowed earlier that week so the backdrop was breath taking. We had an indoor ceremony overlooking the lake with our reception to follow. Eric, Diane and the rest of the banquet staff were so accommodating and super easy to work with and the food was delicious. I was a bit concerned at first about having my ceremony and reception all in the same location but I was thoroughly surprised at how fast and flawless the staff was able to transform the room from ceremony to reception without missing a beat. From day one Diane made herself available to answer any questions we might have along the way and she worked with us to ensure that everything we wanted was in order for our big day. Thanks to her I had no worries and the planning process was a breeze! A special thanks to the entire staff, we could not have asked for a better way to start our lives together, we would highly recommend Ehrhardt's Waterfront Resort to anyone looking to get married in the Poconos!
---
The perfect wedding!
Reviewed on

8/12/2012
Sheila B
There was never a doubt in our minds that our daughter's wedding would be at Ehrhardts! We are from the area and we have attended other weddings and functions at this resort. They always do a wonderful job and we knew they would do everything possible to make this a memorable day for all of us. And we were not disappointed! Diane, the wedding coordinator, was so great to work with. From the beginning planning stages through to the closing song, she was attentive in every way! She always returned emails promptly, reassured us in her calm and sweet manner, attended to all our requests, made suggestions that we valued because of her experience, and even walked beside our daughter to make sure she was delivered to her father safely from the boat, which brought her and her bridal party to the ceremony on the lawn. What a setting they have there! Overlooking Lake Wallenpaupack, our guests were treated to the beauty and peacefulness of our area and, after a brief storm (which was handled expertly by Eric, Diane and their staff), we witnessed a gorgeous sunset over the lake! Our guests were also treated royally and all raved about the food on the stations buffet! If you are looking for a wedding venue in the Poconos, we highly recommend Ehrhardt's Waterfront Resort. It is first class all the way, reasonably priced, and you will be treated like family!
---
Our Fairy Tale Came True at Ehrhardt's!
Reviewed on

5/24/2012
Jen D
Picture perfect is an understatement - our wedding ceremony was like a dream. Walking down the aisle, was like walking on a cloud. The view over the lake paralleled with the view of my fiance at the arch is a memory that will never escape my mind or heart. The entire staff at Ehrhardt's was such a pleasure to work with. They were all genuinely happy for us and treated us more like family than customers. The wedding planner, Diane, was helpful from start to finish. ALL of the food at the reception was delicious! Our guests are still talking about it. The staff accommodated children and/or food allergies with ease. Our entire wedding was absolutely perfect. I cannot say enough good things about Ehrhardt's. We plan to visit for many years to come.
---
The Perfect Wedding!
Reviewed on

11/13/2011
Rachel M
We had the most amazing wedding at Ehrhardt's! The food, the scenery, the service...everything! Our wedding coordinator was the BEST! she catered to us hand and foot and was always there to answer every little question! We knew it was going to be perfect; however some of our guests doubted it...they were happily surprised with how wonderful a place Ehrhardt's is....we have gotten soo many compliments from everyone! Wish we could do it all over again!
---
Perfect Wedding Experience
Reviewed on

10/31/2011
Amy N
We are local to the area and had been to Ehrhardt's for many events – but never a wedding, so we went to visit and see the space with our "wedding eyes". From the first second when met with the Banquet Manager - Diane - we knew that Ehrhardt's was the place for us!! She is such a delight! The entire planning process was a breeze - I have a few food allergies so the menus were easily amended to accommodate that. On our wedding day, there were no worries at all… the place was immaculate, the food was delicious, and the service was simply outstanding. I still have family raving to me about the London Broil and Vegetable Medley that was served! We worked with a few of the recommended vendors and weren't disappointed – it's clear that they won't recommend anyone that doesn't meet their same standards. We had quite a bit of family & friends travel in for the entire weekend and stay at the resort – they loved it! It was so convenient! I've worked for prestigious hotel companies in the US who pride themselves in service, so I can be hard to impress at times – and Ehrhardt's definitely did not disappoint! If you are looking here and choose to go elsewhere, that would be a big mistake!
---
Amazing
Reviewed on

10/22/2011
Steffanie B
We got so lucky! This was an awesome find...not only do you have incredible food, great scenery, private area but you also get a wedding coordinator who you can completely trust. I was blown away & plan on returning for our anniversary next year...to either stay or just to eat at their resturant :)
---
Fabulous Location!!
Reviewed on

6/28/2011
Jennifer E
My wedding was like a fairytale here. Everything was so gorgeous and perfect in every way. The ceremony is right by the lake giving a fabulous view. I came in on my now brother in law's boat for the ceremony and it was truly amazing!!! I couldn't imagine a better location for the money. The food was to die for, people who attended my wedding are still raving about it 2 weeks later. As far as I am concerned the buffet stations in the way to go, you get a ton of food and variety. It was hard to be able to taste everything there because there was so much food. At 85 dollars a person for prime rib and a pasta station, I believe it was well worth every penny spent.
---
Send Message