Home

Elegant Cheese Cakes LLC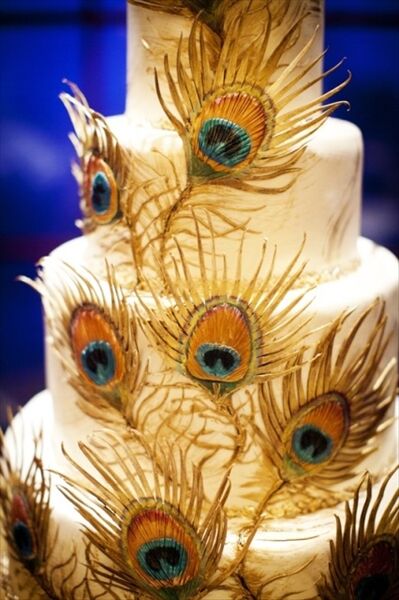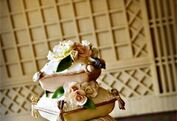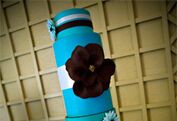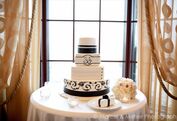 About this Vendor
Since 1988, Elegant Cheese Cakes® has specialized in exquisite wedding and celebration cakes. Susan Morgan and her team of artisans adorn cheesecakes and traditional desserts with intricate hand-sculpted chocolate. Whether it's a stack of edible presents or towers of glorious handcrafted flowers, you'll wonder how something so beautiful could be so delicious!
Details
Cake Tastings, Groom's Cakes, Cakes + Desserts
Contact Info

103 Harvard Avenue, Half Moon Bay, CA
She blew us away! Beautiful & Delicious!
Reviewed on

9/12/2013
Shanna P
We book Susan to design a cake almost a year before our wedding. When we did our tasting, we decided to do two different cake flights to give our guests some variety. If you can do the cake flights, do it, your guests will love it! Working with Susan was great, I sent her... Read More photos and she them drew up a bunch of different designs. Whether it was by phone or e-mail, she was very receptive to any feedback that I had. She always wanted to make sure the cake was exactly what we wanted. As we got closer to the wedding, I gave her some artistic license to "make it fabulous," and she did. On our wedding day, we were in shock on how beautiful the cake was, and is tasted fantastic! I got so many compliments on how beautiful it was, and how great it tastes. Susan sent us home with a mini cake too!
---
A super hit
Reviewed on

7/08/2013
Molly B
So many of my friends had used Elegant Cheesecake for their weddings over the years and I simply couldn't wait for my turn. Just thinking of my cake makes me wanting more. So yummy! Working with Elegant Cheesecake was easy. They are such pros. We had our choices made up... Read More before we met with them so we were in and out fast. It is a bit on the pricey side but when folks tell you its the best cake they've every had then it makes it all worth it. We cut our sizes down by half and it was perfect. It saved money and it gave people a chance to try multiple layers without waisting cake. Loved my cake! Super yum.
---
Beautiful and delicious
Reviewed on

6/09/2013
Jesse F
Susan made the most BEAUTIFUL and DELICIOUS cake ever for our wedding! A month later guests are still telling me how amazing the cake was, and I can't wait for our anniversary cake! My husband is French and generally hates American cake, so I was about to give up on having an... Read More American wedding cake until we went to the tasting at Elegant Cheesecakes. We both loved the Champagne white chocolate cake with chantilly and fresh strawberries. She has so many amazing options, you will not be disappointed!
---
1 year later...
Reviewed on

8/13/2015
Cynthia T
One of my most memorable moments during our wedding was our magnificent cake by Susan. We attempted to save some cake for our anniversary but failed... We couldn't wait a full year to reminisce our delicious cake. Luckily, Susan takes care of that with an anniversary cake! Her... Read More cakes are memorably delicious, creative in flavoring and artistry, and she was amazingly available despite her high demand. Choosing Elegant Cheesecakes was the easiest decision we made for our wedding!
---
BEST WEDDING CAKE!!!
Reviewed on

6/21/2015
Lauren S
Best.Wedding.Cake.Ever.....Best.Cake.Ever! Seriously, Susan makes the most delicious wedding cakes! I work in the wedding industry and unfortunately (or fortunately) get to taste several (like a lot) of cakes each year. When I started planning my personal wedding, I knew I... Read More wanted Elegant Cheesecakes to make our cake! Their flight cake is something unlike any other wedding cake...who wouldn't want pistachio cake, cheesecake, orangesicle creme fraiche, fresh strawberries and raspberries and a peanut brittle crunch all in one slice of cake!?!?! When couples say "no one eats the wedding cake"....well that's simply because they've never tried Susan's cakes. If you're looking for a cake that people will eat and rave about, look no further!
---
Elegant Romantic Wedding Cake
Reviewed on

6/11/2015
Monique M
Susan created a wonderful wedding cake for us! it was a dream cake. she spent time with us to design the cake, was very attentive to what we did and did not want. She had great ideas. The cake was delicious, moist and full of flavor. she does not use fondant that is why we... Read More went with her. She uses white chocolate. It was a little steep in price but worth every penny. we had a lot of family and friends compliment the cake. We did a flight and it looked so elegant when it was served on the plate. We had 3 wonderful flavors that we created ourselves at the tasting. we cant wait to receive our one year anniversary cake. Thank You Susan and Elegant Cheese Cakes for making our dream wedding cake a reality! Mrs. Monique Tunc
---
Best Wedding Cake
Reviewed on

12/01/2014
My beautiful wife had one main request for our wedding, a delicious wedding cake. Your cake far exceeded our expectations! All our guests agreed that it was the best wedding cake ever. The cake was rich and made of the freshest ingredients. There were no shortcuts, even the... Read More icing was made of real chocolate instead of marzipan.
---
Amazing Wedding Cake
Reviewed on

11/09/2014
Lindsay C
We had a destination wedding in Half Moon Bay and were so lucky to have an amazing wedding cake made locally. We selected a white chocolate cheesecake and chocolate chips with a hint of Irish Cream on a chocolate crust and a champagne infused white chocolate butter cake with... Read More fresh Chantilly cream and fresh raspberries. Both were fantastic and our guests loved our cake!
---
Unique cakes, incredible taste and design
Reviewed on

10/16/2014
Charles A
Delicious, unique, incredible – words cannot describe how good the cheesecakes by Susan and team at Elegant Cheesecakes are! We recently got married and Elegant Cheesecakes was one of three vendors that our venue worked with. We tried all three, and Elegant Cheesecakes tasted... Read More the best – by far! Susan worked with us to design the perfect cake for us. We don't like fondant, so had white chocolate on the outside. We had a beautiful SF skyline. And the cake… well, it was something else! We had a 'flight' cake – cheesecake on the bottom, then two different types of cake on top, and fillings between including lemon curd, strawberries and cream, etc. I certainly had never been to a wedding with a cake like this, and from the rave reviews we got from our guests it appears not many people have! If you have the opportunity to get a cake from Elegant Cheesecakes you must do it!
---
Delicious & beautiful
Reviewed on

6/14/2012
Cate J
I'm sure everyone loves their own wedding cake, but no joke, our wedding cake was the most delicious and beautiful cake we've ever had/ seen. I should also say that I don't normally like cake. Or at least that's what I thought until we had our tasting! I'll repeat:... Read More DELICIOUS. We had a "flight" and even though Susan didn't originally think carrot cake would go with lemon, coconut, and champagne cakes she let us do it anyway and it was truly amazing. A cake-aficionado friend asked the kitchen at our wedding for seconds. Plus, the whole thing looked amazing. We were planning our San Francisco wedding from New York City, and wanted to incorporate the city skylines (plus Philadelphia where we went to school and met) as a theme. We got so many compliments on how gorgeous it was! The whole thing was topped with the Philadelphia Love statue as a great touch. Lucky for us, cake from Elegant Cheese Cakes was included in our wedding venue's package. I only wish I could afford to order cake from them more regularly!
---
Wedding Cake to Die For
Reviewed on

7/07/2011
Jessica H
Our wedding cake was absolutely fantastic! Susan worked with us from the beginning to set the design, gave us her creative insights and delivered the most amazing cake. We were never worried and trusted her completely. We opted for the flight since it was so unique. The cake... Read More flight has all the different cake layers on top of eachother so our guests were able to sample each flavor! Genius! Our flavors were: pistacio butter cake w/orange sickle cream and fresh strawberries in chantilly cream, champagne infused butter cake and mocha swirl cookie crust. Im telling you, the cake was truly delicious. It wasn't overly sweet, light and flavorful. Usually wedding cakes aren't...that's what I always thought anyway. Susan is a sweetheart and is passionate about the art of cake design! Our cake was beautiful and decadent. Seriously. If only I can upload a photo! It was an oval, four tier, pink and gold cake with delicate florals, gold filigree adornments, and our monogram. Thank you Susan! We can't wait for our anniversary cake next year! Oh did I mention your cake comes with a day after mini cake AND an anniversary cake? How can you beat that?
---
Send Message