Home

Elegant Designs by Joy
About this Vendor
It's your day, let us make your dreams come true..
Beautiful & Unique Floral Designs are what we are all about.. Making Your Visions & dreams our Inspiration. Creating something special just for you, we love doing different & creating amazing touches for your wedding. See Our Reviews & Find out what all the buzz is. Call Us Now (631) 446-4600
Details
Aisle Decorations, Centerpieces, Plants, Vases, Chuppah, Decorations + Accents, Bouquet Wraps, Bouquets, Boutonnieres, Corsages, Flower Alternatives, Flower Delivery + Setup, Flower Arrangements
Contact Info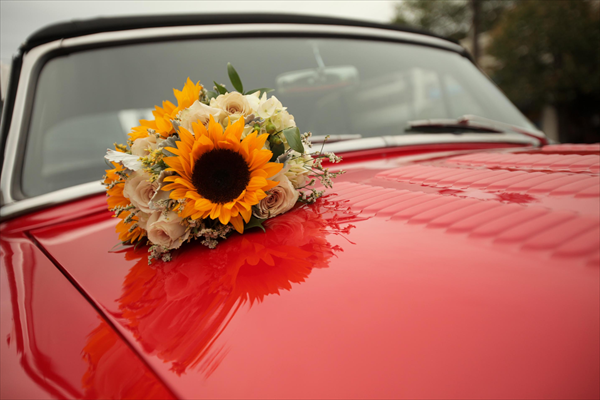 545 Main St, Islip, NY
Long Island: Deer Park, North Babylon, Babylon,West Islip, BayShore, Brightwaters, Islip, East islip, Great River & more
The best decision we made!
Reviewed on

7/02/2015
Working with Joy for our wedding was such a pleasure! She really loves what she does and it shows! Our flowers looked amazing!! From our first meeting she immediately got our vision and went above and beyond what we could have hoped for. I am still in awe even now almost a week later as I look at my bouquet in my kitchen! :) We had to move our dinner inside that day due to weather and she transformed the dining room with her beautiful centerpieces. Even our bathroom arrangements were spectacular! She even added some special touches that we didn't ask for such as throwing rose petals down the aisle at our ceremony site which looked incredible. Everyone at our wedding was in awe. We've never seen anything look so elegant, so romantic, so perfect. She worked within our budget and went above and beyond! Thank you for making our day so very special! I would recommend Joy to anyone that is getting married (and already have! ).
---
April Bourne Mansion Wedding
Reviewed on

4/24/2015
cassie k
Best florist on Long Island!! Outstanding, wonderful, perfection!! I found Joy after going to quite a few other florist. We had a budget in mind and she was happy to work with us to achieve our look. I immediately felt comfortable with her. We discussed ideas, colors, flowers, photos and inspiration for hours. I knew she completely understood what I was looking for and knew I could trust her eye. She was extremely helpful with recommendations and is truly there to help her brides. The night of our wedding I was completely floored!!! The centerpieces in the ballroom were absolutely beautiful and even more than I could have imagined. She went above and beyond our expectations. The bouquets and boutineers were perfect! I have already recommended Joy to many friends and plan to use her for years to come. Thank you again Joy!! You made our day even more perfect!
---
Incredibly Talented!
Reviewed on

10/08/2014
Angela P
My family has worked with Joy several times, so when it came time to plan our wedding, she was my first (and only!) floral option. From the moment you step into her shop, it is clear she is far beyond your "typical" florist. She is flexible with her designs and thrives when given the freedom to use her creative judgement on what will look best. The pieces she created for us exceeded our expectations. In addition to providing beautiful, unique arrangements, she also acts as an advocate for your wedding style and keeps your best interest in mind. Joy is an incredibly talented artist and should be your best (and only!) choice!
---
Great to work with!
Reviewed on

7/21/2015
Kerry M
I was planning my wedding from California and I was only in NY for a few days, I walked in to Joys store my last day in NY. She was just about to close but was willing to stay open late for me so we could talk about different floral arrangements. She listened to my budget and what kind of flowers I was thinking about. From there she put together some great ideas. She was very easy to work with and pretty flexible with my payments since I was doing everything from 3,000 miles away. Joy only books one event a day to make sure you get the attention you deserve so make sure you don't wait to book her!
---
The best!!!
Reviewed on

7/09/2015
Danielle F
It was such a pleasure to work with Joy! She is very passionate about her work and it really shows. I am so thankful that I found her, because once I did I knew I had nothing to worry about. She took my design and vision and brought it to reality on our wedding day. We had planned for an outdoor ceremony, but on the day of the wedding it decided to rain. Well, without any issue Joy took all the flowers that were to be used for our pergola and decorated the mantle so beautifully I almost forgot we were supposed to get married outside. Thank you, Joy for making our wedding day amazingly beautiful! You're the absolute best!
---
Fabulous Flowers & Amazing People
Reviewed on

7/09/2015
Jillian A
Elegant Flowers by Joy was right from the very start! As soon as we met with Joy she knew exactly what I wanted by me only saying a few words. I told her I loved the rustic feel and my girls' dresses were pink and she whipped something together really quick just for me to see and it took my breath away. It was just what I wanted. I knew everything would be great from that moment. Everything was taken care of by Joy as we proceeded and she answered all of my questions along the way. At our final meeting she was very flexible with some of the changes and additions I had wanted. The day of the wedding she delivered the flowers to my house and the reception location as well as the church. When everyone saw the flowers they were in awe of how well the matched the whole theme/colors of the wedding. We received so many compliments the day of and I would most definitely use Joy again for any occasion. She made us feel like we were her top priority and special to her. Her work is a piece of art.
---
Perfect Wedding
Reviewed on

7/02/2015
The florest from my daughter's wedding, Joy of Elegant Designs, was so very, very good. She stayed within budget, arrived on time, managed to create the exact floral atmosphere my daughter imagined, and was a pleasure to deal with. I'm sure that for her flowers are a labor of love. She also brought extra arrangements and loaned us lovely lanterns for atmosphere. Her arrangements are beautiful and still alive days later. She will always be by number one pick for any occasion that calls for that special touch.
---
Love, love, love Elegant Designs!
Reviewed on

6/17/2015
Before I was even engaged I was stalking Elegant Designs by Joy on facebook! I swooned over the gorgeous flowers, centerpieces, and bouquets that are posted weekly. When it was my time to pick my vendors I knew I would be using Joy. From our first meeting she was an absolute doll to work with. She took into account everything we wanted and turned my vision into a reality. I loved having someone so experienced with weddings to bounce ideas off of with our tables, linens, etc. She helped me design everything so it looked perfect with the flower colors and centerpieces. We had purchased tall candelabras to use for our vintage theme and after getting them we were so nervous they would tip over in the middle of our reception! Joy played with them for weeks before our wedding and made them look absolutely gorgeous with flowers and greens and made sure they would be perfect (and wouldn't tip over!). So many people called me after our wedding to say how unique the centerpieces were and how gorgeous they looked. Our bouquets were gorgeous and looked perfect even at the end of the day. Joy also decorated our ceremony, it was so elegant and she stuck to our vintage theme perfectly. I would highly recommend Joy for anyone who is looking for a wedding florist, they were super affordable and we really felt she went above and beyond to make our special day perfect.
---
Working with Joy was a Joy
Reviewed on

6/11/2015
Working with Joy was a pleasure. When I first met Joy I was not sure of what exactly I wanted. All I knew was I wanted yellow flowers, I wanted a cascade bouquet for myself, I wanted all my bridesmaids to each have a different type of flower for their bouquet and I knew I wanted to use blue wine bottles for some of the center pieces (I wanted 3 types of center pieces, one high one low and the wine bottles). Joy was able to work with me to determine what type of flowers would go great for my wedding. She has so much knowledge of flowers and which ones are in season in the spring and summer. You can tell she loves what she does. We originally set the total price for 15 tables. However, I ended up having 17 tables. Joy worked with me so that the additional two tables did not cost me any extra money!!!!!! SHE WAS FANTASTIC. The day of the wedding she arrived to my hotel with the bouquets and then headed to our venue to set up our tables. The room looked gorgeous I loved all the flowers and so did my guest. At the end my guest were able to take the arrangements home with them. It was a great experience working with Joy and I would definitely recommend her to anyone who needs flowers. Thank you Joy for making my day special.
---
Best Wedding Florist!
Reviewed on

6/09/2015
Sarah G
I must say it was my pleasure to use Elegant Designs by Joy for my wedding. The flowers were perfect in every way and they charged a reasonable price for the services. Joy is very personable and they are certainly not one of those flower shops which run their business like a factory. They personalize everything to your taste and vision and it was impeccable.A perfect fit to a perfect day!
---
Blown away!
Reviewed on

6/07/2015
Tara M
Joy was an absolute pleasure to work with. I had come in for our first appointment with an idea of what I wanted for my wedding. I showed her some inspiration pictures and she immediately started pulling flowers from all over her shop to give me an idea of what it would look like. I told her upfront what my budget was and she gave me a lot of alternatives to make sure I had everything I wanted. Joy was quick to respond to my emails, especially the week before what I was questioning everything! But she calmed my nerves, thank god! As soon as we walked into our venue, I saw the centerpieces and was blown away by the flowers. Everything was beautiful and exactly what I envisioned. My husband and I were so impressed by her hard work and the flowers. THANK YOU SO MUCH JOY!!!!
---
One of our best wedding decisions!
Reviewed on

4/26/2015
Elizabeth T
The minute my husband and I met with Joy we knew that she was the florist for us. She whipped up a sample bouquet for me without a single flower suggestion and blew us away. She wasn't pushy and was willing to work with our budget which was super important to us. I knew with Joy putting together the flowers for my big day I didn't need to stress about a thing and I was right. If you want a stress free day and the confidence of someone who truly loves what she does and does it beautifully... choose Joy to make your bouquets, ceremony location and reception location, and even wedding cake look stunning!
---
Everything you want in a florist
Reviewed on

3/16/2015
nicole d
I got married a little over a year and a half ago on 9/14/13, and am definitely late with writing a review, but better late than never. I was recommended to Joy by a family member on my husband's side, and as soon as I met her I knew she was who I wanted to work with. I wasn't a picky bride, had somewhat of a vision of what I wanted, and was prepared with all the milk glass and brass candles for Joy to play with. She understood what kind of bride I was and when I was naming off colors that I wanted to see, she was in her flower cooler pulling out flowers left and right and created the most beautiful bouquet right on the spot as a sample. She is easy to get along, will work with ANY budget, and she is on point, delivered my flowers to the hotel and reception on time. She helped set up the reception, and I had no worries during my day, as we met numerous times to share our visions, and what I expected. I highly, highly recommend her to any Bride, or person for that matter in need of flower arrangements, etc.
---
Wedding Flowers
Reviewed on

2/28/2015
kerri z
Let me start by just giving a big thank you to Joy for making my wedding day beautiful. Joy really out did herself with my amazing chuppah which brought my ceremony room to life. And my bouquets and centerpiece flowers were amazing. The flowers were so fresh and beautiful and arranged so nice. Joy really knows her flowers she was great to work with in making my winter wonderland theme wedding come to life. I would recommend her to any bride and will use her for any future events.
---
Elegant Designs by Joy is Flower Artistry!
Reviewed on

12/01/2014
mary b
Joy is not your typical florist. She works with the bride and completely visualizes the bride's style working with her to bring it to life. She is creative and brings unique ideas and design to everything she does. Including unique flowers! The bouquets, table centerpieces and all of the floral decor was exactly what we envisioned. Joy is passionate and loves everyone of her brides. You will have a personal experience and be +100% happy working with her. Its a family business and she will treat you as such.
---
Wedding Flowers
Reviewed on

11/30/2014
Tara G
Joy at Elegant Designs did an amazing job with my wedding flowers. Her ability to capture exactly what we wanted and input her own creativity was incredible. I couldn't be happier with how everything came out!
---
Perfectection!
Reviewed on

11/20/2014
Emily B
Joy did such a wonderful job making my entire wedding day beautiful, from the ceremony to the reception! I had so much fun working and brain storming with her about my wedding florals and she did such a great job of bringing my fall wedding vision to life. She truly is a creative and talented florist. I highly recommend!
---
Loved loved loved my flowers!!
Reviewed on

9/26/2014
Tammi L
I cannot say enough wonderful things about Joy and everyone at Elegant Designs by Joy. From the moment my husband and I met her, we knew that we wanted to work with her. She was very sweet, honest and didn't pressure us at all, like some other vendors had. We were on a tight budget and Elegant Designs by Joy was very affordable. Joy was very creative and artistic in putting together absolutely gorgeous centerpieces and bouquets. My husband and I didn't know exactly what we wanted and aren't too familiar with types of flowers. Based on our tastes and the theme of our wedding Joy created the perfect floral arrangements for us. Both Joy and her husband with even stayed at the venue until we arrived to make sure that we were happy with everything. On a side note, my bouquet lasted an entire week after putting it in water! Like I said, I cannot say enough great things about Joy and her staff. I have been recommending her to everyone not only for weddings, but for anytime someone might need flowers. Planning a wedding can be a stressful time, but my mind was definitely at ease concerning our flowers because we chose Joy!
---
Joy Made our Wedding BEAUTIFUL!
Reviewed on

9/20/2014
Arielle G
Joy was so amazing to work with from the first time I stepped foot in her store to our wedding day. She is so enthusiastic about her work and you can tell she truly loves what she does. I showed her pictures and shared my ideas with her and she helped to make our wedding day even better than I imagined. She was so willing to work within out budget, I was shocked at how beautiful the centerpieces were, talk about bang for your buck. Our day would not have been complete without her, our guests were all begging to take home a centerpiece because they were so gorgeous. I even gave my bouquet away to a guest who was disappointed they didn't get a centerpiece to take home! Rave reviews. Thanks for everything joy!
---
Outstanding
Reviewed on

9/12/2014
Melissa H
Elegant Designs did my wedding flowers and I can't tell you how perfect and breathtaking they were! From our first meeting, Elegant Designs knew 100% of what I was asking for and worked with me to get everything I wanted at a very reasonable price! The flowers for the wedding were one of my favorite pieces of it because they were so perfect and beautiful. We got married in August so it was very hot and somewhat muggy and the flowers held up beautifully. Joy has been a pleasure to work with and I recommend her to anyone and everyone getting married! I can't say enough of how perfect the flowers were and how wonderful everyone was to work with. I never once felt pressured into something I didn't want and I always felt that they were trying to give me everything I was looking for within my budget. I really cannot say enough how happy I am!!!
---
Brilliant!!!
Reviewed on

9/08/2014
danielle g
Walking into this quaint little shop in Islip was the fulfillment of our dream come true. My vision for floral arrangements was a little out of the box (enchanted forest), but Joy went above and beyond our expectations. She is a talented and artistic florist, and her designs are craftfully and artistically brought together. She transformed our venue into a delightful forest of ferns and floral greenery. I received countless compliments on the arrangements, and I absolutely started crying when I saw my bouquets and those of my bridesmaids. Joy was professional and communicative, and brought our vision to life with her stunning designs. We couldn't have asked for a better price, as her's was well below competitive standards, but the quality we received was higher than most. Most importantly was that Joy took the vision we explained to her in dialogue, and transformed it into a reality. Her insight was incredible, and gave us everything we asked for and more. I feel silly to write this review because I feel like there are not words to adequately convey our pleasure in choosing this shop. I highly and happily recommend this shop to anyone and everyone!!
---
Simply Perfect
Reviewed on

8/17/2014
Susan C
Joy was a delight to work with and her ability to capture what my daughter asked for was spot on. She worked with her on style as well as budget. Joy beautifully incorporated keepsakes into my daughter's bouquet making it even more special. I would highly recommend her.
---
Don't bother with other florists if you want something amazing!!
Reviewed on

7/29/2014
My brother and his now wife were getting married. My parents decided to have an intimate ceremony to celebrate this wonderful event. I wanted to do something special for my to be sister-in-law, so I chose to get her a bridal bouquet, flowers for her hair, and some flowers for the close relatives who would be a part of the ceremony. I contacted Joy because she had done my wedding flowers a few years earlier and did an absolutely amazing job. I mentioned to her that my brother's wife is from Costa Rica and it would be nice to have some tropical flowers mixed in to her bouquet. I left the rest of what needed to be done in Joy's supremely able hands. On the day of the wedding, Joy arrived with a stunning bouquet of flowers that literally brought my sister-in-law to tears with happiness. She was elated to receive the beautiful flowers. After she proudly carried the flowers in her wedding, she kept them in a vase in their apartment. She told me that they lasted and stayed as gorgeous as they had been on the wedding day for well over a week. I could not more strongly recommend Joy's work. She is creative, accommodating, and does absolutely brilliant work that will make you elated that you passed on all of those terrible flower mills that pump out the same boring bouquets and centerpieces for every event!
---
Details make the day!
Reviewed on

7/09/2014
Our wedding day was beautiful, thanks to Joy. She made up gorgeous bouquets for the bridal party, boutonnières to match, and centerpieces that tied the look together! Since we had an outdoor ceremony, Joy decorated the gazebo with additional ribbon and sunflowers, making the ceremony photos amazing!
---
Amazing flowers and service!
Reviewed on

6/29/2014
Karen M
I was absolutely thrilled with the wonderful service I received from Joy at Elegant Designs. I went in to her shop with little to go on ("purple", "wildflowers", "natural") and she created beautiful masterpieces! The bouquets for myself and the bridesmaids were perfect and she also helped transform our wedding location with her wonderful arrangements. She knew we were on a budget, and put in a lot of extra time (and flowers) anyway. She was so sweet to work with and she was able to make my vision (which was not very well articulated!) into a perfect reality. I would highly recommend her for a wedding or any other event!
---
Send Message