Home

Elegantz Eventz
About this Vendor
Our Name Says It All!
Producing events on 3 continents, we bring a wealth of knowledge to our designs. We guide you through the planning process from concept to flawless execution, saving you time, money and stress. Our expert planning and execution of every event provides a platform from which to create an iconic experience for our clients and their guests. From pure European elegance, a winter wonderland from the Canadian Rockies or an African theme straight for the Serengeti Plains. . . . we have lived them all. We would love to bring your vision to reality.
Details
Engagement Party, Bridal Luncheon, Bridal Shower, Rehearsal Dinner, Ceremony, Cocktail Hour, Day After Brunch, Reception, Rehearsal, Wedding
Destination Wedding Planning, Budgeting, Day-Of Coordination, Full Service Wedding Planning, RSVP Tracking, Wedding Website, Planning

Contact Info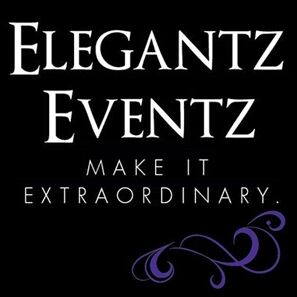 Reviewed on

10/27/2017
Danielle B
Here I am, six months after my wedding, and my heart still bursts with all the gratitude for Elegantz Eventz. Jenny and her team are absolutely amazing; they go above and beyond to make sure every detail is absolutely perfect. The best part for us was being able to describe the... Read More vibe we wanted and we handed over all creative ability to Jenny. We didn't know what our ceremony or reception space would look like until we showed up for rehearsal the day before-- THAT is how much trust we have in Elegantz Eventz. I never had to worry about contracts not being signed on time, emails not being answered, phone calls not being returned. Jenny is the most passionate and considerate person I've ever met. Her heart and soul is in this business. She helped plan our most special day all while making us feel like it was easy! I'm sure it wasn't for her, but you'd never know it. They are willing to take on as much or as little as you want - they are not a cookie cutter event business. Everything is tailored to make you feel like you're the only event that ever mattered to them. Her attention to detail is impeccable and her customer service is even better. I recommend Jenny and her team at Elegantz Eventz with any event you may have in mind. What a special team they have.
---
Reviewed on

9/11/2017
M W
Thank you, Jenny and your fabulous team for making my wedding day truly spectacular. I feel that you really took in everything that I had invisioned and produced an amazing evening. More beautiful than i could imagine. loved all your special touches. Can defiantly see that you... Read More love what your doing and giving your heart to others. Thanks so much!
---
Reviewed on

1/10/2018
Shannon S
Elegantz Eventz was so helpful for our wedding!! We utilized the "day of" service, which involved them calling my Mom, all our vendors, and I a month prior to the wedding to get all the details. They made sure the vendors knew what to do and where to be, and were so helpful in... Read More answering all our questions. Patty showed up for the rehearsal, and then to the venue hours before the wedding started in order to meet all the vendors and get everything set up. By far worth the money for the peace of mind and helpfulness!
---
Reviewed on

10/09/2017
Pat C
Thank you!! Thank you!!! Elegantz Eventz did a wonderful job making our wedding day one to remember!! Jenny and her team listened to what we wanted, stayed within our budget and took on all the hard work that went into making out day perfect!! Jenny really listens and got to... Read More know us, she became part of our family as we spent months preparing for our beautiful wedding!! I can't thank Jenny and her team enough for making our wedding memorable!!
---
Reviewed on

10/05/2017
Jeannine K
Fresh back from my honeymoon, I had to take a few minutes and write a quick thank you to Jenny and Elegantz Eventz for what was the most amazing day of my life!!! When I met Jenny I had spoken to a couple different event planners. They just were not able to envision what I... Read More envisioned for my wedding day. I was determined to make the best day of my life the memorable experience I had dreamt about since I was a little girl. I walked in to the first meeting nothing short of skeptical...waiting to hear yet another misinterpretation of my dream, our dream. But that meeting was different. She not only listened and understood...she made it her mission to make my day what that fairytale dream a reality. She was always patient and eager to listen to my ideas...and when I walked in on my wedding day I was speechless! Everything was perfect! What an amazing day! We worried about nothing! I am n so glad I stayed the course and found the event planner that made my day everything I hoped it would be! Thank you so much!!
---
Reviewed on

10/02/2017
Sara R
Elegant Events created a beautiful event for us. They took care of all of our wishes and took all of the stress off us. The food was delicious and there was more than enough to eat! They created a relaxed atmosphere and our guests had a great time! We would recommend Elegant... Read More Events to anyone looking to add a little extra to their next event!
---
Reviewed on

9/30/2017
Kay A
Our niece Laurie and her guy Mike used Elegantz Eventz for their 2nd marriage for both! They left the entire night to Jennifer Z. and her staff to plan everything (as a surprise)! Right down to picking Laurie's wedding gown after she picked a few of her favorites! I cannot... Read More say enough about that night. The wedding service and reception were held in the same location and from the tables, to the food, to the music, I can tell you that EVERYONE had a wonderful night! Thank you Elegantz Eventz for making Laurie and Mike's night perfect !!!!
---
Reviewed on

9/29/2017
Pam O
My husband and I cannot thank Jenny and her staff at Elegantz Eventz for their top-notch work on our wedding. Jenny listened to all of our wishes and made them become reality, completely exceeding all of our expectations. From helping us to find a DJ, photographer, venue,... Read More florist, etc to making it easy to accomodate all of our wishes without compromising those of our family, she took all of the stress out of planning our special day. Everything was absolutely picture perfect and so many of our guests told us how impressed they were by the atmosphere that was created for us at our wedding. Jenny's personal attention to detail shines in everything she does. Our day was one we will never forget, and we are so thankful to Elegantz Eventz for their exceptional service and extreme kindness to us throughout the planning process.
---
Reviewed on

9/28/2017
Penny C
The love in our day, I give credit to my husband. The most spectacular and worry free day of our lives, I give all my thanks and credit to Elegantz Events. Our guests enjoyed a gorgeous and beautifuly designed evening. Our every wish and then some was created and implemented... Read More by Jenny and her amazing staff. I was able to experience every moment of my day without a single concern. We know that selecting Elegantz Events was the best choice of a wedding planner.
---
Reviewed on

9/18/2017
I have had the pleasure of attending a wedding and fundraisers that Jenny and her team put together. They will definitely make sure you get that "WOW" factor you are looking for. You and your guests will not be disappointed. Highly recommend you give them the opportunity to... Read More make your event unforgettable.
---
Reviewed on

9/15/2017
Sydney G
Working with Elegant Eventz was the easiest decision I had during my wedding planning process. Jenny's ideas are timeless, her support is unmatchable, and I swear she treated my wedding as if it was her own. I'm so thankful because she made the "hard decisions" seem easy and... Read More executed each idea even better than I could have dreamed. Choosing Jenny & Elegant Eventz was the [second] best decision I've made in the whole wedding process (the first one being to say "I do" of course). Thank you so so much from me and my hubby!!
---
Reviewed on

9/04/2017
Suzanne C
Jenny and her team transformed our home for a graduation party! The décor, creative food display and details for the day made the event stress free. Thank you Jenny for your creativity.....people are still talking about the party!
---
Reviewed on

9/03/2017
Mark T
Jenny Zinkan was the best planner we could have asked for. They TOTALLY transformed the ballroom at Signature of Solon Country Club into an amazing place to have a wedding reception. My wife loved everything about our wedding which of course made it my best day EVER!. Would... Read More do it again exactly the same way! Happy wife happy life!!!! Thank you Elegantz Events.
---
Reviewed on

9/02/2017
Roseann N
Elegant Event did a fabulous job. Very efficient and professional.
---
Reviewed on

2/25/2016
If ANYONE is looking for a wedding planner that you can count on to fulfill your every dream, look at Jenny and Christine (and my new best friend Kelly), who head up Elegantz Eventz. My husband and I had a wedding for 400 people, and the girls planned, created and executed... Read More everything to PERFECTION in only FIVE WEEKS!!! In a previous fundraiser where I first met this dynamic duo, Jenny mentioned that she always dreamed of putting on a wedding that was a surprise to everyone - INCLUDING the bride and groom. After 10 years of being together, my Michael proposed, I accepted and then texted the girls - Um, Wedding? We met 3 days later to discuss what we liked, didn't like, absolutely didn't like - then they were off and running! I can not begin to tell you the magical wedding Elegantz prepared for us - from my dress (yes, a surprise - but I did try on a bunch, they picked out the actual dress), to the venue (InterContinental Cleveland - THE BEST EVER), to the flowers, the way the room was set up - people are STILL talking about that!, the after party, the hotel rooms (we did pick out the food at the tasting - which was FANTASTIC!), the pastry table. I could go on and on, I'm truly thankful. This wedding is still being talked about as the EPIC wedding of the year, so much so that the Gazette wrote an article about us! I couldn't have done this without you, actually - I WOULDN'T have done this without you. You are Masters of the finishing touches. Thank you Ladies, from the bottom of our hearts! Mike and Laurie
---
Meet The Owner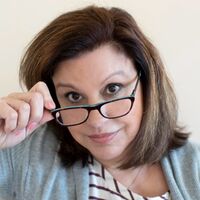 Jenny Zinkan
There's no greater feeling for me than when I send the bride down the aisle to her future! I always remind the couple to stop for a moment to absorb the importance of what they are doing and to see all the people there to support their decision to join their lives together! Or the moment when we are ready to open the ballroom/reception space, the tables look perfect, lighting has transformed the room, the music playing and I know the food will taste amazing. I am blessed to have so much love in my life. I enjoy sharing that joy with our brides, grooms and their families