Home

Element Photography
About this Vendor
Creative & Modern, Classic & Elegant
Element Photography will capture your wedding day with a timeless, yet modern style. Classic, elegant, fun and fresh -- we capture the human element with heartwarming and genuine photographs that celebrate love and family. Fantastic Photography/Videography Packages available!
Details
Online Proofing, Digital Files, Photo
Contact Info
Quality all the way - professional and fun!
Reviewed on

3/19/2014
LuAnn S
I cannot say enough about Adrienne. She was one of the hits of our wedding. From the early stages of planning, Adrienne was helpful, attentive and responsive. We enjoyed the process of working with her to dertermine how and when we would capture key moments of our special day.... Read More Adrienne has wonderful ideas and great styling and setting techniques. Our family and guests just loved her and felt like she was a part of our wedding party. Adrienne had a way of putting everyone at ease, her energy and enthusiasm was a lot of fun and really made us enjoy the process. We believe we chose the right group of people to work with and you were no exception. Thank you. Steve & LuAnn
---
Amazing!
Reviewed on

10/30/2013
Erin T
Adrienne and her team were absolutely FANTASTIC!! They were punctual and helped make the day stress free. Any pictures that my husband and I wanted we got. They did not hover over us to get a million different pictures. They let us enjoy our day and anything that we wanted... Read More they catered too. They were so easy going and really enjoyed doing different types of pictures with new ideas. They went with the flow and really allowed my husband and I to enjoy our wedding. If you want a very personable photography team who enjoys to have fun and you can tell they love what they do then go with Element Photography!
---
SO NICE AND GREAT PICS
Reviewed on

11/01/2011
Ashley W
Element Photography was great! Adrian (the Owner) is so sweet and makes you feel so comfortable! The photos for our engagement shoot came out great! I have not received my wedding photos back yet, but the ones she did show me as a sneak peak were breathtaking!! Adrian... Read More responds very quickly to emails and voicemails. I would totally recommend them. They are a little pricey though! A couple of my friends used Element Photography and all their pictures came out great with no complaints!
---
Reviewed on

4/02/2017
Nikki M
Element Photography is the BEST! Adrienne is incredibly efficient, but easy going, which made our wedding day even better. She does her thing and you barely know she is there. Our day went by so fast- looking back at our wedding album brings back all of the happiness, love, and... Read More excitement we shared that day, every special moment was captured in our beautiful photos. Adrienne is AWESOME. I can't wait to work with her again in the future, to capture all of our most special moments ahead.
---
Reviewed on

10/26/2016
Megan S
Adrienne and her team were such a big hit with the bridal party and guests. Adrienne is extremely talented and knows how to move pictures along. She takes the shot and has you in a new position before you can even blink. She was a breeze to work with and I am excited to see how... Read More the pictures turn out! The engagement photos/photobook were stunning, so I know her wedding pictures will be of the same high caliber! Her assistants were great with the groomsmen and kept them laughing all day long. Overall, EXTREMELY affordable and fantastic quality.
---
Reviewed on

10/01/2016
Rachel S
I chose Element Photography based on a referral from a friend and I was not disappointed one bit! Adrienne was not only so much fun to work with, but she really got to know us as a couple to capture our relationship in photos. From our engagement session to our wedding, Adrienne... Read More was on point. I was so happy to have her as my photographer and I wish I could refer all of my friends to her.
---
Highly recommended
Reviewed on

8/06/2013
Dana M
Adrienne is very professional. This was the first and only photographer we met with because we felt she was perfect. The price was great the pictures are amazing, and the two photographers were so great the day of the wedding. I highly recommend you check them out.
---
Amazing pictures + a great staff!
Reviewed on

8/05/2013
Dana F
Adrienne and her staff are amazing! The pictures are unbelievable. Adrienne was great to work with. She made everyone feel comfortable and made you feel comfortable in front of the camera. Adrienne and her assistant Lindsey were so personal able and friendly. They both have... Read More a great eye for wonderful pictures. The pictures come out perfect and the price is very, very reasonable.
---
Gorgeous Images and Amazing Personality!!
Reviewed on

7/22/2013
Ashley S
Adrienne at Element Photography was exceptional from the moment we booked her. She offers such great packages that pretty much include everything, and her albums are beautiful! We scheduled our engagement session, but due to a family illness, we had to reschedule 3 times.... Read More Adrienne was so accommodating! Our engagement pictures were so incredibly gorgeous, our friends and family have not stopped raving. At our wedding, her and her assistant helped us stay on time all day, and made our day so relaxing and enjoyable. She would show us images throughout the day, which just made us excited to do more. Two weeks after the wedding, she posted around 50 pictures on our Facebook page - they were simply stunning!! I cannot say enough about the service we received - I cannot wait to see all of our images! Thank you Adrienne!!
---
awesome photographers!
Reviewed on

5/31/2013
casey s
we hired element photography for our wedding and they were wonderful. adrienne was there for us every step of the way and really made us feel comfortable with everything. the day of our wedding we didn't feel like we missed out on any part and our pictures are fabulous :)
---
ELEMENT PHOTOGRAPHY- our hero!
Reviewed on

5/08/2013
Jennifer P
Ladies, you will NOT be disapointed if you decide to hire element photography for your wedding or party needs. From DAY ONE Adrienne was polite, friendly, and professional. She discussed my budget with me honestly and took the time (as much as I needed) to answer all of my... Read More questions. One thing I appreciated was how quickly she always got back to me, as a bride things get can crazy so its nice to have someone like her helping out. During the day of the wedding, she instructed us what to do, helped us get UNIQUE poses and even moved furniture in order to accomodate our needs. She was on the ground at one point getting a photo we wanted!! These guys DELIVER- which in the end, is the most important part. The wedding day/photos went smoothly, she made sure to take not only excelent photos, but many of them so we had lots to choose from. My album? Um, unbelievable. It even arrived beautifully - well packed and wrapped like a present. For what we paid I am beyond a happy customer. These guys will not disapoint and if you want a talented photographer who will get you what you want CALL HER. Adrienne, thank you and your team for achieving EXACTLY what we wanted. Love, Mr and Mrs Pacitti
---
Creative and Affordable...Beautiful End Results
Reviewed on

1/26/2013
B F
Adrienne at Element Photography was a perfect match for me and my wedding day photos. The search for a wedding photographer was a bit overwhelming. When you are trying to plan for your special day you think about how you want everything to feel. I am a photo junkie who... Read More usually has a camera strapped to myself. I was really focused on a photographer that would allow me to relax and have fun while they captured the night and all the details that I had taken such care to coordinate. Looking at the photographers out there you can spend a small fortune for what I was able to find with Element Photography. Not only was Adrienne economical she was able to help me customize the package to fit my budget. We had an engagement photo session, full day coverage with two photographers the day of, a creative album and prints. Everything I was looking for! I felt Adrienne took time to get to know about us and the engagement shoot allowed us to feel comfortable with her and see the work we could expect from our wedding...wow what a great preview! My husband rarely ever gets a good photo because he makes a funny face but there are plenty of great posed and candid shots demonstrating that even he was comfortable being photographed. The day of Adrienne was able to capture all of the details, getting ready, our families, and a ton of great shots of the reception and everyone having a good time on the dance floor. I am now able to relive the night when I look back at the photos. The album quality and design were excellent. When it came to creating my album I think the quality and creativity of Element Photography was apparent because I had a hard time narrowing down all of the photos Adrienne was able to capture during the course of my wedding. I have recommended Adrienne to friends and family and would recommend her to anyone looking to get great images without going broke.
---
Shockingly Very Disappointed
Reviewed on

12/01/2012
Danielle B
My expectations for Adrienne were very high since I looked at her work and her photos were beautiful and looked as if she took time to be creative to set up a captivating shot. Our engagement shoot was great, she posed us and we were very happy with the outcome. But our wedding... Read More was another story. I felt as if she didnt take the lead at all during my wedding day. Lazy photos of my wedding dress hanging on a closet door,...where you could see the sink next to it. She didnt take initiative when it came to making a creative atmosphere and you could see it in the photos. Friends and family were surprised that the same person who took our engagement photos also did the wedding photos, they couldn't believe it. Adrienne also lost some of the most important photos of the day, I do not have a picture of my whole wedding party, or with the groom's parents, or his siblings. I brought this to her attention AFTER she sent the pictures to me, she didnt notice at all that these significant photos were missing, nor did she ever tell me how this could have happened. Adrienne compensated us with some things, but they will never replace these important photos. It hurts that I have a wall with all our wedding photos and had to pull random photos together to look like there was a wedding party, and random shots of the grooms parents and other important family members. Adrienne also was not effective in creating our album, it was sent to us with doubles of prints that I had never chosen. Again it was after the fact that I brought it to her attention that the album was atrocious. It looked like a 4 year old put it together, come to find out that Adrienne does NOT put the album together like she claimed when we had our first meeting with her. She sends it out and some stranger does it. My experience was a nightmare...it was the worst aspect of our wedding. It saddens me, and my pictures are a constant reminder of this unfortunate incident , and the lack of creativity shows through and through. It seems to be that Element Photography only does outside weddings well, if you have and inside wedding, I would be very hesitant in choosing them. I dont want anyone to have to go through the disappointment we went through. You spend alot of money on the photography for your wedding, cause you want to catch your most unforgettable day in the most beautiful way. I look at my wedding wall and at times cringe because it could have been done right....if she would have invested her time and creative skills to our wedding. Losing photo's and having no reason to tell your customer, is shady. You do this day in and day out..its your profession. Im pretty sure they have some idea as to how and why this happened. Instead we were compensated with "things"..I dont want things I want the moments captured on camera that I can look at forever. I researched and researched for my wedding and thought I would avoid a situation like this, believed that I was thorough. Boy was I wrong.
---
Element Photo
Reviewed on

10/28/2012
Erin S
Lindsey and her crew were great! Very organized and professional throughout the entire process. From meeting with me to go over package options, to having alternate options ready when it rained on our wedding day. We did a "first glimpse" photo session prior to the ceremony and... Read More I would not change a thing about how everything went, regardless of the occasional rain shower or two.
---
Fantastic
Reviewed on

4/19/2012
Casey F
Adrienne and her team did an amazing job with our engagement and wedding photos as well as the video. I couldn't be more happy about how well everything came out. My whole family adores the photos and it is something we will cherish forever.
---
Excellent Photographer
Reviewed on

10/04/2011
JoAnne B
We loved Adrienne! She was so creative, professional and fun! Our engagement pictures were amazing. She and her assistant spent the entire day, from hair/make-up until the end of the reception, with us. We'd recommend her to anyone!
---
Reviewed on

6/07/2011
Cristin A
---
Amazing does not even describe!
Reviewed on

11/11/2010
michele f
Adrienne was an amazing photographer to work with. Her style and personality were a perfect fit for our wedding. Her creative ability and natural talent are impressive and her eye for detail cannot be matched. Adrienne was always easily accessible by phone or e-mail and was... Read More always polite, prompt and personable. Both she and her assistant Lindsey were so wonderful to work with on our wedding day. They were not intrusive and half of the time, you forgot they were there to photograph the day! I would highly recommend Adrienne to any brides who are looking for a photographer with an up-for-anything personality, beautiful and timeless photos and an excellent value for services. A+++ vendor!
---
Fate
Reviewed on

8/12/2010
Jacklyn B
Two months before my wedding, the hands of fate brought Adrienne and I together and she was the best thing that could have happened to my wedding. Besides the fact that all of my family and friends rave about how amazing our engagment and wedding pictures are, my experience in... Read More working with Adrienne has been priceless. She is so down to earth that you can't help but feel completely comfortable when she's around, like you've known her your whole life. She made the whole experience feel as though it was catered to me and honestly, I believe that it was. She worked with us on every level from pricing within our budget to traveling across state boarders for our engagement shots. There is nothing that I would change about my unforgetable day and, thanks to Adrienne, I won't ever forget it!
---
Element Photographer = Best Photographer I found!
Reviewed on

8/10/2010
Bliss S
Adrienne Ingram was such an excellent photographer. She did both our engagement and wedding pictures. While we were still looking for a photographer, she was willing to drive three hours from where she lived to our house to show us what her services were like and what was... Read More included! Talk about going above and beyond the call of duty! Our engagement pictures were gorgeous and clearly showed our personality as a couple. She had us do some original things for our pictures that I had not seen before. Our wedding was July 11th and it is not August 10th and we are still waiting for our pictures, but it has not even been a month yet and she has promised them soon! If you are looking for an excellent photographer who really cares about the couple she is working with and the outcome of the photos, Adrienne is your girl! Her packages are also a great value. We got the least expensive package, but it included engagement shoot, wedding all day photos from whenever you start getting ready to the very end of your recepetion, a wedding album, two parent albums, a signature board to use as a guest book, and so much more!
---
Meet The Owner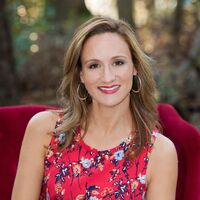 Adrienne Ingram
My vision is to capture timeless portraits; heart-warming and genuine photographs that celebrate love and family. I want to forever capture the wonderful moments in your life by writing a story book through photography.