Home

Elizabeth Tsung Photo
About this Vendor
Your love is meant to be shared
I used to be quite the perfectionist when it came to my art. I couldn't show anyone anything until it was absolutely, 100% right. That is, until I began to photograph weddings.  People are never perfect. Relationships are never perfect. And photographing love and the beginnings of marriage has given me freedom in my craft. The messy, hard parts are what make the beautiful moments so, so memorable. What couples have overcome together is just as important as the love they are creating together. And now, I get to share that love and art every day. As awesome as The Knot is, feel free to pop on over onto my website for more information! I even created a pretty little pricing guide for you. :) www.elizabethtsungphoto.com
Details
Artistic, Classic, Documentary, Lifestyle, Modern
Bridal Portraits, Day After Session, Engagement
Getting Engaged, After Party, Rehearsals + Parties, Wedding
Destination Weddings, Digital Files, Online Proofing, Photo, Printed Proofs, Second Shooter Available, Social Media Sharing, Wedding Albums

Contact Info

Reviewed on

7/27/2017
Sarah H
We did a couples session with Lizzie recently and had such a great time! Having worked with another photographer in the past for a family session and a different wedding photographer part of a bridal party, I can say that my review can provide a bit of perspective gained from... Read More prior experience. For those of us who are not professional models, it can be scary and awkward in front of a camera! "How should I pose?" "Does this make me look fat?" "Wait, where do I put my hands?" "Wait, did I already try this pose?" Before the session she spent some time asking about our story, and would keep conversing with us throughout the session about our relationship history, etc. This made us feel at ease with her and in front of the camera. Lizzie was also great about getting us to a point where our posing looked very natural. Not very many photographers are able to do this, and sometimes photos can look very "staged." I love that Lizzie was able to capture emotions and facial expressions that we haven't been able to capture before on camera. Additionally, Lizzie was very accommodating of all the different types of photos and backdrops I wanted to get shots of ("Can we get that mural?" "Wait, can we take a shot here?"). She provided "sneak peek" photos for us within two days and until the final photos came out, which was so great because who doesn't love instant gratification? I recommend her without hesitation. Thanks so much Lizzie!!
---
Reviewed on

12/02/2017
Steffie Rose C
Elizabeth's genuine passion to show the world that love still exists in the modern world is definitely captured in her photo shoots. She is very fun to work with and is open to creative suggestions. Her photos are a work of art that illustrates not only the environment and... Read More subjects, but also expresses the emotions during that given scene.
---
Reviewed on

11/26/2017
Shirley H
Elizabeth is amazing to work with! She makes you feel completely at ease. My fiance and I had a blast at our engagement photo shoot and cannot wait for her to capture our wedding! Her aesthetic is beautifully minimalist, and her ability to capture the light/eye for composition... Read More are magical. I could not recommend her more highly!
---
Reviewed on

11/05/2017
Tami P
Elizabeth was perfect. She captured our favorite moments. I never felt like she was following me or that anything was forced. She is such a professional. Responds to email, texts and calls so promptly and was such a pleasure to work with!! Thank you Elizabeth for capturing or CT... Read More wedding flawlessly!
---
Reviewed on

10/19/2017
Crystal L
Elizabeth's crisp eye and commitment to art is her true talent. Hiring her was one of the best decisions we made for our wedding. At first, my now husband hired Elizabeth to shoot a surprise proposal in Central Park, and Elizabeth did an amazing job! I did not notice her at all,... Read More and her photos made Central Park look like a scene out of the Chronicles of Narnia. Having loved our engagement photos, we hired Elizabeth for our large modern farm-to-table wedding. She captured every little detail from the ceremony to the sparkler exit. Everyone raved about the quality of her photos and especially her ability to capture the JOY of marriage. Her true gift is capturing candids. Thank you so much, Elizabeth! We will treasure your art for years to come.
---
Reviewed on

10/19/2017
Katie F
Elizabeth is a must have. My Fiancé had her photograph our proposal, and I am so thankful he did. Having her do the photos allowed me to relax and enjoy the moment instead of worrying about taking photos of such an important event in our lives. She truly captured the moment... Read More without us feeling stressed or even really aware she was photographing us. Our families and friends can't stop talking about how amazing the photos turned out. Her passion for photography surely shows in her dedication and ability to capture that perfect shot. She also had great suggestions for setting up scenes that helped to showcase our love for each other, we got so carried away at times we almost forgot she was even there.
---
Reviewed on

8/01/2017
Renoj Z
This review is long overdue! When I got connected with Elizabeth, I was desperate for any photographer to shoot my proposal to Carol. What I ended up with was someone who exceeded every expectation that I, my fiancé, my family, and my friends had. Seriously, Elizabeth's photos... Read More from our proposal were so good that Carol and I can't stop staring at them and sharing them. One of them even got published in The Knot New York magazine! Honestly, I'm not even photogenic, but Elizabeth's photos make me look pretty handsome! There are two things I'm especially grateful to Elizabeth for. One, she really captured the MOMENTS that mattered. She didn't get in the way. She didn't try to force anything. She just let a happy day happen, and she knew exactly when to press that camera button. Moments that we didn't even appreciate on the day of are now are now ours to treasure for a lifetime. Two, she wasn't just a photographer that week, but she was also a friend. I'm terrible at planning, and I was quite anxious that day. Elizabeth talked to me for quite some time the week before the proposal, to help me figure out the right time and other logistics. She also showed up early on the day of, and even gave me a pep talk before Carol arrived. It was exactly what I needed. So to all the nervous boyfriends out there (and everybody else), make one thing easier on yourself on the big day. Book Elizabeth :)
---
Reviewed on

7/27/2017
Eric Y
Lizzie was a pleasure to work with. Even though we had to make last minute changes due to weather, we are thankful for her flexibility and constant encouragement throughout the day! We love our photos!
---
Reviewed on

7/23/2017
Jessie S
Elizabeth is a wonderful photographer and person to be around. She is very energetic outgoing and kind. Even though we just took a quick couple shoot, her passion for her photography was never lacking and she took the time to ask us genuine questions and get to know us. Her... Read More editing style and photos definitely captured our individuality as a couple and reflected her amazing creativity.
---
Reviewed on

5/31/2017
Effee C
Elizabeth's eye is unique, refreshing, and very polished. She manages to capture the magic in moments and really translates them into beautiful, memorable frames. She asked us questions about our relationship to both get to know us and get us in a romantic mood for the shoot.... Read More She photographed my partner and me on a busy day in the city and made us feel like the only two people in the world. We didn't have a set plan for the day and she was creative, calm, and so enthusiastic. Though she told us we were her third shoot of the day, you could never tell by her energy and passion. She's absolutely amazing and we highly recommend her to any couples looking to immortalize any special occasion!
---
Reviewed on

5/09/2017
Ansa V
Elizabeth is an absolute gem. I love her romantic style. She made our engagement shoot a fun and memorable experience in addition to providing great photography. Her creativity and ability to capture our personalities on camera carried through to all the photos.
---
Reviewed on

4/04/2017
MiHye H
After my partner convinced me that a photographer was worth investing in for our wedding day, I made two requests of Elizabeth: 1) please capture the wintry, dark, romantic feel of winter: bare trees, light snow on the ground and smoke escaping our mouths while exhaling and 2)... Read More please capture the dancing and celebration of the day. Not really imagining how they would turn out, I just put forward my wishes and trusted that Elizabeth would work with the vision. I received my photographs last week and I couldn't stop staring at them. They were so precise in displaying the emotions, ambience and mood of the day. I wanted simple, elegant photos that were heartfelt, as though one could feel the emotions and atmosphere of every shot. Elizabeth's photographs took me back to my wedding day, to the flurry of excitement: tears, cold, laughter, colors and of course, dancing. Thank you Elizabeth!
---
Reviewed on

3/24/2017
Sergio C
When I think of Elizabeth, I think of fun, professional and cheerful photographer. She took photos for my fiancée and I post engagement and we completely love them. She has immense patience with each couple and it shows by the high quality of her pictures. Her photographic... Read More blending of lighting, shadows and colors allows a photograph to come alive and capture the essence of the moment. I would absolutely recommend her for engagement, wedding or any kind of photo shoots for couples. She is extremely pleasant to work with as well as efficient. You'll have a lot of fun during the shoot as she makes sure the couple is having fun but also feels comfortable.
---
Reviewed on

3/21/2017
Justine P
Elizabeth (Lizzie) is one of the cheeriest people I've ever met. She has, without a doubt, brought out the best out of me and my husband. Her editing style alone is just stellar, and she not only made us look fabulous, but feel fabulous as well. I'm so grateful to her for her... Read More work, and cannot highly recommend her enough!
---
Reviewed on

3/14/2017
Carrie W
Elizabeth was a fantastic photographer for my now husband and I. We were looking for a photographer who would be willing to capture our intimate wedding, without making us feel like we were being followed around by paparazzi all day. Elizabeth was accommodating, professional,... Read More and an overall pleasure to work with. She spent the time getting to really know our story as a couple, and learn our personality in order to portray the sort of vibes that we wanted in our photos. Despite the chaos of the big day, Elizabeth was calm, cool, and collected and was a big part of helping us celebrate our big day.
---
Reviewed on

3/12/2017
Sharon T
Elizabeth is a naturally talented photographer! She has instincts for capturing light and shadow and producing beautiful memories with her art. She knows how to interact with the people she photographs and makes it so fun! I will forever cherish and look through the pictures and... Read More memories she has captured for my boyfriend and I.
---
Meet The Owner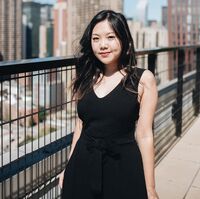 Elizabeth
Hi! My name is Elizabeth and I take way too many selfies with my cat. I love everything weddings - attending, shooting, being a witness for, etc. I like drinking Red Bull and watching standup on Netflix.